Dr Jonathan Levy, scourge of the Vatican's alleged complicity in WW2-era Ustache mass murder and loot-laundering, is pressing on with his enquiries into the mysterious August 2015 disappearance of GXG Markets, a dodgy European small-cap stock market. Dr Levy is acting for Capital Venture Europe, a listed shell that, like most other honest actors with a GXG quote, never managed to raise any investor money at all during its 18 months or so on-market. As you might expect, Capital Venture Europe now thinks it was taken for a ride by GXG.
Given GXG's particularly nonchalant sulphurousness, Capital Venture Europe has a point:
Denmark's Finanstilsynet belatedly paid GXG a visit, in November last year, and quickly realised that this exchange was letting just about any company onto its platform and had no ability to carry out any due diligence. At least 70 listings had broken GXG's own listing rules, but the regulator had not been informed and GXG had not bothered to do anything about it.

It took another six months, however, before the Danish regulator got round to telling GXG that it considered the exchange to have "repeatedly and grossly neglected and disregarded its own rules and internal guidelines," noting that there had quite likely been a lot of fraud going on here.
Encouragingly for this blogger, it looks as if GXG Markets, post mortem, is going to be just as full of bizarre colour and unexpected revelation as it was in life.
First up, we have, of all things, an incipient edit war, over the GXG Markets Wikipedia page, which, on the 6th October 2015, after an update by none other than Dr Jonathan Levy (Wikipedia user resistk) looked like this. Take a quick look and get an impression of the baseline level of detail fixed in your mind. Levy's update added this paragraph:
Allegations of Fraud

The Danish Financial Services Authority raised questions: "that GXG repeatedly and grossly neglected and disregarded its own rules and internal guidelines. As a consequence of this neglect, GXG exposed itself and the market to the exact same risk elements that the very same rules are intended to manage and mitigate. Against this backdrop, Finanstilsynet assesses that GXG has failed to operate its regulated market and multilateral trading facilities in an adequate and appropriate manner. Such operation is irreconcilable with continuation of the company's licences and therefore, Finanstilsynet assesses that the company's licenses should be withdrawn." At least one group has filed legal claims against GXG and its Chairman, Carl Johan Hogbom alleging billions of Euros in fraud were faciliated by GXG and direct losses of €50 million.
These claims are not easy to challenge: they are on the public record.
Someone took exception to them, all the same. First of all, a Wikipedia user with a Stockholm IP address, 155.4.19.172, removed Levy's addition. That IP address is provided by Bahnhof Internet AB, the aggressively pro-privacy ISP that hosts Wikileaks, and so it's hardly worth probing further.
But still…like GXG's holding company, GXG Global Exchange Group, Bahnhof is based in Sweden, and further developments suggest that this is not a coincidence.
An alert Wikipedian spots the Swedish vandalism and reverts it, but this instantly provokes a more sweeping application of whitewash from a new user with the same agenda; or the same guy, with another handle. By the 7th October, the Wikipedia page, all of it, looked like this (or click the picture to see a legible rendering):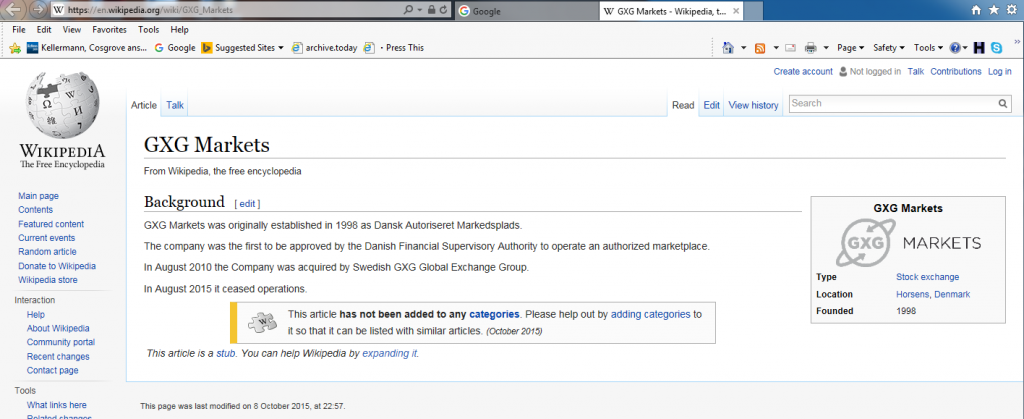 This shrivelled version, though it's the truth, is nothing like the whole truth. By the 9th November, resistk (Levy) is back, and has restored the page to its pre whitewash splendour. The different versions of the little GXG Markets info box are particularly instructive. Here are the pre whitewash and whitewash versions side by side: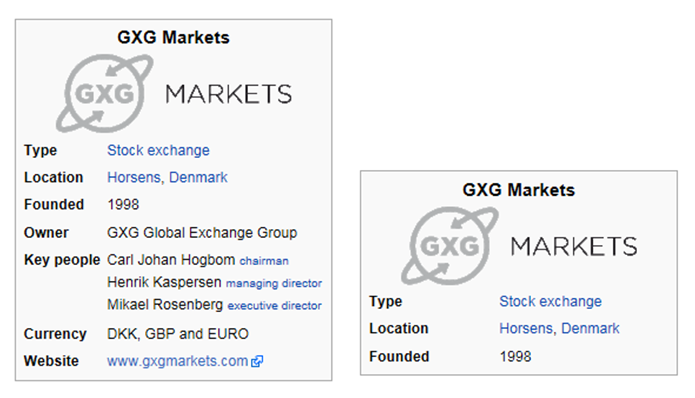 Levy's guess at what's been going on here has the circumstances in its favour:
(It appears official of the GXG Mikael (Rosenberg) tried to delete this article to stub to cover up the [accusations against] the GXG by the Danish government.)
Immediately after Levy publishes his guess, "GXG mikael"'s durable Wikipedia account disappears, presumably by Wikipedia's courtesy vanishing mechanism. This disappearance just happens  to conceal the fact that that "GXG mikael" has had GXG-related run-ins with the Wikipedian police before.
Or at least it would have concealed that fact, if this blogger, used to the slippery ways of Internet charlatans, had not already screen-dumped "GXG mikael"'s talk page, which, until his disappearance a few days ago, looked like this (click the picture to see a huge, legible version):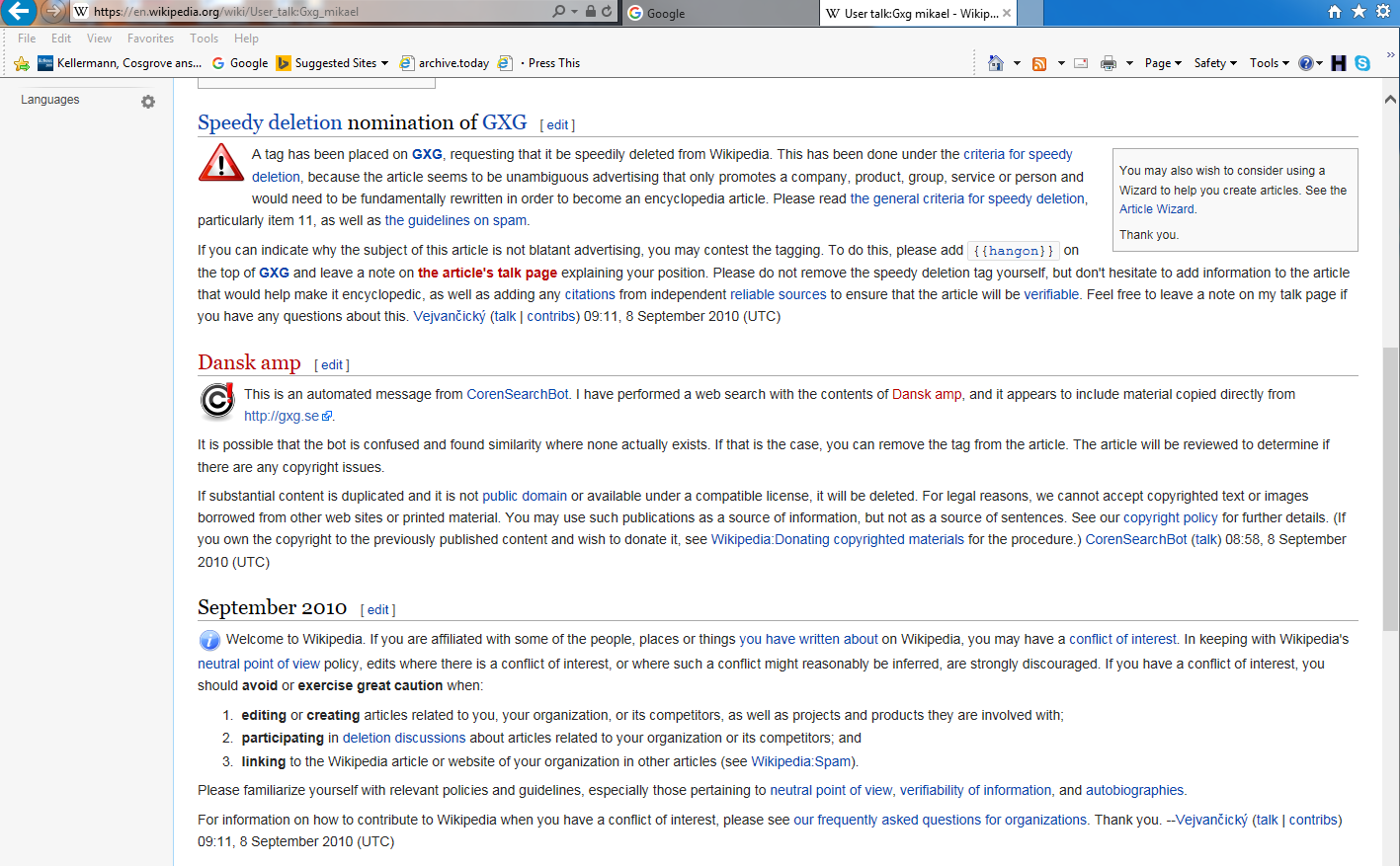 That's more than enough nitty-gritty. To sum up the Wikipedia-related timeline that emerges from all this:
August 2010 GXG Global Exchange Group takes over GXG Markets
September 2010 "GXG mikael"'s initial spammage of Wikipedia is so crass that his first article on GXG Markets is marked for speedy deletion on the grounds that it is "blatant advertising" and Wikipedia suspects a '"conflict of interest"
September 2011 a new GXG Markets Wikipedia page is created and is honest enough to survive.
August 2015 GXG Markets closes, ignominiously.
October 2015 Official allegations added to Wikipedia page by Jonathan Levy.
October 2015 Anonymous Swedish user deletes the official allegations from the Wikipedia page.
October 2015 Wikipedia restores the allegations again.
October 2015 "GXG mikael" makes his first appearance on Wikipedia for 5 years and attempts to remove both the Wikipedia record of the regulatory sanctions again GXG Markets, and the names of its board members, including that of Mikael Rosenberg, executive director.
November 2015 Levy restores the full October 2015 page and calls out GXG official Mikael Rosenberg.
November 2015 "GXG mikael"'s Wikipedia account disappears.
It's all wonderfully sleazy: cover-ups of cover-ups of cover-ups. But hey, that's the joy of Wikipedia for you. Before you write off Wikipedia as a spammer and history rewriter's paradise, note well: the serial cover-ups are (for the moment, anyway) fully exposed, thanks, mostly, to Wikipedia's own enforcers, audit trails and transparency.
So much for the amateurs' transparency and effectiveness: how are the professionals doing, notably, Finanstilsynet, GXG's regulator, based in painfully transparent, squeaky-clean Denmark? Paul Murphy of the Financial Times hasn't been particularly impressed with Finanstilsynet so far:
At the end of May the Finanstilsynet told GXG of a draft decision to withdraw the exchange's license, but then the matter was allowed to drag on for another month before GXG said it would be relinquishing its licence to operate voluntarily.

And that seems to be as far as the Finanstilsynet are taking things.
Three months on, the signs are no better. Here is Finanstilsynet's (FSA's) response to Dr Jonathan Levy's Freedom of Information request, turning him down flat.
Request-for-access-to-Information_06112015
Request for access to Information_06112015
Here's the bit I liked best:
The special obligation to observe secrecy is reasoned by a number of specific considerations. The superior consideration is the FSA's possibility to have an effective supervision with the companies. It is crucial that companies can give information to the FSA in assurance that the information will not be passed on.
Of course, as we know full well, Finanstilsynet doesn't really think this level of secrecy is crucial, at all.  Otherwise, it could hardly have blurted out the following embarrassing findings about GXG Markets, in its own hard-hitting report:
Finanstilsynet has previously – in cases involving GXG's admission of companies to trading – conveyed to GXG a number of risk statements, reprimands and orders. One case was reported to the police by Finanstilsynet.

During the on-site inspection, Finanstilsynet ascertained that GXG had admitted several third-country-based issuing companies to trading on its market places in violation of GXG's own rules. In the opinion of Finanstilsynet, in many cases, GXG had interpreted its own rules such that companies only just qualified for admission, and in many other cases, GXG did not observe its own admission criteria at all.

It is the opinion of Finanstilsynet that GXG has grossly ignored the risk information notified to GXG over a long period of time, and that, by admitting the many additional companies, GXG took risks which, historically, GXG has been unable to manage.

…

During the on-site inspection, Finanstilsynet found that, internally in the organisation, GXG had allowed far more than 70 cases on possible violation of GXG's own rules to develop without processing these cases or making the statutory notification to Finanstilsynet.

At the time of the on-site inspection, GXG did not yet have a full overview of these cases but had concluded, however, that several cases concerned "fraud claims" or other behaviour which may give rise to suspicion of fraudulent behaviour.

In the view of Finanstilsynet, the observations made confirm the risks in GXG's business model; risks which Finanstilsynet has repeatedly pointed out to GXG.

Finanstilsynet considers it to be gross negligence that GXG has allowed the build-up of such an excessive caseload without GXG having either processed these or having notified these to Finanstilsynet.

…

As an operator of a regulated market, GXG is responsible for the market being conducted in an adequate and appropriate manner.

In the assessment of Finanstilsynet, even though there is a great difference between actual operation of its primary and ancillary activities (GXG First Quote and GXG Main Quote), GXG also bears a general and fundamental responsibility for ensuring that the ancillary activities are also operated in an adequate and appropriate manner, including the enforcement of private-law regulations for operating multilateral trading facilities.

GXG repeatedly and grossly neglected and disregarded its own rules and internal guidelines. As a consequence of this neglect, GXG exposed itself and the market to the exact same risk elements that the very same rules are intended to manage and mitigate. Against this backdrop, Finanstilsynet assesses that GXG has failed to operate its regulated market and multilateral trading facilities in an adequate and appropriate manner. Such operation is irreconcilable with continuation of the company's licences and therefore, Finanstilsynet assesses that the company's licenses should be withdrawn.
Finanstilsynet even spot that GXG Markets own footdragging, prevaricating PR actually misdescribes the regulators' intervention:
Against this background, on 29 May 2015 Finanstilsynet submitted to GXG a draft decision on withdrawal of GXG's licences.

On 29 June 2015, GXG published a notification that, with immediate effect, GXG had ceased admitting new companies to trading on GXG's market places. In the notification, GXG stated that the cessation of admission was due to GXG having entered into a dialogue with Finanstilsynet about the company's regulatory set up, and that GXG was considering relinquishing its Danish market operator license and ceasing its Danish activities.

Subsequently, on 6 July 2015, GXG published a notification that GXG has decided to voluntarily relinquish its Danish market operator licenses effective as of 18 August 2015.
After such a prelude, you'd expect an announcement of some pretty ferocious regulatory follow-up. In that context, the subsequent, concluding sentence is quite the anticlimax:
Given that GXG has expressly waived use of the company's licences, Finanstilsynet will take no further steps regarding the withdrawal hereof.
Taking no further steps about the licences looks like obvious common sense: GXG has folded by now. Taking no further steps at all looks highly questionable, though. Given the litany of horrors the inspectors uncovered, there seem to be ample grounds for Finanstilsynet to go after the management of GXG. Yet, as far as anyone can tell, three months after GXG's demise, nothing of the kind is happening. Challenged by Levy, Finanstilsynet continue to appeal, however improbably, to confidentiality.  This is not a good look, as Dr Levy emphasizes, by email:
"The Danish FSA takes the position that a supposedly transparent European regulated market can be closed and 2 billion Euros in market capitalization representing investor funds disappeared based on a two page allegation and that nothing more ever need to be released or explained.  That is a travesty and a cover up. The inescapable conclusion must be that FSA and GXG colluded in some manner and that the investors are the losers. If GXG violated the law repeatedly and criminality was rampant as suggested by FSA, then where are the criminal and regulatory charges?"
Levy's not the only one who thinks something's amiss. For instance, David Mapley, CEO of City WIndmills Ltd, another GXG stock left high and dry when GXG closed, has this to say, by email:
In my dealings with the Finanstilsynet they clearly have their head in the sand – on the one hand they close down the GXG platform, at a great cost and inconvenience to 60+ listed companies, and on the other hand fail to sanction, fine or embargo the GXG owners and management who clearly ran an exchange "not fit for purpose"…
If the timescales lengthen, this apparent inaction will only become more and more perturbing, and suspicions of collusion will intensify. It happens that, a little behind the scenes, there is big Swedish money. David Mapley reckons he has traced the ultimate owner of GXG Markets: Per Setterberg, who, until his retirement last year, ran international duty free operator Global Blue (valued at $1.3Bn in 2012).
I daresay there will be some kind of heart-to-heart conversation between Mr Setterberg and Mr Mapley, soon enough. How extensive that conversation will be, I don't know, but it is quite likely to be vivid; Mapley's already calling Finanstilsynet "bureaucratic fops".
While everyone waits, perhaps vainly, for visible regulatory follow-up to the GXG fiasco, maybe the Danes should consider putting the amateurs at Wikipedia in charge of financial market regulation. On the evidence at hand, that looks likely to deliver far greater timeliness, effectiveness, consistency and transparency than the incumbent professionals.