By Wolf Richter, a San Francisco based executive, entrepreneur, start up specialist, and author, with extensive international work experience. Originally published at Wolf Street.
Magic trick turns into toxic mix.
Stocks have been on a tear to nowhere this year. Now investors are praying for a Santa rally to pull them out of the mire. They're counting on desperate amounts of share buybacks that companies fund by loading up on debt. But the magic trick that had performed miracles over the past few years is backfiring.
And there's a reason.
IBM has blown $125 billion on buybacks since 2005, more than the $111 billion it invested in capital expenditures and R&D. It's staggering under its debt, while revenues have been declining for 14 quarters in a row. It cut its workforce by 55,000 people since 2012. And its stock is down 38% since March 2013.
Big-pharma icon Pfizer plowed $139 billion into buybacks and dividends in the past decade, compared to $82 billion in R&D and $18 billion in capital spending. 3M spent $48 billion on buybacks and dividends, and $30 billion on R&D and capital expenditures. They're all doing it.
"Activist investors" – hedge funds – have been clamoring for it. An investigative report by Reuters, titled The Cannibalized Company, lined some of them up:
In March, General Motors Co acceded to a $5 billion share buyback to satisfy investor Harry Wilson. He had threatened a proxy fight if the auto maker didn't distribute some of the $25 billion cash hoard it had built up after emerging from bankruptcy just a few years earlier.

DuPont early this year announced a $4 billion buyback program – on top of a $5 billion program announced a year earlier – to beat back activist investor Nelson Peltz's Trian Fund Management, which was seeking four board seats to get its way.

In March, Qualcomm Inc., under pressure from hedge fund Jana Partners, agreed to boost its program to purchase $10 billion of its shares over the next 12 months; the company already had an existing $7.8 billion buyback program and a commitment to return three quarters of its free cash flow to shareholders.
And in July, Qualcomm announced 5,000 layoffs. It's hard to innovate when you're trying to please a hedge fund.
CEOs with a long-term outlook and a focus on innovation and investment, rather than financial engineering, come under intense pressure.
"None of it is optional; if you ignore them, you go away," Russ Daniels, a tech executive with 15 years at Apple and 13 years at HP, told Reuters. "It's all just resource allocation," he said. "The situation right now is there are a lot of investors who believe that they can make a better decision about how to apply that resource than the management of the business can."
Nearly 60% of the 3,297 publicly traded non-financial US companies Reuters analyzed have engaged in share buybacks since 2010. Last year, the money spent on buybacks and dividends exceeded net income for the first time in a non-recession period.
This year, for the 613 companies that have reported earnings for fiscal 2015, share buybacks hit a record $520 billion. They also paid $365 billion in dividends, for a total of $885 billion, against their combined net income of $847 billion.
Buybacks and dividends amount to 113% of capital spending among companies that have repurchased shares since 2010, up from 60% in 2000 and from 38% in 1990. Corporate investment is normally a big driver in a recovery. Not this time! Hence the lousy recovery.
Financial engineering takes precedence over actual engineering in the minds of CEOs and CFOs. A company buying its own shares creates additional demand for those shares. It's supposed to drive up the share price. The hoopla surrounding buyback announcements drives up prices too. Buybacks also reduce the number of outstanding shares, thus increase the earnings per share, even when net income is declining.
"Serving customers, creating innovative new products, employing workers, taking care of the environment … are NOT the objectives of firms," sais Itzhak Ben-David, a finance professor of Ohio State University, a buyback proponent, according to Reuters. "These are components in the process that have the goal of maximizing shareholders' value."
But when companies load up on debt to fund buybacks while slashing investment in productive activities and innovation, it has consequences for revenues down the road. And now that magic trick to increase shareholder value has become a toxic mix. Shares of buyback queens are getting hammered.
Citigroup credit analysts looked into the extent to which this is happening – and why. Christine Hughes, Chief Investment Strategist at OtterWood Capital, summarized the Citi report this way: "This dynamic of borrowing from bondholders to pay shareholders may be coming to an end…."
Their chart (via OtterWood Capital) shows that about half of the cumulative outperformance of these buyback queens from 2012 through 2014 has been frittered away this year, as their shares, IBM-like, have swooned: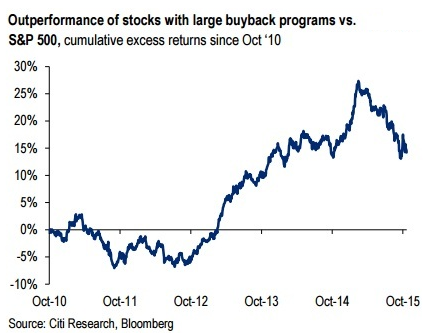 The Citi analysts, via Bloomberg:
The three-fold increase in share buybacks in the past five years has been the key driver of corporate re-leveraging. In large part, buybacks have been the result of strong incentives provided to corporate managers by activists in particular and equity investors in general…

Companies that spent more on shareholder handouts and less on investments have tended to get higher price/earnings ratios in the market. But there are signs that this may be changing. Recent conversations that we've had with equity [portfolio managers] suggest that they have become far more focused on revenue growth, and are placing far less of a premium on any financially engineered EPS growth.

The fact that a basket of stocks that [has] been reducing shares outstanding is meaningfully underperforming the S&P 500 on a beta-adjusted basis suggests that this view may not be that of just the investors we talk to, but far more broad-based.
The performance of the S&P 500 has been crummy this year, in part because it has been dragged down by the buyback queens. Investors are smelling a rat. Financial engineering performs miracles, even with duds like IBM and HP – until it doesn't.
Results of all this financial engineering? Revenues of the S&P 500 companies are falling for the fourth quarter in a row – the worst such spell since the Financial Crisis. And with the failure of financial engineering, one of the most powerful props collapses under the already wobbly but sky-high stock market.
Junk bonds, a bellwether for stocks, have been warning for a while. Investors are sitting "on large amounts of potential and realized losses," Moody's said. Read… Bloodletting 8 Trading Days in a Row: Junk Bonds Go to Heck .