By Lambert Strether of Corrente
TPP/TTiP/TISA
"The TPP's Investment Chapter: Entrenching, rather than reforming, a flawed system" [Columbia Center on Sustainable Investment]. (This looks like a useful source; see also this and this.) From the link:
[W]e even see a further evisceration of the role of domestic policy, institutions , and constituents. In their current form, the TPP's substantive investment protections and ISDS pose significant potential costs to the domestic legal frameworks of the US and the other TPP parties without providing corresponding benefits.
"A 12-nation Pacific Rim free-trade deal, facing stiff opposition from many Democrats and unexpected resistance from Republicans, is unlikely to be voted on by the U.S. Congress before President Barack Obama leaves office, according to some Republican lawmakers and aides" [Reuters]. Not even in the lame duck?! 
2016
Policy
What Atrios said [Eschaton]. (This is the controversy, expanded on today at NC.) Soak the rich:

Denying government benefits to rich people just makes it that much harder for less than rich people to qualify. You know, eligibility, forms, a bureaucracy to determine that eligibility, etc. The way to not give Donald Trump's kids free college involves increasing his taxes. Then give the kids "free college." Democrats really need to get rid of their obsession with means testing everything. There's a simple way to means test everything: increase taxes on rich people. It isn't welfare. It's what the government provides, to everyone, and the price of that is taxes.

We're gonna get President Trump if the Clinton campaign doesn't stop talking to itself. I'm sure they all thought this was a true zinger. It isn't. Echoes of 2008 are still there. Get better.

Indeed. And Sanders needs to get rid of the mindset that a campaign is like the Senate, and that the rules of comity apply. It isn't, and they don't. Be loveable after you slip in the shiv, not before.

Moreover: As we noticed when we saw how 50% of the unenrolled did the math and decided ObamaCare's benefits aren't worth the costs, people — even working people, without accountants and lawyers — really are smart enough look at both their assets and liabilities over the year. Tax is only one side of the ledger. The other side is benefits (and conservatives never mention benefits, because big gummint.) Single payer means — net — more money in your pocket for a given level of care. The Clinton campaign, by focusing only the tax line on one side of the ledger, is typically disinformative; they're shovelling the same steaming load of crap we've been getting from conservatives over the forty years. I don't want any more, sir. That's the Clinton schwerpunkt. Can't Sanders call bullshit?

"[T]he Clinton campaign has made a conscious decision here. It is not merely criticizing Sanders for suspicious math. It is suggesting the test for any proposed initiative is what taxes it imposes, regardless of what benefits it might bring" [HuffPo]. "This is the kind of argument that conservatives make." If I'm given a choice between Republican and Republican Lite, I might vote a real Republican, just to bring on the winger Apocalypse and purge the rottenness from the Democrats, who apparently think they can circle the drain forever by doubling down on #FAIL.

"Hillary Clinton hits Bernie Sanders on taxes" [Paul Waldman, WaPo]. "Pledging to never raise taxes on a majority of Americans will tie your hands." And it's a conservative, Republican, "drown government in a bath tub" position. So naturally Clinton adopts it.
The Trail
"But on Thursday, [the SEIU's] 11,500-member New Hampshire affiliate broke ranks with top union brass and threw its support behind the Vermont independent" [Seven Days Vermont]. 

"What makes Sanders run" [CBS]. Interview.
Stats Watch
Kansas City Fed Manufacturing Index, November 2015: "The worst may be over for the Kansas City Fed's district as the manufacturing index posted its first positive reading since February, but still at only plus 1 for a small 2 point gain" [Econoday]. "New orders, at plus 5, are on a two-month expansion streak as is production at plus 3. Backlog orders, however, are in deep contraction, at minus 17 as is employment at minus 8." Caution: "Of the three regional manufacturing surveys released to date for November, one is in contraction whilst two are barely in expansion" [Econintersect].
Housing: "The Housing Market Has a Major Supply Problem" [Fortune]. Land and labor. I dunno. Skilled labor leaving the workforce? Moving back to Latin America?
Fodder for the Bulls: "Forecasters at Michigan's Research Center in Quantitative Economics said on Thursday that they expect real gross domestic product to grow 2.6 percent next year and 2.9 percent in 2017. That wouldn't be white-hot growth by any means, but it would be the strongest since 2006, when the economy grew 2.7 percent. And it would come with some very happy numbers for workers, the forecasters predict, including an unemployment rate that falls below 5 percent next year and to 4.6 percent in 2017" [WaPo]. "The Michigan optimism flows from several trends in fundamental measures of the economy, which suggest sustained improvement to come. Those include upticks in residential construction, a tightening labor market that appears to be starting to deliver wage increases to workers and — in what you might expect to be a well-watched stat in Michigan — a surge in car and truck sales. The economists also believe that the U.S. dollar has more or less reached its peak."
Fodder for the Bulls: "The Bank of Tokyo-Mitsubishi's chief financial economist, Chris Rupkey, circulated an email after the report with the title "Jobs market is literally on fire in most states in the union." The email maintains that optimistic tone and suggests that the geographically broad strength of the labor market could spur the Fed to tighten monetary policy at its December meeting" [Business Insider] Literally?
Shipping: "This week the Baltic Exchange's main sea freight index , which tracks rates for ships carrying dry bulk commodities and seen by investors as a forward-looking indicator of global industrial activity, plunged to an all-time low" [Reuters].
Shipping: "Uncertain opening date of Panama Canal expansion" [Longshore & Shipping News].
Rail: "The 52 week rolling average contraction grew" [Econintersect].
China: "The bottom line: World growth would 'slow sharply,' in a China hard-landing scenario, according to Oxford Economics. Close trading partners and commodity exporting countries would bear the brunt, and advanced economies would be significantly affected too, with deflationary pressures intensifying" [Across the Curve]. The Chinese financial sector is said to be buffered because of local ownership.
The Fed, Willem Buiter: "We may be at barely 1 percent at the end of 2016 and I don't think that in this cycle we are going to see 2 percent. We will be back at the zero lower bound before you can say 'cyclical downturn'" [CNBC]. "Buiter said he believes that Fed will now have to move in December to be perceived as still being consistent. He said that global central banks will "at best" be able to move benchmark rates back up to 2 percent, whereas historically a normalization would have seen rates above 4 percent.
"New Canada Government Sees Four Years Of Deficits Ahead [Market News]. Sanity, as in looking at the policy effects of deficits, instead of because deficits bad.
"Square Inc. will have to give some investors additional shares valued at $93 million after its initial public offering priced well below a promised threshold" [Wall Street Journal].
Today's Fear & Greed Index: 54 (+3); Neutral [CNN]. Last week: 47 (Greed). (0 is Extreme Fear; 100 is Extreme Greed).
Our Famously Free Press
"Dearest Gawker Media, Won't You Please Leave Wonkette This Tiny Crust Of Bread?" [Wonkette].
Gaia
"Explainer: The legal form of the Paris climate agreement" (COP) [Carbon Brief].
"Like the problem, the solution must be anthropogenic" [EcoWatch]. Or let Gaia take care of it. But we might not like that (for some definition of "we," I grant.)
"Intestinal worms may help women get pregnant more often" [Science]. "For all their harmful and icky habits, parasites have a lot in common with a fetus in the womb. The immune system regards a parasite and a fetus as interlopers, so both need strategies to foster what researchers call immune tolerance. Parasites can trigger some of the same immune changes that occur during pregnancy—for example, stimulating regulatory T cells, which quell immune attacks."
"We know the city where HIV first emerged" [BBC]. Kinshasa, in Conrad (and King Leopold's) Heart of Darkness. Kinshasa was the central node in the rail network the Belgians built, which helped spread the virus." "[T]here is real power to studying pathogens … through the prism of human society."
Corruption
This looks super-nasty. Can any New Yorkers comment?
Did Adam Skelos get work from hedge fund billionaires Loeb, Tudor Jones, Singer etc?? cc @GoHedgeClippers @SDNYnews https://t.co/otd1X68utz

— Michael Kink (@mkink) November 20, 2015
Guillotine Watch
"In [Scott] Cowen's thinking, Hurricane Katrina presented a golden opportunity to remake New Orleans as a privatized, corporatized playground for white tourists and tech companies—liberated from the troublesome teachers unions, housing projects, and neighborhood interests that he believes held the city back for decades.  [Boston Review]. An awesome takedown. Scott Owens is truly a miserable human being. And note the central role played by charters and TFA scabs.
"Delusion 1: Gates has financed and perpetuated the same accountability policies started in the early 1980s. If there is a 'lack of change' in education (and there is), it is very much at Gates's feet (or enormous wallet)" [The Becoming Radical]. Another awesome takedown.
Class Warfare
"When the Excluded Organize" [Jacobin]. "[T]he movement … emerged in inspiration to the Montgomery bus boycott, in which domestic workers across the country organized with the specific aim of transforming the occupation of domestic work. They formed a national organization in 1971 called the Household Technicians of America, demanding rights, dignity, and professionalization." Forgotten, i.e., erased history. On the left too!
News of the Wired 
"Frequent Errors In Scientific Software May Undermine Many Published Results" [TechDirt].
"13 miles of typography on Broadway, from A to Z" [Hopes and Fears]. This is awesome. Jane Jacobs would love it.
"If Your Passport Is Full, Request Those Extra Pages Now: State Dept. Eliminating Page Inserts Jan. 1" [Consumerist].
"Maybe, he said, the internet is like lead pipes in Rome" [Last Word on Nothing].
[Roman plumbing] was this amazing technological infrastructure. It was beautifully made, it provided them with an incredibly high standard of living and it also slowly, gradually made them irretrievably sick and insane*. It poisoned them day by day.

And we look back at it now as this thing that was simultaneously a fascinating part of how their culture worked, and the invention of a new kind of urban living but also as something that was slowly but surely making the ruling class into people who were desperately ill with terrible impulse control without ever realizing it or understanding why.

In other words, what if in 2000 years we look back on our current internet, and think of it as a fascinating but heartbreaking tale of hubris. A moment in time where people were consuming a type of technology they knew wasn't good for them because it conferred status and prestige. And that thing they craved so much was slowly making them lose their minds.
Nonsense. Try Adderall.
* * *
Readers, feel free to contact me with (a) links, and even better (b) sources I should curate regularly, and (c) to find out how to send me images of plants. Vegetables are fine! Fungi are deemed to be honorary plants! See the previous Water Cooler (with plant) here. And here's today's plant (S):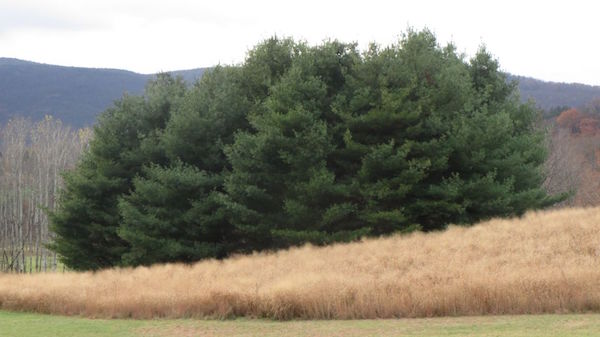 S writes: "A picture my daughter took at Storm King Art Center, New York."
I should probably have printed a humorous vegetable, but this photo is so peaceful and restful I couldn't resist it.
* * *
If you enjoy Water Cooler, please consider tipping and click the hat. Winter has come, I need to buy fuel, and I need to keep my server up, too.