By Lambert Strether of Corrente
2016
Policy (from the Republican Debate)
The Great Wall of Trump:

Donald Trump's fence quotes were his highest scores of the night: 84% with conservatives, 82% with moderates  ?

Voters want it.  #GOPDebate
— Frank Luntz (@FrankLuntz) December 16, 2015

I hate it when Trump makes sense (1):

the transcript of trump's hot a** take on the futility of war is so good pic.twitter.com/TCr0Iqz2b6
— Matt Bruenig (@MattBruenig) December 16, 2015

(The thoughts, if not the words, could be from Sanders. Of course, Sanders has been saying the same thing since forever. Not so Trump.)

I hate it when Trump makes sense (2):

Donald Trump said Hillary Clinton's "stupidity" killed "hundreds of thousands of people" https://t.co/4t28h97vv4 pic.twitter.com/gwd7hIBjIH
— Talking Points Memo (@TPM) December 16, 2015
The Voters
" Democrats Ramp Up Redistricting Plans In Effort To Avoid Repeating 2010 Fiasco" [HuffPo]. "With the underlying goal of producing a sophisticated and coordinated redistricting effort to match Republicans, Thursday's strategy session is seen as the first of many steps in recalibrating the balance of power in the states and on Capitol Hill." The "first"? Let me just break out my calculator here: 2015 – 2010 = 5. Five years. A party that slow to display adaptablity deserves to die.
The Trail
"Killer Mike Releases Bernie Sanders Interview" [Hip Hop DX]. Good work!

Yesterday I mentioned that Jebbie's existential position in the Republican campaign reminded me of a iconic image from Road Warrior (the ultimate post-apocalyptic car chase thriller), but I couldn't find a visual. This is what I meant:

Driving the buggy to which Jebbie has been strapped is, of course, star of stage and small screen Donald Trump, playing "The Base."

Republican Debate: "Terror, Terror, Terror, Donald Trump, And Terror: Your GOP Mainstage Debate Liveblog" [Wonkette].

Republican Debate: Annotated transcript [WaPo].

Republican Debate: Trump reiterates pledge not to run as independent [Bloomberg]. Yesterday, we showed he missed the ballot deadline in Texas; today, Ohio's secretary of state says Trump can't run as an independent there either.

Republican Debate: "The field feels narrower all the time, with only Trump, Rubio and Cruz driving the race's conversation. Chris Christie was at his best in Vegas, capping off a great month. But it wasn't enough to siphon attention away from his better-polling rivals. And Jeb Bush had a moment, but not a lasting one" [Politico].

"Marco Rubio Leaks Classified Information for Political Gain Again" [Emptywheel].

"[David] Lane's numerous supporters think that Isaachar is plain genius. His good friend Republican presidential hopeful Ted Cruz even said, 'David Lane is a leader who, with his Issachar Training of pastors, is living out what my father, a pastor himself, taught me'" [American Renewal Project]. Cruz added: "And I say if pastors are afraid to speak out on biblical standards of morality, then we shouldn't be surprised if we have a radical government in Washington hostile to the preservation of marriage, life and religious liberties."

"A more likely scenario than a brokered convention is a runaway convention, where the establishment loses control of the convention and the outcome as delegates from the anti-establishment wing take over, threatening first a convention walk-out and then a third-party candidacy if the will of their majority is denied" [Brent Budowsky, The Hill]. But see above. An independent run isn't feasible without Ohio and Texas, surely.
Stats Watch
I'll update Stats Watch with the FOMC rate announcment shortly. –lambert
MBA Mortgage Applications, week of December 11, 2015:  "Little changed" [Econoday]. "Year-on-year, purchase applications remain very high, up 34 percent in a gain that in part reflects a pulling forward of demand ahead of what is expected to be a rate hike at today's FOMC."
Housing Starts, November 2015:  "Housing permits surged in November, up 11.0 percent to a far higher-than-expected annualized rate" [Econoday]. "Strength for starts is certainly getting a boost from this winter's mild weather while the gain in permits points in part to speculative demand, especially for multi-family units." However, "the potential error ranges and backward revisions are significant" [Econintersect].
Industrial Production, November 2015:  "November was another weak month for the industrial economy, in part reflecting unusually warm temperatures that are driving down utility output" [Econoday]. "Industrial production came in at the Econoday low forecast, down a very sharp 0.6 percent in November. This is the biggest drop in 3-1/2 years." And October's bounce looks like an "outlier."
PMI Manufacturing Index Flash, December 2015: "the manufacturing PMI fell to 51.3 for the lowest reading in more than three years" [Econoday]. "[A]n ominous indication, slowing here not only reflects weakness in export orders, which have been soft all year, but now also for domestic markets especially investment demand in the energy sector. This latter detail is also ominous as many had been hoping that energy spending, having hit deep lows, would begin to rebound. Also note that backlog orders are in contraction for a second month in the weakest monthly reading in three years."
Honey for the Bears: "In a report Tuesday, the Office of Financial Research found 'elevated and rising credit risks' among nonfinancial businesses and emerging-market borrowers, and it said a significant shock that further impairs credit quality "could potentially threaten U.S. financial stability" [MarketWatch]. "The OFR, which Congress created in the 2010 Dodd-Frank law to monitor threats to the financial system, suggested markets may not be out of the woods yet." "Markets" will never be "out of the woods." That's because the powers that be send helicopters and rescue dogs every time the markets get lost, instead of letting them die from exposure. So they keep wandering off.
UPDATE "Fed officials said they would move up the federal funds rate by a quarter percentage point on Thursday, to between 0.25% and 0.5%, and would adjust their strategy as they see how the economy performs. At these low rates, they added, policy remains accommodative" [Wall Street Journal, "Fed Raises Rates After Seven Years at Zero, Expects 'Gradual' Tightening Path"]. Best economy ever.
The Fed: "As this unprecedented era of easy monetary policy closes, here's a walk through seven years at zero to highlight the obstacles that policy makers navigated to restore labor-market health and enable liftoff" [Bloomberg]. I like "restore labor market health." But I don't understand the "liftoff" metaphor at all. What, exactly, is being launched into space? What's the payload? The mission? And so forth.
The Fed: "[O]ur understanding is that the Fed will also publish a technical note that will provide some operational details.  For most investors, it may be sufficient at this stage to appreciate that reverse repos will be used to put a floor below rates.  These could be quite large.  The Fed will use the interest on excess reserves, set at the upper end of the Fed funds target range, to cap rates" [Brown Brothers Harriman, Across the Curve].
"Fed officials face a troubling question: Jobs are on track, but inflation isn't behaving as predicted and they don't know why. Unemployment has fallen to 5%, a figure close to estimates of full employment, while inflation remains stuck at less than 1%, well below the Fed's 2% target" [Wall Street Journal, "The Mystery of Missing Inflation Weighs on Fed Rate Move"].
The Fed; "The Phillips Curve seems not to hold any more" (handy chart) [Wall Street Journal, "The Fed Has a Theory. Trouble Is, the Proof Is Patchy"]. Even though the Fed still relies on it.
"[Adair] Turner calls for radical changes in public policy. He proposes that sometimes we need to be open to running fiscal deficits and financing them with central bank-created money, despite the idea's taboo" [Econintersect].
 Today's Fear & Greed Index: 37 (-2); Fear [CNN]. Last week: 35 (Fear). (0 is Extreme Fear; 100 is Extreme Greed). 
Black Injustice Tipping Point
"[Allen Scarsella,] accused of shooting five protesters near the Minneapolis Police Department's North Side precinct station is facing a stiffer charge" [Star-Tribune].
Peter Martin, Scarsella's attorney, said his client … was an Eagle Scout, a graduate of the University of St. Thomas and had been accepted to the U.S. Military Academy at West Point. Hawley countered with the fact that Scarsella was kicked out of West Point because of misconduct involving a pellet gun. She added that he came to the protesters' encampment more than once with a loaded handgun, 'looking to provoke and cause chaos.'
Police State Watch
"While big-city jails get most of the attention, lockups in small and medium-sized counties have actually driven the overall explosion in the U.S. inmate population, according to a new analysis of 45 years of jail statistics" [Business Insider].
Health Care
"A higher penalty next year for lacking insurance could be playing a role in driving signups" [The Hill]. Deadline extended two days, to 11:59pm PST December 17, for coverage beginning January 1.
Imperial Collapse Watch
Wankers harass Texas plumber whose truck was resold to ISIS with his sign and phone number still on it, as shown in viral image [Los Angeles Times]. "You traitor … you're selling to terrorists." Gad.
Gaia
"New research shows a cereal familiar today as birdseed was carried across Eurasia by ancient shepherds and herders laying the foundation, in combination with the new crops they encountered, of 'multi-crop' agriculture and the rise of settled societies" [Eurekalert]. "The domestication of the small-seeded cereal millet in North China around 10,000 years ago created the perfect crop to bridge the gap between nomadic hunter-gathering and organised agriculture in Neolithic Eurasia, and may offer solutions to modern food security, according to new research."
Guillotine Watch
"A Saudi millionaire was cleared of raping a teenager after telling the court that he might have accidentally penetrated the 18-year-old when he tripped and fell" [Straits Times]. Uh huh. *Nods vigorously.*
"University presidents are making extravagant salaries while professors earn 'unlivable' wages" [Business Insider]. Makes you wonder about institutional priorities.
Martin Shkreli is jacking up the price of benznidazole, a treatment for Chagas disease, which affects mainly poor Latin American immigrants, 100,000 percent to 150,000 percent" [The Atlantic].
Class Warfare
"Over 400,000 went on strike Dec. 9 in historic labour action in Quebec" [Rabble].  "Three large demonstrations took to the streets in Montreal. The two organized by unions during the day met up to form one large group of many thousand cheering through the streets en route to hearing speeches.  A more radical non-union group called a night demo which was broken up fairly quickly by police."
Wired
Armando Iannucci writes his first novel [Chortle]. Hat tip alert reader Plenue:
Armando Iannucci is writing his debut novel, a satirical fantasy about a for-profit language.

In the novel, people are charged for the privilege of speaking and writing the fictional language, which becomes the lingua franca of business and government after skilful marketing by its creators.
Sounds like something Zuckerberg should consider.
"Facebook is a place where people share and connect with their family and friends. In order for this to happen, people need to feel safe and be confident they know who they are communicating with" [Facebook]. "Early in the new year, we will be looking at other ways we can reduce the number of people who have to go through an ID verification experience, while preserving the safety of other people on the site. We will also continue to work on making the experience itself more compassionate and easier to navigate."
"[T]he new changes also don't address the forms of identification Facebook uses to verify a person's name. Facebook's policy asks for 'the name you use in real life' rather than a user's legal name, but because verification requires third-party documents that often derive from a person's legal name — like a school ID or utility bill — there's often little difference in practice" [The Verge].
"These results suggest that outsiders are reluctant to challenge leadership within a field when the star is alive and that a number of barriers may constrain entry even after she is gone" ["Does Science Advance One Funeral at a Time?" ]. " Intellectual, social, and resource barriers all impede entry, with outsiders only entering subfields that offer a less hostile landscape for the support and acceptance of 'foreign' ideas."
"Jung on Film is a 77-minute collection of highlights from four one-hour interviews Jung gave to psychologist Richard I. Evans of the University of Houston in August of 1957″ [Open Culture].
* * *
Readers, feel free to contact me with (a) links, and even better (b) sources I should curate regularly, and (c) to find out how to send me images of plants. Vegetables are fine! Fungi are deemed to be honorary plants! See the previous Water Cooler (with plant) here. And here's today's plant (MG):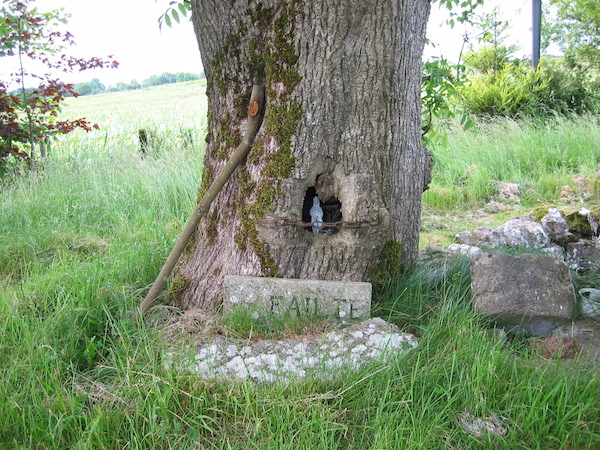 Holy Well near Uisneach, County Westmeath, Ireland.
* * *
If you enjoy Water Cooler, please consider tipping and click the hat. Winter has come, I need to buy fuel, and I need to keep my server up, too.