By Lambert Strether of Corrente
TPP/TTIP/TiSA
"Because international trade agreements like the TPP are negotiated in relative secret by the US Trade Representative with direct input from industry interest groups, the deals provide a vehicle by which those groups can essentially write the rules in their favor and in a manner that tries to answer often-complex legal questions under US law without having to deal directly with Congress. The immediate effect of any such provisions that are contrary to US law, therefore, may not be pronounced or even valid; but the long game is aimed at citing conformance with "international law" when the time comes to lobby Congress to amend the relevant conflicting domestic statute" [JD Supra Business Advisor].T"his practice has been referred to in similar contexts as 'policy laundering."
2016
The Voters
"The [short fingerer vulgarian] celebrity businessman does particularly well in counties that the American Communities Project calls Minority Centers. Data from the last three polls show Mr. Trump has the support of 34% of Republican primary voters who live in those communities, the highest share seen in any of the seven county types that the communities project is studying for the 2016 campaign" [Wall Street Journal, " Some Strong Signals for Donald Trump in the South "].

"[Morning Consult] conducted an experiment aimed at understanding … which polls are more accurate — online surveys that have tended to show Trump with support of nearly four-in-10 GOP voters or the telephone surveys that have typically shown him with the backing of one-third or fewer" [Los Angeles Times]. "Their results suggest that the higher figure probably provides the more accurate measure. Some significant number of Trump supporters, especially those with college educations, are "less likely to say that they support him when they're talking to a live human" than when they are in the "anonymous environment" of an online survey."

"While only anecdotal, the findings suggest that a good share of those in Trump's crowds—consistently the biggest for any presidential candidate in Iowa—may need less guidance than initially thought to be converted into actual caucus voters" [Bloomberg].

"But many [Conservative Christian activist] organization leaders have decided in recent days to line up behind Cruz (Tex.) because they consider him the best-funded and most electable social conservative in the race, according to several participants in the discussions" [WaPo].

"Just half of all post-9/11 veterans say the war in Afghanistan was worth fighting, while 44 percent said the Iraq war was worth it" [Des Moines Register]. Interesting read, and continuation of yesterday's "organic damage" discussion.
The Trail
"Bernie Sanders has broken the fundraising record for most contributions at this point in a presidential campaign, surpassing 2.3 million donations" [Time]. Which would be why Trump dominates the news. Heck, they've got me doing it!

Democratic debate, on Sanders: "Made references to opposing the invasion of Iraq but failed to frame the matter well enough to put Clinton on the defensive. Same on Wall Street ties, where he wasn't nearly as tough or specific as the rapid response press releases his campaign emailed during the debate. … His strongest debate performance, but still needs to offer a crisper alternative to Clinton's agenda" [Mark Halperin, Bloomberg]. I rarely find myself agreeing with Halperin, but it's been a strange year.

"[T]he Democratic National Committee wasn't necessarily going for a big audience. If you're looking for a lot of viewers, the Saturday night before Christmas isn't the best place to find them" [WaPo]. Mission accomplished!

"Instead of laying low and playing it cool, Clinton is running as though the race were very close, tax-baiting Sanders with Republican talking points, and allowing a proxy [the DNC] to blow up a huge fight with the Sanders campaign over a data breach. It's a mystifying and risky way to run a campaign" [The Week]. Nah. Clinton genuinely believes that stuff. Anyhow, Democrats loyalists hate the left, so Clinton is simply running true to form. And get a load of this:

Clinton's stance also basically rules out badly needed increases in Social Security. At an Iowa townhall this month, Clinton spoke about the solvency of Social Security, and while she initially disavowed benefit cuts, she eventually ended up endorsing the possibility of raising the retirement age.

Clinton is even preparing the way for the Grand Bargain that was too much of a heavy lift for Obama.

"[T]he Clinton camp has cheerfully fed the flames of [the terror recruiting fight, in what appears to be a concerted effort to boost Trump among GOP voters" [WaPo]. "Don't worry. We can control him."

"Records show that Donald Trump applied to trademark the phrase "Make America Great Again" six days after President Obama was elected to a second term" [Daily Beast]. "The timing suggests that Trump was preparing his latest run for president long before most people imagine."

"Reagan's Daughter: My Dad Would Be 'So Appalled' By GOP Presidential Candidates" [HuffPo]. The Reagan who opened his 1980 campaign in Neshoba County, Mississippi? That Reagan?

"The top campaign whoppers from a lie-filled 2015" [CNN]. On candidate, of course, wins going away…
Stats Watch
GDP, Q3 2015: "A downward revision to inventories pulled down the third revision to third-quarter GDP, coming in at an annualized and expected rate of 2.0 percent" [Econoday]. And "this 'decline' was mainly due to private inventories decreasing more than previously estimated" [Econintersect].
Corporate Profits, Q3 2015: Up 1.3% year-on-year [Econoday].
Richmond Fed Manufacturing Index, December 2015: "[T]he Richmond Fed is reporting a burst of strength" [Econoday]. "This report is the exception so far among regional Fed reports."
Existing Home Sales, November 2015: "New closing rules appear to have depressed sales of existing homes in November which fell 10.5 percent to a much lower-than-expected annualized rate of 4.760 million" [Econoday].
Canada is considering the 'unthinkable' [Business Insider]. Negative interest rates.
"Chipotle E. Coli Cases Rise, With 5 More Ill in Midwest" [New York Times]. "'One of the challenges here has been that we have been able to identify the restaurants where people ate, but because of the way Chipotle does its record-keeping, we have been unable to figure out what food is in common across all those restaurants,' said Dr. Ian Williams, chief of the outbreak response and prevention branch of the C.D.C." WTF? Does that strike any reader who knows the restaurant trade as an odd way to do "record-keeping"?
"Driverless Cars Spell Danger for One of World's Top Part Makers" [Bloomberg]. Waiting for the move to privatize all roads….
"Historically it's taken a good 5% of GDP deficit to reverse a decline, which today means close to a 1T deficit annually" [Mosler Economics]. So the Omnibus budget doesn't do much.
Today's Fear & Greed Index: 31 (-1); Fear [CNN]. Last week: 35 (Fear). (0 is Extreme Fear; 100 is Extreme Greed).
Black Injustice Tipping Point
"Texas grand jury issues no indictments in jailhouse death of Sandra Bland" [WaPo]. Ugly.
Dear Old Blighty
"Tendring district council in Essex is planning to introduce a 'falling fee' for elderly residents" [Guardian].
"The Sun told to put apology to Jeremy Corbyn on front page" [Independent]. One tabloid gets a wrist slap, so no doubt the British press can now begin to collectively congratulate themselves on their fairness.
"Cameron's hastily-organised EU speech descends into an embarrassing shambles as the Royal crest falls off his lectern" [Daily Mail].
"Blackmail, Threats, and Fear: Young Tories Discuss the UK Conservative Party Bullying Scandal" [Vice].
"You probably have to go back to the early 1950s – just after the [NHS] was formed – for the last time money was so tight. The response then? Services were scaled back and charges introduced for the likes of dental care, spectacles and prescriptions" [BBC]. So the Tories' plan to gut the NHS is going quite well.
Our Famously Free Press
"What was fake on the Internet this week: Why this is the final column" [WaPo]. "At which point does society become utterly irrational? Is it the point at which we start segmenting off into alternate realities?"
Gaia
"The massive [Southern California Gas Co] leak [in Los Angeles] amounts to about a quarter of the state's total output of climate-changing methane" [San Francisco Chronicle]. That's rather a lot. "Gov. Jerry Brown's sister is a paid board member of the company that owns a natural-gas well whose leak is forcing thousands from their Southern California homes, and a watchdog group and the governor's aides disagree over whether that makes a conflict of interest for the governor."
"Paper estimates widespread tree death in Southwestern forests under global warming scenarios" [Phys.org (CL)].
"Bacteria resistant to 'last resort' antibiotic colistin discovered in UK" [Independent].
"Spread of antibiotic-resistance gene does not spell bacterial apocalypse — yet" [Nature].
"A study published in the journal Risk Analysis in May found that the U.S. power grid is increasingly blacking out when hit with severe weather, and lags behind other developed nations in terms of reliability" [AP]. Well, Festung Richistan will have its own generators. So why worry?
"It's Winter Solstice so Druids, Wiccans and Pagans are having a banging party at Stonehenge" [Metro UK].
Guillotine Watch
Of Zuckerberg, Meyer, Cook, et al: "These could all be nothing more than examples of people who — whether in an attempt to inspire others, thank a family member or highlight their personal brand — chose to more than we're accustomed to hearing from powerful people in the corporate suite" [Los Angeles Times]. Beware of that locution "open up." It means "Feed the press a story with the help of a public relations professional."
News of the Wired
"To sum up, some hacker or group of hackers attacker noticed an existing backdoor in the Juniper software, which may have been intentional or unintentional — you be the judge! They then piggybacked on top of it to build a backdoor of their own, something they were able to do because all of the hard work had already been done for them. The end result was a period in which someone — maybe a foreign government — was able to decrypt Juniper traffic in the U.S. and around the world" [A Few Thoughts on Cryptographic Engineering]. So maybe having the government build in its own backdoors isn't the greatest idea, security-wise…..
"Reading from a screen harms our ability to concentrate" [CBC]. And the death of print is an exaggeration.
"One Woman's Bizarre, Delightful Quest To Change Emojis Forever" [Buzzfeed]. Excellent read on the process of creating emojis and the operation of international standards bodies.
"[E]yewitness misidentification is the primary factor in the conviction of suspects who are later proved to be innocent by DNA analysis" [Ars Technica]. "Several lines of research indicate that the confidence expressed at trial (trial confidence) is less diagnostic of guilt than the level of confidence an eyewitness has in the accuracy of their memory when they first pick a suspect out of a lineup (initial confidence)."
"Wild bees are least abundant where they're most needed, study says" [Los Angeles Times]. Most needed by monocultures, like California almonds for the Chinese luxury market.
"This is where expats get paid the most" [CNBC]. Not a lot of depth here. Readers?
"The birth of the web" — the 25th anniversary was December 20 [CERN]. So how come CERN is using it's own loathesome URL shortening service for cern.ch/go/6WSp, instead of the clean and human readable http://home.cern/topics/birth-web?
* * *
Readers, feel free to contact me with (a) links, and even better (b) sources I should curate regularly, and (c) to find out how to send me images of plants. Vegetables are fine! Fungi are deemed to be honorary plants! See the previous Water Cooler (with plant) here. And here's today's plant (PP):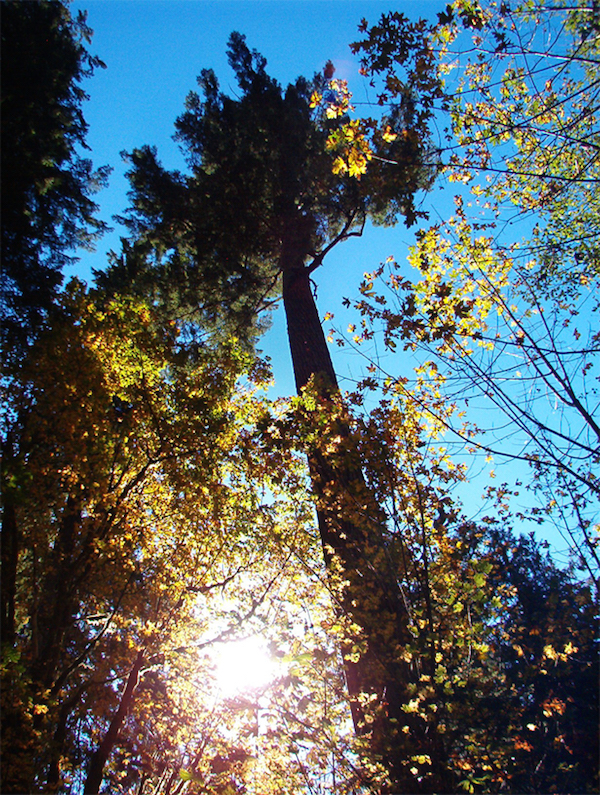 Vine Maple and Douglas Fir, Wenatchee National Forest, Washington.
* * *
If you enjoy Water Cooler, please consider tipping and click the hat. Winter has come, I need to buy fuel, keep the boiler guy and the plumber happy, and keep my server up, too.