By Lambert Strether of Corrente
2016
Policy
"It is concerning that Sanders decided to embrace the 2°C framework. Former NASA scientist James Hansen has repeatedly described the 2°C temperature target as a 'prescription for disaster'" [The Climate Mobilization]. By contrast, "the necessity of a wartime-scale climate mobilization is essentially a hidden consensus among environmental experts." Not sure where Clinton fits in, here; her 2016 stance isn't mentioned.
Money
"Both liberals and conservatives use dark money groups to influence elections, and a dark money group is currently supporting Democratic presidential candidate Hillary Clinton. However, [Jordan Libowitz of CREW] said watchdogs have mainly targeted conservative groups because conservatives spend much more dark money than liberals and openly exploit the tax code. Libowitz said Democrats are not taking some kind of moral high ground when it comes to dark money; they simply have been slower to adopt the tactic" [Truthout].
The Voters
"'Member of the 1%' shocks Reddit: 'I'm voting for Bernie Sanders. Here's why'" [Reddit].

"Dr. Laura Pressley, a Texas candidate, has filed an historic election contest which has uncovered electronic voting machine corruption errors, security breaches, and missing election data" in her 2014 Austin City Council run [Public Intelligence Blog].
The Trail
"The next Democratic debate is this Saturday at 8 pm Eastern. It will take place at Saint Anselm College in Manchester, New Hampshire, and will air on ABC" [Vox]. "it will take place on the weekend — when many fewer people are expected to watch." In a hockey arena, so bundle up.

"Hillary Clinton's dream debate is one nobody watches" [New York Post].

"When you look at Sanders' percentage in the national polls and what that represents among Democrats (which is a larger pool than GOP voters), he actually has more raw support than Trump. In fact, in polls done this past fall, Sanders actually bested Trump by a larger margin than Clinton did in a general election" [ABC]. And: "We haven't focused enough on Sanders and the anti-establishment grassroots he has highlighted." Oh, really?

"Bernie Sanders Campaign Fires Staffer for Allegedly Accessing Clinton Campaign Data" [ABC].

It all happened Wednesday when the vendor [NGP-VAN] who maintains the voter file [sic] for the DNC applied a "software patch." As a result of that, every campaign could have accessed the data all the others were – a glitch. The Sanders camp noticed it and accessed the Clinton files. Then they (and another campaign) told the company, and within half an hour they shut it down.

Sounds like an IT disaster at NGP-VAN, if nothing else (and one of a series). Surely there are alternatives to pushing untested updates live?

The fired staffer: Josh Uretsky (dead LinkedIn profile), National Data Director of the Sanders campaign for all of three months [Heavy]. "He worked as a staffer on Patrick Murphy's Congressional campaign in 2006. From 2007 to 2008 he was a "grassroots leader for Barack Obama's 2008 campaign in Philadelphia," serving as a co-chair of Philadelphia for Obama. "

The self-justification [CNN]:

Uretsky says he got into the system to create a record to make it clear to anyone with NBG-VAN knowledge that he was "going through stuff that I wasn't supposed to have access to." … The point: He wanted people with knowledge of the voter files to be able to clearly see that he was testing the depth of the breach.

Which is just what an unseasoned and not-especially-politically-savvy tech dude, exasperated beyond endurance by a buggy system, might do.

The "glitch": Data could only be viewed, not saved [Bloomberg].

The bug allowed users who already had access to voters' files to search by and view—though not export, save, or act on—attributes added to those files by other campaigns.

So if the Sanders staff couldn't save the data, there's no data to "discard," as the DNC is demanding the Sanders campaign prove was done.

The timing: Very, very bad [CNN].

The suspension comes at a terrible time for Sanders: One day after one of his strongest 24-hours of the campaign and one day before the third Democratic debate on Saturday. Without the data, it is near impossible for the Sanders campaign to target prospective supporters.

Since it would be irresponsible not to speculate, one might imagine a DNC honey-trap: Expose Clinton data to newb Uretksky's staff, and if they view it, nail them. DNC is surely malevolent enough, but NGP-VAN, who would have to be involved, is supposed to be a neutral party, since their data is used by multiple campaigns (making the glitch all the more curious, since firewalls between campaigns are fundamental to their business model). Then again, with the stakes this high, who's neutral? I wonder if any of those great Philly bloggers (that's not irony) know anything about Uretsky. And I'm sorta waiting for Sanders to say, in debate, "I understand Secretary Clinton knows everything about securing servers. Perhaps the DNC should have consulted her."

"A Few Words About Future Presidential Candidate Paul Ryan" [Esquire]. The beard is for gravitas. Presidential.
The Hill
"Ryan and Pelosi corral votes as $1.1T funding bill speeds to floor" [The Hill]. Ugh. It's bipartisan, like the Iraq war. I wonder how many more Easter eggs there are?
Stats Watch
PMI Services Flash, December 2015: "slowing sharply" [Econoday]. "This is the lowest reading in a year reflecting the slowest growth in new orders since January and a fifth straight month of contraction in backlog orders."
Atlanta Fed Business Inflation Expectations, December 2015: "Inflation expectations over the next 12 months remain soft but did edge higher this month" [Econoday].
Kansas City Fed Manufacturing Index, December 2015: [Econoday].
Shipping: On rail, "Bad Data Continues And Marginally Worse Than Last Week" [Econintersect].
Today's Fear & Greed Index: 34 (-1); Fear [CNN]. Last week: 25 (Extreme Fear). (0 is Extreme Fear; 100 is Extreme Greed).
Police State Watch
"A former police lieutenant forced out of his department after he pointed a semiautomatic rifle at protesters in Ferguson, Missouri, and threatened to kill them testified this week that his life was "ruined" during the subsequent fight to keep his law enforcement license" [HuffPo].
"Virginia police misinformed state investigators about their use of force against Linwood Lambert, a man who died after officers repeatedly tased him in a hospital doorway, according to files from a state criminal investigation" [MSNBC]. "The records offer new clues about that lengthy process, revealing a prosecutor who initially leaned against charges but sought a review of that call; state investigators who accepted police claims even when contradicted by videos of the tasing; and State Police officials increasingly pushing for a decision by the prosecutor, privately calling her 'indecisive' and 'unsure' about 'what to do.'"
The 420
"Feds Want Nebraska, Oklahoma To Quit Harshing Colorado's Mellow" [HuffPo].
Heatlh Care
"Few Uninsured Know Date of Pending Deadline for Obtaining Marketplace Coverage; Many Say They Will Get Coverage Soon, Though Cost is a Concern" [KFF].
"Prices for brand-name drugs are typically higher in the U.S. than other developed countries. The drug industry has argued it's misleading to focus on U.S. list prices that exclude discounts struck behind closed doors with insurers" [Bloomberg]. "A Bloomberg News analysis finds that even after these discounts, prices are higher in the U.S. than abroad. Seven of eight top-selling drugs examined still cost more in the U.S. than most other countries."
Gaia
"Climatologists say Syria is a grim preview of what could be in store for the larger Middle East, the Mediterranean and other parts of the world. The drought, they maintain, was exacerbated by climate change" [Scientific American].
"As China's demand wanes, the golden age of coal comes to an end – IEA" [Reuters].
"Scientists manipulate consciousness in rats" [Deep Stuff]. "'Our results suggest the central thalamus works like a radio dial that tunes the brain to different states of activity and arousal,' said Jin Hyung Lee, Ph.D., assistant professor of neurology, neurosurgery and bioengineering at Stanford University, and a senior author of the study." What could go wrong?
Guillotine Watch
"The best recent bathroom innovation may be: a showerhead with a Bluetooth wireless speaker, like Kohler's Moxie model. You forget that the acoustics in your shower are some of the best in your house" [WSJ, "Designer Celerie Kemble on Flea Markets and Showerheads"]. You do?
"'People say we cater to celebrities,' Pastor Carl tells me. 'And I say, yes, we do. Celebrities deserve a relationship with God. Celebrities deserve a place to pray'" [GQ].
Class Warfare
"Fortunately, at least in an analytic sense, when it comes to inequality, all the surveys point in the same direction: toward greater economic distance between people and households in their economic outcomes" [Talking Points Memo]. A "deep dive" into income inequality. Unfortunately, the dive master is Democratic apparatchik Jared Bernstein, so I'd want to check the dive plan very carefully.
"Almost half of Britain's private wealth owned by top 10% of households" [Guardian].
"Get rich or die vlogging: The sad economics of internet fame" [Fusion].
News of the Wired
"Tokyo's solution to rogue drones? Drones with nets" [Engadget]. Meta-drones!
"The self-driving car, that cutting-edge creation that's supposed to lead to a world without accidents, is achieving the exact opposite right now: The vehicles have racked up a crash rate double that of those with human drivers" [Bloomberg]. "The glitch? They obey the law all the time, as in, without exception. This may sound like the right way to program a robot to drive a car, but good luck trying to merge onto a chaotic, jam-packed highway with traffic flying along well above the speed limit." The obvious solution is to outlaw human drivers entirely, which sits uneasily with Silicon Valley's glibertarian mindset, but ka-ching. And somebody needs to ask Google how badly support for their self-driving car will suck.
"On December 10, the New Zealand Gazette, which publishes official notices for the government, posted Marriage Notice No. 22, which declared the Church of the Flying Spaghetti Monster "an approved organization for the purpose of the Marriage Act 1955."" [The Diplomat].
"Identity theft protection firm LifeLock has agreed to pay a record $100 million fine to settle a government lawsuit that it had deceived customers about how secure their data was" [The Hill].
"More than 131 hanging wooden coffins, balanced on the side of a 100-metre mountain side, have been discovered in China. The mysterious find, believed to be about 1,200 years old, were located in China's Hubei province" [International Business Times].
"From pandas to pot to the pope, and everything in between, these were the stories that D.C. talked about in 2015" [Washington City Paper].
"Iris hacking, though more difficult, can be done by scanning the iris and printing it on a glass eye" [The Economist, "America is to tighten its visa-waiver programme"]. "In China, there are mail-order services that can replicate a person's print or iris and courier it back to the purchaser in 48 hours." Well, so much for biometrics.
Samuel Delaney reviews the original Star Wars [JustPaste.it].
* * *
Readers, feel free to contact me with (a) links, and even better (b) sources I should curate regularly, and (c) to find out how to send me images of plants. Vegetables are fine! Fungi are deemed to be honorary plants! See the previous Water Cooler (with plant) here. And here's today's plant (PP):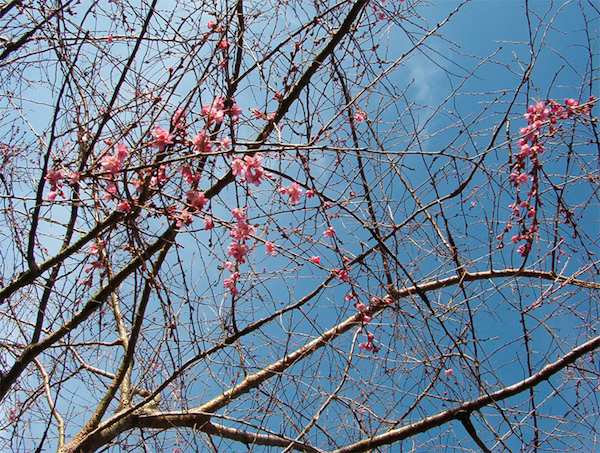 PP writes: A reminder for dark days of winter. First cherry blossoms, January 2011, Hiram Chittenden locks in Seattle, WA.
* * *
If you enjoy Water Cooler, please consider tipping and click the hat. Winter has come, I need to buy fuel, keep the boiler guy and the plumber happy, and keep my server up, too.