By Lambert Strether of Corrente
2016
Policy
Clinton: "Now, I wouldn't keep any school open that wasn't doing a better than average job" [Education Week]. Now, Yves handles the math stuff, but even I know that means Clinton just proposed closing half the schools in the country.

Clinton and Trump both use magical thinking to urge that "'there must be a way' to spy only on criminals' encrypted messages without compromising the security of well-meaning Internet users" [WaPo]. No, there isn't. Just because you can set up another Manhattan Project doesn't automagically guarantee the desired result!
The Voters
"Marcotte Makes Basic Statistical Error: Mythical BernieBro Continues to Elude" [Matt Bruenig].
The Trail
"The Republican Establishment Would Rather Lose the Presidential Election Than Control of the Party" [New York Magazine] (keying off this interesting article by David Frum). And that reminds me…

"It's been obvious from the start of the 2016 presidential race that just about the entire Democratic Party establishment is in the tank for Hillary Clinton" [The Week]. And that's just the first sentence!

"A post on Hillary Clinton's website meant to showcase how the former secretary of State is like 'your abuela' — Spanish for grandmother — is drawing mockery online" [The Hill]. "The hashtags #notmyabuela and #nomiabuela shot to the top of the trending list on Twitter."

Donald Trump glossary [New York Magazine]. It's huuuuuge!

"As few as six candidates could make the next GOP presidential debate stage in January, as Fox Business Network's new criteria could drastically shrink the field less than a month before the Iowa caucuses" [The Hill]. Hmm. I would have thought the voters were supposed to do that, not FOX.

Sanders: "Now, I was there at the debate we had on Saturday night, but I've got to be honest with you, I've got to be honest with you. I gotta lay it out on the table: I also went to the bathroom," Sanders said, to great laughter. "I know, I know. I have to admit it. I guess I'm a man and men are allowed to go to the bathroom. But women, what can we say?" [Des Moines Register] *mic drop*.
Stats Watch
Consumer Sentiment, December 2015: "Consumer sentiment is on the rise going into the final shopping days of Christmas, up 8 tenths from the December flash to a higher-than-expected final December reading" [Econoday]. Current conditions are up, but expectations are flat, "indicating caution over the jobs outlook."
Personal Income and Outlays, November 2015: "Personal spending rose an as-expected 0.3 percent in November in data released last night by mistake" [Econoday]. "Income, data not released early, also rose 0.3 percent and the wages & salaries component is very strong for a second month."
MBA Mortgage Applications, week of December 18, 2015: Purchase applications up 4% [Econoday].
New Home Sales, November 2015: "Rising construction is bringing supply into the housing sector and helping to lift new home sales, which rose 4.3 percent in November to what is still however a lower-than-expected annualized rate of 490,000" [Econoday]. However: "The rolling averages smooth out much of the uneven data produced in this series – and this month there was a deceleration in the rolling averages" [Econintersect].
Durable Goods Orders, November 2015: "October was a rare good month for the factory sector, not November where manufacturing production in the industrial production report was no better than unchanged and now new orders were also unchanged" [Econoday]. "Excluding transportation, orders dipped into the minus column though just barely." However: "Durable goods is not a good economic forecasting tool as it contains too many false warnings of economic contraction" [Econintersect].
Existing Home Sales (yesterday): "Housing was forecast to be the 'driver' of growth. Unfortunately all it's done is turn south like most all the other stats, and nothing has stepped up to replace the lost oil capex which had stepped up to offset the tax hikes and sequesters. And remember the population grows at about 3 million per year, so it's even worse on a per capita basis" [Mosler Economics].
Ag: "European wheat is seen at risk after record-high temperatures in November and December accelerated growth and delayed the onset of winter dormancy, leaving plants vulnerable to any cold snap in the spring" [Bloomberg].
Oil: "OPEC said demand for its crude will slide to 2020, though less steeply than previously expected, as rival supplies continue to grow" [Bloomberg].
Today's Fear & Greed Index: 41 (+5); Fear [CNN]. Last week: 44 (Fear). (0 is Extreme Fear; 100 is Extreme Greed).
Dear Old Blighty
"Why You Should Take A Black Cab, Not An Uber, This Christmas" [Londonist].
Police State Watch
"Community violence did not make it any more or less likely for police to kill people" [Mapping Police Violence]. Great project: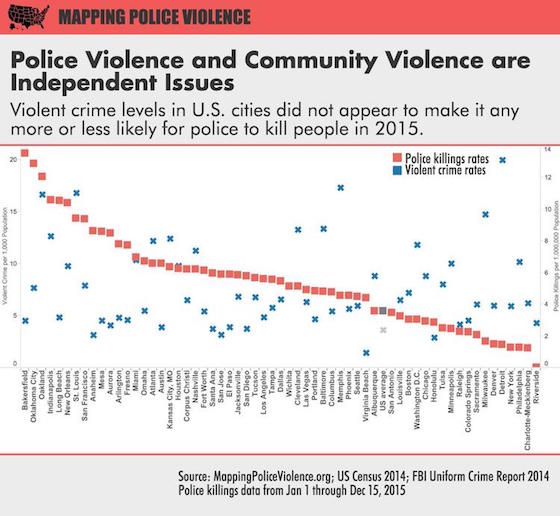 "In fact, 80 percent of the Chicago Police Department's 850 dashcam video systems don't record audio due to "to operator error or in some cases intentional destruction" by officers, according to a review by the Police Department" [DNAInfo].
Gaia
" A kilogramme of beef protein reared on a British hill farm can generate the equivalent of 643kg of carbon dioxide. A kilogramme of lamb protein produced in the same place can generate 749kg. One kilo of protein from either source, in other words, causes more greenhouse gas emissions than a passenger flying from London to New York." [Paul Monbiot, Guardian].
Corruption
"Protesters Deliver National Petition Signed by 250,000 Asking Rahm to Quit" [DNAinfo]. "[O]rganizers granted that only about 5 percent of those who signed the petitions, or about 12,500 people, were Chicagoans."
"Ethics law bans gifts to congressional officials, but public universities are exempted" [Wall Street Journal, "Why Tickets to College Games Come Easy on Capitol Hill"]. Virginia Tech Official: "[W}e need the Congressman for a lot of reasons and they are very helpful to us."
"The latest extravagances in the college sports arms race? Laser tag and mini golf" [WaPo]. "Few people actually know how much [Nike co-founder Phil Knight] spent on the [Hatfield-Dowlin Complex], thanks to a series of financial transactions that obscure details from public records." Alternatively, I could file this under Guillotine Watch, since these "extravagances" are destroying the university as an institution.
" It's Your First Day On Wall Street" [Clickhole]. A fun interactive story, a lot like what happens with Bloomberg when they let the JavaScript programmers loose.
Guillotine Watch
Sagarmāthā is not happy [Reuters]. "In 2013, there was an unprecedented mass brawl between Sherpas and climbers that exposed deep-rooted frustrations over a lack of recognition of the risks local guides take to get foreigners up and down the fabled summit." Into Thin Air is one of the saddest books I've ever read…
"So what happens when 200 majorly wealthy and minorly famous jet-setters go all-out in scenic Gstaad? [New York Magazine]. Remind me why these vicious young whippersnappers deserve to run the world?
Class Warfare
"The Melting Away of North Atlantic Social Democracy" [Brad DeLong, Talking Points Memo]. DeLong's summary of discussion sparked by Piketty's Capital in the Twenty-First Century is well worth a read. A taste:
We as a civilization could decide that we are not willing to let money talk so loudly in politics. We could keep our politics from being one of establishing monopoly after monopoly and rent-extraction chokepoint after rent-extraction chokepoint. If we manage that, then the forecasts of Keynes (1936) and Rognlie (2015 will come true, and a rise in wealth accumulation will carry with it a fall in the rate of profit, and a highly-productive not-too-unequal society.

But right now money talks very loudly indeed. And I leave the Piketty debate more depressed about our ability to keep it from talking so loudly. What makes me more depressed? The Piketty debate itself does: The eagerness of so-many economists to aggressively make so many shoddy arguments that Piketty does not know what he is talking about.
(Incidentally, it creeps me out that the swipe- and clickbait-friendly tendency to leave publication dates off articles, leading to a seemingly eternal present, has crept into TPM. The only way I could find out when this article was published was to view source and look at the metadata: 2015-12-21T21:16:06Z.)
If you thought Human Resources was bad, wait 'til corporations are managed algorithmically with data-driven inputs. [Lucy Kellaway, The Economist, "Big Brother management"]. A must-read, even if you don't work in a cube. Going to be a lot of managers joining the rest of us shelving at Walmart.
YT.'s mom decides to spend between fourteen and fifteen minutes reading the memo. It's better for younger workers to spend too long to show that they're careful, not cocky. It's better for older workers to go a little fast, to show good management potential. She's pushing forty. She scans through the memo, hitting the Page Down button at reasonably regular intervals, occasionally paging back up to pretend to reread some earlier section. The computer is going to notice all this. It approves of rereading. It's a small thing but over a decade or so this stuff really shows up on your work-habits summary.
(Neal Stephenson, Snow Crash.)
News of the Wired
"The evolution of anti-evolution bills" [Boing Boing]. "The fact that humans can "selectively breed" legislative proposals, in other words, supports both the creationist hypothesis (which says that modern evolution is the result of human experimentation) and the evolution through natural selection hypothesis (because it shows that mutation and selection produce more fit organisms)."
* * *
Readers, feel free to contact me with (a) links, and even better (b) sources I should curate regularly, and (c) to find out how to send me images of plants. Vegetables are fine! Fungi are deemed to be honorary plants! See the previous Water Cooler (with plant) here. And here's today's plant (FH):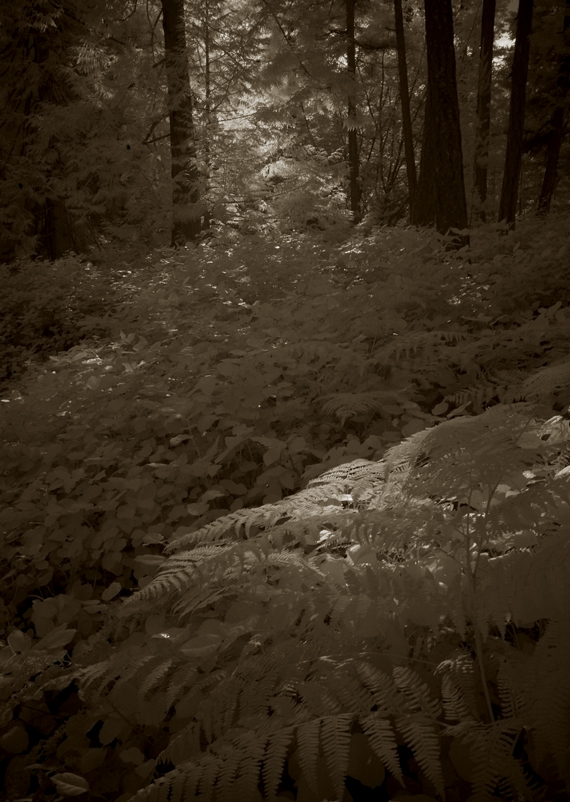 This is an infra-red photograph of sword fern, from a "remote island" in the Pacific Northwest.
* * *
If you enjoy Water Cooler, please consider tipping and click the hat. Winter has come, I need to buy fuel, keep the boiler guy and the plumber happy, and keep my server up, too.