By Lambert Strether of Corrente
Readers, my Mac laptop is in the shop for the final stage of its keyboard transplant, so Water Cooler will be shorter than usual as I re-accustom myself to the different keyboard and absence of my usual tools.
2016
Policy
"Sen. Marco Rubio (R-Fla.) on Thursday lashed out at Donald Trump's comments suggesting that Israel should offer 'sacrifices' to win a peace deal, telling a prominent Republican Jewish group that conflict is the Middle East amounts to more than "a real estate deal."" [The Hill]. Trump outflanks Clinton on Israel to the left. Hilarity ensues.
The Voters
Trump: "Think of it. Obama, your African-American youth — 51 percent unemployment, right? You guys our age, they have unemployment that's double or triple what other people have. What the hell has he done for the African-Americans? He's done nothing. He's done nothing. I don't think he cares about them. He's done nothing. It's all talk, it's all words with this guy" [The Hill]. Sadly, Trump is correct, on both counts. And he forgot to mention the foreclosure crisis, which disproportionately affected Blacks.

"73% of Republican voters say Trump would win the general [Quinippiac]. Rubio: 63%; Cruz: 59%; Carson: 55%. So, not only a gigantic upraised middle finger to their own party establishment and the entire political class, but pragmatic, too.
The Trail
"Hillary Clinton, the Democratic presidential front-runner, broke with Chicago Mayor Rahm Emanuel on Wednesday and called for a federal probe of the city police department following the release of a video last week showing the death of a black teen, who was shot by a white police officer" [Wall Street Journal, "Hillary Clinton Calls for Federal Probe of Chicago Police Department"]. Say, who is this "Rahm" character, anyhow? He just seemed to pop up one day, and now he's all over the news. What gives? Where the heck did he come from?

"In a seven-page confidential memo that imagines Trump as the party's presidential nominee, the head of the National Republican Senatorial Committee urges candidates to adopt many of Trump's tactics, issues and approaches — right down to adjusting the way they dress and how they use Twitter" [WaPo].

Trump's two talking points on Clinton [Business Insider].

"One thing with Hillary, she doesn't have the strength or the stamina to be president. She doesn't have it," Trump said at a Wednesday-night campaign rally in Manassas, Virginia.

Trump's other lines that Clinton shouldn't even be "allowed" to run for president because of her controversial email practices at the State Department. The FBI has said it is investigating whether any material was mishandled in connection to Clinton's email account, which was run using a private server in her home.

"Hillary shouldn't be allowed to run because what she did is illegal. What she did is illegal," Trump asserted Thursday.

I don't know if Clinton privatizing her email server is illegal. I do know it's corrupt to the bone.

"How Hillary Clinton can shake the one charge that sticks to her" [Harold Meyerson, WaPo].

However, the one line of attack that is substantial, and that she's had the most trouble dispelling, is her closeness to Wall Street.

So is there anything Clinton can do to rid herself of the Wall Street albatross? Of course there is. She should say that if elected president, she'd subject the Wall Streeters to a higher tax rate than anyone else. (I'd exclude venture capitalists from this penalty, since they primarily fund innovation.)

Oh, "innovation." Ka-ching.
Stats Watch
Chain Store Sales, November 2015: "Chain stores are posting slightly better year-on-year sales rates in November, hinting at improvement for the ex-auto ex-gas core reading of the government's retail sales report. The results are made more solid by the month's unseasonably warm weather which held down sales of winter goods." [Econoday].
Jobless Claims, week of November 27, 2015: "Initial claims, up 9,000, did rise in the November 28 week but, at 269,000, remain near historic lows and continue to point to lack of slack in the jobs market" [Econoday].
Challenger Job-Cut Report, November 2015: "In another indication of labor market strength, Challenger's count of layoff announcements fell nearly 20,000 in November to 30,953 for the lowest reading since September last year. And this is more than 20,000 below the 2015 monthly average of over 52,000. " [Econoday]. "Makers of industrial goods announced the most layoffs in November, nearly 7,500, followed by transportation at nearly 4,500. Energy, where layoffs have been very heavy this year, is third at more than 2,500."
Gallup Good Jobs Rate, November 2015: "Gallup's measure of underemployment in November was 14.6 percent, up 0.8 points from October. However, this rate is still lower than in any November since Gallup began tracking it daily in 2010" [Econoday].
PMI Services Index, November 2015: "November is the best full-month showing for this index since August and reflects strength across both business and consumer customers. The report describes new orders as "robust" and "accelerating" and the best since July, which is good news for the U.S. economy where manufacturing, which is directly exposed to the global economy, has been weak" [Econoday].
Bloomberg Consumer Comfort Index, week of November 29, 2015: "Consumer confidence seems to be sliding lower going into year end. The latest signal comes from the consumer comfort index which fell a very sharp 1.3 points in the November 29 week to 39.6. This is the fifth decline in the last six weeks" [Econoday].
Shipping: "Cargo theft is one of the most lucrative criminal activities in Canada, but it rarely makes headlines. And yet it's costing consumers and the economy an estimated $5 billion a year" [CTV]. Even in Canadian dollars, that's real money. I wonder what the US figures are?
"Oil companies brace for big wave of debt defaults" [CNBC].
The Fed: "To simply provide jobs for those who are newly entering the labor force probably requires under 100,000 jobs a month and there's a downward trend in the labor force due to aging" [Reuters]. "She added that she does not expect to see the labor force participation rate to increase much in the future." My $0.02: The Obama administration has successfully thrown millions of workers under the bus. I was screaming that this was the new normal in 2009, and now it has become so. Only Nixon can go to China. Mission accomplished!
The Fed: "'On balance, economic and financial information received since our October meeting has been consistent with our expectations of continued improvement in the labor market,' Ms. Yellen said in her speech. 'Continuing improvement in the labor market helps strengthen confidence that inflation will move back to our 2% objective over the medium term'" [Wall Street Journal, "Yellen Signals Fed on Track to Raise Rates in December"]. For some definition of "improvement"; see above.
Today's Fear & Greed Index: 51 (-4); Neutral [CNN]. Last week: 59 (Greed). (0 is Extreme Fear; 100 is Extreme Greed).
Corruption
"Funds of more than $600 million that turned up in Malaysian Prime Minister Najib Razak's private bank accounts were donations and not from a troubled state investment company, the government said Thursday in an explanation to parliament" [Blooomberg]. Oh. OK.
Gunz
"Here's What We Know About San Bernardino Mass Shooting. The Rest Is Just Noise" [Wonkette]. As of 10:30AM.
Handy chart of mass shootings, since 2013 [WaPo].
"Can someone give me a Gospel argument why weapons that are specifically designed to maim and kill human beings should be allowed to exist?" [Come Together].
"Last year, Tommy Millner, the chief executive of Cabela's, a retailer that sells guns, boasted at an investor conference in Nebraska that his company made a 'conscious decision' to stock additional weapons merchandise before the 2012 election, hoping Obama's reelection would result in increased sales. After the election, the Newtown mass shooting happened, and 'the business went vertical … I meant it just went crazy,' Millner said, according to a transcript of the event. [The Intercept]. "Describing the 'tailwinds of profitability,' Millner noted Cabela's 'didn't blink as others did to stop selling AR-15 platform guns,' and so his company 'got a lot of new customers.' The AR-15 is a high-powered assault rifle based on the military's M-16 model but without the full automatic capacity." So, nice little self-licking ice cream cone the arms business has there, eh?
"There's a simple reason why mass shootings have become routine in America — Americans own more guns per-capita than people in literally any other country on earth" [WaPo]. "More guns = more gun deaths. This is true whether you're comparing countries or states, research from Harvard has shown. If people have easy access to tools that allow them to easily hurt or kill other people, a certain percentage will use them. Simple as that."
Then again: "National rates of gun homicide and other violent gun crimes are strikingly lower now than during their peak in the mid-1990s, paralleling a general decline in violent crime, according to a Pew Research Center analysis of government data" [Pew]. Nearly all the decline in the firearm homicide rate took place in the 1990s; the downward trend stopped in 2001 and resumed slowly in 2007."
"[Q]uestions over guns are becoming questions of identity. When Mr Obama or the mayor of Charleston says that gun control would be a logical response to Wednesday's killings, the message triggers a tribal response. The America that believes that guns make the country more dangerous—urban, educated, Democratic America—is proposing to disarm the America that is sure (indeed increasingly sure) that safety lies in keeping firearms close by. As a result, nobody is about to disarm anyone" [Economist]. America is a category error; and there are plenty of well-educated, urban conservatives. Anyhow, let's throw the floor open to the gun advocates. Is there a public policy solution to mass shootings? Is there any other (putative) public policy solution than arming all citizens?
"Those who live in America, or visit it, might do best to regard them the way one regards air pollution in China: an endemic local health hazard which, for deep-rooted cultural, social, economic and political reasons, the country is incapable of addressing" [The Economist]. "This may, however, be a bit unfair. China seems to be making progress on pollution."
"Congressional Staffer Arrested After Loaded Gun Found In Bag" [Talking Points Memo].
Many sources have picked up the Los Angeles Times quote that the (alleged) shooter couple were "living the American dream". Indeed, but typically we chase our pink misty dreams farther away from home. (Oddly, the quote's in the headline, but I can't find it in the story.)
Gaia
"Bill McKibben: Climate Protest Movement, Not COP21, Key to Preventing 'Uninhabitable World'" [Common Dreams].
"Weather-related disasters such as floods and heatwaves have occurred almost daily in the past decade, almost twice as often as two decades ago, with Asia being the hardest hit region, a U.N. report said on Monday" [Reuters]. "While the report authors could not pin the increase wholly on climate change, they did say that the upward trend was likely to continue as extreme weather events increase."
Class Warfare
Facebook's chief did not donate 99% of his shares to charity. He created an investment vehicle [Dealb%k, New York Times, "How Mark Zuckerberg's Altruism Helps Himself"]. Indeed. Help yourself, Mark!
He created a limited liability company, one that has already reaped enormous benefits as public relations coup for himself. His P.R. return-on-investment dwarfs that of his Facebook stock. Mr. Zuckerberg was depicted in breathless, glowing terms for having, in essence, moved money from one pocket to the other.

An L.L.C. can invest in for-profit companies (perhaps these will be characterized as societally responsible companies, but lots of companies claim the mantle of societal responsibility). An L.L.C. can make political donations. It can lobby for changes in the law. He remains completely free to do as he wishes with his money. That's what America is all about. But as a society, we don't generally call these types of activities "charity."
I should really stop giving my labor to this creep for free. People can send me pictures of cats via mail.
News of the Wired
"VTech Hacker Explains Why He Hacked the Toy Company" [Motherboard].
"Adobe to kill off Flash in January's Creative Cloud update" [Ars Technica].
"An Anonymous Satire of Silicon Valley Now Has a Publisher" [New York Times]. Not sure if this precious little worklet is a sign of froth, or not.
* * *
Readers, feel free to contact me with (a) links, and even better (b) sources I should curate regularly, and (c) to find out how to send me images of plants. Vegetables are fine! Fungi are deemed to be honorary plants! See the previous Water Cooler (with plant) here. And here's today's plant (OregonCharles):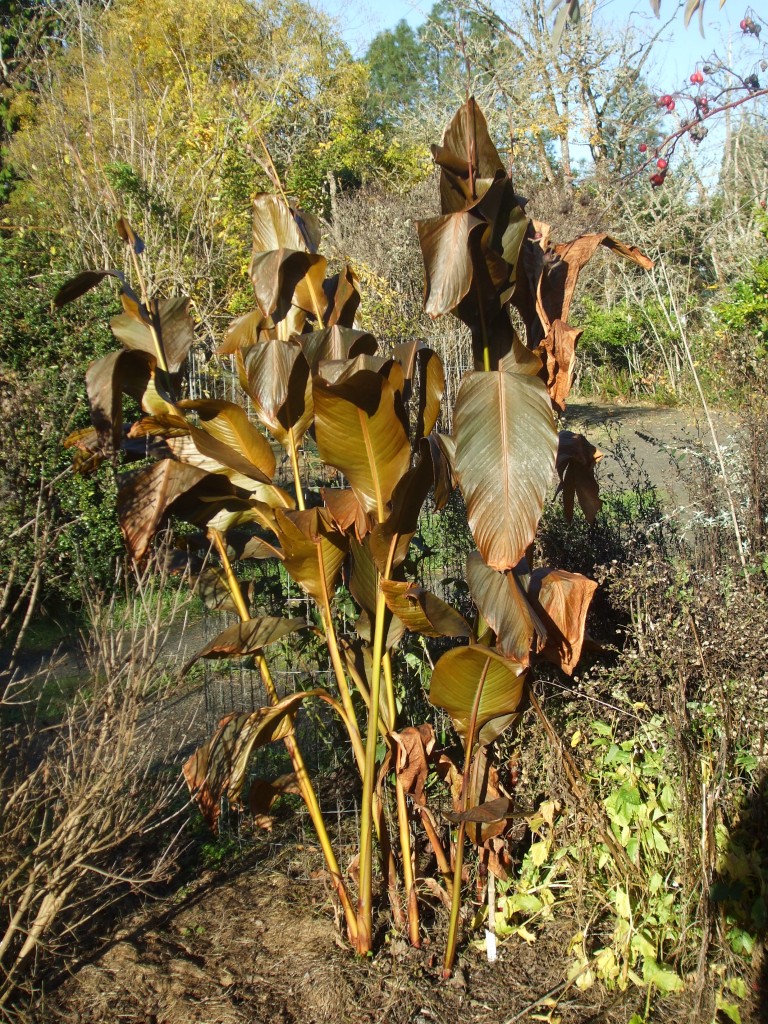 The tall canna, after the first freeze.
* * *
If you enjoy Water Cooler, please consider tipping and click the hat. Winter has come, I need to buy fuel, and I need to keep my server up, too.