The lead story at the Financial Times is based on a study by the Pew Research Center, on the dramatic decline of the US middle class. This is particularly noteworthy because while Pew plays straight up the center in its research on reporting, it is known among pollsters for skewing its questionnaires on economic issues to support conservative viewpoints (mind you, it's subtle; Pew is no Rasmussen).
The Pew study, The American Middle Class Is Losing Ground is more anodyne than the Financial Times writeup, and the pink paper seems to have made very good use of its embargo period. I'm relying on its account more heavily than I would normally, even though the underlying report is out, in part because (as you'll see below) the FT supplemented the Pew report with some useful short profiles of Americans who are doing well and less well. But it is also instructive to see how the FT has spun the Pew report.
The underlying data is so bad as to be beyond remedy by porcine maquillage. And even traditional conservatives may recognize that the rise of His Trumpness and the popularity of Bernie Sanders are telling them that conditions for most Americans are worse than they realize in their upper-income echelons, and it might behoove them to understand what is going on.
The Financial Times headline is uncharacteristically dramatic: America's Middle Class Meltdown: core shrinks to half of US homes. And I find their infographic that charts the the shrinkage of the middle class cohort over time to be more informative than the Pew charts that presented the same information; we are partially replicating it by showing the starting and end shots: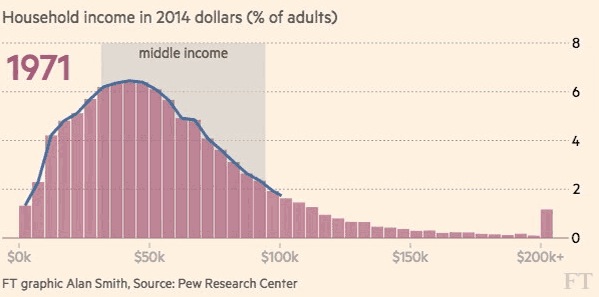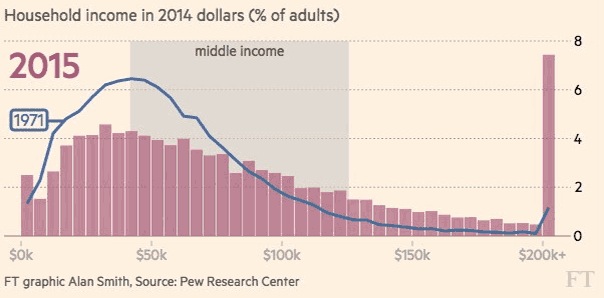 I strongly urge you to read the article or at least the executive summary of the Pew report. If you look at both, you'll see the Pew report makes an undue amount of effort to steer readers into the details in a way that reduces the focus on the losses for the once great middle. Hence the perhaps unusual emphasis on the Financial Times account. For instance, consider the pink paper's lead paragrpah:
America's middle class has shrunk to just half the population for the first time in at least four decades as the forces of technological change and globalisation drive a wedge between the winners and losers in a splintering US society….

Pew used one of the broadest income classifications of the middle class, in a new analysis detailing the "hollowing out" of a group that has formed the bedrock of America's postwar success.
Contrast that with Pew's opener:
After more than four decades of serving as the nation's economic majority, the American middle class is now matched in number by those in the economic tiers above and below it. In early 2015, 120.8 million adults were in middle-income households, compared with 121.3 million in lower- and upper-income households combined, a demographic shift that could signal a tipping point, according to a new Pew Research Center analysis of government data.

In at least one sense, the shift represents economic progress: While the share of U.S. adults living in both upper- and lower-income households rose alongside the declining share in the middle from 1971 to 2015, the share in the upper-income tier grew more.
Yves here. I will leave it to experts on this beat to indicate Pew was generous in what it defined as "middle class." From the full version of report:
In this study, which examines the changing size, demographic composition and economic fortunes of the American middle class, "middle-income" Americans are defined as adults whose annual household income is two-thirds to double the national median, about $42,000 to $126,000 annually in 2014 dollars for a household of three.
Needless to say, if other studies typically define "middle class" as a narrower income band, you would have seen lower "middle class" membership, and the decline could also have looked greater.
Back to the Financial Times:
The core of American society now represents 50 per cent or less of the adult population, compared with 61 per cent at the end of the 1960s. Strikingly, the change has been driven at least as much by rapid growth in the ranks of prosperous Americans above the level of the middle class as it has by expansion in the numbers of poorer citizens….

Recent political debate has been dominated by the view that US society has been distorted by staggering gains for the top 1 per cent of the country at the expense of the remaining 99 per cent.

Pew's research gives a more nuanced picture however. Better off households — defined by Pew as earning more than $125,608 a year — account for more than one-in-five of the US population. That is the highest share the study has found, as well-educated Americans from finance to computer programming and biotech enjoy strong prospects. "On balance, there is more economic progress than regression," the report says.
Yves again. You can see the effort to put a happy face on this story. First, we have an apples and oranges comparison. The share of income and assets controlled by the top 1% and top 0.1% has doubled since the early 1980s, and the top 0.1% has pulled out in a very dramatic way from the top 1% overall. In addition, that increase in concentration is almost certainly understated, since Gabriel Zucman of Berkeley has estimated that a full 6% of global wealth is in secrecy jurisdictions and not reported. It's a given that that hidden lucre is owned pretty much entirely by the top 1%.
Thus the "more people are in the upper middle class slice" story does not contradict the notion that the top 1% and top 0.1% have seen a stunning increase in their incomes and wealth, and with it, their power. Moreover, I'd like to see the geographic distribution of these top 20% earners. $125,000 does not go very far in high tax, high housing cost areas like New York City, San Francisco, or Silicon Valley. A lot of smaller cities like Memphis or Kansas City are vastly more affordable, but prevailing wage levels are also lower.
We see Pew showing its bias in the remark about "more economic progress." Recall the precise statement from the executive summary:
The share of U.S. adults living in both upper-and lower-income households rose from 1971 to 2015, but the share in the upper-income tier grew more.
Huh? First, we have the issue flagged by Elizabeth Warren in her book The Two Income Trap: that households that have higher incomes in real terms than those in 1970 (which was the starting point of her study) are often not better off because it takes two workers to produce the income, and the need for two earners was to live in districts with good schools, Intensification of competition to be in those locations led to more competition for housing, driving living expenses up. Moreover, a two-earner family has a bigger nut to cover, staring with two cars. She found typical households had less discretionary income than in the 1970s, which often also meant lower savings, and even when they had decent buffers, were more bankruptcy-prone by not having a non-working spouse as a reserve labor force that could be tapped if the primary earner could no longer work or suffered a big fall in income.
In addition, there is a great deal of research that shows that highly stratified societies score worse on social indicators like crime rates, average educatioal attainment, suicides, and teen pregnancies. The US hews to this pattern. Even worse people in highly stratified societies pay a price in terms of their health and longevity, even those at the very top. Stratified societies have people at every level having low community engagement, thin social network, and for those who are well or very well off, pressure to maintain their economic status, since if they lose that, they lose their social network. They can no longer afford to engage in many of the same activities, they might even have to move into cheaper housing, and the result is that they lose most if not all of their current "friends". And it's hard to see how Pew can claim there has been "more progress" when labor force participation is low by historical standards.
And we see the "more progress" spin contradicted by other findings:
The research also tracks different demographic groups to find the winners and losers in recent decades. Older Americans were the biggest gainers by far in terms of their progression up the income tiers during the current century, and also when compared with the start of the 1970s, it finds. The group aged 18-29 has seen the biggest slide.
How is an economy showing "more progress" when it cannot generate enough well paid work for its young people, who are the most energetic and most adaptable, and on whom future growth depends?
I suspect other commentators will identify the impact of simplifying assumptions. I find this one to be odd:
Pew's data, which draw on official numbers, adjust for inflation and put everyone in a three-person household to make figures more comparable.
The Financial Times supplemented the Pew study by doing a set of interviews to give more flavor to who was winning and losing. Extracts from two of the mini-profiles:
Julie Ruhlen works in one of the wealthiest counties of the US, but she says the idea of living there is out of her reach.

Ms Ruhlen is a state school teacher at Harper Park Middle School in Loudoun County, Virginia, a leafy suburb dotted with multimillion dollar mansions that is one of the richest localities in the US.

Like many public school teachers, however, she has to supplement her income with a part-time job — in her case, working at one of the state's wineries — to maintain the lifestyle she wants.

Teachers have been among the poorest performers in terms of income mobility since the 1970s. Among the 14 professions tracked by Pew between 2001 and 2014 they have suffered the biggest slide down the income ladder as states have slashed budgets, resulting in stalled wages or job cuts for a broad range of middle-class public sector workers.

"It is not just affecting me personally but also the people I am out there to help," said Ms Ruhlen, who commutes 50 minutes each way to work. "I could do so much more if I were able to live in the community where I teach."
And:
Liz Heath has been waiting for five years but work is finally under way on the renovation that will more than double the size of her 1927 bungalow in Atlanta's gentrifying Grant Park neighbourhood.

It helps that Ms Heath is an architect and drew the plans for the 3,100-square-foot renovation herself. But beyond fulfilling a long-held goal, her project is a sign of renewed confidence. After starting her career in the shadow of the 2008-09 recession, Ms Heath senses that she and her peers are living in a more hopeful economy.

"We came out of school and after a few years we hit a point where we were earning less than we did out of school," she says. "But since then things have started moving forward. We are feeding back in to the economy."

Ms Heath has been the beneficiary of a boom in professional services, such as architecture, that has yielded what is now a much more white collar middle class.

In 1971, 18 per cent of the American middle class worked in business and professional services; today, one-third of it does. Almost one in three of the 66,000 jobs that the Atlanta area added in the year to August were in business and professional services.
Again, I hope you will read the story in full (clear your cookies and Google the headline) and/or the report proper and discuss where the picture you see there is consistent with what you are seeing in your community.