What's that blooming smell?! Huge plant that stinks of rotting flesh is set to flower for the first time in a DECADE Daily Mail
TPP Ratification Process Grinding To A Halt As Canada Launches 'Widespread Consultations' On The Deal Tech Dirt. Worthwhile Canadian initiative!
One of the Biggest Objections to the TPP Just Went Up In Smoke Foreign Policy. Philip Morris lost the ISDS case it court-shopped in Singapore. But the headline is deceptive, not supported by the story.
California Pension Won't Force Wall Street To Disclose All Fees Charged To Retirees David Sirota, International Business Times. With shout-out to Yves.
Oracle settles with FTC over Java's "deceptive" security patching Ars Technica. Why can't we just say "fraudulent"?
'Somebody Intervened in Washington' Pro Publica. How Obama let big oil drill in the Alaska wilderness.
Dubai oil benchmark under growing scrutiny FT. A phishing equilibrium.
Kansas is now the 5th state where lottery prizes may have been fixed AP. Another phishing equilibrium.
Former Libor Trader Tom Hayes Gets Prison Sentence Cut to 11 Years WSJ. Executives skate. Mission accomplished!
SEC to Retrench on SAC's Cohen WSJ. Ditto.
Toshiba Plans to Cut 7,800 Jobs as It Warns of Huge Loss NYT
Syraqistan
Police: Woman Chants "ISIS is good, ISIS is great" During Sex WDJT
The world of threats to the US is an illusion Boston Globe.
Big Brother Is Watching You Watch
The decline of Europe is a global concern FT
Will Spain's Bernie Sanders be a power Broker in wake of Elections? Informed Comment
Return of the Lula Foreign Policy
China?
2016
The Great Republican Revolt The Atlantic

Edward Snowden: Clinton's Call for a 'Manhattan-Like Project' Is Terrifying Rolling Stone

Why Political Data Is a Complete Mess Advertising Age. Like all data.
Health Care
Medicare Drug Spending Dashboard CMS

Linda Peeno – The Confession of a Managed Care Medical Director (video) C-SPAN
Class Warfare
The Origins of Totalitarianism Part 1: Introduction Emptywheel
Meet the Scientist Who Injected Himself with 3.5 Million-Year-Old Bacteria Vice (CL).
Antidote du jour (Furzy Mouse):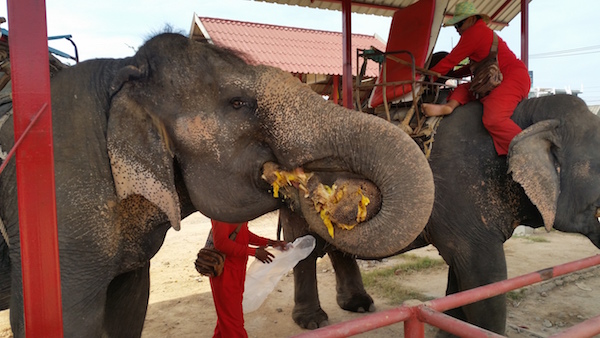 Elephant eating Furzy's jack fruit!
See yesterday's Links and Antidote du Jour here.