Why Asia Craves America's Pig DNA Bloomberg
ASEAN leaders accept Obama invitation to Sunnylands summit Reuters
Trans-Pacific Partnership is a wonderful idea – for China Globe and Mail
New Brooms: Bank CEOs embark on clean up FT. In 2015? A litte late, no?
$1.7 Trillion of Sub-Zero Euro Debt Shows ECB Outlook for 2016 Bloomberg
The Perils of Fed Gradualism Stephen Roach, Project Syndicate
Hoping for a Price Surge, Oil Companies Keep Wells in Reserve NYT
The $500 Million Battle Over Disney's Princesses Bloomberg
Scrooge's activist hedge fund letter to Santa Claus FT
Christmas 2015—–Why There Is No Peace On Earth David Stockman (Jim Haygood).
Boxing Day rail shutdown prompts Labour accusation of Tory hypocrisy Guardian. Correct me if I'm wrong, but, pre-Thatcher, weren't we able to keep the railway system in good repair without shutting it down over the holidays?
Holidaze
Relatives Gather From Across The Country To Stare Into Screens Together The Onion

This has been making the rounds:

A very mathematical Merry Christmas… pic.twitter.com/7G3pnHwOzD

— Moisés Naím (@MoisesNaim) December 25, 2015

The 2015 Economist Advent calendar: Christmas Day The Economist

COLUMN: The Search for True Leaders at Christmas ABC. A good distinction between "niceness" and "kindness," but badly infected with airport bookstore business section-style Fuhrerprinzip. Jesus a "leader"? Like, you know, Tim Cook? Genghis Kahn? That guy in your Cub Scout troop?
Explosive Documentary Links Peyton Manning, Major Athletes To Doping Ring HuffPo
2015 Lists
How crowdfunding became a lifeline for cancer patients struggling with debt Guardian. Haven't these people heard about ObamaCare? What's wrong with them?
2016
Our caucus: Debaters agree on one thing — Sanders Des Moines Register. High school debaters, vulnerable to logical appeals. We'll soon set them straight on that.

The real scandal in the Bernie/DNC feud is the one nobody is talking about David Dayen, Salon. "There's a compelling theory that the DNC leaked the controversy about the Sanders campaign to distract from the data security failure of their sole-source vendor."

6 ways Donald Trump's wrestling career previewed his campaign WaPo. Which NC readers knew back in July.

Political Dark Money Just Got Darker Editorial Board, NYT. "For two years, President Obama has dithered and withheld the one blow he could easily strike for greater political transparency: the signing of an executive order requiring government contractors to disclose their campaign spending." Wow. It's almost like the Democrats aren't fully committed to campaign finance reform.
Syraqistan
William Dalrymple: Christianity and Islam are not as far apart as Bin Laden and the neocons would like us to believe New Statesman (from 2005).

Kurdish group TAK claims responsibility for Istanbul airport attack Daily Star
Europe?
Pablo Iglesias: How the leader of the leftist Podemos party upset Spain's elites to reach the brink of power Independent

Don't bet on a happy new year for Greece CNBC

German business leaders fear nationalism, refugee crisis will destroy EU Reuters
Police State Watch
Hero security guard defuses hostage situation only to be fatally shot by late arriving cops Raw Story

Chicago Police Fatally Shoot 2, Including 55-Year-Old Woman 'Accidentally' ABC and Quintonio LeGrier: 5 Fast Facts You Need to Know Heavy

In the end, 2015 saw no 'war on cops' and no 'national crime wave' WaPo
Global Weirding
Tornadoes sweep through Dallas area; significant damage AP

Parts of U.K. Facing 'Very Severe Weather,' Met Office Says Bloomberg

Over 100,000 flee flooding in Paraguay, Argentina, Brazil, Uruguay Reuters
Guillotine Watch
Why Does the FTC Keep Ignoring Endorsement Violations? The Fashion Law. Kendall Jenner "rakes in $300,000 for a single Instagram post."
Class Warfare
At the top of Twin Cities real estate market, the selling isn't easy Star-Tribune
The unsuccessful self-treatment of a case of "writer's block" Journal of Applied Behavior Analysis. Successfully replicated here.
Prayers for Richard Oxford American. Little Richard.
Antidote du jour: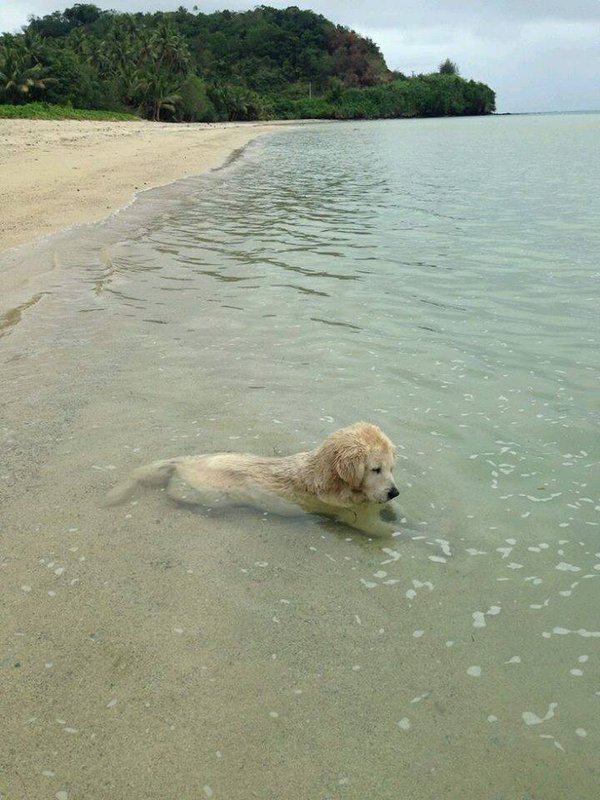 The comtemplative pose reminds me of one of Thurber's dogs. Apparently the dog sat like that, peacefully gazing out to sea, for some time.
See yesterday's Links and Antidote du Jour here.