Dear readers,
I'd planned four posts in the CalPERS Debunks Private Equity series (on its November workshop for the board) for this week and the last ones for next week. You'll still get four this week, but not Monday through Thursday, as I'd thought. The posts on Robert Klausner, which were a big effort too, plus the Harry Shearer taping yesterday added up to enough that I need a wee respite, so we'll resume with CalPERS tomorrow.
Crocodile eats a dog on a South Florida golf course McClatchy. Chuck L: "In addition to golf courses and the Everglades, aren't Florida crocodiles also found in the Tallahassee state house?"
The economics of Star Wars: Modeling and systems risk analysis suggest financial ruin for the Galactic Empire PhysOrg (Chuck L)
Our Fight for Survival: Ahead of COP21, confronting fossil capital is our only hope for averting cataclysmic climate change Jacobin (Sid S)
Rich countries pressured to pay poor nations for climate havoc at COP21 National Observer (Sid S)
China?
Running out of puff: China can't inflate yet more speculative bubbles to disguise the structural problems in its economy South China Morning Post. David L: "A bit dated but still relevant."

RMB in SDR, Now What? Institute for New Economic Thinking

Is the IMF Cutting Corners for China? WSJ Economics
Grexit?
Greeks strike over pension reform as discontent over cuts swells ekathimerini

Is Grexit Back on the Table? Marc Chandler
Portugal: the Left Takes Charge Counterpunch
Syraqistan
Big Brother is Watching You Watch
'Dear Daddy…' Max Zuckerberg's Letter back to her Father The Register (Dr. Kevin)

Google's new computer 'vision' tech is very cool and somewhat terrifying Business Insider

Court documents reveal oversight body struggling to control GCHQ domestic hacking Privacy International (EM)
2016
Obamacare "Observations" and the Elusive Search for Improvements; Seniors Beware Michael Shedlock. Another way to victimize patients.
Museum of Political Corruption. Chuck L also points to this related piece: New Yorkers May Soon Be Able To Buy Kickbacks … As Souvenirs NPR
Utility steps up efforts to plug massive California methane leak Reuters (EM)
White-Collar Crime: Obama Administration Memo Urging Prosecutions Doesn't Scare Firms That Defend Corporate Executives David Sirota, International Business Times
San Barnardino
San Bernardino Shooting: Two Suspects Dead After Gun Battle Wall Street Journal

Couple Kept Tight Lid on Plans for California Shooting New York Times

San Bernardino Shooting: Male and Female Suspected Killers Dead After Shootout With Police Alternet
Woman Killed in Savannah in Yet Another Mass Shooting Today Gawker. I hate being right about this, but years ago, I predicted random increases in violence as the likely response to the crappy post-crisis economy and rising inequality, not revolution or meaningful economic protests. But it's still shocking to see it happening on this scale, and this sort of thing feeds on itself (as in it has become legitimated in a perverse sort of way)>
Mass shootings occur daily in the US International Business Times
Fed
Oil prices tumble to five-year low as Opec gathers in Vienna Telegraph
Saudis throw down oil production cut challenge Financial Times
Junk Bonds Having Worst Year Since 2008 Crisis: Three Red Flags Pam Martens and Russ Martens (Glenn F)
S&P downgrades raft of US banks Financial Times
The Politics of Indirect Auto Lending and the CFPB Adam Levitin, Credit Slips
Class Warfare
10 Moral Crises That Have Resulted From Unfettered, Free Market Capitalism Alternet (RR)

Extreme inequality fueling climate change: Oxfam study Ricochet (Sid S)
Antidote du jour. A blue dragon! See story (margarita):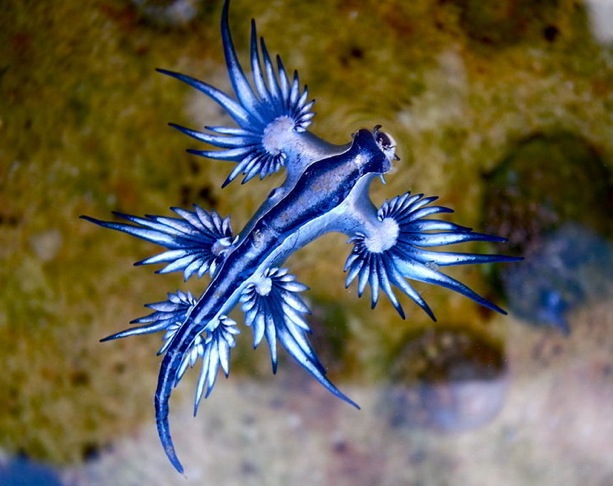 See yesterday's Links and Antidote du Jour here.