Readers, PLEASE label your Antidote submissions as "Antidote" in the subject line! Many of you send images I don't use immediately, usually because I have a backlog and/or your image is in the same category of ones I've run recently. If it is not clearly labeled "Antidote" there is absolutely no way I will be able to find it in my 20,000+ message Inbox.
Crowds Of Stock Traders Gather At Weeping Statue Of Wall Street Bull Onion (David L)
Hooray for war Daily Mash
Study: Dumb People Think Dumb Things Are Deep GAwker
Quest to drill into Earth's mantle restarts Nature (furzy mouse)
The creed of speed Economist
Wikipedia has a ton of money. So why is it begging you to donate yours? Washington Post (furzy mouse)
Amazon Buys Thousands of Own Trucks as Transportation Ambitions Grow Re/code
Why Electronic Health Records aren't more usable CIO (Chuck L) As we've been saying, or rather cribbing from Health Care Renewal
COP21
China?
China Sucked Deeper Into World Financial Vortex and Vice Versa, as BRICS Sink Fast Counterpunch (Sid S)

Is China exploiting Africa? Al Jazeera
Anonymous Takes Credit for Knocking Police Offline Khaosod (furzy mouse)
Pakistan petition demands return of Kohinoor diamond from Britain Telegraph (furzy mouse)
Grexit?
Greek central bank chief warns on reforms Financial Times

EU welcomes Greek request for border aid ekathimerini
It has started: A global proxy war against freedom! failed evolution
Draghi Says ECB Could Step Up Stimulus Efforts if Necessary Wall Street Journal. Translation: cold porridge for Mr. Market!
Syraquisan
Big Brother is Watching You Watch
Persistent Surveillance founder: "We have more fun than we should be allowed" Pando. Unlocked for now.

Witness (activists/change advocates, please read) Patrick Durusau
Imperial Collapse Watch
Gunz
False flags, true believers and trolls: Understanding conspiracy theories after tragedies Washington Post

Former Australian Politician: Country Should Issue Travel Warning for US After Shootings Policy Mic

California candidate's gun giveaway fundraiser will go on Los Angeles Times
Black Injustice Tipping Point
The Racially Charged San Francisco Police Shooting You Don't Know About But Should Mother Jones (Samuel A)

Chicago officials release reports in police shooting of teen Washington Post

Ohio community lives in fear as rifle-toting white man stalks black neighborhoods with impunity Raw Story. Furzy mouse: "Now if he were a black guy…"
Police State Watch
Judge: Chicago police must notify media before destroying decades of misconduct files Washington Post

Massachusetts Bill Would Cripple Already Weak Public Records Law Photography is Not a Crime. If you are in Mass., make a BIG stink with you state legislators.
Fed
Crude Tanks As OPEC Refrains From Cutting Production OilPrice
New York pension fund launches $2 billion low-carbon index Reuters (EM)
Unlocking Climate Finance Project Syndicate (David L). Aiee, public/private partnerships, aka looting, discover climate change.
Supreme Court to hear Puerto Rico appeal Financial Times
Class Warfare
Hard Left, No Apologies US News

When Labor Groups and Silicon Valley Capitalists Join Forces to "Disrupt" Protections for Employees In These Times. TF: "More than ridiculous."
Antidote du jour. We featured another photo from this series a LONG time ago. Frosty zoom:
Here are a few pics of my family playing Scrabble with our cat, "Phydeaux". As you can see we are all geeky nerds chez nous (and proud!). Phydeaux insists on having tiles and rack when we play. Otherwise he'll sit in the middle of the board and destroy the game. With his tiles, however, he patiently waits his turn, occasionally showing us his very cute belly.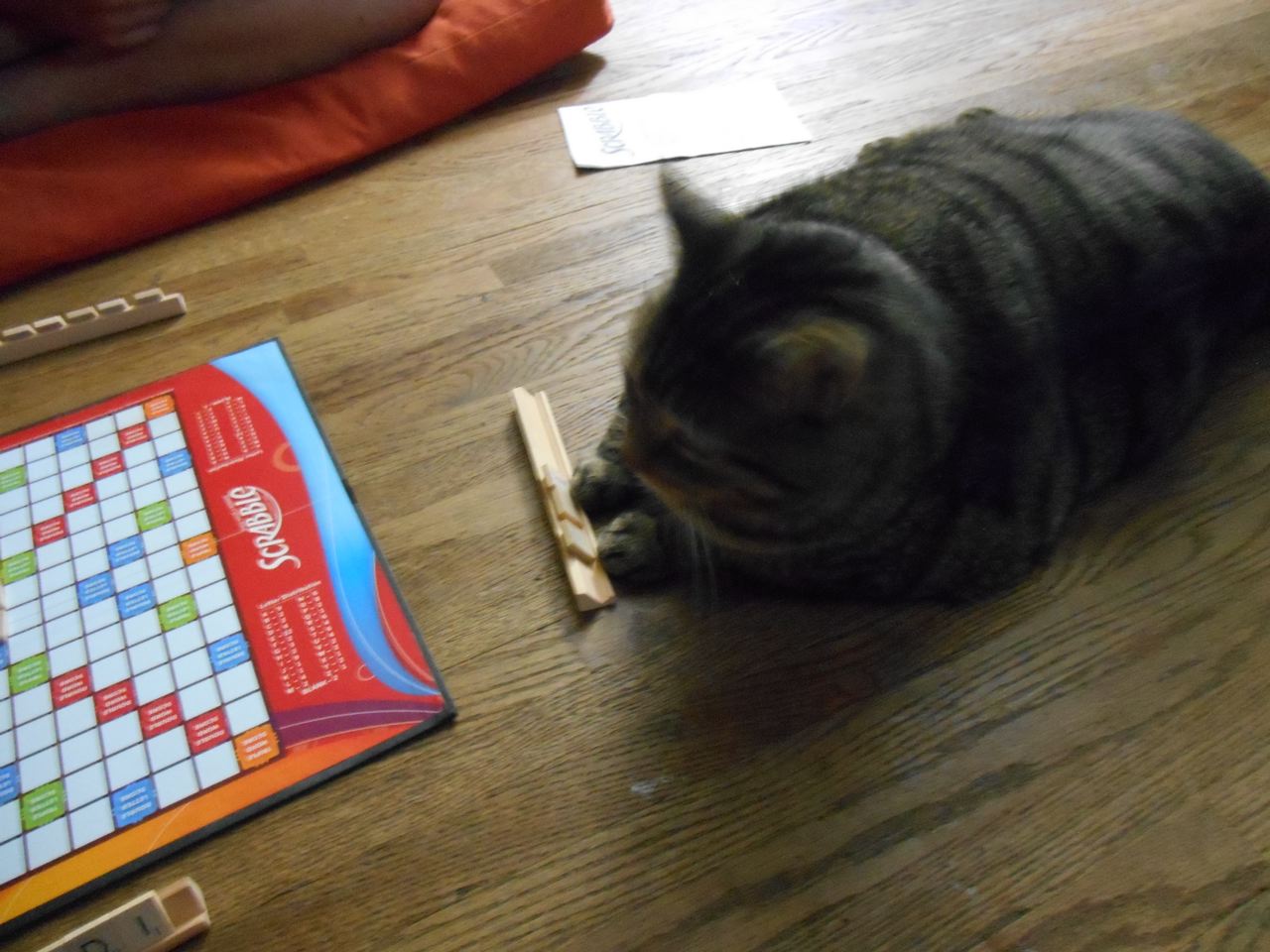 See yesterday's Links and Antidote du Jour here.