Let's start our latest illustration of how easily a reckless, internationally mobile crook can sidestep national regulators, with a helpful observation by Bess Levin at Dealbreaker in May 2010:
Let it be known: if you are not interested in having your supervisor (circle all that apply:) send you videos of himself masturbating, texts about the stuff he wants to do you rife with spelling and grammatical errors, grope you, or leave you lewd notes via Post-It, consider not accepting a gig with Guerreiro Wealth Holdings, where, allegedly, this kind of thing is not frowned upon.

…

…In the event you are interested in all that, please note that the firm is now accepting applications for summer internships and "MBA fellowships." And also that there's a thing called The Guerriero Institute, founded by Professor Tom.
By then, Guerriero already has plenty of form at FINRA, with customer complaints going back to 2002. Guerriero Wealth Holdings sounds as if it must be a boiler room, but where is it? Bess does not enlighten us.
The sexual assault complaint is eventually settled out of court for $50,000, which is very expensive self-service.
After the unwelcome New York publicity, high-profile pud-puller Guerriero sets up WMX Private Co (later WMX Group Inc,) in January 2011. Unsurprisingly, he chooses New Brunswick, star of a previous post here at Naked Capitalism. Equally unsurprisingly, he incorporates WMX at an address, 334 Main Street Shediac, heavily used by company agent and penny stock promoter Touchstone International Business Services, whose principal, Jim Adams, has his own connections to pump and dump scams.
By mid-2011, WMX Group Inc is listed on the chaotic, fraud-ridden junior segment of the Frankfurt and Berlin Stock Exchanges. Here is Mr Guerriero (centre), hands, thankfully, out of shot, fronting the New Brunswick incarnation of the WMX scam earlier that year: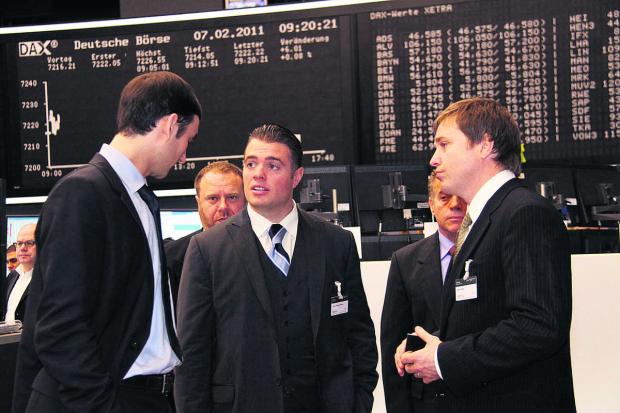 In typically boiler room stock style, WMX is issuing press releases that are all lies. Its price graph tells the usual pump and dump story. By April 2012, it is too late to do anything: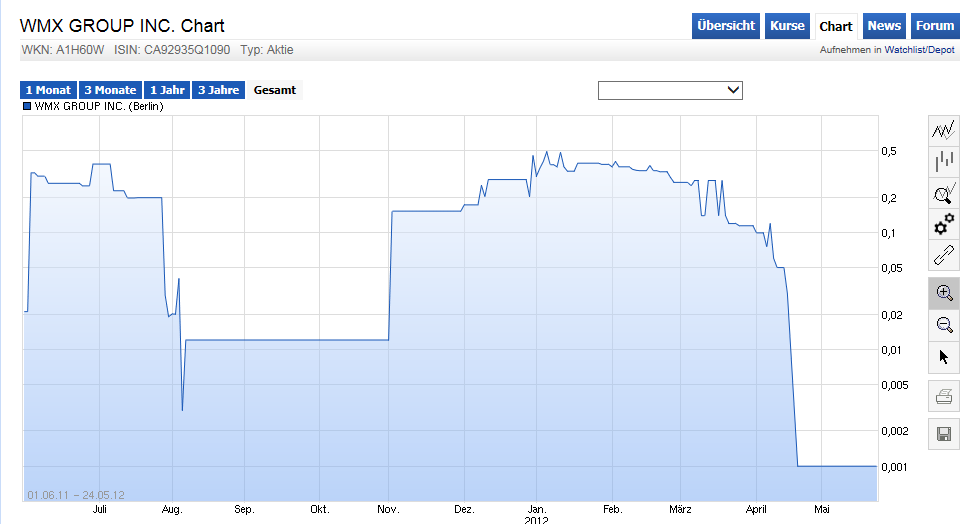 …which means that it's time for the New Brunswick regulator to step in with a warning, (screen dumped in case it vanishes):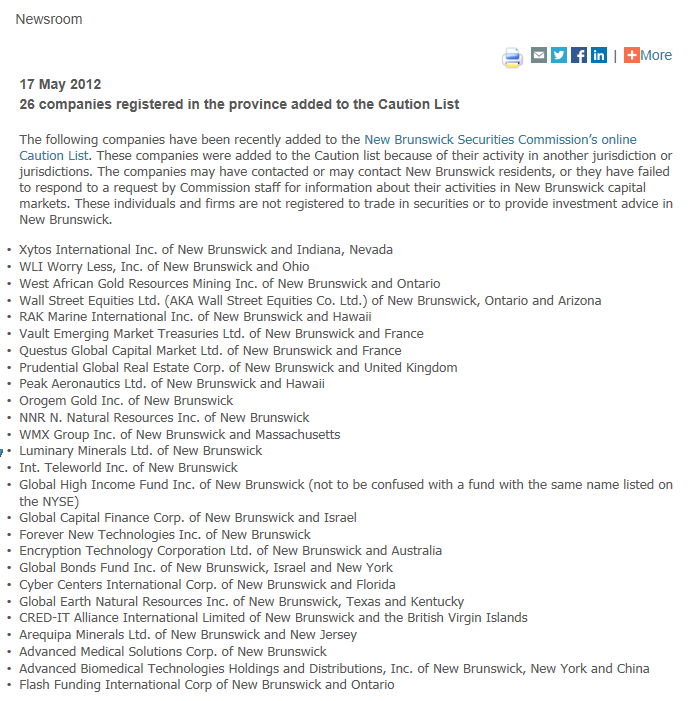 By mid-Dec 2012 the German regulator, BaFin, has at last had enough of this, and much, much more besides, and Deutsche Börse shuts down the entire junior market, some 700 stocks. The investor losses are never quantified.
No one catches up with Guerriero, either. When BaFin steps in, Guerriero's already redomiciled WMX Group, to Nevada, then Florida, and listed it on the US OTC market, with the usual lying bombast in press releases.
We do by now have a clue about the Florida location of his boiler room, from an unusually literate, well-organised and plausible complainant at Ripoff Report:
Upon starting at WMX Group, myself and 5 other new hires were greeted by a 30 minute staff meeting held by Mr. Guerriero where he went on a 5 minute rant chastising the staff for not working extra hours over the weekend. It was a terrible first impression and I started feeling that I made the wrong decision to fork over $1500 to work for this man. After the meeting, my assigned team leader instructed me to search all the free job sites to pull as many resumes as possible. My assignment was to cold call these people and book them to interview at WMX Group. I was informed I would receive $250 for each recruit I booked that came on board and paid the $1950 (new rate) licensing class fee. I was also required to work a minimum of 12 hour days 6 days per week.

I quickly realized I was working in a Boiler Room. There was never a real job nor real responsibilities. I was sold this job as a financial analyst or wealth advisor. In the week I spent at WMX I never witnessed any finance or advising happening other than Mr. Guerriero calling his wife every time a new recruit check arrived so she could go deposit it at the Bank of America down the block.

The only thing I learned from Mr. Guerriero was that he owned the Springfield Armor, an NBA D league team; he was the youngest inductee ever into Marquis Whos Who in America; that he attended grad school at Harvard; was a professional soccer player; that he had had dinner with Hillary Clinton a few weeks prior; he had a custom-made Bentley; he owned a world-renowned educational institute; and he appeared in the major motion picture film Any Given Sunday.
…that's a striking upgrade of what we know of his film career, from paragraph 1 of this post. The next bit rings truer though…
Mr. Guerriero could not stop talking about himself and never talked about finance.

When Mr. Guerriero disappeared from the office for 3 days for what he categorized as a money raising business trip, the staff started discovering the web lies Mr. Guerriero fed each and everyone of us. He had no Bentley, he rode to work on his 50cc scooter; WMX was never ISO certified; WMX was not registered to operate as a broker/dealer or an investment advisor firm; WMX was insolvent and was living recruit check to recruit check; there is no evidence Marquis Who's Who knows Mr. Guerriero exists; his educational institute is not certified or accredited anywhere on this planet; and that Mr. Guerriero never appeared in any movie per IMDBs uncredited search.

We also discovered the extent of Mr. Guerrieros previous sex scandal, lawsuits and payoffs. More distressing, we learned that Mr. Guerriero pulled this same exact job scam in New York City just 2 years earlier with his now defunct Guerriero Wealth Advisors organization.
In April 2013, Guerriero makes a surprise move in the UK, written up breathlessly by the Oxford Mail:
FOOTBALL clubs are often described as a millionaire's play-thing.

But little did the 250-odd people who attend Oxford City's matches know that their club would soon be run with the help of a Wall Street tycoon.

Today we find out exactly who Thomas Anthony Guerriero is and what he has in store for Oxford City FC.
…RS here: or not…
The Florida-based businessman has pledged to turn the Blue Square Bet North side into a world-class club.

And regulars at Court Place Farm have welcomed his ambitious plans.

THE new president of Oxford City FC has revealed his reasons for taking on the club, his determination to transform its fortunes and his vision for success.

In an exclusive interview, Florida-based finance tycoon Thomas Guerriero said he wants to use his Wall Street experience and love of the game to catapult the club into the Football League and create a "world-class team".

He said: "My plans are very clear. With the right people working together we are going to have success on the bottom line and on the pitch.

"Football is just like any business. Whether it is professional sports or running an investment firm you have to run it in the right way and not just be there for the money."
The Oxford Mail, indifferent to the perils of single sourcing, diligently transcribes Mr Guerriero's fantasies:
Father-of-three Mr Guerriero, 36…said he had been approached by several 'big name' teams in the UK, which he declined to name, but turned them down in favour of the non-league club based at Court Place Farm, Marston.

He was involved in takeover talks at Spanish second division club Racing Santander, which he pulled out of in 2011.

He added: "I started to get a ton of calls from the UK and Europe from clubs wanting me to come in. Oxford City was the team with the best potential.

"It is not so much about where they are playing but the people involved.

"In my meeting with individuals such as (managing director) Colin Taylor, they have come across as such a high calibre of individual."

Mr Guerriero declined to say how much cash he would be ploughing into the Blue Square Bet North league side, saying it was up for "discussion".

He added: "Lots of teams I have looked into come with an ego with no big picture. To put a number on it does not make sense. I value every dollar, every pound, and look to make the most of every opportunity."
The Mail even fancies it might have spotted the sucker in this story:
City regularly attract home attendances of about 300, but that does not deter Mr Guerriero.
In fact, by July 2013, Guerriero has fleeced enough Floridan jobseekers to buy a 49% stake in Oxford City Football Club. The next 18 months' worth of uncritical Oxford Mail coverage (sampled here and here) and mendacious PR (sampled here) is a depressing spectacle.
At least this flood of bullshit does get one welcome challenge, by way of some high class butchery from the Texas Examiner:
Anyone being asked to invest money in Beaumont's new indoor soccer league should know that "international financier" Thomas Anthony Guerriero is far from whom he and his staff claim him to be. In fact, an Examiner investigation of the businessman's international portfolios reveals that nothing is as it seems with this self-proclaimed "high performer business executive."
First up, Guerriero's been using McDonalds' logo on his web site without permission. McDonalds make him take it down. Next, it turns out that one of the Oxford Mail's reporters knows quite a bit more about Guerriero than they've been publishing. I suppose their libel defence budget isn't that big, but maybe the Mail's editor's just an idiot:
Guerriero is banking his new Texas endeavor on claims of past sporting success to cement his reputation as a purveyor of indoor field sports, but again those claims are not verifiable. According to Guerriero, he is the own­er of multiple sports teams – Oxford City FC, the Oxford City Nomads, and Oxford City Futsal – all soccer teams playing in the English city. He claims to have grown the teams to be crowd favorites and cash cows that bring good fortunes to their investors.

"Mr. Guerriero has successfully eliminated the debt in the company, restructured the landscape of the organization to the most fiscally strong in the last 132 years by implementing his proprietary vertical integration financial model," Guerriero writes on a résumé distributed to Beaumont businesses in the hopes of garnering support and sponsorship dollars. "Under his leadership he innovated several ancillary revenue streams, which have been introduced to the com­pany, while maximizing all existing revenue streams."

Guerriero also markets to potential local investors the idea that he has land holdings in Oxford for his sports teams, and told The Examiner that "as we are speaking" he and his staff are finalizing plans to acquire a facility with five arenas that can be converted to facilitate playing soccer or basketball. According to him, "the OXFC Real Estate & Property Management Portfo­lio controls a diversified port­folio of real estate including Oxford City Stadium, Oxford City Indoor Arena, and the Oxford City 3G Training Facility. OXFC benefits from these facilities both in usage and in rental income."

But according to reports from Oxford, Guerriero's soccer team was "homeless" in 2013 with no place to practice, much less host games. Reporter Dan Robinson from the Oxford Mail said Guerriero's Oxford City FC in England is pretty small compared to the thousands of soccer endeavors stationed all over the country and even those located in the same city. Robinson also debunked much of Guerriero's land holdings claims.

"He came to Oxford and was watching one of the games. … I met with him, and one of the things he told me was that he'd have the plan in play by next week," Robinson said of Guerriero's land acqui­sition in a meeting that happened many months ago. Those high hopes never came to fruition, however. "I asked him what happened and he said something about a feasibility study or something like that. … His plans seem to be a bit outlandish.

"There is an Oxford Stadium, but he doesn't own it. … Oxford City Stadium, I don't know of that. … Oxford City Indoor Arena, I don't know of that existing either," he said. "They've been going around to different schools to play games."

Robinson said there are actual places called Oxford Stadium, Oxford Arena and Oxford 3G facility – but all are owned by the city of Oxford.

In propaganda Guerriero circulated to potential South­east Texas investors, he claims to have stadiums full of fans to support his teams. But if Beaumonters are expecting the same crowds Guerriero pulls in Oxford, they may get a couple dozen seats filled, if a July 26 game Oxford City FC played is any indication. In fact, of all the games showcased online, the Oxford City FC crowd never fills the small arenas to capacity.

The small crowds may be a surprise to anyone who saw Guerriero's marketing of the England-based football club, since photos of crowds were manipulated to show large audiences at his small-scale events.
Then there's the basketball team that Guerriero turned around:
Guerriero said he acquired the Armor basketball team in January 2012.

…

The team's success, he added, was due to his work ethic.
…or not…
Verified Armor owner Michael Savit said the news that Guerriero turned the team around was news to him.

"He had nothing to do with it," Savit said, who added that Guerriero was a minority investor for the NBA D-League team. "If he's saying that, it's just not the case."
…the radio station…
If Guerriero's Florida soccer team ever comes together, however, it would be in close proximity to yet another company Guerriero claims to own – the Oxford City Broadcasting Net-work, "which is broadcasted on 740AM in Florida that reaches from Miami, Florida, to Jupiter, Florida."
…or not…
While it is true that Guerriero registered a for-profit company under the moniker of the Oxford City Broadcasting Network, the company does not own a radio station.
…the "diversified portfolio of academic institutions":
 …specifically the Oxford City Sports College in Oxford and CIT University in the United States, "which expects to have its first brick and mor­tar campus in the United States in South Florida in the near future to strategically put the University in a tremendous position for the future."

Guerriero does not mention that CIT is only the most recent of names attributed to his collegiate undertaking, first filed with the Florida Sec­retary of State as Cambridge Institute Of Technology Inc. in June 2012, changed to CIT Cambridge Institute Of Technology Christian University Inc. in November 2012, changed to CIT Christian Institute of Technology University Inc. in February 2013, changed to Oxford City University A Christian Institution Inc. in August 2013, and updated into its current name in March 2014.

CIT University's curriculum, according to Guerriero, "is designed by Ivy League scholars and developers providing a state of the art educational platform and is unique to any ever seen."
…or not…
Guerriero has, also according to him, been an instructor for the university since 2012, teaching "economics, securities markets, (and) securities licensing preparation." Guerriero also neglects to mention he no longer holds any securities licenses to sell or teach, and that in the educational arena, each of the endeavors were marked by outcries from those who paid for courses through his institution and later complained not only to the Securities and Exchange Commission (SEC), but also took to the Internet to warn others of the "pyramid scam," with most of the negative publicity ramping up shortly before the institution's name changed time and time again.
Amazingly, it still takes more than a year for this tottering pile of crap to fall over. Just ten days ago it turned out that the SEC had found the elusive boiler room and busted Mr Guerriero. Here are a few bullet points:
Since at least August 2013, Guerriero has operated a classic boiler room scheme under the guise of nominal legitimate businesses through which millions of unregistered shares of stock were sold to investors who were deceived about the stock value and potential profits.
Guerriero's salespeople sold Oxford City stock to the public based on leads lists he purchased from third parties. Guerriero crafted scripts for the salespeople, who used aliases to mask their true identities.
Prospective investors were told they were being offered a limited-time deal to purchase Oxford City shares at a deep discount from the publicly quoted price. Unbeknownst to the victims, the stock price was controlled by Guerriero.Guerriero claimed to record phone conversations with potential investors using a "verbal verification system" that supposedly tied the stock "transaction" to their social security number and birthday. In reality, Guerriero and his associates simply pressed any button on their phone to make a sound signaling the fake start of a recording. If investors later refused to pay, Guerriero would threaten them with lawsuits based on their "recorded" verbal commitment.
Investors were falsely told that Oxford City would pay a 50-cents-per-share dividend within a year. In reality, the company was losing millions of dollars a year and was legally prohibited from paying a dividend.
Oxford City purportedly had real estate holdings worth approximately $100 million and owned a radio broadcast network that projected profits of almost $20 million. Oxford City actually had assets of approximately $1 million and never owned a radio station – it simply purchased one hour of air time per week.
Oxford City claimed to own an online university with students already enrolled and projected profits of $495 million for the upcoming five-year period. In reality, there was no such university that ever enrolled a student or had revenue.
Oxford City purported it would earn more than $238 million over five years from existing and new sports-related facilities. The truth was that Oxford City owned a minority interest in a lower division English soccer club, which generated a small amount of revenue but never turned a profit.
It gets worse in the detail of the complaint: consider the 79-year-old widow whom Guerriero deceived into thinking she was irrevocably committed to buy Oxford City stock. Guerriero threatened her with debt recovery litigation when she got cold feet after 24 hours. After suffering a heart attack, she handed over $250,000 from her liquidated retirement annuity. I hope she gets it back.
In that context, the last word should definitely go to shoulder-shrugging OCFC club chairman Brian Cox, who I suppose may not have read the SEC complaint when he extruded this piece of verbal matter:
"He's been a great help to the club and towards our business structure," club chairman Brian Cox told BBC Radio Oxford.

"It's a shame what's happened, but you move on in life and City will carry on."