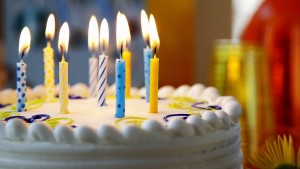 Every year, I use the birthday post to thank the people who have contributed to the success of this site over time. We've been so busy this year that I failed to commemorate passing some important thresholds, like having published 15,000 posts. But we just clicked past 16,000 in the last 24 hours, so this birthday post marks two major milestones. And we are fewer than 300 comments shy of having published 675,000 comments since this blog started in 2006.
Now that we are nine years old, that list is so long that any effort to do it justice will inevitably neglect some key people. So I hope no one takes offense at an oversight.
I started writing this blog because it seemed like a good idea at the time. More specifically, it seemed there were things that needed to be said.
In the fall and winter of 2006, if you read between the lines of the Financial Times and Bloomberg, it was not hard to see that credit risk was grossly underpriced across all debt instruments, or to put it another way, that we were in the midst of a huge debt bubble. And that idea was pretty much absent from the Wall Street Journal and the New York Times. It was clear this wall of liquidity, as it was called then, was going to end badly, but when and how was an open question.
Starting a blog is like setting up a soapbox in a park. You have no idea if anyone is going to listen. So I set six month, twelve month, eighteen month and twenty four month readership targets. Every time it looked like I might not meet a goal, a wheel would obligingly fall off the financial system and my readership would spike up. The first wheel that fell off on a timely basis was the implosion of two Bear Stearns hedge funds that had invested heavily in subprime.
What was also critical to our early growth was that established writers and sites took interest in our work, including Felix Salmon, Mark Thoma, Tanta at Calculated Risk, Cactus at Angry Bear, the writers at FT Alphaville, and Paul Krugman. And as the site grew, our comments section became more vibrant and an attraction in and of itself. Vlade is our longest-established comments section member and he continues to provide important technical information, as he did several times in the past week.
In more recent years, we've been fortunate in attracting some core collaborators. Richard Smith, Andrew Dittmer, Ed Harrison, Tom Adams, and Tom Ferguson all played critically important roles when I was writing ECONNED, either with the book proper or with the site, and most continue to be important advisors. Lambert and David Dayen are mainstays of the site. Matt Stoller has been a very highly regarded writer both here and at other sites, and continues to provide important intelligence about politics and policy. We worked with legal experts on foreclosure fraud and servicing abuses, including Adam Levitin, Bubba Grimsley, Nick Wooten, April Charney, Max Gardner, Abigail Field, Matt Weidner, Tom Cox, as well as activists like Lisa Epstein and Michael Olenick. Newer writers and contributors include Clive, Philip Pilkington, Nathan Tankus, Michael Crimmins, Mathew D. Rose, and Igancio Portes. Richard Smith's work on international fraud has also helped strengthen our ties with writer working on aligned issues, like Nicholas Shaxson, an expert on "offshore," or international tax avoidance.
We've also had whistleblowers alert us to and help us develop critically important stories, such as Entirely Random and CDO Guy, who put us on the Magnetar trail, nine insiders who gave us detailed information about the bank servicing coverup otherwise known as the Independent Foreclosure Review, and currently, some well-placed sources who are deeply knowledgeable about private equity misconduct.
And I would particularly like to thank readers who send us links and antidotes. Regulars include furzy mouse, resilc, David L, Chuck L, EM, margarita, martha r, Carol B, YY, 1 SK, Deontos, Robert M, Bill B, bob (who also helped us rescue Gabriel when he got stuck behind our huge bookcase) and John L. And last but not least the established members of the commentariat, such as craazyman and now craazyboy, diptherio, MyLessThanPrimeBeef, James Levy, ambrit, OIFVet, Oregoncharles, washanute, and Jim Haygood (don't feel neglected if you were not singled out! There are too many esteemed members of the commentariat to begin to give an adequate listing).
I have not included this category in the past, which is a big oversight on my part, but I also wanted to thank colleagues in the media, for helping to promote our work, most important when we have been pursuing overlapping stories. It's been gratifying to find that journalists and commentators on established platforms have seen our work as complementing theirs rather than as competitive. These media allies include Harry Shearer, Gretchen Morgenson, Bill Moyers (who even in his supposed retirement sometimes features our work on his site), David Sirota, and Chris Flood of the Financial Times.
And we must thank CalPERS for providing such a window into how public pension funds have been captured by alternative investment managers. Ironically, our very first post in 2006 was about CalPERS, pointing out that the logic of their own statements about the lackluster performance of hedge funds said they should exit that strategy. It took them a full eight years to act on what their own results were telling them. We are trying to accelerate the implementation cycle with private equity.
Last but not least: we depend on the contributions of our loyal donors. We would not be able to produce this site at its current level of output and quality without your help. So a big BIG thanks for your generosity and vote of confidence in our work.
And on to more troublemaking in the upcoming year!