By Lambert Strether of Corrente.

TPP/TTIP/TiSA
"House Democratic Leader Nancy Pelosi (D-Calif.) has yet to take a stance on [TPP]" [The Hill]. "I'm reading it now," she told reporters last week. "I'm going to study it very carefully."
"[T]he normal win-lose binary doesn't apply for ISDS cases. Regardless of the decision delivered, governments always lose – even when they win (which happens only 35% of the time) due to millions of euros lost in legal fees and arbitration costs" [Euractiv]. Not to mention the chilling effects.
2016
Money
"Hillary Clinton's Single-Payer Pivot Greased By Millions in Industry Speech Fees" [The Intercept]. "Hillary Clinton alone, from 2013 to 2015, made $2,847,000 from 13 paid speeches to the [health care] industry. This means that Clinton brought in almost as much in speech fees from the health care industry as she did from the banking industry." Ka-ching.

"Major GOP donors and fundraisers are wondering whether they're wasting their money on super-PACs" [The Hill]. Or, less politely, whether grifters in the political class picked their pockets. Which is sensible. That's where the money is.
Policy
"The context here is that Clinton doesn't support single-payer health care. Sanders does. And so do many liberal Democratic primary voters" [Sarah Kliff, Vox].

Nice clip from the Sanders campaign:

Flashback: Hillary Clinton on universal health care in 2008
https://t.co/QCUnlrNCLe

— Bernie Sanders (@BernieSanders) January 13, 2016

I remember this episode from 2008. In the Ohio primary (note the "Cincinnati" backdrop) Obama distinguished his health care proposal from Clinton's by coming out against the mandate (which, if you're going to go with a "market-based," Heritage-style solution, is indeed necessary to achieve universal coverage, as all economists agreed). Obama then sent out Harry and Louise-style mailers against Clinton, which so disgusted [genuflects] Krugman that he gave Obama fifty lashes with a wet noodle. So, nice work, Sanders staff: (1) Clinton supported universal health care once, but as NC readers know, ObamaCare is by no means universal, so what's her plan to make it so? Details, please! And (2) Clinton, as you can see, did some heavy-duty whinging in 2008 about Obama's tactics, but her own tactics in 2016 are as bad if not worse.

"The Clinton camp is lambasting Bernie Sanders' health care plan, but its critique is blatantly dishonest" [US News]. I can't imagine staffers thought this line of attack was a good idea; perhaps Clinton believes it herself?
The Trail
"'The thing that tells you as much as anything about [the Clinton campaign's] current state of mind is Chelsea going on the attack. It tells you everything you need to know,' said one Democratic strategist. 'That this [challenge from Sanders] is real and they've got to be freaking out'" (brackets in the original) [The Hill].

"Hillary Clinton says she's 'not nervous at all' about Bernie Sanders. She should be" [WaPo].

"Bernie Sanders for President" [The Nation]. "This magazine rarely makes endorsements in the Democratic primary (we've done so only twice: for Jesse Jackson in 1988, and for Barack Obama in 2008)."

Sanders "scored an endorsement from progressive group [Iowa CCI] who will mobilize their 3000 members to caucus for him in Iowa" [@LACaldwellDC]. To me, this is bigger than the Nation endorsement; 3000 ground troops aside, "Iowa CCI activists heckled Mitt Romney in 2012, prompting him to respond with the infamous line, 'Corporations are people, my friend.'" So they're players.

"Democrats [*** cough *** the Clinton campaign *** cough *** ] want Massachusetts Sen. Elizabeth Warren to endorse a presidential candidate soon. But they won't say it publicly" [Politico]. No, so they leak it. What's in it for Warren? The cabinet post she'd surely get under Sanders?

Bill Clinton, stumping for of the Clinton dynasty, in Claremont, NH: "People said Hillary Clinton has a great organization and a huge lead in the polls. Well things have changed" [WCAX (Petal)]. One might ask why….

Bill Clinton, ditto, in Hanover, NH: "I was raised by my mother to believe that if you're ashamed of something, you shouldn't do it. And if you're going to do it, you ought to just tell everybody" [Valley News (Petal)]. So that means Hillary Clinton is going to release all the mail from her privatized State Department server?

"Benghazi panel chair: Clinton's email setup is a 'smoking gun'" [The Hill]. "Because we have talked for so long about this unusual email arrangement she has had with herself, we have a tendency to just gloss over the fact that for two years none of her emails were in the public domain." He's almost there; it's privatizing the server that's the problem in and of itself. And so where does he go with it? Classification. Security theatre. Not corruption.

"I went to a Trump rally in my hijab. His supporters aren't just racist caricatures" [Guardian].
Republican Debate Tonight
A smaller main event: Trump, Cruz, Rubio,Carson, Christie, Jebbie, and Kasich [Time]. The undercard: Paul, Fiorina, Huckabee, Santorum [Time]. But Paul was still fighting to get at the grown-ups' table.

"​How to stream Thursday's Republican debate" [CNET].

"The two polls – based on New Hampshire voters – released Monday just ahead of debate sponsor Fox Business Network's deadline kept Kasich in the main stage debate at a critical time – less than a month before Iowa's caucuses and New Hampshire's primary" [Columbus Dispatch]. "Kasich and his allies have invested the most time and money in New Hampshire with the governor celebrating his 50th town hall there last week, the most of any candidate in the race."

"Over the course of the debates, center stage — the position reserved for the person polling the highest — has remained as steady as the foundation of Trump Tower. Everything else, though, has been tumultuous" (handy chart) [WaPo].

"The first five debates didn't produce any knockout moments that disqualified a candidate, but polling data suggest good performances have been rewarded with a boost of support" [Wall Street Journal, "Good Debate Performances Rewarded, Polling Shows"]. "The polling trends also show, once again, that Donald Trump is different than traditional candidates: His support moves independently of the televised debates."

"Cruz is inarguably the most experienced and technically proficient debater on stage. At Princeton, he was a championship-level competitor in the American Parliamentary Debate Association, known by peers for his exhaustive preparation and breakdown of performances after the fact. And his old colleagues and foes recognize the Cruz they knew in college on the nation's biggest stage — the polish, the dramatic pauses, the tactical topic shifts" [Politico].
SOTU
Transcript of Haley's response [WaPo]. Vice-Presidential material….
Stats Watch
Jobless Claims, week of January 9, 2016: "Up 7,000 to 284,000 in the January 9 week, initial jobless claims haven't been this high since way back in early July. Neither has the 4-week average, up 3,000 to 278,750" [Econoday]. "Today's numbers all show pressure relative to December and hint at a less strong employment report for January." And: "Claim levels are at 40 year lows" [Econintersect].
Import and Export Prices, December 2015: "Cross-border price pressures continue to sink into deep contraction, down a month-to-month 1.2 percent for December import prices and down 1.1 percent for export prices" [Econoday]. "Weakness is spilling into finished goods prices where capital goods imports, down 0.3 percent in the month, are at a year-on-year minus 2.5 percent which is the steepest decline since 2002." And: "Trade prices continue to deflate year-over-year, and energy prices again drove this month's decline" [Econintersect].
Bloomberg Consumer Comfort Index, week of January 10, 2016: "Trouble in China and volatility in the financial markets do not seem to be bothering the U.S. consumer, at least yet. The consumer comfort index for the January 10 week is up, not down" [Econoday].
Rail: In contraction (backing out coal and grain) [Econintersect].
Shipping: "Overall, Amazon is taking its growing logistics know-how to the next logical step, "which is the transport and delivery of the packages they are picking and packing," [John Haber, CEO of Spend Management Experts] said" [USA Today]. "The big question for investors, said [Jarrett Streebin, CEO of EasyPost], is whether these moves will end up making investors think twice about Amazon's stock price. 'Why,' they might ask, 'am I paying tech multiples for this company to be a logistics company?' he said." Monopoly rents down the road?
Honey for the Bears: "[C]orporate defaults are the highest since 2009 and Standard & Poor's said this week that the outlook for corporate borrowers worldwide is the worst since the global financial crisis" [Bloomberg].
Honey for the Bears, Dimon on the economy: "It's as good as it's ever been. Obviously it's going to get a little bit worse" [Wall Street Journal, "J.P. Morgan's Dimon Warns Economy Likely to Worsen"]. The headline seems more sensational than the quote; nevertheless, JP Morgan is building up its loan reserves.
Honey for the Bears: "A number of triggers accelerated stock-market losses in Asia, from investors' guesswork about whether Chinese regulators will intervene in its markets to the sliding price of oil and explosions in Indonesia's capital city of Jakarta. A selloff in the U.S., lately an example of economic recovery, has exposed its vulnerability to volatility overseas. Taken together, the factors sent regional currencies lower and investors toward haven assets" [Wall Street Journal, "China Shares Flirt With Bear-Market Territory"].
Fraud: "Renault SA offices in France were searched by government fraud investigators as part of a probe into vehicle emissions, raising the specter of a VW-type scandal and sending the carmaker's shares down as much as 23 percent" [Bloomberg]. This keeps happening. Just how big is the fraud bezzle in manufacturing, anyhow?
The Fed: "Headwinds from China and the world's commodity markets may once again be upending the U.S. Federal Reserve's plans less than a month into its first-in-a-decade tightening cycle" [Reuters]. The Punchbowl Not as Big as the Ritz….
Nice review of Wray's new book, Why Minsky Matters [Enlightened Economist]. "If Minsky is still, as the book jacket claims, a maverick shunned by the mainstream – why?"
Today's Fear & Greed Index: 15 (+1); Extreme Fear [CNN]. Last week: 25 (Extreme Fear). (0 is Extreme Fear; 100 is Extreme Greed).
Dear Old Blighty
"Jeremy Corbyn's hard Left plotters branded 'croissant-eating London-centric mansion owners' by Labour grandee Lord Watts" [Telegraph].
Water
"While Flint's government and its financial struggles certainly have a role to play in the city's water woes, the city may actually be a canary in the coal mine, signaling more problems to come across the country" [The Atlantic]. "'Flint is an extreme case, but nationally, there's been a lack of investment in water infrastructure,' said Eric Scorsone, an economist at Michigan State University who has followed the case of Flint. 'This is a common problem nationally— infrastructure maintenance has not kept up.'" Because it would be irresponsible not to speculate: No "investment" because elites choked off gummint spending at the state level and, led by private equity, gutted the industrial base, gutting property taxes at the local level. And here we are.
"Expert says Michigan officials changed a Flint lead report to avoid federal action" [Michigan Public Radio] (from last November). Story gets uglier all the time.
"Mich. governor activates National Guard in water crisis" [USA Today]. "Members of the National Guard are expected to staff fire stations and distribute bottles of water, freeing members of the American Red Cross to handle the door-to-door distribution of water and water filters." Oh. I thought they were going to clean the lead out of the pipes, or something.
Militia Watch
"Angry Militia Leader: Stop Mailing Us Dildos" [Gawker].
And then there's this:
I sent a 55-gallon drum of personal lubricant to the Oregon Militia pic.twitter.com/qIKp8Ucl2K

— Max Temkin (@MaxTemkin) January 14, 2016
Yes, $1,200 could have been better spent, but what an epic jape!
"Harney County has told an Ammon Bundy-affiliated group of locals that it can't hold a planned community meeting at the county-owned fairgrounds" [Oregon Live].
Imperial Collapse Watch
"Pentagon Spends $10 Million On Powerball Tickets With Hopes Of Bolstering F-35 Program" [Duffel Blog].
"For the last fifteen years, I have been told over and over that my experiences of not feeling threatened by terrorists, of not once worrying that I or someone I cared for was going to be killed in my home country by a fundamentalist with a vest or a gun, have been false. I've been told this even though the statistics convincingly demonstrate that my non-apprehension of danger is correct" [N+1]. "At the current moment, it is not clear that our political system is capable of imagining the country as being for anything other than keeping its citizens safe."
Class Warfare
"[I]f the left has a future, it has to reclaim its Promethean commitment to elevating every human being to a condition of luxurious, material abundance and leisure through technological progress" [Boing Boing].
"Crowdsourced work is supposed to be a new, more casual, and more liberating form of work, but it is anything but" [The Baffler]. "[T]his labor regime is just another variation on the age-old practice of exploiting ordinary workers and restructuring industrial relations to benefit large corporations and owners of the platforms serving them. The lies and rhetorical obfuscations of crowdsourcing have helped tech companies devalue work, and a long-term, reasonably secure, decently paying job has increasingly become a MacGuffin—something we ardently chase after but will likely never capture, since it's there only to distract us from the main action of the script."
"President Barack Obama's administration, citing concern about the origin of funds used for all-cash purchases of luxury real estate, said it is stepping up scrutiny of transactions in New York City and Miami" [Bloomberg]. Hmm. Readers will recall that "the world's weatlhy" are buying Los Angeles real estate through straws. So why only New York and Miami?
"A full 93 percent of U.S. counties have not fully recovered from the recession that hit most of America six years ago, according to the nonpartisan National Association of Counties" [WaPo]. Handy map of "the recovery" by county.
News of the Wired
Pope Francis to meet with Eric Schmidt [Guardian].
"Physicists have for months been buzzing about the possible detection of gravitational waves—a finding that would confirm one of the key predictions of Albert Einstein's general theory of relativity" [Scientific American]. But it's still only buzz.
"Anthems for the Moon: David Bowie's Sci-Fi Explorations" [Pitchfork].
Family of an American defense contractor who was shot while training security forces in Jordan sues Twitter for "knowingly" permitting terrorists to use it [NBC Bay Area].
"School Sports Fans Told Not To Chant 'U-S-A'" [Sky News]. Great. I hate jingoism. And if you're really the greatest, you don't have chant about it.
* * *
Readers, feel free to contact me with (a) links, and even better (b) sources I should curate regularly, and (c) to find out how to send me images of plants. Vegetables are fine! Fungi are deemed to be honorary plants! See the previous Water Cooler (with plant) here. And here's today's plant (Chet):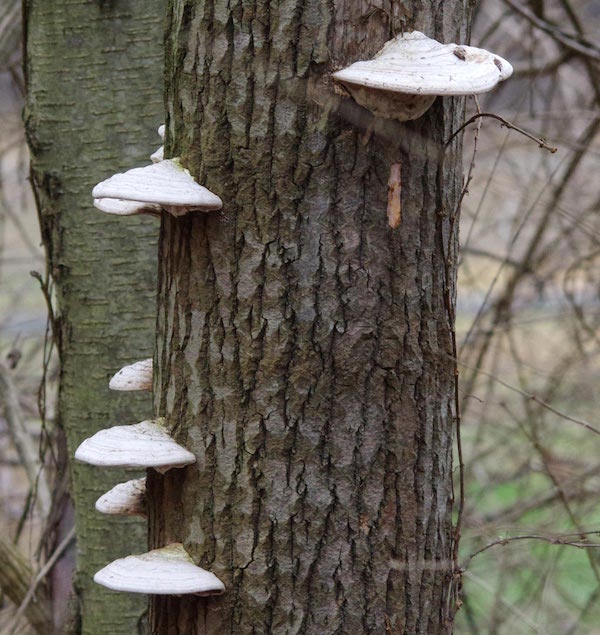 Chet writes:
It's been rather a slow photography season for me this winter – no snow in central PA; however, the attached photo of the shelf fungi came out rather well, I think.
I'm dreaming of a white fungus…
* * *
If you enjoy Water Cooler, please consider tipping and click the hat. Winter has come, I need to buy fuel, keep the boiler guy and a very unhappy and importunate plumber happy, and keep my server up, too.