By Lambert Strether of Corrente.

TPP/TTIP/TiSA
"Big business orders its pro-TTIP arguments from these think tanks" [The Correspondent] (survey methods). I just wish there were a bulleted list of 'em, with links.
2016
Democratic Debate
I'll just leave this here:

One sign of Clinton's greater knowledge of foreign affairs: She pronounces "Iran" correctly, while Sanders speaks about Eye-ran.

— Nicholas Kristof (@NickKristof) January 18, 2016

From "a dial-test focus group of 30 undecided South Carolinians (all likely Democratic primary voters) being held in Charleston by Chris Kofinis of Park Street Strategies," including "14 African Americans; 15 men and 15 women"

Sanders wins SC debate in blowout – 27 for Sanders, 2 HRC, 1 O'Malley. 
Very strong performance..

— Chris Kofinis (@ChrisKofinis) January 18, 2016

<

Last break – Focus group key insight – many in group surprised by HRC performance; just not connecting; focused on past, not visionary.

&mdash; Chris Kofinis (@ChrisKofinis) January 18, 2016

SC Focus group dials Sen. Sanders scoring high on race issues. Group audibly agreeing. Sen. Clinton doing well; Sanders message stronger

&mdash; Chris Kofinis (@ChrisKofinis) January 18, 2016

So that firewall in South Carolina may be more flammable than the Clinton campaign believes and hopes.

Splendid example of "side eye" from Sanders here (video) [The Hill].

"Iowans split on debate winner as Clinton, Sanders tangle" [Des Moines Register].

"10 big moments from the Democratic debate" [Post and Courier]. This is the local paper in Charleston.

"[T]he overnight verdict from most in the pundit class is that Sanders prevailed, even if narrowly" [WaPo]. Includes quote-fest.

"Winners and losers from the fourth Democratic presidential debate" [Chris Cilizza, WaPo]. Sanders: winner. Clinton: loser. On Sanders, nobody in the press is saying they get "a thrill up my leg," as Chris Matthews said of Obama. But Clinton sure doesn't have many friends.

Sad to see the once-sharp Lynn Sweet deteriorate: "[R]eally, scrap Obamacare? Reopen the debate over health care that gave rise to the Tea Party movement?" [Chicago Sun-Times]. First, even Axelrove says the Clinton Dynasty's charge that Sanders wants to "scrap" ObamaCare is "not honest," so why does Sweet repeat it? Second, the foreclosure crisis "gave rise to" the Tea Party, not ObamaCare. On the floor of the Chicago Mercantile exchange, too. Oh, and Axelrove is from Chicago. C'mon, Lynn. I thought politics was your beat. Ditto Chicago. So WTF?

"Top Google debate question: Will Hillary be prosecuted?" [The Hill]. Ouch!
Money
"Clinton is so serious about cracking down on Wall Street, she's holding a Wall Street fundraiser four days before the Iowa caucus" [David Sirota, International Business Times (cleaned up from Twitter). Ka-ching!

"Hillary Clinton Made More in 12 Speeches to Big Banks Than Most of Us Earn in a Lifetime" [The Intercept]. Ka-ching!

"Wall Street has made Hillary Clinton a millionaire" [CNN Money]. Ka-ching! And ouch, CNN! That headline burns!

The Clinton campaign is brazenly and amazingly, except not, making the argument that since Obama took money from Goldman Sachs, et al., in 2008, everything's jake with the angels if Clinton does the same in 2016. And Sanders finds that hard to attack, because, in a Democratic primary, there are plenty of voters who still support the guy. But what Sanders could say, if he can craft the right loveable granddad verbiage, is that Clinton, personally, cashed in on Wall Street money, without even having the common decency to use a bag man (or, to be fair, a bag woman). So far as I know, Wall Street hasn't made Obama a millionaire. Sure, it can, but Obama hasn't collected on the option as President, or when running for President. "Hillary, if Wall Street had given you the million bucks in a paper sack, would you have been wrong to accept it?"
Policy
Under the Sanders single payer plan, "a family with income of $50,000 would end up saving more than $5,000 a year relative to what they would spend in the current health care system" [HuffPo]. "According to an independent analysis by Gerald Friedman, an economist at the University of Massachusetts at Amherst, the Sanders proposal — if enacted — would pay for 98 percent of the typical person's medical bills."

"Republican presidential candidate Marco Rubio on Sunday said he bought a firearm on Christmas Eve in order to protect his family from a potential Islamic State in Iraq and Syria (ISIS) terrorist attack" [The Hill]. Funny that aren't any carols that cover that scenario; Wise Men bearing guns, and so forth. Odd.

Somebody else had the bright idea of mining the 2008 archives:

Hillary, who has flip-flopped on guns herself, tried the same gun demagoguery against Obama in 2008 pic.twitter.com/YTi9dwLylQ

— Howie Klein (@downwithtyranny) January 18, 2016
The Trail
"What Donald Trump's Plaza Deal Reveals About His White House Bid" [New York Times]. Interesting read. Hard to weigh buying the Plaza and then losing it in a bankruptcy settlement against blowing up Iraq and Libya, causing a few hundred thousand civilian casualties and failed states all round the Mediterranean basin.
Stats Watch
Markets are closed today for Martin Luther King Day.
The Fed: Jokes from the 2010 minutes; somebody did a keyword search on "[laughter]" [Wall Street Journal, "The 2010 FOMC Laugh Track: Fed Officials Try to Joke About an Uncertain Upturn"].
MR. WARSH. Thank you, Mr. Chairman. I am going to try to answer two questions in my discussion today. One is a familiar one: What is the most significant development since we last met? And the second is, Who knew free money would be so popular? [Laughter]
I've made the same joke myself; I had no idea I'd end up in such, er, exalted company. Maybe in 2020 we'll see jokes about Janet's punchbowl…
The Fed [kocherlakota009]. And a more serious keyword search:
However, there is one key source of economic difference in American life that is likely underemphasized in FOMC deliberations: race. Let's look, for example, at the most recently released transcripts for FOMC meetings, which cover the year 2010 (my first full year on the Committee). It was a challenging year for the US economy as a whole, as the unemployment rate was above 9 1/4% in every month. But it was especially challenging for African-Americans: In every month of 2010, the unemployment rate among African-Americans was at least 15 1/2%. I did a search of the hundreds of pages of the meeting transcripts. Based on that search, my conclusion is that there was no reference in the meetings to labor market conditions among African-Americans (or Black Americans).
"Citigroup Inc (C.N) reported a massive jump in quarterly profit as a sharp drop in legal costs and gains from the disposal of unwanted assets masked weak revenue from its core business" [Reuters]. Eesh, what kind of business incurs legal bills so massive they affect quarterly earnings?
"December 2015 Sea Container Counts Continue to Show a Weak Economy" [Econinteresect]. "A summary for 2015 is that imports insignificantly declined from 2014 – but export contraction continued for the second year. Imports more closely align with USA economic health, and imports are saying there was NO economic growth in 2015. This series is a physical count and not monetary based – so inflation adjustments are not required."
Fodder for the Bulls: "The doomsayers tend to fall into two broad (and overlapping) categories. On one side is the "it's about time" caucus, which argues, essentially, that it's been six years since the last recession ended, so we're due for another one…. The second category of doomsayers argues that there really are reasons to worry right now" [FiveThirtyEight]. "None of this is to say that a recession isn't coming. If there's one truism in macroeconomics, it's that we're really bad at predicting recessions. But that failure works in both directions — a vocal subset of economists has been forecasting a collapse for six years. One day, they'll be right. But I'm guessing that day won't come in 2016."
Honey for the Bears: "Looks like the Fed hiked during a recession. Maybe the hundreds of $ millions they spend on economic research isn't enough??? Sales remain at recession levels. Inventories down some but sales down same so relative to sales inventories remain way high, another recession indication:" And then there was the Empire State Manufacting report, and the Industrial Production report [Mosler Economics].
Honey for the Bears: "U.S. economic data is, on balance, falling short of expectations, according to Citigroup Inc.; its U.S. Economic Surprise Index, which measures where reports measure up to forecasts, has been negative since November" [Bloomberg]. Mr. Market loves surprises!
Militia Watch
"Bundynomics" [The New Yorker]. Nice takedown. Bundy the Younger: "The ultimate goal, he says, is 'to get the logger back to logging, to get the rancher back to ranching, to get the miner back to mining.'" In the midst of a commodities collapse. They'll probably need more subsidies than they're already getting.
"[T]he militia, led by Nevada rancher Ammon Bundy … paved a road through part of the wildlife sanctuary" [Guardian]. Which is sad, and also dumb, since birding is one of the few things Malheur has going for it right now.
"Harney Electric Cooperative is the power transmission and distribution provider for approximately 20,000 square miles of southeastern Oregon and northern Nevada, and right in the midst of their service territory map is the Malheur Wildlife Refuge – currently occupied by more loons than pin tails, swans, and geese" [Desert Beacon]. "No one is particularly excited about sending in a lineman to shut off the power at the Refuge since the Loons have an unfortunate track record of actually shooting and killing people. Case in point: the two miscreants who joined the Bundy Militia for a time in Their Great Delusional Standoff in southern Nevada, and then saw fit to assassinate two police officers in Las Vegas." (I think the surveillance cameras the militia removed from a transformer station in Burns were owned by the electic cooperative, as opposed to having been installed by the FBI.)
Water
"President Obama declares emergency in Flint" [Detroit Free Press]. Of course, nobody will be held accountable; not even a Republican governor's emergency manager, or the governor himself.
Gaia
"France's iconic Chauvet cave holds mysterious spray-shaped imagery, made around the time when nearby volcanoes were spewing lava" [Nature]. First painting of a volcanic eruption?
"The Wisdom of Rocks: Gongshi" [The Book of Life]. "In East Asia, rocks are venerated with all the respect that we would accord to a work of art; except that what is really being honoured is the power of nature rather than the human hand." Hoping we've got at least one reader with more than superficial knowledge of this topic…
"In the forests of northern Ontario, a "strange phenomenon" of large natural rings occurs, where thousands of circles, as large as two kilometers in diameter, appear in the remote landscape" [BLDGBLOG]. No, not aliens. I mean, other than Canadians.
Police State Watch
"[T]he central concept in the [Tamir Rice] case—the one that it is crucial to understanding the grand jury's reasoning—was never mentioned. That concept is known in law enforcement circles as 'officer-created jeopardy': situations in which police officers are responsible for needlessly putting themselves in danger, committing an unforced tactical error that makes them vulnerable—and then using deadly force to protect themselves" [Slate]. "There is no legal consensus on this. Indeed, it turns out that the death of Tamir Rice and its aftermath have unfolded at the very fulcrum of an important, unresolved legal debate over when it is and isn't OK for police to use deadly force." Worth a read.
Corruption
"Gov. Terry Branstad on Saturday said a report from his own administration that calls for $17 million in oversight of his effort to privatize Medicaid is "overkill." [Des Moines Register]. What could go wrong?
"Charter Schools Ending Public EducationHave you noticed the gradual creep of the charter school movement—the slippery slope meant to take over free public education as we know it and transform our schools to elitist institutions?" [Los Angeles Progressive]. Yes.
Class Warfare
"Richest 62 people own as much wealth as half the world's population, says Oxfam" [CBC]. "The wealth of the richest 62 people has risen by 44 per cent since 2010, while the wealth of the poorest 3.5 billion fell 41 per cent, Oxfam said in a report released ahead of the World Economic Forum's annual meeting in Davos, Switzerland. Almost half the super-rich individuals are from the United States, 17 from Europe, and the rest from countries including China, Brazil, Mexico, Japan and Saudi Arabia."
"When its clients wanted to hire temp workers based on race, sex or age, [the Alabama-based temp agency Automation Personnel Services] was happy to oblige, according to dozens of former employees" [AL.com].
Welcome to your shiny new disrupted labor market:
Rode with a Lyft driver who also drives for Uber. His car is lease-to-own, paid via Uber. If he doesn't make $350/week, his car won't start.

— sha (@shashashasha) January 17, 2016
Leave it to the benevolent tech squillionaries of Silicon Valley to reinvent sharecropping and the company store. How disruptive!
"Unauthorized Immigrants Paid $100 Billion Into Social Security Over Last Decade" [Vice]. Which they can't collect on.
News of the Wired
"We're not living in an algorithmic culture so much as a computational theocracy" [The Atlantic (TM)]. So code is canon law….
"Researchers at Western Illinois University studied the Facebook habits of 294 students, aged between 18 and 65, and measured two "socially disruptive" elements of narcissism – grandiose exhibitionism (GE) and entitlement/exploitativeness (EE)" [Guardian]. "The research revealed that the higher someone scored on aspects of GE, the greater the number of friends they had on Facebook, with some amassing more than 800. Those scoring highly on EE and GG were also more likely to accept friend requests from strangers and seek social support, but less likely to provide it, according to the research."
"With Soylent Sales Up 300 Percent, Its Founders Have Eyes on Europe" [Bloomberg]. We used to call lunch-in-a-bottle "beer"…
* * *
Readers, feel free to contact me with (a) links, and even better (b) sources I should curate regularly, and (c) to find out how to send me images of plants. Vegetables are fine! Fungi are deemed to be honorary plants! See the previous Water Cooler (with plant) here. And here's today's plant (Isolato):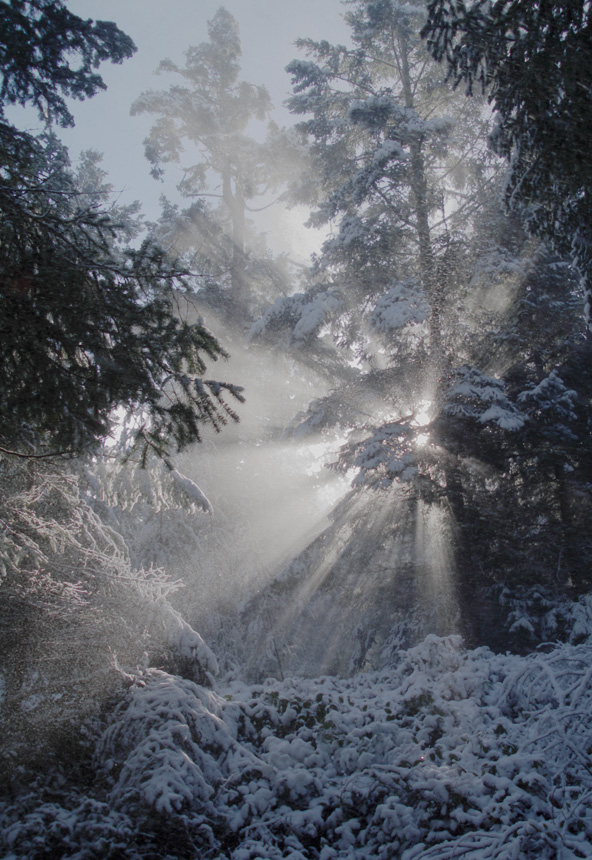 Somebody's got snow!
* * *
If you enjoy Water Cooler, please consider tipping and click the hat. Winter has come, I need to buy fuel, keep the boiler guy and a very unhappy and importunate plumber happy, and keep my server up, too.