By Lambert Strether of Corrente.

TPP/TTIP/TiSA
"You thought ISDS was bad? TTIP's 'regulatory cooperation' is even worse" [Ars Technica]. "Greater involvement of stakeholders would seem to be the right thing to do when it comes to drawing up new laws and regulations, since in theory it allows everyone to offer their views."
But the reality is rather different: another Corporate Europe study found that '93% of the Commission's meetings with stakeholders during the preparations of the [TTIP] negotiations were with big business. The list of meetings reveals that, in addition to the civil society dialogue meetings reported on the DG Trade website'—sessions also attended by companies—'there is a parallel world of a very large number of intimate meetings with big business lobbyists behind closed doors—and these are not disclosed online.'"
"TPP does expand the liability and the danger much more than we had before, because not only does it increase the number of treaties that companies can use, but it's he first time that the United States has had this type of mechanism in a treaty with multiple developed countries. Before, the only developed country we had ISDS with was Canada, under the North America Free Trade Agreement, or NAFTA. And so there weren't that many Salvadoran or Peruvian companies in the United States that could launch these cases. Well, with TPP, now there are Japanese companies, Australian companies, who will be newly empowered to be able to use this mechanism in the United States" [Real News Network] (Melinda St. Louis is part of Public Citizen's Global Trade Watch).
2016
Money
They all sound like lovely people [New York Times]:

The contrast between [Clinton staffer Huma] Abedin's public and private faces can be striking. One scene has the couple in a small office working the phones for campaign contributions. Ms. Abedin uses a sweet voice when she is asking for money. "How was the engagement?" she says on one call. "I want all the details!"

The film then cuts to her hanging up, showing a total change in demeanor. "His wife is going to max out, and he'll try to raise another five," she says flatly.

One wonders how many maxed out donors Clinton has, and whether she's going to run out of gas just when she needs to go on the offensive. Sanders, of course, doesn't have that problem. It's would be hard for 70% of his donors to max out at twenty or thirty bucks a pop.
Policy
"I Watched Michael Bay's Benghazi Movie at Cowboys Stadium With 30,000 Pissed-Off Patriots" [Gawker]. Sheesh, you'd think Clinton would get some credit for her Iraq vote with this crowd, but n-o-o-o. Oh, and the heroes are mercs, uh, sorry, contractors. Fascinating to see all the "support the troops" stuff being privatized.
The Trail
Establishment Democrat trashes Sanders. Film at 11 [Jonathan Chait, New York Magazine]. Fun stuff.

Establishment Democrat trashes Sanders. Film at 11 [Paul Krugman, New York Times]. What do the commenters say?

Establishment Democrat trashes Sanders. Film at 11 [Ezra Klein, Vox].

I don't understand all the heart-burning about single payer, I truly don't. To a Democratic loyalist, mentioning Canadian Medicare is like mentioning the Caliphate to a conservative; their knees start jerking, steam comes out of their ears, and they start typing furiously. Incidentally, if these clowns had a shred of intellectual honesty, they'd be coming up with ways to improve the policy — Krugman and Klein, at least, regularly claim to be wonks, not hacks — and sell it. Of course, they don't, and they aren't.

Good to see Brock leashed and collared, after he decided to attack Sanders' health (a rather odd decision):

.@davidbrockdc: Chill out. We're fighting on who would make a better President, not on who has a better Physical Fitness Test.

— John Podesta (@johnpodesta) January 17, 2016

But isn't it illegal for a campaign (Podesta being the head of Clinton) and a SuperPAC (Brock being the founder of the pro-Clinton American Bridge PAC) to "coordinate"? Well, apparently not. Of course, Sanders doesn't have to pussyfoot through this ethical and legal minefield, because he doesn't have any SuperPACs.

Trump deploys Ivanka in a New Hampshire radio ad [Yahoo News]. Sorry, can't find anything quotable; I did look.

"3 things you learn watching Ted Cruz and Donald Trump court the same voters" [WaPo]. "The Texan, who at this point is unquestionably the best traditional orator in the Republican Party, speaks two kinds of sentences — applause lines and jokes. He often runs down a list, transforming into a human Buzzfeed, a guaranteed method of keeping an audience rapt. … Trump does not do this. Trump rambles. Trump steps on lines that could, untrammeled, become applause lines. This is not because he is bad at speaking, and from time to time, he obviously is repeating a thought to make sure it connects."
SOTU
South Carolinian responses to Nikki Haley's VP audition in response to the SOTU not universally positive [New York Times]. "'A lot of people aren't pleased,' said John Steinberger, a 'fair tax' activist from Charleston. 'If you're giving the State of the Union response, you should explain why you oppose the president's policies instead of attacking fellow Republicans.'" Having experienced the "Why so angry?" trope as deployed by establishment Democrats, I have to sympathize.
The Hill
"Supreme Court declines to hear new ObamaCare challenge" [The Hill]. This was the case based on the Origination Clause.
Stats Watch
Housing Market Index, January 2016: "Home builders remain optimistic but are a little less so based on the housing market index which is down 1 point" [Econoday]. Present sales up, but traffic down. "Today's results are respectable but won't be lifting estimates for tomorrow's housing starts & permits data which are expected to come in no better than mixed. The housing sector has been showing life but isn't yet a leading driver of economic growth."
"Bank of England Carney Says Now is Not Time to Raise Rates" [Across the Curve].
"Everyone likes to look at the charts" [The Reformed Broker]. "Price creates the reality for investors, because investors take their behavioral cues from price and the media fashions its headlines from it. Technicians find truth in price, rather than attempting to parse the impossibly conflicted and intentionally obscured opinions of the commentariat. Technicians find meaning in the actual buying and selling activity happening today, not in the dusty old 10Q's of 90 days ago or in the projected estimates being bandied about among the discounted cash-flow analysis crowd on the sell-side."
"The U.S. is taking a step toward increasing oversight of Treasuries in response to complaints from both traders and government officials that the market is too opaque" [Bloomberg].
Honey for the Bears: "IMF downgrades outlook for world economy" [WaPo].
Honey for the Bears: "The North Dakota Crude Oil That's Worth Almost Nothing" [Bloomberg].
Exteriors of skyscrapers built with combustible "aluminum composite panel cladding" burn like "kindling" [New York Times]. "Local experts have suggested as many as 70 percent of the towers in the Dubai may contain the material, though they acknowledge the figure is only an estimate as there are apparently no official records." It took a long time to crapify the skyscraper! But we've done it!
Today's Fear & Greed Index: 13, Extreme Fear (previous close: 10) [CNN]. One week ago: 17 (Extreme Fear). (0 is Extreme Fear; 100 is Extreme Greed).
Militia Watch
They get letters [The Oregonian]:
Federal land: The Oregonian's A1 headline on Sunday, Jan. 17, "Effort to free federal lands," is inaccurate and irresponsible. The article that follows it is a mere mouthpiece for the scofflaws illegally occupying public buildings and land, repeating their lies and distortions of history and law.

Ammon Bundy and his bullyboys aren't trying to free federal lands, but to hold them hostage. I can't go to the Malheur refuge now, though as a citizen of the United States, I own it and have the freedom of it. That's what public land is: land that belongs to the public — me, you, every law-abiding American. The people it doesn't belong to and who don't belong there are those who grabbed it by force of arms, flaunting their contempt for the local citizens.

Those citizens of Harney County have carefully hammered out agreements to manage the refuge in the best interest of landowners, scientists, visitors, tourists, livestock and wildlife. They're suffering more every day, economically and otherwise, from this invasion by outsiders.

Instead of parroting the meaningless rants of a flock of Right-Winged Loonybirds infesting the refuge, why doesn't The Oregonian talk to the people who live there?

Ursula K. Le Guin

Northwest Portland
Gaia
"Giant icebergs could account for up to 20 percent of carbon sequestration" [Ars Technica].
"Local authorities in Quebec are warning of a looming environmental disaster if nothing is done to salvage a discarded bulk carrier," the Kathryn Spirit [Splash247]. It's only oil. Not lead.
Our Famously Free Press
Univision acquires controlling stake in The Onion [NPR].
Corruption
Hudson Valley Democrats tap Zephyr Teachout as their preferred House candidate [Daily Kos].
Class Warfare
"On the origins of corporate evil—and idiocy" [The Atlantic]. "The sociologist Diane Vaughan coined the phrase the normalization of deviance to describe a cultural drift in which circumstances classified as 'not okay' are slowly reclassified as 'okay.'"
"Normalization of Deviance in Software: How Completely Broken Practices Become Normal" [Dan Luu (MR)]. Lengthy but interesting. And who hasn't been there?
"[If] you're under too much pressure in your life and you don't have any free time, keep in mind it's happening to just about everyone, and it's not your fault. It has to do with the way the economic system we live under us putting the squeeze on most of us" [Nick Fillmore].
"Most of [the "sharing economy"] innovation is in the way they deal with regulation, rather than technology advances. That's not to say there isn't a lot of smart people building new code for what they do. But a lot of people are saying the innovation is 'a new app'. The app is just the foot in the door. That's not the key to the business" [Tom Slee, The Register]. "There's $7bn of VC money that's betting on Uber being a monopoly market. If it isn't, then the VCs take a bath. A lot of well funded effort is going to make it a monopoly market." Wait, what? Monopolies are the innovation?
News of the Wired
"'123456′ Tops Yearly List of Most Common Passwords (Again)" [Yahoo Tech].
"Genius lets you add line-by-line annotations to any page on the Internet" [Genius].
"Implicated in everything from traumatic brain injury to learning ability, boredom has become extremely interesting to scientists" [Nature]. With Boredom Proneness Scale! I'm 5/28!
"Tinder is more than a dating app — it is a metaphor for speeding up and mechanizing decision-making, turning us into binary creatures who can bypass underlying questions and emotions and instead go with whatever feels really good in the moment. Its mechanisms perfect the similar either-or options other social media platforms have offered, the yes/no, like/ignore, retweet/pass dichotomy that leaves no room for maybe" [The New Enquiry].
* * *
Readers, feel free to contact me with (a) links, and even better (b) sources I should curate regularly, and (c) to find out how to send me images of plants. Vegetables are fine! Fungi are deemed to be honorary plants! See the previous Water Cooler (with plant) here. And here's today's plant: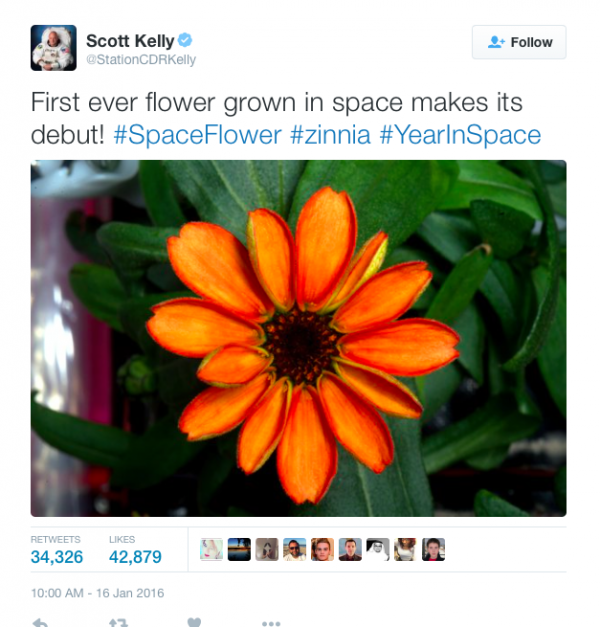 First flower grown in space! (Or, more precisely, in a space station.) I'm also a huge zinnia fan!
* * *
If you enjoy Water Cooler, please consider tipping and click the hat. Winter has come, I need to buy fuel, keep the boiler guy and a very unhappy and importunate plumber happy, and keep my server up, too.