By Lambert Strether of Corrente.
TPP/TTiP/TISA
"Open Letter to Canadians on the Trans-Pacific Partnership from the Honourable Chrystia Freeland, Minister of International Trade" [Canada.gov]. "For Parliament to fully evaluate the merits of the TPP and for consultations to continue, Canada needs to stay at the table with the other TPP countries. That means when the eleven other countries convene to sign the Agreement next week, Canada will attend as well. Not attending would mean withdrawing from the TPP altogether, even before Canadians have had an opportunity to fully debate its implications."
"The TPP already features many of these – roughly twenty between Canada and the U.S. alone. These deals are basically bilateral addendums grafted on to the main deal, and allow for major aspects of the agreement to be renegotiated – without reopening negotiations. The most likely path forward for the TPP in Canada, as far as I can see, is through these side deals" [The Alfalfa Field]. These "side deals" are, of course, completely open and transparent.
"The Trans-Pacific Partnership meant to create the world's largest free trade area will cost Canada 58,000 jobs and increase income inequality, says a new U.S. study" (full study, from Tufts The Global Development And Environment Institute) [HuffPo Canada]. "Perhaps more surprisingly, the study found that the two largest economies in the TPP — the U.S. and Japan — would actually shrink as a result of the trade deal, and that the deal would result in fewer jobs overall in all the participating countries." Don't worry. Robots.
"The TPP Is the Last, Best Opportunity for New Global Trade Rules" [Council on Foreign Relations] (full article). You mean if we kill it this time, it won't rise from the dead? Awesome!
2016
Des Moines Town Hall
"Live updates: CNN Democratic town hall" [CNN]. "Reality Check: Sanders says income inequality greater than any year since 1928: True."

"But Sanders offered a litany of decisions that Clinton has made in her career that Sanders said were bad, starting with her vote in the Senate to go to war with Iraq" [Los Angeles Times]. He also noted that Clinton stayed on the sidelines for most of the fight against the Pacific trade deal opposed by organized labor. Sanders concluded, 'Yeah, I do think I have the background and the judgment to take this very difficult job."' "Judgment." Ouch. (Amazingly enough, this was in response to being asked to respond to Clinton's closing ad (covered here).

Clinton's rejoinder on Iraq: "Asked to respond to Sanders' criticism about her Iraq war vote, Clinton answered: 'I have a much longer history than one vote, which I've said was a mistake'" [Des Moines Register]. One vote, sure, but not a small one…. And the followup, which wasn't asked: "What lessons did you learn from that vote, Madam Secretary?"

"Hillary picks Lincoln over Bill and Barack as favorite president" [The Hill]. "'I don't know what our country would be like if he hadn't been murdered, but I bet it would be a little less rancorous and a little more forgiving and tolerant,' she said." But then there's this:

"[CLINTON:] But instead, you know, we had Reconstruction, we had the reigns of segregation and Jim Crow. We had people in the South feeling totally discouraged and defiant. So, I really do believe he could have very well put us on a different path."

"Hillary Clinton Comes Under Fire for Civil War "Revisionism" at CNN Town Hall" [Policy Mic]:

Behind the backlash: The controversy centers on Clinton's lumping of Reconstruction — the post-Civil War process whereby the United States enforced political reform and basic rights for freed slaves in the former states of the Confederacy — with the racial apartheid of segregation and Jim Crow. Republicans agreed to halt Reconstruction as part of the Compromise of 1877, which settled the razor-thin election between GOP nominee Rutherford B. Hayes and Democrat Samuel Tilden. …

Following Clinton's answer, a number of liberal commentators and journalists reacted with dismay, noting similarities between Clinton's rhetoric and that of revisionist historians who argue that Northern radicals imprudently alienated the South by pursuing measures like black suffrage, non-discrimination codes and public education.

The past is not dead…

Clinton on her email: "I had no intention of doing anything other than having a convenient way of communicating and it turned out to not be so convenient," said Clinton. "Maybe being faster, trying to scramble around to find out what all of this means, I should have done that quicker'" [Politico]. So why not release it all, then? And "find out what all of this means" means what, exactly?

"Hillary got the toughest question of the night, and she handled it like a pro" [The New Republic]. "When a Sanders-leaning voter at CNN's Democratic town hall asked Clinton about charges that she is dishonest and double-dealing:"

[CLINTON:] They throw all this stuff at me and I'm still standing. I've been on the front lines of change and progress since I was your age [!!]. I have been fighting to give kids and women and the people who are left out and left behind the chance to make the most of their own lives. I've taken on the status quo again and again. I've had millions of dollars spent against me… The drug companies, the insurance companies spent millions against me … [I]f it were easy, hey, there wouldn't be any contest. But it's not easy… You have to have somebody who is a proven, proven fighter. Somebody who has taken them on and won.

Won what, exactly? I'm sick of Democrats "fighting" and never winning. And it's odd that TNR didn't quote the question. Another reaction to the same question:

"[Clinton's] overall message faltered a bit, however, when she addressed distrust amongst millennials. She basically dismissed the notion with a not-so-expertly crafted response that painted millennials as a naïve bunch" [Blavity]. Generations don't have agency, so they can't be naïve. That said, it's tellling that whatever message Clinton was trying to craft didn't get through to this source.

"Hillary Clinton says she's a 'proven fighter.' [And so was Terry Malloy.] Bernie Sanders says that while experience is important, 'it is not the only thing' that Democratic voters should weigh [hammering the "judgement" point]. And Martin O'Malley took off his jacket [and not his shirt, thanks to The God(ess)(e)(s) Of Your Choice, If Any]" [CNN].
Policy
"Carter Signals US Plans to Deploy More Troops to Iraq" [Military.com]. Somebody should ask Clinton if she thinks that's a good idea this time, too. Carter: "'Boots on the ground? We have 3,500 boots on the ground' in Iraq and 'we're looking for opportunities to do more,' Carter told CNN's Fareed Zakaria in an interview last week at the World Economic Forum in Davos, Switzerland." Another six months should do it.

"Why Bernie Sanders should talk A LOT more about Hillary Clinton and Goldman Sachs" [Chris Cilizza, WaPo]. "Clinton hasn't, really, found a good response to this line of attack from Sanders." Stirring the pot, perhaps. But I agree.

"Bernie Sanders has the most realistic plan to boost wages and job creation" [Matthew Yglesias (!), Vox]. Whaddaya know. Say, any economists in Bernie's corner?
The Voters
"Lawyer for Walter Scott Family Switches Sides to Endorse Bernie Sanders" [New York Times]. That's no small thing.

"I Was Drunk When I Voted for Obama" [Power]. "However, it's important that we study things with a critical eye. If we fail to be critical, we can easily be swayed by the gratification of symbolism while starving from a lack of substance." NC's mission….

"What the Clintons Mean to Me" [Corey Robin].

Maybe this is a generational thing, but this is what the Clintons will always mean to me: Sister Souljah, Ricky Ray Rector, welfare reform, and the crime bill. And beyond—really, behind—all that, the desperate affirmation to win over white voters by declaring: We are not the Party of Jesse Jackson, We are not the Rainbow Coalition.

People don't seem to remember just how much the Clintons' national ascendancy was premised upon the repudiation of black voters and black interests—a move that was both inspired and applauded by a small but influential group of Beltway journalists and party strategists, who believed this was the only path to taking back the White House from the Republicans—but for me, it's vivid as yesterday.

I still remember Jackson's "They Work Every Day." I rarely tear up, although granted I was younger then.

"How Nate Silver Missed Donald Trump" [Slate]. The early polls were kayfabe. But Trump is the Perfect Kayfabe Master.
The Trail
"These are words that most political observers, including us, didn't think we'd ever write six months ago: Less than a week before Iowa and two weeks before New Hampshire, Donald Trump is in clear control of the GOP presidential contest" [New York Times].

"One of Trump's great successes is in attracting people who are otherwise alienated from the political process. The diehard Trump fans I encountered were mostly newcomers" [Ryan Lizza, The New Yorker]. Nice atmospheric piece, if a bit Manhattan-centric.

"'Nothing is so unstoppable as a flavor whose time has finally come,' [Ben & Jerry's co-founder Ben Cohen] wrote on his Facebook page alongside a picture displaying a pint of 'Bernie's Yearning' ice cream" [The Hill].
Stats Watch
Consumer Confidence, January 2016: "Consumer spending may not be that strong but consumer confidence is solid, at 98.1 in January and more than 2 points over the Econoday consensus" [Econoday]. "The assessment of the current jobs market is favorable with only 23.4 percent describing jobs as hard to get. This is a low percentage for this reading and down more than 1 percentage point from December. But improvement here is offset by a dip in those describing jobs as currently plentiful."
State Street Investor Confidence Index, January 2016: "delayed at source" [Econoday]. Make up your own jokes!
Richmond Fed Manufacturing Index, January 2016: "Readings have been mixed so far for this month's activity in the factory sector with the Richmond Fed in the positive column, but not by much at only 2 vs December's reading of 6" [Econoday]. "But new orders are still positive as are backlog orders, two readings that are less than gangbusters but still point to growth ahead. Shipments, however, contracted in the report despite gains for the workweek and another solid gain for employment." And: Of the four regional Federal Reserve surveys released to date, three are in contraction and one [Richmond] is in expansion" [Econintersect]. But "barely."
S&P Case-Shiller HPI, November 2015: "Home-price appreciation may not be booming but it is solid, perhaps the most solid source of increase for household wealth" [Econoday]. "FHFA data, also posted this morning, show similar strength and confirm that home prices, which are getting a boost from lack of available homes on the market, are one of the few areas of the economy showing price traction." There it is again. Not sure about housing as wealth, as opposed to a hole in which to pour money — oh, wait. That's a boat, but still — or a place to carry me out from feet first. Then again, I suppose a house is a mark of privilege just as much as a boat is. Back to topic: "The housing price decline seen since 2005 varies by zip code – and seems to have ended somewhere around the beginning of the 2Q2012. Every area of the country has differing characteristics. Since January 2006, the housing declines in Charlotte and Denver are well less than 10%, while Las Vegas home prices had declined almost 60%. Each home price index uses a different methodology – and this creates slightly different answers. There is some evidence in various home price indices that home prices are beginning to stabilize" [Econintersect].
FHFA House Price Index, November 2015: "Home prices are solid, up 0.5 percent in November according to FHFA data where the year-on-year rate is plus 5.9 percent" [Econoday]. "The nearly 6 percent year-on-year rate in this report, and similar strength in Case-Shiller data that were also released this morning, isn't gangbusters but it is solid and, in an economy fighting deflationary trends, is a favorable source of price traction." "Price traction." Is that a new one?
Honey for the bears, the headline: "Recession Warnings May Not Come to Pass" [Wall Street Journal]. The deck: "Declines in industrial production, corporate profits, stock market typically point to contraction. But not always, and this may be one of those times." The lead: "Every U.S. recession since World War II has been foretold by sharp declines in industrial production, corporate profits and the stock market." Anybody else reminded of the famous Columbia PowerPoint?
Honey for the Bears: "When the [bank loan] growth rate was even modestly increasing it made the news. Now that it's decelerating not a word…" (FRED charts) [Mosler Economics].
Shipping: "Auto carriers accused of bid rigging and price fixing before Federal Maritime Commission" [Longshore & Shipping News].
Today's Fear & Greed Index: 16, Extreme Fear (previous close: 15) [CNN]. One week ago: 11 (Extreme Fear). (0 is Extreme Fear; 100 is Extreme Greed).
Water
Readers, if you have similar issues with the water system where you live, I'd like to hear about it! The contact form is below.)
"Lead pipes like the ones that led to contamination of the tap water in Flint, Michigan, carry water into millions of older homes across the U.S. every day, a legacy of an era before scientists realized the severe long-term health consequences of exposure to the heavy metal" [AP]. That "led to" is pretty sketchy if you ask me; If private equality hadn't hollowed out our manufacturing base… If racism weren't a pervasive reality… If Snider wasn't implemented whatever demented agenda his squillionaire backers really have… And so on.
Gaia
"What species would become dominant on Earth if humans died out?" [The Conversation]. Readers?
"The Zika virus foreshadows our dystopian climate future" [Bill McKibben, Guardian]. McKibben's relentless cheerfulness really creeps me out.
Corruption
"Nearly 200 Wikipedia editors have taken the unprecedented step of calling for a member of the Wikimedia Foundation board of directors to be tossed out" [Ars Technica]. "As a Google HR exec, Arnnon Geshuri fired a recruiter who dared to call Apple." Good for the editors!
"The New Chicago Police Civil Rights Adviser Is A Smart Hire — For Rahm Emanuel's Reputation" [HuffPo].
Militia Watch
"The Bundy brothers, who self-identify as some of the leaders of the Malheur occupation, wear winter felt cowboy hats in brown and lined flannel shirts. They speak about their beliefs and plans in a cowboy-like manner: soft voiced, deliberate and calm" [Oregon Public Broadcasting]. "But others who have flocked to their Mormon banner of Moroni in remote Oregon are more agitated, make sharp movements and yell. Some sport camouflage or all-black clothing and neck tattoos. Some speak with a military staccato and have shaved heads." Wait, what? I missed the Mormon subtext? Could we call Mitt Romney in to mediate?
"Bundy gets his pocket Constitutions from a friend in Utah named Bert Smith, who buys 1 million at a time, storing them in a warehouse between distributions to Mormon groups, schools and soldiers overseas" [Bend Bulletin]. " It includes all 4,543 words inscribed by the Founding Fathers, with 18th-century spelling and punctuation preserved, but the pocket Constitution held aloft by Ammon Bundy at the Malheur National Wildlife Refuge contains some notations by anti-communist conspiracy theorist W. Cleon Skousen. Skousen, who once accused President Dwight Eisenhower of being a Soviet agent and whom Time magazine labeled an 'exemplar of the right-wing ultras,' pairs the original Constitutional text with quotes from Founding Fathers about the necessity of religion in governance." Well, Time is run by Communists. Everybody knows that.
"The U.S. Fish and Wildlife Service confirmed Thursday that not only is the road built last week by the occupiers new, but it is also within an archaeological site important to the Burns Paiute Tribe" [Oregon Public Broadcasting]. To the tribes, this must seem rather familiar…
Class Warfare
"Anti-homeless spikes are part of a wider phenomenon of 'hostile architecture'" [Guardian]. Hostile, one might ask, to whom?
News of the Wired
"Mysterious Object is 570 Billion Times Brighter than the Sun" [Science Explorer]. "They think it may be a very rare type of supernova — called a magnetar." So it's a bearish indicator?
"Twitter has appointed its first chief marketing officer, Leslie Berland [previously of American Express], who will spearhead a much-needed marketing push for the social network as it tries to buoy its user growth" [WaPo].
"The Wreck of Amtrak 188" [New York Times]. No answers, but well worth a read.
"The Facebook-Loving Farmers of Myanmar" [The Atlantic]. Author does fieldwork with a team of "design ethnographers." Sounds like these guys are putting their phones to more productive use than selfies…
"Shodan is a search engine for the Internet of Things, scanning the public Internet for devices communicating on ports and over protocols that are commonly used by IoT devices" [Boing Boing]. Like wireless baby-monitors. What could go wrong?
* * *
Readers, feel free to contact me with (a) links, and even better (b) sources I should curate regularly, and (c) to find out how to send me images of plants. Vegetables are fine! Fungi are deemed to be honorary plants! See the previous Water Cooler (with plant) here. And here's today's plant (KK):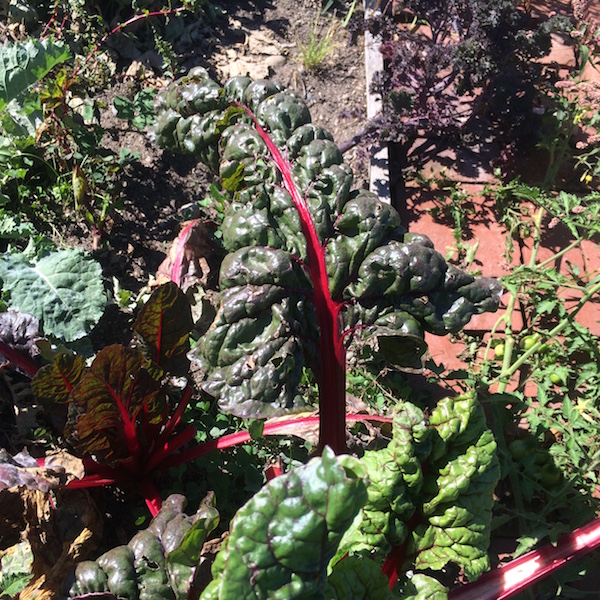 There's a time in Maine where the garden suddenly becomes incredibly dense, a two or three week period when the vegetables outrun everything else, temporarily. This photo captures that feeling well. I could use some more plants in snow pictures, though, if any of you have managed to make it out of the house!
* * *
If you enjoy Water Cooler, please consider tipping and click the hat. Winter has come, I need to buy fuel, make a happy plumber happier, and keep my server up, too. Water Cooler could not exist without your support.