Aaron Swartz died three years ago today Crooked Timber
It Can Really Suck to Be a Dog in Rural North Carolina Vice (resilc), :-(.
New Jersey rejects request for dolphin necropsy results, citing "medical privacy" MuckRock (Chuck L)
David Bowie's other legacy: internet visionary, finance pioneer Sydney Morning Herald (EM)
The Man Who Studies the Spread of Ignorance BBC (Teejay)
Researchers' metallic glue may stick it to soldering and welding ScienceDaily (Chuck L)
Intel CEO thinks dancing drones could replace fireworks — here's what it looks like Business Insider (David L)
Signs of the 'Human Age' New York Times (David L)
Cancer screening has never been shown to 'save lives,' argue experts: Harms of screening are certain, but benefits in overall mortality are not ScienceDaily (Chuck L). This has been something I've thought but have been loath to say out of concern for being perceived to be way out over my skis. But one example is the recommendation in the US that everyone over 50 get a colonoscopy. Mind you, they don't just scope you, they snip every polyp with no idea whether it is harmful or not. On top of that, you can get a perforation (!!!) and the equipment is not properly cleaned 15% of the time, so the procedure is not risk free (and that's before you get to the discomfort of the prep and the procedure). By contrast, in pretty much all of the rest of the world, colonoscopies are recommended at 50 only for patients in high risk groups. The evidence from Canada is that an annual fecal occult blood test, which is trivial in terms of invasiveness v. a colonoscopy, does just as good a job of detecting cancers early enough to do something about them for regular-risk patients.
Extreme Weather and Global Growth Project Syndicate (David L)
China?
China's slowdown, financial mayhem cast long shadow across world Washington Post

Did China Change the Way It Fixes the Yuan? Wall Street Journal

Don't fight the PBoC: CNH/CNY hits parity Financial Times
Where Were the Post-Hebdo Free Speech Crusaders as France Spent the Last Year Crushing Free Speech? Intercept
Greek conservatives bank on unlikely lad to revive flagging party Financial Times
Brussels bureaufascists' "backup" alternative has been set up in Greece failed evolution
UK doctors go on strike Politico
Refugee Crisis
Germany returns migrants to Austria BBC

Mass migration into Europe is unstoppable Gideon Rachman, Financial Times
Russian Shares and Ruble Fall as Oil Prices Continue to Tumble New York Times
Syraqistan
Imperial Collapse Watch
Weapons Industry Revenue Forecaster Enthuses Over Global Turmoil Truthdig (JT McPhee)
2016
This is a story from Fox from 6-8 hours ago, by one of the few journalists there that's actually considered credible: Catherine Herridge (Harvard, Columbia School of Journalism). Certainly credible enough to the point where the WaPo, The Hill and Reuters, among others, have picked-up this story over the past few hours. There are three anonymous sources inside the FBI, according to Herridge. This is nothing less than brutal for team Clinton.
The Great Forgetting Truthdig
Obama to make good on Guantanamo pledge: White House chief of staff Reuters (EM). He can't. He said it was the first thing he'd do in office.
Chicago names attorney to lead law department review Reuters (EM)
Sickout' by Detroit Teachers Closes Most Public Schools New York Times
Back to school for children displaced by Los Angeles-area gas leak Reuters (EM)
Father of Koch Brothers Helped Build Nazi Oil Refinery, Book Says New York Times
Angry White Men
Militia groups meet with leaders of Oregon occupation, pledge support Reuters. EM: "Any moderate Syrian militias at the meetup?"
RBS cries 'sell everything' as deflationary crisis nears Telegraph (David L)
Oil forecast to slide to $20 a barrel Financial Times
Oil plunges to $30, Dallas Fed President Sucker-Punches any Leftover Oil Bulls Wolf Richter
Class Warfare
Supreme Court Hears Case Challenging Collective Bargaining for Public Employee Union Esquire

Hefner's Playboy mansion listed for sale for $200 million Reuters. EM: "That sale price amounts to a 35-year average annual return of 16%, making the property quite a good investment, even under the assumption that Hef et al sank a fair bit of money into orgiastic improvements. As a prospective buyer I'd want the whole place thoroughly steam-cleaned first, though. :)"
Antidote du jour. Photo by Luke Massey (Robert H). From a great story in Audobon with lots more great pix on how a pair of peregrine falcons took up residence on his balcony in Chicago and had a family.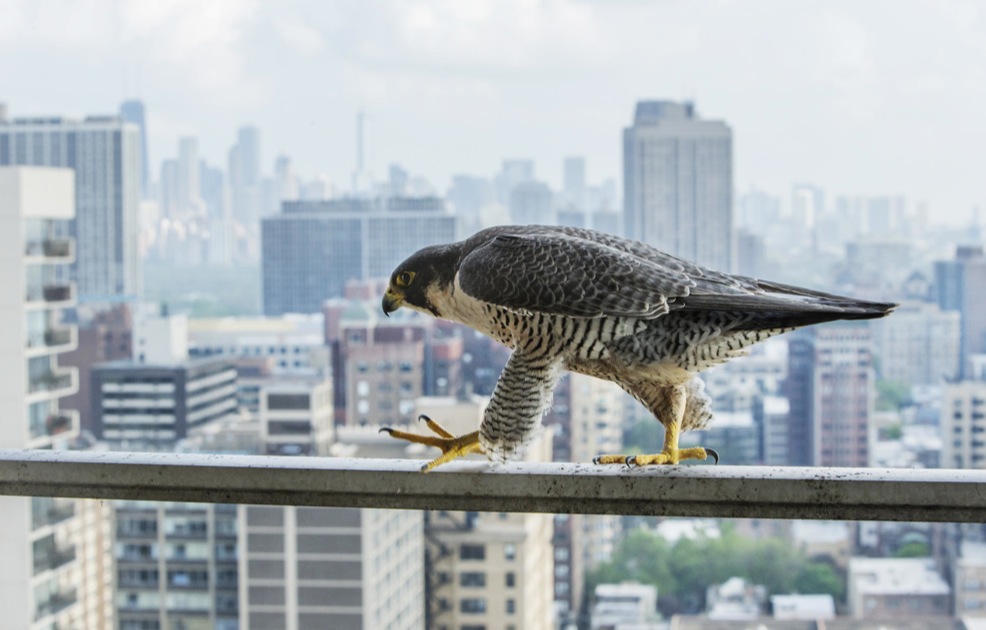 See yesterday's Links and Antidote du Jour here.