Ringling Bros. Circus Elephants To Retire By May 2016 NationofChange (furzy)
The Bigger Story Behind the Killing of Cecil the Lion That the Media Overlooked Alternet
Kangaroo in 'grieving' photos may have killed while trying to mate, scientist says Guardian (DR. Kevin)
200-year-old shipwreck found during hunt for missing Malaysian plane (+video) Christian Science Monitor
Pilots rely too much on automated tech, DOT says Engadget (guurst)
Copyright law shouldn't keep me from fixing a tractor. Slate (resilc)
Aldi joins Coles and Woolies in microbead ban Sydney Morning Herald (EM)
Need Surgery, Will Travel New Republic (resilc). I know people who go to Eastern Europe for serious dental work. You get German materials, which if anything are better than we use here, and you can find dentists and oral surgeons every bit as good if you know where to go.
To Better Cope With Stress, Listen to Your Body New York Times (David L). Junk science alert! A reader challenge to identify some of the reasons why.
Jakarta
Multiple Explosions Hit Indonesian Capital of Jakarta Wall Street Journal

Six Killed as Massive Blasts, Gunfire Rock Jakarta, Indonesia NBC (furzy)

ISIL claim responsibility for deadly Jakarta gun and bomb attacks euronews (furzy)
Mr. Market is Still Very Unhappy
Stocks Take a Beating as Alarm Grows Wall Street Journal. That was the story as of yesterday's close in the US. This is the pre-opening update: Stocks Resume Slide on Oil Concerns

Asian Markets Follow U.S. Lower New York Times

Markets in for slower and bumpier climb Financial Times. Notice the "don't lose faith" subtext.
China?
China Shares on Track to Close in Bear-Market Territory Wall Street Journal

Chinese Debt Bubble About to Burst Real News Network (Sid S)
Official: Draghi confirms the colonial mechanism of the euro-dictatorship failed evolution
Warsaw's EU spat stalls German-Polish engine Politico
Poland is backsliding on democracy, and the EU is powerless to stop it Slate
Why UK's EU referendum will be nothing like the last Politico
Refugee Crisis
North Africa Exports Rape Culture to Germany World Affairs Journal (resilc)
Syraqistan
Iran: Lifting the veil on Tehran's cultural life France24

Iraq and the Kurds Are Going Broke New York Times
2016
Clinton attacks produce windfall of campaign cash for Sanders Washington Post. So if you REALLY want to poke a stick in Hillary's eye, do so now by giving to Bernie! This is a way to punish her for telling lies, when in the past telling lies has been hugely profitable for her and Bill.

Will scandals simply overwhelm Hillary Clinton? Reuters. Resilc: "CSI Clintoon is a new show this spring."

Why Is Hillary Clinton's Polling Slipping? Atlantic (resilc)/ Great title but the rest of the article undercuts it, trying to say that either the polls are wrong or the Bernie bump is temporary.

"The Big Short" and Bernie's Plan to Bust Up Wall Street Robert Reich

Ted Cruz, Donald Trump running neck-and-neck in Iowa.

Donald Trump's Iowa Ground Game Seems to Be Missing a Coach New York Times

Ted Cruz financed Senate campaign with Goldman, Citibank loans. Slate (furzy)

Ted Cruz Didn't Disclose Loan From Goldman Sachs for His First Senate Campaign New York Times

Rick Perry lobbying for Florida dental insurance company. Slate

2016 Primary Calendar and Results New York Times

Jeb Bush's leadership PAC is trolling Donald Trump. Again. Washington Post

On Ted Cruz's dismissal of 'New York values' Washington Post
Angry White Men
Oregon Standoff Update: Ammon Bundy Armed Ranchers Occupation Costs Government $75K Daily, Judge Says International Business Times

Treasonous Bundy-led militia prepare to open kangaroo court Boing Boing (resilc)
U.S. Church Puts 5 Banks From Israel on a Blacklist New York Times
Multnomah County approves $9.6 million settlement with controversial mortgage registration firm Portland Tribune (Steve M)
Al Jazeera America to shut down in April CNN
Delayed oil projects total nears $400bn Financial Times
Class Warfare
Antidote du jour. Zane: "Wednesday afternoon at our basement window in Rochester, Minnesota, about 17 blocks from the Mayo Clinic. The tomcat's name is Peaches. The deer did not share her name."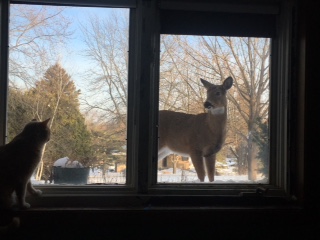 See yesterday's Links and Antidote du Jour here.