This suspected supernova is 570 billion times brighter than our sun Washington Post
New Report and Maps: Rising Seas Threaten Land Home to Half a Billion Climate Central
More people in Europe are dying than are being born PhysOrg (Dr. Kevin)
One in coma after French clinical trial BBC
China?
China's middle income trap MacroBusiness

Confused by China's Yuan? It's Intentional Wall Street Journal
If every Norwegian's a millionaire, why's Alberta in hock? Canadian Investment (Ulpanaylaylo)
IMF demands debt relief as price for involvement in Greek bail-out Telegraph
S INVESTORS IN RAID AGAINST DMITRY FIRTASH – STEPHEN LYNCH ATTEMPTS TAKEOVER OF UKRAINIAN GAS PRODUCER, MISEN ENERGY John Helmer
Refugee Crisis
Angry Local Politician Buses Refugees To Merkel's Office Reuters

As Germany Welcomes Migrants, Sexual Attacks in Cologne Point to a New Reality New York Times
Syraqistan
Big Brother is Watching You Watch
The Internet of Things that Talk About You Behind Your Back Bruce Schneier

What are Americans willing to trade their privacy for? Christian Science Monitor. Confirms that people will agree to surveillance if it's pitched as enhancing their "security"

Nest Thermostat Glitch Leaves Users in the Cold New York Times
Imperial Collapse Watch
Is the US Navy building ships that can't weather rough seas? Christian Science Monitor
New NAFTA lawsuits reveal disturbing, dangerous trend Independent
2016
Time to take Sanders seriously Matt Bai, Yahoo (furzy). Posting this only because it's typical of a lot of the begrudging MSM coverage: first, they go to great pains to say repeatedly that Sanders' popularity may just be a flash in the pan and then the keep signaling that they don't see him as legitimate, and what commentary they have besides that is remarkably uninformed.

Bernie Sanders Surge Is About More Than Populist Anger – Hillary Clinton's Lead Shrinking Charles Pierce, Esquire

Bernie Sanders is winning with the one group his rivals can't sway: voters Guardian (resilc)

Bernie Sanders raises $1.9 Million off attacks from Hillary's camp USA Today

The only candidate not playing into ISIS hysteria is Bernie Sanders, and he's surging in the polls Boing Boing (resilc)

Hillary Clinton Strategist Attacks Bernie Sanders' Anti-Wall Street Ad While His Firm Works For Wall Street International Business Times

Hillary Clinton's Shadowy History With Shadow Banking Zach Carter, Huffington Post

The Republican Presidential Debate in South Carolina Atlantic (resilc)

Trump challenges Cruz over Canada Birth BBC

War Talk, Jingoism and White Supremacy at GOP Debate Juan Cole (resilc)

The GOP is learning to love Donald Trump Slate

Trump and Clinton tax plans scare Wall Street Financial Times. I've been hearing from tax experts who are very plugged in for the last six months that the carried interest loophole was soon to be dead. The fact that Clinton is going after it would seem to confirm that.
Gaming of Obamacare Poses a Fatal Threat Bloomberg. Timbers: "Love how the headline and article implies people who receive healthcare from insurance policies they pay for are bad and wrong because they are "gaming" and thus pose a "fatal threat." Only healthy people should get insurance."
Welcome to America': Australia's first female Muslim parliamentarian 'interrogated' at LAX Raw Story
Death of EHR "Meaningul Use" imminent. (Hopefully the death of the 'National Programme for Health IT in the HHS' is imminent, too.) Health Care Renewal
EPA, Republicans in Congress Battle Over Water Regulation Esquire (resilc)
Black Injustice Tipping Point
Video of 2013 Police Shooting Is Released as Chicago Relents New York Times
Angry White Men
79-Year-Old Bird Watcher Takes Down Oregon Militant With Old High School Wrestling Move The Lapine (Dr. Kevin)

Oregon occupiers ask public for supplies: get glitter, sex toys Reuters (David L). I love it! A reader said he going to send glitter. I hope you were part of the fun!
BHP posts $US4.9 billion oil and gas impairment Sydney Morning Herald (EM). The MacroBusiness headline is clearer: BHP writes off $7 billion in US shale oil
The oil crash could bring a radical new change to Saudi Arabia's investment fund Business Insider
Sacked ANZ trader says bank tolerated drugs, strip clubs Sydney Morning Herald (EM). Should not be news, except ANZ is a very retail bank.
Drop in VC funding shows caution growing Financial Times
Goldman to Pay Up to $5 Billion to Settle Claims of Faulty Mortgages New York Times. Now that we are down to one of the last settlements, an article that is not in Huffington Post underscored the non-cash portion, $1.8 billion, and that critics don't give them much weight.
Deflation
Shipping's globalisation woes Gillian Tett, Financial Times (David L)

What's Wrong With The Producer-Price Index? Rent Is Too Damn High WSJ Economics
Class Warfare
Netflix Founder Drops $100 Million to Join Billionaire Crusade to Privatize Our Public Schools Alternet (margarita)

Study claiming right-to-work in West Virginia will create job growth is fundamentally flawed Economic Policy Institute
Frameworks of Comparison London Review of Books
Antidote du jour (Kim Kauffman)."2 new mountain lion kittens discovered in Santa Monica Mountains" KPCC. Has two good videos as well.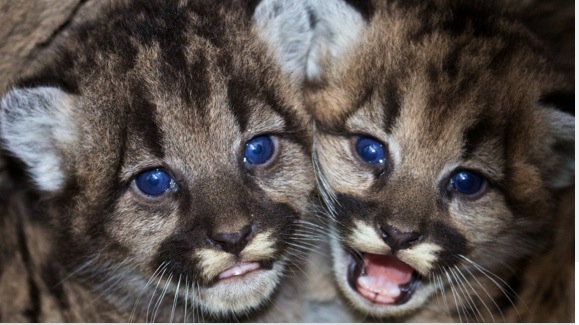 See yesterday's Links and Antidote du Jour here.