Saudi Executioner Thinks He Pulled Something In Shoulder During Last 10 Decapitations Onion (David L)
North Korea Successfully Harvests Wheat In Show Of Growing Strength Onion. Two Onion links in one day is another sign of "too much news flow."
The Anthropocene: Hard evidence for a human-driven Earth PhysOrg (Chuck L)
I Went Back to a Dumbphone Atlantic. See? It is now becoming cool to be a stupid phone person.
How Mickey Mouse Evades the Public Domain Prime Economics
Apple Acquires Emotient, a Startup That Can Read Human Emotions Fortune (EM)
Human-Animal Chimeras Are Gestating on U.S. Research Farms MIT Technology Review (Titus Pullo)
Another reason fracking sucks: Study links fracking to even more health problems Gristmill
Massive bushfire destroys Western Australia town BBC
To End North Korea's Nuclear Program, End the Korean War Nation
UN Urges Thailand to Make 'Forced Disappearance' a Crime Khaosod English (furzy)
Man screaming 'Allahu Akbar' with FAKE explosives shot dead in Paris on Hebdo anniversary Express (furzy)
Mr. Market Has a Nervous Breakdown
Dow Tumbles Nearly 400 Points on China Worries Wall Street Journal

China markets motor higher in choppy trading Financial Times. As a result of intervention.

Why Emerging Markets Are Melting Down, and Why It Matters, in 10 Charts WSJ Economics
China's Insolvable Problems; Watched Pot Thesis; Roll the Dice Michael Shedlock
Brussels not quite ready to punish Warsaw Politico
Refugee Crisis
Saudi Arabia Has Bigger Problems Than Iran Bloomberg
Saudi Arabia considers Aramco share sale Financial Times (furzy). Wow.
Syraqistan
Imperial Collapse Watch
US Hellfire missile mistakenly shipped to Cuba Guardian (PlutoniumKun)

Empires (Like the U.S.) Fall When Corruption Becomes Rampant George Washington. Not news, but a useful list.
TransCanada Sues the US for Rejecting Keystone XL; Will This Be the New Normal Under TPP? Truthout (Judy B)
2016
The Clintons' Paid-Speech Bonanza Consortium News (RR)
The Obama administration is quietly trying to make it harder to study public officials Vox (resilc)
Vermont Governor Shumlin Calls on Pensions to Divest $4.02 Billion Portfolio from Exxon, Coal Common Dreams
LA methane leak firm denies catastrophe BBC. Quelle surprise!
Angry White Men
The Dumb and the Restless Matt Taibbi, Rolling Stone

Hey Oregon "Militia": Here's the History Lesson You Missed Robert Bateman, Esquire

How the West Wasn't Won Bloomberg (resilc)
Gunz
Calm yourself, boys. Obama ain't coming for your guns Jay Bookman (furzy)

Bill O'Reilly and GOP Candidates Out of Step on Guns Washington Monthly

Obama Faces Questions on Gun Policy at Town Hall Wall Street Journal (furzy)
Class Warfare
Antidote du jour. "Starlings make a sky whale picture" @FacesPics: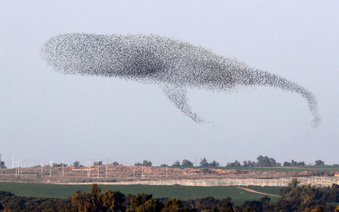 See yesterday's Links and Antidote du Jour here.