China's great success as a significantly controlled economy is foundering for similar reasons to that of the last great Asian success story, Japan, which also had a model of central guidance and in many ways, even less economic integration that China has shown in recent years (Japan's domestic market was famously impenetrable to foreigners even after the West demanded the dismantling of import barriers; Japanese consumers simply did not want and 30 years later are still suspicious of foreign goods).
Japan had financial liberalization forced on it by the US in the 1980s, which wanted the world made safe for America's investment banks. Japanese banking was deregulated rapidly, and Japanese banks, lacking the skill to manage complex new risks, blew themselves up in remarkably short order (admittedly aided and abetted by the Bank of Japan, which though that stoking asset appreciation would create a wealth effect that would increase domestic consumption).
The Chinese variant of this story is that China's evolution from an economy with restrictions on capital flows and a controlled currency to one that is more open is deemed to be both internationally and in China a sign that China is "maturing". But we've been skeptical of the conventional wisdom that leaving economies open to the free movement of capital is all that it is cracked up to be. This view was confirmed by an important 2011 paper, Global imbalances and the financial crisis: Link or no link?, by Claudio Borio and Piti Disyatat of the Bank of International Settlements, which ascertained that America's capital flows were a stunning 61 times greater than trade flows, and argued that a major driver of the crisis was excessive financial elasticity. Similarly, in their study of 800 years of financial crises, Carmen Reinhart and Kenneth Rogoff found that higher levels of international capital flows were strongly correlated with more frequent and severe financial crises.
For instance, consider an article today from the Roubini Global Economic Monitor, which takes a conventional view of China's actions. Notice how the loosening of government control over financial markets is seen as "reform" and China is depicted as having to navigate a tricky path between continuing with assumed to be salutary reforms and managing growth, which until recently, was applauded internationally as a great Chinese success and has been key to the legitimacy of the current regime:
Market-Oriented Reforms Versus Stability Concerns

Chinese authorities continue to struggle to find a balance between growth and reforms and to communicate these policy positions, something we highlighted as a risk in our IMF Trip Report. The latest evidence shows that policy makers have restarted reforms, particularly in the financial sector, and allowed some stabilization policies to expire, which added to pressure on local markets. We believe policy makers remain focused on supporting growth while making reforms on the margin, which will perpetuate financial volatility. Two key reforms have added to this volatility:

• The PBoC liberalized the FX reference rates in August, disclosed the weight of the currency basket that the Bank claims to target in December and reduced FX intervention. These are positive moves, but the lack of clarity on the rules through which they are implemented has created uncertainty and allowed market actors to consider CNY a one-way bet.

• Stock-market measures have exacerbated concerns. The State Council approved a stock-market circuit-breaker system in December and put it into effect in January in a bid to dampen market volatility (clearly this move has not had the desired effect). Other support mechanisms were set to lapse, putting pressure on large actors to sell. Meanwhile, the National People's Congress on December 27 authorized the government to implement IPO registration reforms, which will take effect in March, increasing the supply of shares.

These moves support the reforms laid out in the Fifth Plenum of the 18th Communist Party Central Committee, reinforced by China's desire to promote the international use of RMB (including in the IMF's Special Drawing Rights basket). In addition, top leaders have consolidated their political power and are in a good position to withstand anti-reform pressure from recalcitrant interest groups
Yves here. Keep in mind that I am not saying that China's old economic model was sustainable. We've pointed out repeatedly that no large economy has made the transition from being export led to being consumption led without experiencing a major crisis.
But what is striking is the degree to which China appears to be in denial that it can't have more open financial markets and maintain the same degree of control over the economy that it once enjoyed. And it isn't that it's objectives have tensions between them. They are contradictory. And the lack of understanding of the position it is in has the potential to lead to more self-inflicted damage than if it had a better grip on the internal inconsistency of its aims.
Ambrose Evans-Pritchard of the Telegraph has a new article that is the best one-stop shopping on the state of play in China that I've seen in the last few days. One of its most important observations is a throwaway in the middle of the piece:
George Magnus, from UBS, said Beijing is trying to reconcile impossible objectives. "They don't want any tightening. They are trying to keep interbank rates as low as possible," he said.

In economic parlance, it is the Impossible Trinity. No country can have an open capital account, a managed exchange rate and sovereign monetary policy. One must give.
So what are the things that China is trying to achieve that can't work out?
As we reminded readers yesterday, economists Victor Shih has warned in 2011 that capital flight by China's emerging wealthy could precipitate a financial crisis. China's liberalizing capital mobility has helped that happen.
As Evans-Pritchard explains, China muffed the handling of how it shifted from a dollar-based currency peg to a trade-weighted one in December, spooking domestic investors. China went through an estimated $140 billion in foreign exchange reserves trying to defend the currency. That's more than double what it has ever spent in a month.
Stop here. Many assumed then and still that China really wants a cheaper currency, and the effort to support it was all optics. But there are reasons to question the assumption. While one generally has to take what central banks say with a fistful of salt, the PBoC has a point when it stresses that China is running a trade surplus of close to $600 billion a year and doesn't need a cheaper currency. And there is a big reason for China not to want the renminbi to fall all that much. Many domestic companies borrowed in dollars to take advantage of the much lower interest rates. If the Chinese currency falls too quickly, the economy would be hit by a wave of bankruptcies, more than offsetting any trade gains. Economonitor, like Evans-Pritchard, sees the Chinese government as genuine in saying they don't want a weaker currency right now. Economonitor suggests if anything they might like some volatility to punish speculators who are betting on further declines. The renminbi was allowed to soften in 2015, since it had risen due to its tie to the greenback against other currencies, as this chart from the Telegraph shows: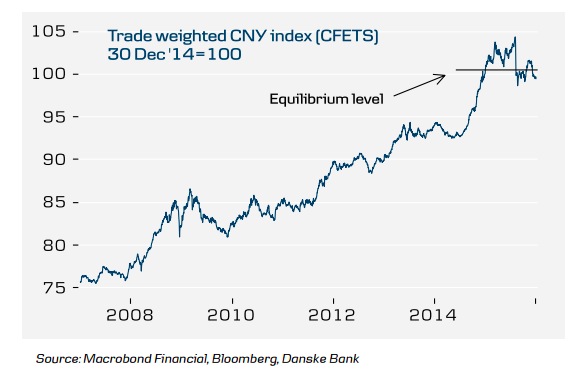 Here is where we get to China's bind. China is less able to fight the currency impact of capital flight than one might think. Even though China has $3.3 trillion of foreign exchange reserves, the IMF deems $2.6 trillion to be the prudent minimum given that China also has dollar liabilities of $1.2 trillion (notice the cost of seeking international stature? China is now hostage to foreign benchmarking). But this is the bigger, more fundamental contradiction:
The central bank still has the clout for a shock-and-awe blitz to defend the yuan, but this entails serious costs. Reserve depletion causes monetary tightening, compounding the economic downturn. It is the exact opposite of the boom years when China accumulated reserves, causing the economy to overheat.

It can, in theory, offset this by cutting the reserve requirement ratio for banks (RRR) all the way down from 18pc to 5pc, where it was during the banking crisis in 1998. This would inject $3 trillion of stimulus. Yet to do this would weaken the currency, accelerate the exodus of capital, and trap China in a vicious circle…

In trade terms, China does not need to devalue, and it would not help much. The trade share of GDP has fallen to 41pc from 65pc a decade ago as the country moves up the economic ladder. Yet it needs internal stimulus to keep a hard-landing at bay, and that cannot easily be achieved if credit policy is kept tight in order to defend the exchange rate. Beijing will have to choose.
And as the piece concludes, contrary to the assumption of some commentators, China is using yet more debt to stimulate the economy:
Jonathan Anderson, from Emerging Advisors Group in Shanghai, said the latest burst of stimulus – led by an 18pc rise in credit – is clear evidence that Beijing is unwilling to take its medicine and deflate the country's $27 trillion loan bubble. "The debt ratio is rocketing upwards. China is still adding new leverage at a massive, frenetic pace," he said.

"The authorities have clearly shown that they have no intention of addressing leverage problems. Our new base case is that the Chinese government will simply let the debt party go on until it eventually collapses under its own weight," he said. `
As Bette Davis said, "Fasten your seat belts. It's going to be a bumpy night."
Update 6:55 AM: Just as this post was scheduled to launch, I saw the new lead story at the Financial Times, China steps up capital controls to stem outflows. The officialdom has recognized that, at least for the nonce, that more liberal capital movement and being able to control its foreign exchange rates and monetary policy don't mix. The move to impose capital restrictions also confirms the point of view that China is not keen to have its currency depreciate. Letting domestic investors move their money overseas would continue to put downward pressure on the remnimbi and give China cover if that was what the government wanted to happen.
China is ratcheting up ad hoc capital controls to stem accelerating capital outflows, with banks restricting dollar purchases amid fierce demand from households and companies.

The foreign exchange regulator has provided verbal guidance to banks in Shenzhen instructing them to limit dollar buying by individual and corporate clients, according to a person with knowledge of the situation.

The official Shanghai Securities News cited client managers at banks in Shenzhen including Industrial and Commercial Bank of China and Bank of China as saying that demand for US and Hong Kong dollars had increased sharply since the start of the year. Chinese residents are permitted to buy up to $50,000 annually, with the quota resetting at the beginning of the calendar year. "They're focused on Shenzhen and Shanghai because that's where demand has really spiked," said the person…

The latest tightening comes after the central bank temporarily suspended some foreign banks in China, including Standard Chartered, Deutsche Bank and Singapore's DBS, from conducting certain foreign exchange transactions designed to arbitrage the gap between the onshore and offshore renminbi exchange rates. All three banks declined to comment.

Chinese importers and exporters have long been sensitive to shifting exchange rate expectations, calibrating their foreign currency management accordingly. What is new, traders and bankers say, is the increased demand from households…

Online foreign exchange settlement at multiple banks have suffered temporary outages or slow response times as demand from retail customers overwhelms their capacity, Shanghai Securities News reported.

At a mid-sized bank in Shanghai, customers are restricted to buying $5,000 in foreign exchange per day unless they make an appointment in advance and $10,000 per day if they do, with no more than three appointments allowed per week, the paper reported.