By Lambert Strether of Corrente.
TTP/TTIP/TiSA
"Trans-Pacific Partnership: Written by and for the rich to further enrich themselves at our expense" "[Jim Hightower, Salon]. "The basic problem facing the corporate and political powers that want you and me to swallow their Trans-Pacific Partnership deal is that they can't make chicken salad out of chicken manure."
"Doctors Without Borders says that the TPP would be "worst-ever trade agreement for access to medicines." If passed, the TPP would lock in policies that not only allow price gouging, but essentially require all TPP-signatory governments to provide monopoly rights allowing drug companies to charge whatever they want. This would block access to essential life-saving medicines for many people with cancer" [Lori Wallach, HuffPo].
"Overall, the TPP's chapter on the environment is weak. Many provisions are framed as 'best endeavour efforts' which can be easily neglected. Strong and binding rules are needed to restore, protect and enhance marine, aquatic and terrestrial biodiversity. It is likely that the TPP's rules will be too feeble to have an impact and it remains unclear how they will be enforced" [New Zealand Herald]. "Recently, Canada and Germany's governments have been sued [under ISDS] for placing restrictions on coal burning, and temporarily banning hydraulic fracturing. These are more than just ominous signs that the TPP may end up undermining government efforts to protect the environment."
2016
Policy
Stephen Colbert to Sanders: "'Now that sounds like class warfare,' Colbert said. 'If you're saying that most of it's going to the top one percent and they want fairness, how do you achieve fairness? Because the top one percent has a lot of influence with the government and they're just not going to give it up'" [Esquire]. No, they aren't.

"It is the lack of any attempt at active fiscal policy — in the US, UK, Germany or Japan — that has forced central banks to enter the gap. Now monetary policy seems to have lost efficacy, maybe it is time for politicians to agree on measures like recapitalising European banks, or rebuilding US infrastructure" [John Authers, Financial Times, "Many suspects behind murderous markets"]. This is the election-relevant policy takeaway frm Authers' column, which starts with the "Murder on the Orient Express" trope. Well worth a read.
The Voters
An good explainer on superdelegates [Paste Magazine]. Here's the bottom lineL

Superdelegates have never decided a Democratic nomination. It would be insane, even by the corrupt standards of the Democratic National Committee, if a small group of party elites went against the will of the people to choose the presidential nominee.

Democrats win when turnout is high, and if the DNC decides to go against the will of the people and force Clinton down the electorate's throat, they'd be committing political suicide.

The important thing to know here is that Superdelegates are merely pledged to a candidate. We know who they support because they've stated it publicly, or have been asked by journalists. They are not committed, and can change at any time. If Bernie Sanders wins the popular vote, he will be the nominee. End of story.

I certainly hope so, although the Iron Law of Institutions argues no.

A good "theory of change" post, apparently the first of a series [emptywheel].

While you can defend the claim that Obama's insurance reform was all that was possible, that doesn't mean — even with the many benefits it has brought about — that it was a sound compromise, much less policy that served the interest of the majority or the country as a whole. Similarly, while you can claim (even more dubiously) that foaming the runway to give the banks a soft landing was necessary, real Americans know we all would be better off with Lloyd Blankfein in prison.

The "half a shit sandwich is better than none" talking point works. Until it doesn't.
Money
"DNC rolls back Obama ban on contributions from federal lobbyists" [WaPo]. Let me just rewrite that headline: "DNC to Sanders small donors: Drop dead!"
Corruption
"In the two years between resigning as secretary of state and launching her presidential campaign, Hillary Clinton personally received $4.1 million in fees from financial institutions for closed-door talks that attendees described as friendly and light.[Wall Street Journal, "Hillary Clinton's Wall Street Talks Were Highly Paid, Friendly"]. Ka-ching.
Democratic Debate
I dunno, but Clinton's outfit looked like gold to me, not yellow (video) [Wall Street Journal, "Democratic Debate in Two Minutes"]. Shouldn't some staffer have thought of the symbolism?

And then there's the Lannister connotation…

"Why Sparks Flew Between Hillary and Bernie During the 6th Debate" [Teen Vogue (!!)]. This is a fine wrap-up:

But when Clinton responded to Sanders that just like Obama, who also received campaign financing from Super PACs and Wall Street, she would stay independent minded and crack down when needed, Sanders became incensed and said:

"Let's not insult the intelligence of the American people. People aren't dumb. Why in God's name does Wall Street make huge campaign contributions? I guess just for the fun of it; they want to throw money around. Why does the pharmaceutical industry make huge campaign contributions? Any connection maybe to the fact that our people pay the highest prices in the world for prescription drugs? "

Oh, and Clinton looks like she's wearing gold in the photograph that accompanies this article, too. The fabric is shiny.

"The Daily 202: Hillary Clinton won last night's debate by making it all about Barack Obama" [WaPo]. A less nuanced view.

"Sanders distanced himself from the President on his immigrant-deportation policy during the debate. 'I disagree with his recent deportation policies. And I would not support those,' Sanders said. The Vermont Senator went on to attack Clinton for her support of Obama's policy to send back refugee children from Honduras and Central America trying to enter the U.S. in 2014" [Time]. Which the Hispanic vote in Nevada will probably like. Good wrap-up of Clinton trying to claim Obama's "legacy" and Sanders walking the line between criticism and attack.

"Bernie Sanders promises to free half a million prisoners in first term" [Yahoo News]. I dunno. Aren't a lot of prisoners at the state level?

CNN blows fact-check: "'Who denies that African-American youth unemployment, real, is over 50%,' Sanders said in Thursday night's Democratic debate. There is certainly an employment crisis among minority youth. But it's not just an issue of unemployment, but of underemployment. It's an inaccurate claim Sanders has made many times" [CNN]. What CNN leaves out: "[G]overnment statistics like poverty and unemployment rates do not include incarcerated people. … When Clinton left office in 2001, the true jobless rate for young, non-college-educated black men (including those behind bars) was 42 percent" [Michelle Alexander, The Nation]. And I doubt very much the figure has improved much beyond 42%, given the crappy economy after 2008. Clinton, wisely, didn't quibble over 42% vs. 50%.

Clinton: "'I know a lot of Americans are angry about the economy. And for good cause. Americans haven't had a raise in 15 years. There aren't enough good-paying jobs, especially for young people. And yes, the economy is rigged in favor of those at the top" [Des Moines Register]. Shorter: It's not the economy, stupid. Because 7 of those 15 years happened on Obama's watch, and here we are. So either Clinton is criticizing Obama, or the economy is just one of many things to worry about. And we all know Clinton never criticizes Obama, except when she's running against him, as Sanders deftly pointed out.

"Sanders believes the primary work of the next president is to break the oligarchs who are responsible for rigging our economy and paralyzing the political system from doing anything about it. Clinton believes the main obstacles to progress are also rooted in anti-government ideology and prejudice, and the ability of conservative politicians to successfully exploit those forces to advance socially conservative goals and to get people to vote against their economic interests" [Greg Sargent, WaPo]. Seeing a phrase like "break the oligarchs who are responsible for rigging our economy" delivered without a knowing wink or a nudge shows the discourse, and the country, in motion. It's quite remarkable.
The Trail
Trump tweets: "How can Ted Cruz be an Evangelical Christian when he lies so much and is so dishonest?" [The Hill]. I hate it when Trump is right…

"Cruz campaign yanks anti-Rubio ad after viewers spot adult film actress" [Raw Story]. "Amy Lindsay, the star of several softcore porn films, plays one of the voters, saying, 'Maybe you should vote for more than just a pretty face next time.'" Indeed! I wonder if the Cruz campaign released their new "Office Space" ad to kill that story? Spoiler: A Hillary figure — pantsuit, pearls — smashes a server with a bat. It's funny, because who among us has not wanted to take a blunt instrument to a computer, but "Morning Again in America" it's not. I'm not sure whether the lack of narrative is due to haste, or incapacity.

"Here's What Bernie Sanders Actually Did in the Civil Rights Movement" [Mother Jones]. "Sanders was, in his own right, an active participant in the [Civil Rights] movement during his three years at the University of Chicago…. In August of 1963, not long after returning to Chicago from the March on Washington, Sanders was charged with resisting arrest after protesting segregation at a school on the city's South Side."
Nevada
John Ralston: "The Clinton folks are saying it could be close and distorting Nevada's demographics (suddenly we are as white as Iowa and New Hampshire!) because they are worried about the Bernie surge. And I think they should be. Team Clinton has an infrastructure advantage, and its staff here is first-rate and knows the state. Some worked here in '08. They also arrived six months before Team Sanders, whose folks do not know the state nearly as well. But he is outspending her on TV — this may be changing — and same-day registration on Feb. 20 may allow a lot of new, Sanders voters to change the course of the election. Hillary knew a long time ago she would need a firewall in Nevada; that's why she set up here so early. The firewall isn't breached yet, but it may be buckling soon" [Chris Cilizza, WaPo]. Ralston: "If she loses here, it indicates organization cannot defeat enthusiasm, that her flaws as a candidate may be great enough to overwhelm her campaign's inherent advantages. That could be ominous going forward. If she loses, the Bloombergmania will resurface, and even if he doesn't run, talk of a third-party candidate will start again. She needs to win here."

"Sanders overwhelmingly won the youngest caucus-goers and voters in Iowa and New Hampshire. About 44 percent of eligible Latino voters in the country are millennials, 18-35 years old, so the youth vote and winning it plays a big role in capturing the Latino vote overall" [NBC]. Sounds reasonable, but I'd like more evidence….

"In an interview with CNN, Reid said that the race between Bernie Sanders and Hillary Clinton shows no signs of dying down, even as the former secretary of state had hoped the upcoming Nevada caucuses and South Carolina primary would be her launching pad to the Democratic nomination" [CNN]. Reid has not endorsed a candidate.

Best anecdote ever: "Yvanna Cancela, political director of the powerful culinary workers union, said she was at a bar in Las Vegas recently and noticed that a young man sitting next to her was doodling on his cocktail napkin. "Bernie Sanders is the future," he had written" [Wall Street Journal, "Nevada Caucus Offers New Test for Democrats"].
South Carolina
"Gov. Nikki Haley's aides haven't said whether she'll back a candidate" [Wall Street Journal, "Coveted Endorsements Up for Grabs in South Carolina"].
Stats Watch
"The sparse data calendar this week likely exacerbated the significant amount of market turmoil as there was no counterpoint to growing fears that the US economy was either slipping towards or already in recession" [Across the Curve]. And pursuant to this…
Best headline ever: " Timeliest U.S. Data Show Economy Not at Risk as Stocks Crumble" [Bloomberg].
Retail Sales, January 2016: "Vehicles are back on top, helping to lift retail sales to a 0.2 percent gain in January. Excluding vehicles and pulled down by falling gas prices, sales inched only 0.1 percent higher" [Econoday]. "General merchandise sales, which have been soft reflecting price contraction for imports, rose a sharp 0.8 percent in January. Building materials rose 0.6 percent…. Non-store retailers, reflecting building strength for e-commerce, are once again a standout, up 1.6 percent for a year-on-year 8.7 percent gain."
Import and Export Prices, January 2016: "Import price pressures are negative and severe but are increasingly centered in oil-based goods. Import prices fell 1.1 percent in January but fell only 0.2 percent when excluding petroleum imports. Year-on-year, total import prices are down 6.2 percent, which is steep but still an improvement from prior months" [Econoday]. A bit less gentle: "Trade prices continue to deflate year-over-year, and energy prices again drove this month's decline" [Econintersect]. But: "There is only marginal correlation between economic activity, recessions and export / import prices."
Business Inventories, December 2015: "Business inventories rose 0.1 percent in December which however was still too high relative to sales which fell a very sharp 0.6 percent" [Econoday]. "This mismatch drives the inventory-to-sales ratio to 1.39 from 1.38. By contrast, this ratio, back in December 2014, was at a much tighter 1.33…. Businesses are struggling with inventories right now, in general trying to keep them down as sales slow. Looking ahead, if inventory growth adds to first-quarter GDP, it will very likely be unwanted inventory growth." But: "With inflation adjustments, business sales is now in contraction. The inventory-to-sales ratios remain at recessionary levels" [Econintersect].
Consumer Sentiment, Feburary (p) 2016: "The consumer may be feeling some uneasiness from all the market dramatics but not much" [Econoday]. Slightly under consensus….. Retail sales for January, outside of gasoline, proved solid and together with the limited softness in this report, should support FOMC expectations for consumer-driven strength in the U.S. economy." Surveys of Consumers chief economist, Richard Curtin: "[C]onsumers anticipated the lowest long term inflation rate since this question was first asked in the late 1970's. No one would have guessed forty years ago, when high inflation was the chief cause of pessimism, that consumers would someday base their optimism on ultra-low inflation transforming meager wages into real income gains" [Econintersect]. And then there's this on inflation expectations: "If I were still hawking bonds to the unsuspecting I might ask you how many 10 year notes you want me to offer you!" [Across the Curve].
"Deutsche Bank AG plans to buy back about $5.4 billion of bonds in euros and dollars as it seeks to allay investor concerns about its finances" [Bloomberg]. "Deutsche Bank is seeking to bolster confidence after credit-default swaps insuring its subordinated debt rose to the highest since at least 2002…"
"How Negative Interest Rates Could Remake the Global Financial System" [Neil Irwin, New York Times]. "Banks could cease to be viable businesses, eliminating a key way that money is channeled from savers to productive investments. Money market mutual funds, widely used in the United States, could well cease to exist. Insurance companies and pension funds could face their own major strains.
"A group of hedge funds, convinced they have found the next Big Short, are looking to bet against bonds backed by subprime auto loans. Good luck finding a bank willing to do the trade" [Bloomberg]. "Banks' reluctance to help investors bet against subprime auto loans signals that trading desks may be paying more attention to how their activities will play with regulators and in the media, after having been criticized for crisis-era transactions." So reputational damage works if you give it eight years?
Honey for the Bears: "It's one thing when prolific angels who don't have much skin in each game, like Calacanis, get snowed. It's another when both Ben Horowitz, and Sam Altman — head of Y Combinator, the top incubator in the world — could be so staggeringly wrong about Zenefit" [Pando]. (Note also that VCer and Facebook board member Marc Andreesen had a very public meltdown on the Twitter; see "Facebook and the New Colonialism" under Class Warfare.)
The Fed: "In a striking shift, just 9% of the business and academic economists polled by the Journal in recent days said the Fed would raise its benchmark federal-funds rate at its March 15-16 meeting, down from 66% who last month were predicting an increase then" [Wall Street Journal, "WSJ Survey: Economists Now See Fed on Hold Until June, or Later"]
Today's Fear & Greed Index: 21, Extreme Fear (previous close: 19) [CNN]. One week ago: 19 (Extreme Fear). (0 is Extreme Fear; 100 is Extreme Greed). Last updated Feb 12 at 11:39am.
The 420
"What happens when you get stoned every single day for five years" [WaPo]. "[Y]ou can smoke weed every single day for five years, and not have it impact your problem-solving abilities or your ability to focus at all. These findings also need to be understood in relation to what we know about the severe cognitive effects of persistent, heavy alcohol use, which include irreversible brain damage."
" Girl Scout sells cookies outside pot dispensary: 117 boxes in 2 hours" [Los Angeles Times].
Black Injustice Tipping Point
"Among advocates campaigning to reduce the country's bloated prison population and invest in rehabilitation, there is a growing sense that a) Congress is unlikely to pass anything this year worthy of being called reform, and b) it might be better to start over in 2017" [Bill Keller, The Marshall Project]. In Congress, "one potential poison pill is an amendment requiring the government to prove intent, or "mens rea" (Latin for "a guilty mind"), when it tries to convict someone of a crime, a measure the administration fears would make it harder to prosecute white-collar crimes." (The Times, doubtless thinking of its elite of amoral supermen on Wall Street, recently published on Op-Ed supporting such measures.)
Gaia
"The question I've been trying to raise, here and elsewhere, isn't whether or not sun and wind are useful power sources; the question is whether it's possible to power industrial civilization with them, and the answer is no" [The Archdruid Report]. "Thus the conversation that needs to happen now isn't about how to keep power flowing to the grid; it's about how to reduce our energy consumption so that we can get by without grid power, using local microgrids and home-generated power to meet sharply reduced needs.We don't need more energy; we need much, much less."
Water
"Four years ago the Gerkes took a payout from Australia's federal government to quit logging. They are now gambling on another commodity: water." [The Economist, "Water into wine"].
Imperial Collapse Watch
"US Air Force Major General Faints During News Conference at the Pentagon briefing" [YouTube]. Briefer at 0:32, mike on: "That's what the F-35'll do to ya." Indeed!
Great metaphor!
Class Warfare
"Facebook and the New Colonialism" [The Atlantic]. Zuckerberg's "Free Basics" debacle in India. Of course, "free" is — to put it charitably — a misnomer, since as all of us know, when a product is free, you are the product.
"Stock market crashes provide the regular reminder that central banks are much more in tune with Teh Markets than they are with labor markets. Unemployment? No big whoop. Stock market down? PANIC!!!!!!!!" [Eschaton].
Uber driver: "They call us partners, but they're treating us like slaves" [Triple Pundit]. That's not a bug. It's a feature.
"How the United States built a welfare state for the wealthy" [WaPo].
Q: You say that the U.S. welfare state is "European in size but not in spirit." What does that mean, and is it ever likely to change?

The United States government spends more on social welfare programs per capita than most European countries once we include both traditional public spending and tax subsidies. But contrary to European welfare states, benefits are not concentrated on the poor in the U.S.

In essence, there are two American welfare states. A public one built primarily by Democrats that serves the elderly and the poor and a private one built by both parties but expanded by Republicans that provides welfare to the wealthy.
News of the Wired
"My Little Sister Taught Me How To 'Snapchat Like The Teens'" [Buzzfeed].
"Mammal brain frozen and thawed out perfectly for first time" [New Scientist]. "He's ridin' around in the back of a staff car, his body's gone but his head's in a glass jar…"
"Meanwhile, news and entertainment site Mic said it now publishes 100% of its content to Instant Articles, largely because it's able to 'monetize' that content at a similar rate to its own mobile and desktop web traffic." [Wall Street Journal, "Facebook's Instant Articles Advertising Fixes Win Over Publishers"]. Facebook doesn't have a monopoly now. So it has no reason to squeeze.
"Titanic II launch pushed back to 2018" [CNN]. Well, let's hope so.
* * *
Readers, feel free to contact me with (a) links, and even better (b) sources I should curate regularly, and (c) to find out how to send me images of plants. Vegetables are fine! Fungi are deemed to be honorary plants! See the previous Water Cooler (with plant) here. And here's today's plant (Chet G):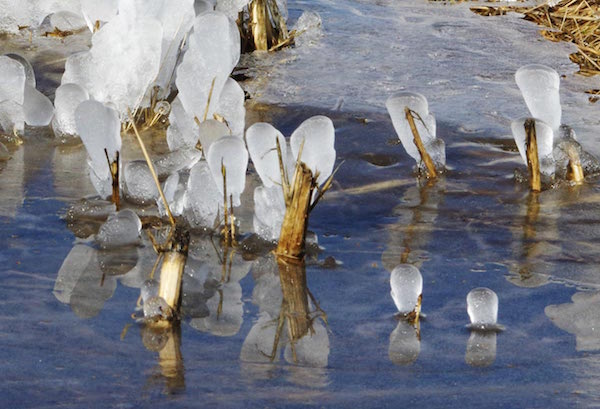 From Central Pennsylvania: Ice pops! Accompanied by vegetal matter, so within the meaning of the act…
* * *
If you enjoy Water Cooler, please consider tipping and click the hat. Winter has come, the winter is sucking up fuel, and I need to keep my server up, too. Water Cooler would not exist without your support.