By Lambert Strether of Corrente.
TTP/TTIP/TiSA
Australia: "Trade Minister Andrew Robb has been slammed for failing to submit the Trans-Pacific Partnership agreement to an independent economic analysis before asking Parliament to ratify it" [The Age]. "Opponents of the deal have repeatedly asked the government to submit it to an independent analysis before signing it into law."
"The German Magistrates Association [DRB] rejects the proposal of the European Commission to establish an investment court within the framework of the Transatlantic Trade and Investment Partnership (TTIP). The DRB sees neither a legal basis nor a need for such a court" [Tech DIrt]. "these are not a bunch of know-nothing hippie activists, but serious establishment figures with a deep knowledge of the law."
UK: "We Are Making A Difference" (on TTIP) [38 Degrees Manchester]. Quoted in Parliament!
US: "Lawmakers say harsh criticism leveled against President Obama's Pacific Rim trade agreement from presidential candidates in both parties is further complicating its passage" [The Hill].
US: "Ryan Says TPP Would Not Pass Congress If Voted On Today" [Inside Trade]. Paywall, but that's the headline.
US: "White House Predicts TTIP Will Not Conclude Under Obama Administration" [Inside Trade]. Ditto.
2016
Policy
I really do wonder if something like this has been going on:

"We told people Obama was a dangerous socialist…when really we knew he was a moderate. But they believed us." https://t.co/gvuGRu2CKG

— The Nation (@thenation) February 10, 2016

So Obama's a socialist? Who better to continue his legacy than… A socialist!

"Many of the Vermont senator's admirers want to see those who helped cause the financial crisis put in jail" [Bloomberg]. This is not limited to Sanders supporters! And I'm amazed that Bloomberg seems to think this is news.

"After New Hampshire victory, Sanders reaffirms single-payer stance" [Modern Healthcare].
Money
"'We are coming out of here with money and momentum, two commodities pretty valuable in politics,' said Mark Longabaugh, another top Sanders aide. 'They are going to hit a wall and we are going to continue to be able to re-fund the campaign. It's one of those things that people are impressed with what we've done, but they don't understand the strategic import of it.'" [HuffPo]. Sanders gets millions of dollars from small contributers when he wins, and when Clinton attacks him. Mook wants to solve for that with delegate counting (see below), but… I dunno…

"Democratic Sen. Bernie Sanders is seeing a surge of financial support from companies in Silicon Valley and is now out-raising presidential rival Hillary Clinton at the largest tech firms there" [Wall Street Journal]. Presumably not the libertarian contingent…
The Voters
"Donald Trump explains American politics in a single sentence [Greg Sargent, WaPo]. This is good:

TRUMP: The only thing he does know, and he's right about, is that we're being ripped off; he says that constantly; and I guess he and I are the only two that really say that."

Sargent comments:

[Both Trump and Sanders] are speaking to people's sense that our economic and political systems are cheating them, that they are being failed because the underlying rules of those systems have themselves been rigged. … What both Trump and Sanders share is that they treat the problem as one of political economy, in which both the economic and political systems are rigged in intertwined ways, thus speaking directly to people's understandable intellectual assessment of what is deeply wrong with our system and why it no longer works for them.

Froomkin responds:

Trumpsters think it's all going to black and brown people. Bernie sdupporters, correctly, think it's going to the 1% https://t.co/kGOLpmunQa

— Dan Froomkin (@froomkin) February 10, 2016

Robby Mook, Clinton campaign manager, strategy memo: "The way to win the nomination is to maximize the number of delegates we secure from each primary and caucus. … The campaign is building the type of modern, data-driven operation that it will take to turn voters out and win the most possible delegates" [original]. Fired up! Ready to go! But I'm not sure what Les Amis du peuple will think, if Clinton loses the popular vote, and wins the delegate count.

"Ninety-one percent of contributions to current presidential candidates made by Harvard faculty, instructors, and researchers in 2015 went to former Secretary of State Hillary R. Clinton, according to a Crimson analysis of Federal Election Commission filings" [Harvard Crimson]. I don't think an instructor is an adunct. It would be nice to know what the adjuncts think/

"One of the key principles of protecting the integrity of any election is that officials should always use paper ballots, counted in public, and recounted or audited when necessary, and that a strict regime for ballot "chain of custody" should be applied. This was not followed in the Democratic Iowa caucus, and that's why mistrust and mystery still shrouds that election a week later" [Truthout].
The Trail
"Security has suddenly tightened around Mike Bloomberg's first public speech, at an exclusive Bahamas resort, after he confirmed he was considering joining the race for the White House" [New York Post]. "Bloomberg will deliver a lecture to megarich residents of exclusive Caribbean retreat Lyford Cay on Saturday. Residents include Sean Connery, Canadian clothing magnate Peter Nygard, shipping tycoon George Livanos, the Bacardi family and hedge-funder Louis Bacon. Now, a new club bulletin has just been sent out to members saying that no cellphones, recording devices or photographs will be allowed." Well, I should think not!

Rubio on why people are appearing at his rallies in robot costumes: "'I did not do well on Saturday night,' he said. 'So let me tell you this: That will never happen again'" [Michael Isikofff, et al., Yahoo News].

"George W. Bush cuts South Carolina radio ad for Jeb" [CNN]. That should do the trick.

"Clinton is set to campaign with the mothers of Trayvon Martin and Eric Garner, unarmed African-Americans who died in incidents involving a neighborhood watch representative and law enforcement officers, respectively. And the campaign, sources said, is expected to push a new focus on systematic racism, criminal justice reform, voting rights and gun violence that will mitigate concerns about her lack of an inspirational message" [Politico]. Sounds legit.

"In 1992, the Clintons also ran a campaign with race at the center of it. Only then, the point was to get as far away from African American voters as possible. They did it by talking tough on crime—and then acting tough on crime. And, yes, Hillary Clinton was at the center of it all" [Corey Robin].

"MANCHESTER, N.H. (Reuters) – Bernie Sanders was due to have breakfast with one of America's most prominent civil rights activists, Al Sharpton, just hours after trouncing Hillary Clinton in the New Hampshire Democratic presidential nominating contest" [Reuters]. Well, that's breathtakingly "pragmatic," given Sharpton's membership in the Black Misleadership Class.

"This Is How Hillary Clinton Gets the Coverage She Wants" [Gawker]. You have to read the exchange between The Atlantic's Marc Ambinder and Clinton's Philippe Reines. It's vile, more than you could imagine.
New Hampshire
Both the Iowa and New Hampshire polls significantly understated Sanders' strength, IIRC a little under 5% in Iowa, and a little over 5% in New Hampshire. Since I had seen no polling on Clinton's Manchester and southeastern New Hampshire firewall I assumed Sanders would lose them, as was preparing myself for a "Comeback Kid" speech for anything under a 12% margin (which rounds down to 10%, after all). In the event, Sanders won going away, with over 20% (despite long lines at some polling places). So be prepared for Clinton to suck up vast amounts of oxygen with a campaign shakeup story — the press loves re-arranging their address books — as well as a reverse Sister Souljah moment, besides plenty of oppo (though I don't know how that works, since oppo on the Clinton dynasty is an embarrassment of riches. Oh, and Bill's looking cadaverous. So get him out on the trail often.

Oh, and the "Obama Coalition," supposedly of youth, women, Blacks, Hispanics, and gays (I suppose, though nobody seems to mention them): I never bought that it was a coalition rather than a sintered together collection of identity politics oddments. What kind of coalition has a significant component that ages out, after all? And are all Hispanics really alike? Or all black people, for that matter. Anyhow, if you believe in the "Obama Coalition," and you think Clinton's victory depends on it, then you should be very worried: Sanders tore away youth in Iowa and New Hampshire, and Clinton lost women, especially young women, in New Hampshire. (They decided to reserve their places in Hell, I suppose.) And the Black Misleadership Class seems virtually unanimous in its support for Clinton, but that's not to say that hard-headed voters will be. We'll see!

Sanders defeated Clinton by winning the southeastern urban areas she carried in 2008. New Hampshire primary results [Los Angeles Times].

Trump's numbers [Business Insider]. "He came out on top with all income levels, including garnering 39% from voters making less than $50,000 a year."

"Ben Carson primary party is so quiet bartender knits blanket" [Guardian]. Not a shroud, then?
Stats Watch
MBA Mortgage Applications, week of February 5, 2016: "Week-to-week purchase applications have been swinging wildly so far this year but the trend is definitely higher" [Econoday]. "Purchase applications rose 0.2 percent in the February 5 week but the year-on-year rate is sharply higher, at plus 25 percent. The refinance index has also been moving higher…"
Yellen speaks: "Much like the January FOMC statement, Yellen's testimony does a fine job of splitting the difference between seeming oblivious to the financial market developments since the turn of the year and hitting the panic button (as market participants have)" [Amherst Pierpont Securities, Across the Curve]. "By failing to push back hard against market expectations that a March rate hike has a virtually zero likelihood, Yellen is implicitly suggesting to markets that the Fed is likely to take a pass in March, though since there is no explicit promise, things could change if the landscape shifts dramatically over the next month."
"A consortium of Chinese investors that includes billionaire Zhou Hongyi and his cyber security and search company Qihoo 360, has offered to buy Opera Software for $1.2 billion, the Norwegian software maker announced on Tuesday night" [Forbes].
Shipping: "Danish conglomerate A.P. Moller-Maersk on Wednesday reported an 82-percent drop in annual profit as its shipping unit was hit by lower freight rates and its oil business suffered from lower oil prices" [France24].
Honey for the Bears: "Until recently, companies were able to ride out the slump using hedges to sell their oil for higher than the low market prices. In recent months, however, most of those hedges expired, leaving a number of oil companies low on cash and unable to pay their debt" [D%albook, New York Times]. "The oil industry regularly undergoes booms and busts. But the downside of this cycle may prove more extreme, and the shakeout messier, thanks to the easy money that flooded the industry from hedge funds, private equity firms and tax-advantaged investment structures called business development companies." Hmm. Anybody know what a "business development companies" is? (Translating for our Texas friends, that's bidness development companies.")
Honey for the Bears: "Getting more obvious it's 'spreading' much like during the sub prime days?" [Mosler Economics]. "It's slowing, whatever it is…"
Honey for the Bears: "The Standard & Poor's 500-stock index is down 9.4 percent this year. The index's technology components are down about 12 percent, and the closely watched so-called FANG stocks — Facebook, Amazon, Netflix and Google — are down even further, falling 17 percent on average this year after an 83 percent rise in 2015" [New York Times].
Honey for the Bears, Italian Prime Minister Matteo Renzi: "The EU is like the orchestra playing on the Titanic" [Bloomberg].
"Can an English suit be made in Cambodia?" [BBC]. Apparently…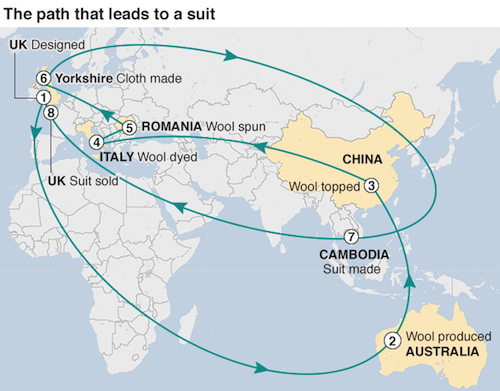 Today's Fear & Greed Index: 16, Extreme Fear (previous close: 20) [CNN]. One week ago: 25 (Extreme Fear). (0 is Extreme Fear; 100 is Extreme Greed). Last updated Feb 10 at 11:39am
Health Care
"Private-equity backed urgent-care developer taps Dignity Health for California expansion" [Modern Healthcare]. Oh, man. "Dignity Health Care." Run by private equity. I'm just not getting a good feeling about that. "Never eat at a place called Mom's"-style of thing.
"Four flawed beliefs have dominated the actions of UK governments on healthcare over the past 25 years: personal responsibility for health supersedes government responsibility; markets drive efficiency; universal healthcare is ultimately unaffordable; and it is entirely legitimate to view healthcare as a business" [Guardian]. "But infants and children cannot exercise personal responsibility – nor have the greatest health gains come from personal choices, but rather from public measures: clean water, clean air, immunisations, affordable good food and housing, and environments that facilitate healthy lifestyles. Good health also comes from the security of a strong social safety net."
Water
"Special counsel: Manslaughter charge possible in Flint" [Detroit News]. Small fry, I would expect. (Note that Attorney General Bill Schuette, who set up the Special Counse's team, must also, by virtue of his office, defend Governor Snyder "in a series of lawsuits brought by Flint residents exposed to contaminated drinking water." So Schuette set up a "firewall" in his office…
"Residents of Flint, Mich., already filtering their tap water to remove toxic lead elements, were advised also to boil it after a water main break" [UPI].
"A Free-Market Plan to Save the American West From Drought" [The Atlantic]. "A maverick investor [hedgie Disque Deane Jr.] is buying up water rights. Will he rescue a region, or just end up hurting the poor?" Water should be managed as a common-pool resource. So Deane will end up hurting many more people than the poor.
Gaia
"This factory-based model of animal production is gaining increased scrutiny at least partially because of its large climate footprint. Much of agriculture's estimated percent of global greenhouse gas emissions can be linked to the rise of animal agriculture—whether from methane emissions or through the use of synthetic fertilizer to produce the massive amounts of corn and soy needed for animal feed" [Institute for Agriculture and Trade Policy]. Good roundup, lots of links.
"Mutant sperm-factories spread in testes" [BBC]. Sounds like epigenetics, to me.
"Look at that, you son of a bitch." pic.twitter.com/JyeiOV7lgv

— Neil deGrasse Tyson (@neiltyson) February 6, 2016
Imperial Collapse Watch
"Syrian Opposition Groups Sense U.S. Support Fading" [New York Times]. "With insurgent groups losing troops and territory, their villages shattered by Russian warplanes, civilians and fighters have in recent days used phrases like 'no hope,' 'it's finished' and "it's over.'" If only we could find some Syrian moderates to give weapons to!
Corruption
"Wimbledon tickets, iPads and Montblanc pens worth £300 were among hundreds of gifts handed to senior civil servants by corporations over a three-year period, raising potential conflicts of interest, the government's spending watchdog has disclosed." [Guardian]. "According to the National Audit Office, mandarins accepted perks from bankers during a market manipulation inquiry, and also from the big four accountancy firms who have been criticised for encouraging tax avoidance schemes." And the chattering classes wonder why the uncouth masses give Corbyn a hearing…
"Report calling for abolition of Network Rail increases fears of privatisation" [Guardian]. I'll file this under Corruption because Corruption and privatization are generally two words for the same thing.
Black Injustice Tipping Point
"History of Baltimore's racial segregation includes a hard look at newspapers' role" [Baltimore Brew]. A deep dive into the history of "garden suburbs," gentrification, segregation, and the role of the newspaper in promoting all these formations. Well worth a read:
Much as I wanted to believe in the innocence of The Sun, I could not after I found a smoking gun. In contending that blacks were the cause of falling property values on McCulloh Street, the newspaper repeatedly printed claims that Hawkins paid only $800 for the three-story McCulloh Street brick rowhouse whose previously accepted value was said to be $2,400.

The Sun's claims were demonstrably false. I found a court record that proves that Hawkins obtained a $1,900 mortgage on the house from an established white institution. Since substantial down payment was required in those days, it seems likely that he paid close to $2,400, or perhaps even more, for his acquisition.
"How activists got a Black Lives Matter sign into the hands of Beyoncé's dancers" [Guardian]. "After watching Beyoncé's performance of Formation from the field, they were able to snag a few seconds with a group of dancers and asked them if they would be willing to make a quick video in support of their cause, a video that quickly went viral."
"Beyoncé's capitalism, masquerading as radical change" [Death and Taxes]. "In such moments of contemplation, activist Bobby Seale's words in "Seize the Time: The Story of the Black Panther Party and Huey P. Newton" echo in my mind. "The cultural nationalists say that a Black man cannot be the enemy of the Black people, while the Panthers believe that Black capitalists are exploiters and oppressors. Although the Black Panther Party believes in Black nationalism and Black culture, it does not believe that either will lead to Black liberation or the overthrow of the capitalist system, and are therefore ineffective.'" A great artist can be a capitalist; Shakespeare was an excellent businessman. But capitalism it was…
Ferguson City Council unilaterally amends consent decree with DOJ [St Louis Today]. No. That's not how it works.
Guillotine Watch
"While Noyce and other Valley giants like Bill Hewlett and Dave Packard didn't have offices and ate lunch with rank and file workers every day, Uber even built a separate headquarters for drivers in San Francisco, because they were sick of having to interact with them" [Pando]. Excellent article on the difference between Silicon Valley in the days of Noyce and today, in the days of Kalanick. Noyce was afraid of unions. Kalanick isn't. And Ubers valuation depends on breaking the law and screwing workers as hard as possible.
Class Warfare
"Company Specializing In Panic Rooms Sees Steady Increase In Business Since 9/11" [CBS]. I'd go long.*
"Markets Don't Work as Well as We Thought" [Noah Smith, Bloomberg]. "Deep-rooted economic risks shouldn't vanish just because economists discover them. Mispricings, however, do vanish when discovered. In other words, this paper is a dramatic confirmation of the predictions of behavioral finance. [T]he existence of mispricings that are so large and persistent that academics — rather than investors — are the first to discover them deals a strong blow to the efficient markets theory."
"Many people curse the for-profit medicine industry. But few know that the enclosure erected around affordable medicines is both relatively new and artificially imposed. For nearly all of human history, attempting to corner the markets on affordable medicines has been considered both immoral and illegal" [Counterpunch]. "It's time now to reclaim this commons, and reestablish medicines as a public good."
"Privatization Is the Atlanticist Strategy to Attack Russia — Paul Craig Roberts and Michael Hudson" [Paul Craig Roberts]. "The excuse being cited by Russian officials for selling these companies at the present time is to finance the domestic budget deficit. … However, Russian economists have been inculcated with the Western belief that only commercial banks should create money and that governments should sell interest-bearing bonds in order to raise funds. The incorrect belief that only private banks should create money by making loans is leading the Russian government down the same path that has led the eurozone into a dead end economy. By privatizing credit creation, Europe has shifted economic planning from democratically elected governments to the banking sector."
News of the Wired
"Driverless Cars Also Struggle in the Snow" [Bloomberg]. Guess there isn't a lot of snow in Sunnyvale….
"Google's self-driving car AI can be the vehicle's legal driver, US government says" [Ars Technica]. So, corporations are people, the slaves AIs they own are people… What are people? Chopped liver?
NOTE * Until it was time to go short…
* * *
Readers, feel free to contact me with (a) links, and even better (b) sources I should curate regularly, and (c) to find out how to send me images of plants. Vegetables are fine! Fungi are deemed to be honorary plants! See the previous Water Cooler (with plant) here. And here's today's plant (margrave):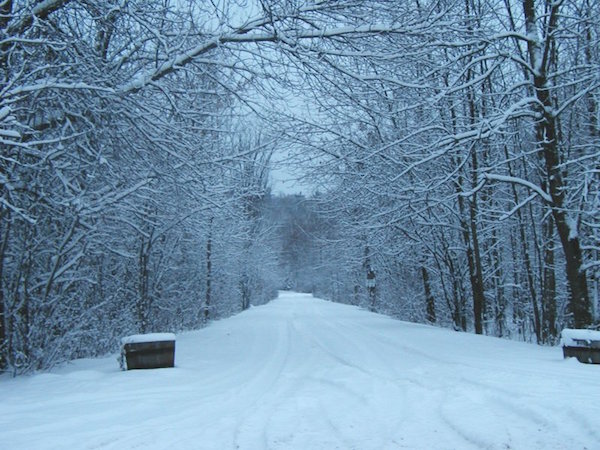 Readers, I could still use more photos of wintry scenes (with plants). I mean, it is the winter, at least in North America. Although I suppose wintry doesn't necessarily mean snow, any more…
* * *
If you enjoy Water Cooler, please consider tipping and click the hat. Winter has come, I need to buy fuel, make a happy plumber happier, and keep my server up, too. Water Cooler could not exist without your support.