By Lambert Strether of Corrente.
TTP/TTIP/TiSA
"Because control over taxes is seen as core to a country's sovereignty, many states have included tax-related 'carve-out' clauses in these trade and investment treaties to limit ability of corporations and other investors to sue over such disputes" [Transnational Intitute]. "But a growing number of investor-state cases have in fact challenged government tax decisions – from the withdrawal of previously granted tax breaks to multinationals to the imposition of higher taxes on profits from oil and mining. Analysis of data and documents on hundreds of ISDS cases filed so far reveals that foreign investors have already sued at least 24 countries from India to Romania over tax-related disputes – including several cases where companies have used this system to successfully challenge – and lower – their tax bills."
"Indonesia's investment laws currently require consent from disputing parties before a matter is taken to international arbitration. The government must first revoke the measure to comply with the TPP before it can join the trade pact of 12 Pacific Rim countries" [Jakarta Post].
2016
Policy
"The issue is not Hillary Clinton's Wall St links but her party's core dogmas" [Thomas Frank, Guardian].

Unfortunately, focusing on the money being mustered behind Hillary Clinton by various lobbyists and Wall Street figures misses this point. The problem with establishment Democrats is not that they have been bribed by Goldman Sachs, Morgan Stanley and the rest; it's that many years ago they determined to supplant the GOP as the party of Wall Street – and also to bid for the favor the tech industry, and big pharma, and the telecoms, and the affluent professionals who toil in such places.

In truth, our affluent, establishment Democrats can no more be budged from their core dogmas – that education is the solution to all problems, that professionals deserve to lead, that the downfall of the working class is the inevitable price we pay for globalization – than creationists can be wooed away from the tenets of "intelligent design". The dogmas are simply too essential to their identity. Changing what the Democratic party stands for may ultimately require nothing less than what a certain Vermonter is calling a "political revolution".

"[T]he Clinton-Sanders policy differences are hung up on a more poisonous question: Can people trust her? Hillary has not found a way to acknowledge this disability, since it would require her to talk candidly about the New Democrat era of compromise and retreat from the Democratic party's old values. Pretending that these blemishes do not exist is a losing strategy" [The Nation].

"The Pragmatic Case for Bernie Sanders" [The Atlantic]. "What makes change happen, history and current U.S. politics show, is principled and courageous commitment and integrity—not Clinton's fatalistic pragmatism, which insists that pushing for more is unrealistic and therefore capitulates before the fight even starts. On the other hand, it is entirely pragmatic to expect a President Bernie Sanders to fight hard for the justice and equality issues he has championed his entire political life—giving these ideas a chance, rather than no chance at all."

"Chelsea Clinton: Bernie Sanders' plan to end mass incarceration is 'worrying'" [Independent]. Why? Does her hedgie husband have investments in private prisons?

"Hillary Clinton and the Syrian Bloodbath" [The Common Dreams].

Clinton has been much more than a bit player in the Syrian crisis. Her diplomat Ambassador Christopher Stevens in Benghazi was killed as he was running a CIA operation to ship Libyan heavy weapons to Syria. Clinton herself took the lead role in organizing the so-called "Friends of Syria" to back the CIA-led insurgency.

The U.S. policy was a massive, horrific failure. Assad did not go, and was not defeated. Russia came to his support. Iran came to his support. The mercenaries sent in to overthrow him were themselves radical jihadists with their own agendas. The chaos opened the way for the Islamic State, building on disaffected Iraqi Army leaders (deposed by the US in 2003), on captured U.S. weaponry, and on the considerable backing by Saudi funds. If the truth were fully known, the multiple scandals involved would surely rival Watergate in shaking the foundations of the US establishment.

"Left-Leaning Economists Question Cost of Bernie Sanders's Plans" [New York Times]. When Jared Bernstein is at the far left, you know you're looking at establishment stenography. If only there were a country that had "bent the cost curve" with single payer! They'd need to be continental in scope, multicultural, multiracial, multilingual but with English dominating, with a Federal governing structure and a "free market system." It would be nice if they were an international player, say in G7. And it make it really tough… Let's through in the requirement that they be sixty miles north of Montpelier, Vermont.
The Voters
Dynamic polling graphics (fun). Conclusion: "That makes the Trump coalition something new: A secular, populist movement. Past GOP primary races have featured candidates generally occupying one of two lanes: the establishment centrist bloc or the conservative wing" [Wall Street Journal, "How Trump Happened"]. Trump voters are neither "Social Conservatives" nor "Establishment" Republicans.

Same for Sanders: [Wall Street Journal, "How Sanders Happened"].
Money
"A 2014 Sunlight Foundation study, 'Fixed Fortunes: Biggest corporate political interests spend billions, get trillions,' found that 'Between 2007 and 2012, 200 of America's most politically active corporations spent a combined $5.8 billion on federal lobbying and campaign contributions,' and received '$4.4 trillion in federal business and support,' in return—$760 in benefits for every dollar spent. That return 'represents two-thirds of the $6.5 trillion that individual taxpayers paid into the federal treasury'" [Salon].

"Jeb Bush Assures Pipe-Wielding Thugs He'll Have The Delegates He Promised Them By Next Week" [The Onion].
The Trail
"Eight years later, Bill Clinton is causing headaches for his wife again" [WaPo].

The economy is "rigged," Clinton told the crowd, appropriating one of Sanders's favorite terms, "because you don't have a president who's a changemaker . . . with a Congress who will work with him."

Wait, what? Nobody can criticize Obama! And you worked to elect him!

Clinton's popularity is driven in part by older voters who recall him as he once was: an energetic, electrifying young politician. But he has also aged dramatically. His words come more slowly and in a raspy voice. His slim stature and drawn features show the toll of age and a stringent diet.

Bill Clinton looks bad on the trail. Cadaverous, if the photos are any guide.

"GOP Oppo Firm Gearing Up For A Possible Sanders Nomination" [Buzzfeed]. With copies of FOIA requests from America Rising.

"His "Cruz Crew" mobile app is designed to gather detailed information from its users' phones — tracking their physical movements and mining the names and contact information for friends who might want nothing to do with his campaign" [AP]. I wonder if Cruz is the only one, though.

"Donald Trump's amazing, litigious statement on Ted Cruz" (annotated) [WaPo]. It's like beating the ref with a folding chair in a professional wrestling match!

Trump's favorite rhetorical device: The enthymeme [Reuters].
Nevada (this Saturday)
"Is Nevada feeling the Bern? A top staffer makes the case" [Vox].

"Hillary Clinton and Bernie Sanders might be tied, but there's not enough data to know" [HuffPo].

"Coin flips? In Nevada, Democratic caucus ties are luck of the draw" [Reno Gazette-Journal].

"Bernie Sanders and Hillary Clinton spoke at the same black majority baptist church in Las Vagas on Sunday ahead of Saturday's Nevada Democratic caucus" [Christian Today].

"Not everything is about an economic theory," Clinton told hundreds of supporters from organized labor at a painters' union hall Saturday night in Henderson, Nevada. "If we broke up the big banks tomorrow — and I will, if they deserve it; if they pose a systemic risk, I will — would that end racism?" [Santa Fe New Mexican]. Wow. I didn't catch she said that at a union meeting. With a painful anecdote for Sanders voters at the end: "nearly every Latino voter he has canvassed, he said, has asked the same question: 'Who is Bernie Sanders?'"
South Carolina (Saturday, February 27)
"In modern times, no state has a record for vicious presidential primary politics to match South Carolina" [The New Republic]. "In 2000, coming off a big win in New Hampshire over George W. Bush, McCain was the victim of a whisper campaign, reputedly spawned by George W. Bush's campaign, that spread the false rumor that the Arizona senator had an out-of-wedlock black child and that his wife Cindy was a drug addict."

"Sanders Scores Major Endorsement in South Carolina After Lawmaker Dumps Clinton" [Vice]. Justin T. Bamberg, a prominent African-American and the leading Democrat in the South Carolina state legislature: "What I got from him was not a presidential candidate talking to a state representative, or an old white man talking to a young black guy. What I got from him was a man talking to a man about things that they are passionate about, and that was the tipping point for me."

PPP poll: Clinton has 55 percent of likely Democratic primary voters there, versus 34 percent for Sanders. Another 12 percent are undecided [The Hill]. Black voters are 63/24 Clinton/Sanders, vs. 86/11 last November. IIRC, the pollsters undercounted Sanders in New Hampshire and Iowa, whether due to underrepresented youth or late deciders. So if you add a 5% fudge factor, that would be 55% – 5% = 50% Clinton, and 34% + 5% = 39% Sanders. That's a pretty sketchy firewall. Of course, nobody knows anything.
Scalia Trench Warfare
"This was Justice Scalia's most game-changing decision in his 30 years on the bench" [Business Insider]. Bush v. Gore? Of course not. None of the people weeping at Scalia's grave mention that one. But that was surely the most game-changing decision: I will believe to my dying day that Scalia and the other "conservative" justices on the court wrote their meritless opinion and selected Bush because they knew he would pack the court with "Justices" whose views were congenial to theirs. (My personal opinion is that every decision made by Justices placed on the bench after Bush v. Gore is, as it were, "fruit of the poisonous tree," and shouldn't be law. All should be rolled back. That includes Citizens United.)

"Scalia's death and the new American Civil War" [Will Bunch, Philadelphia Daily News]. "Either way, the 2016 presidential election already seemed the most consequential of our lifetime — but Scalia's death has taken things to a completely new level. Before, "merely" the White House was at stake; today, the coming gridlock not just on Capitol Hill but now at the 4-4 divided Supreme Court, seems the start of a full-blown crisis — and anyone who say they know what's on the other side is lying. That blood-soaked Civil War was the outcome the last time Washington was this dysfunctional."

"Progressives urge President Obama to nominate Anita Hill to the Supreme Court" [Daily Dot]. Unserious. And neither Clinton's chief oppo researcher, David Brock, or Joe Biden, would think much of the idea.

"Our Mighty Rearguard" [First Things]. "While his enemies pushed relentlessly to have their views enshrined as fundamental principles of free society, Scalia fought to keep the moral question open for debate, to maintain the possibility of reasonable dissent, because he believed that in a fair fight we could still prevail. He was the mighty rearguard in our long and slow defeat."

"Before Scalia's Death, a Clash Between G.O.P. and Obama Over Appellate Judges" [New York Times]. Times puts Charlie Savage on this story, which is great.
Stats Watch
Honey for the Bears: "Lessons from the Crisis: Ending Too Big to Fail" (video) [Neil Kashkari, Federal Reserve Bank of Minneapolis]. Kashkari: "I believe the biggest banks are still too big to fail and continue to pose a significant, ongoing risk to our economy."
Empire State Mfg Survey, February 2015: "For the seventh straight month, the Empire State report is signaling significant contraction for the manufacturing sector" [Econoday]. "This report is showing its weakest run by far of the recovery and, unfortunately, points to extended weakness for the nation's factory which is getting hit by weak exports and weak energy markets at home." And: "[I]mproved but continues deeply in contraction" [Econoday]. "As this index is very noisy, it is hard to understand what these massive moves up or down mean – however this regional manufacturing survey is normally one of the more pessimistic."
Housing Market Index, February 2016: "The housing market index has been losing a little steam but is nevertheless signaling that confidence among the nation's home builders is very strong" [Econoday]. "The component for present sales has been especially strong as have the future sales. But traffic, reflecting lack of first-time buyers, has been lagging."
"The Myth Of The Resilient Consumer" [Econintersect]. "The premise of incomes powering a consumer-driven pickup in U.S. economic growth is demonstrably false. And for people renting their homes the squeeze is even greater. … Rent and health care expenses are essentially non discretionary expenditures. Spending more on these items by an extra 5% or so of after-tax incomes puts a serious dent in discretionary spending budgets. This holds especially true given the double-digit declines in real average household income for the lion's share of households since the turn of the century."
Carbon: "Saudi Arabia and Russia agreed to freeze oil output at near-record levels, the first coordinated move by the world's two largest producers to counter a slump that has pummeled economies, markets and companies" [Bloomberg].
Honey for the Bears: "Danger signs flashing for global economy, years after crisis" [AP]. "Sinking stock prices, flat inflation, and the bizarre phenomenon of negative interest rates have coupled with a downturn in emerging markets to raise worries that the economy is being stalked by threats that central banks — the saviors during the crisis — may struggle to cope with."
"Hedge Fund Managers Spot an Opportunity Amid Market Volatility" [D%albook, New York Times]. With sexy photo of a hedgie who just got back in the game. Love the stubble.
"Desperate to avoid more costly run-ins with regulators, investment banks are hiring former intelligence professionals …. to scrutinize virtually all aspects of their employees' working lives, from how long they take for cigarette breaks to which websites they frequent. The goal: to deter the next market manipulator or rogue trader" [Bloomberg].
"No small change: moving to a cashless society is the next step for the Australian dollar" [Sydney Morning Herald]. "The change will lead to countless benefits for all Australians in convenience and security, and will save billions in transaction costs every year." Really? And how many of those billions will I get?
Today's Fear & Greed Index: 32, Fear (previous close: 21) [CNN]. One week ago: 20 (Extreme Fear). (0 is Extreme Fear; 100 is Extreme Greed). updated Feb 16 at 10:27am. Needle dropping fast, from Extreme Fear to Fear.
Corruption
"The impact of the [Malaysian 1MDB] cases is being felt way beyond Malaysia's borders due to the amount of money allegedly involved and its scope. The parties said to be affected include foreign officials, leading banks and offshore financial centres, with transactions stretching from Kuala Lumpur to the Cayman Islands and from Abu Dhabi to New York.[Financial Times, "Malaysia: The 1MDB money trail"]. "1MDB has become a test of regulators' ability, and desire, to penetrate a web of dealings that take full advantage of the privacy and cross-border complexity available in the global financial system. It is also being seen as a measure of how well authorities deal with cases of suspected grand corruption." It's only a billion. That's not very much, when you consider all the underground capital flows sloshing about.
"Malaysia 1MDB scandal: FBI investigating Goldman Sachs and Tim Leissner's connection to missing money" [International Business Times]. A more readable and dishy report: "Goldman Sachs banker embroiled in massive overseas money scandal" [New York Post]. The word "cozy" appears more than once.
Militia Watch
"Can we make sense of the Malheur mess?" [High Country News]. "The Malheur occupation, with the incessant press coverage in its early weeks, was the soapbox for disseminating payloads of misinformation about America's public lands, about their management, about how and why we have them. Every soundbite was delivered to further the goal of privatization. … Federal water rights that underpin entire agricultural economies, and that are critical to some of the last family farms and ranches in America, will be in play. Few Americans, even those in the cities of the east who know nothing about these lands, will be untouched in some way by the transformation. Once the precedent for divesting federal lands is well-set, the eastern public lands, most of them far more valuable than those in the West, will go on the international auction block." I picked up the moral of the story, but there's lots of excellent detail on the occupiers themselves. Important, and well worth a read.
Black Injustice Tipping Point
"'My demons won today': Ohio activist's suicide spotlights depression among Black Lives Matter leaders" [WaPo]. A sad reminder that the cost of citizenship can be very high.
"To date researchers have put online 200 of the roughly 1,000 petitions filed in D.C. by slave-holders seeking compensation in exchange for their slaves' freedom" [National Endowment for the Humanities].
Our Famously Free Press
"How TMZ gets the videos and photos that celebrities want to hide" [The New Yorker]. Too bad there's no TMZ for the ruling class; then we wouldn't have to speculate why Scalia had a pillow over his face; we'd have footage!
"Sci-Hub: Russian neuroscientist running 'Pirate Bay for scientists' with 48 million free academic papers" [International Business Times]. "Rather than just enabling users to search for and extract the papers they need, the Sci-Hub website is programmed to automatically search for papers on important topics and work out how to download them to its database without spending a penny."
"Politwoops is back!" [Sunlight Foundation]. "An archive of the public statements [tweets] deleted by U.S. politicians" Dorsey did something good!
Imperial Collapse Watch
"The NSA's SKYNET program may be killing thousands of innocent people" [Ars Technica]. "In 2014, the former director of both the CIA and NSA proclaimed that "we kill people based on metadata." Now, a new examination of previously published Snowden documents suggests that many of those people may have been innocent."
Gaia
"Environmental Impact Statement; Introduction of the Products of Biotechnology" [Federal Register]. "We will consider all comments that we receive on or before March 7, 2016."
Guillotine Watch
"Gulfstream Aerospace Corp. says it's unable to keep up with demand from the rich" [Bloomberg]. "A longer, wider cabin and a choice of 12 floorplans offer more design configurations for meetings, entertaining and relaxing, the company says. A convection oven, large ice drawers and fitted storage for flatware and crystal enhance the dining options, according to the company." And if the CIA is the client, extra electrical outlets, buckets, shackles, a cargo door that will open in flight, and so forth.
"Bling below the waves: 'A submarine of my own'" [BBC].
Class Warfare
"Of the 105,194 farmland owners who rent out land in Iowa, 80.6 percent do not farm land themselves, a USDA study says. Almost half of those non-operators are individuals, but partnerships, trusts and corporations also own significant amounts of farmland" [Des Moines Register]. "In 2014, Iowa farm landlords received $3.74 billion in rent payments, the second highest total in the nation."
"If you think renting is tough when you're young, it's even worse when you're older or elderly. Without a massive deposit, buying property when you're over 50 is largely impossible. Retirement ages are rising and life expectancy is lengthening, which for many means a longer life experienced in poor pay or actual poverty. Tenants in their 40s or above are firmly at the bottom of the house-share pile. Older renters (even those as young as 50) also face the indignity of being offered sheltered housing" [Guardian].
"A team of researchers, led by Sarah Hill, who teaches psychology at Texas Christian University… found that people who grow up poor seem to have a significantly harder time regulating their food intake, even when they aren't hungry" [WaPo].
News of the Wired
"Watch: Three photographers just climbed one of the world's tallest buildings bare-handed" [Quartz]. I tried to watch, but got queasy. Great metaphor for today's labor market, especially for the young.
* * *
Readers, feel free to contact me with (a) links, and even better (b) sources I should curate regularly, and (c) to find out how to send me images of plants. Vegetables are fine! Fungi are deemed to be honorary plants! See the previous Water Cooler (with plant) here. And here's today's plant (Kurt Sperry):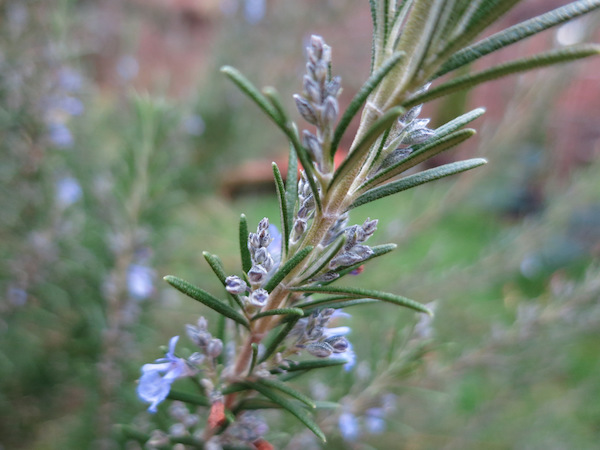 Kurt writes:
These are more spring-like than wintery but I can't help that, that's what is going on here in the yard.
* * *
If you enjoy Water Cooler, please consider tipping and click the hat. Water Cooler would not exist without your support.