By Lambert Strether of Corrente.
TTP/TTIP/TiSA
Australia: "Trans-Pacific Partnership to stall climate change action" [The Saturday Paper]. "[S]erious people who have read the document – all the pages – in the search for safeguards have been disappointed to find that the term 'climate change' does not appear once, not even in chapter 20, which deals with the environment. The safeguards that are mentioned are pretty much unenforceable, as Columbia University economist Jeffrey Sachs points out: 'Yes, they rhetorically defend global economic development, labour standards and environmental sustainability, but they do so without specific enforcement powers.'"
2016
Policy
CLINTON: "Not everything is about an economic theory" [WaPo]. Let me translate: "It's not the economy, stupid!"
The Voters
"[H]istory shows that political and social change emanate from persistent pressure—organizing and arguing for a more just world, not settling for what is deemed "realistic" before getting to the negotiating table. Remember when gay rights and gay marriage were "unrealistic"? Remember when voting rights, desegregation, and other basic justice were far from "pragmatic"? They became real through years of dedicated, principled, idealism—by insisting the unrealistic become real" [The Atlantic]. When ever you hear Clinton say "pragmatic," imagine you hear her saying "I have a network that needs a payoff."

"American democracy is doomed" [Matt Yglesias, Vox]. From December 2015: "The breakdown of American constitutional democracy is a contrarian view. But it's nothing more than the view that rather than everyone being wrong about the state of American politics, maybe everyone is right. Maybe Bush and Obama are dangerously exceeding norms of executive authority. Maybe legislative compromise really has broken down in an alarming way. And maybe the reason these complaints persist across different administrations and congresses led by members of different parties is that American politics is breaking down."
Democratic Debate
"The More Bernie Sanders Wins, the More Establishment Liberals Will Tell You He Can't Win" [In These Times]. "The more Sanders wins, the more the liberals will tell you he can't win. Always in a tone of cool neutrality, a 'just the facts, ma'am' report from reality. Which seems to mask a deeper attachment to the reality it purports to describe. It reminds me of how Lincoln characterized Stephen Douglas's embrace of popular sovereignty: 'This declared indifference, but as I must think, covert real zeal for the spread of slavery.'"
The Trail
"Hillary Clinton and Henry Kissinger: It's Personal. Very Personal." [Mother Jones].

"Sanders plays the Jesse Jackson card" [Politico].
Nevada
UPDATE "Clinton repudiates staff on Nevada being just like Iowa and New Hampshire" [Ralston Reports]. "In an interview over the weekend and to be broadcast Tuesday on 'Ralston Live,' Hillary Clinton scoffed at the notion, put out by her staff, that Nevada is just like nearly all-white Iowa and New Hampshire." Yeah, that's telling 'em! Who hired them, anyhow? And: "Her campaign's attempt to downgrade expectations backfires in the pivotal caucus state" [Politico]. "The campaign's recent assertion that Nevada is "still a state that is 80 percent white voters" — in other words, a state that looks a lot like Bernie Sanders' base — is simply wrong, Reid allies claim. But more galling than that, they say, it undermines the entire rationale for the caucuses' existence: The state was pushed to the front of the election calendar eight years ago solely because Reid lobbied for better demographic representation than the overwhelmingly white early-voting states like Iowa and New Hampshire." Wonder if there's any video of the candidate saying this, as opposed to staff?

"Hillary Clinton and Bernie Sanders Court Black Voters at Las Vegas Church" [New York Times]. Clinton pushing the "single issue" line hard. "I am not a single chemical breather. I don't just breathe oxygen; I breathe a full spectrum of gases, like Nitrogen, Carbon Dioxide…."

Report from a focus group of Nevada voters about the Democratic debate: "8 F, 16 M; age midpoint = 46; all undecided likely Democratic NV caucus-goers."

Nevada focus group of #PBSdebate says @BernieSanders won tonight's debate by a 25 to 9 margin.

— Chris Kofinis (@ChrisKofinis) February 12, 2016

Clinton campaign manager Robby Mook did very well winning Nevada for Clinton in 2008 [Politico].
South Carolina
"Online poll: Trump up by 22 points in SC" [The Hill].

UPDATE "The CBS News "Battleground Tracker" poll released Sunday shows Sanders trailing Clinton by 19 points. It comes on the heels of other polls that have him trailing the former secretary of State by up to 38 points in the Palmetto State" [The Hill]. Margin of error: 8.7% (!).
Scalia, de Mortuis
"The death of Antonin Scalia: Chaos, confusion and conflicting reports" [WaPo]. So Cheney did shoot him? No, but seriously, you could tell a story like this was coming from the tone of the earlier reports. "Guevara acknowledged that she pronounced Scalia dead by phone, without seeing his body." I dunno. Seems like a pretty low bar? And the squillionaire owner of the so-called "ranch" is the key witness who also discovered the body. If this were an Agatha Christie novel…

"The stalemate over the Supreme Court could get even worse than you think" [WaPo]. "[The Republicans] haven't just grown more ideologically conservative in recent years, they've also grown more procedurally radical." The time to understand the thesis of this article was 2009.
Stats Watch
Markets are closed today.
"Comcast outage affecting customers nationwide" (map) [KTVU]. These are the clowns who want to run the Internet…
"In an ideal world, evolution favors the promotion of desired characteristics while reducing the incidence of damaging traits. Financial markets, alas, are far from ideal" [Wall Street Journal, "Gold's New Shine Casts Shade on Bonds"]. "Take gold. Traditionally, one of the black marks against the yellow metal has been its absence of yield. But in the brave new world of negative interest rates–and even more, negative bond yields–this is no longer a hindrance."
"About 70 percent of credit traders cut in London last year at the 12 largest investment banks had worked in the financial industry for more than 10 years, according to data compiled by headhunters Michelangelo Search, which specializes in sales, trading and research roles. That's increasingly leaving trading desks manned by more junior colleagues" [Bloomberg].
Shipping: "2016 has started with container counts showing expansion – a better showing than what was seen in 2015. Imports had the best January since 2007, but the export improvement was only relative to the terrible 2015 levels" [Econintersect]. Lots of caveats: "These are extraordinary times with historical data confused by a massive depression and significant monetary and fiscal intervention by government. Further containers are a relatively new technology and had a 14 year continuous growth streak from 1993 to 2006. There is not enough history to make any associations with economic growth – and we must assume a correlation exists." And: "Main Street and Wall Street are not necessarily in phase and imports can reflect the direction for Main Street when Wall Street may be saying something different."
"Unemployment by Industry: Duration Must Be Considered, Too" [St Louis Fed]. A caveat: "We [would like to have had] the flow data that describe where these unemployed workers go as they transition from unemployment. But because of the limited accessibility of job-flow data across industries, this aspect of the research will have to wait." If we have no data on job-flow across industries, doesn't that imply we know nothing about the effects of "training" or about hysteresis in general?
"Crisis Chronicles: The Long Depression and the Panic of 1873" [Liberty Street]. "[W]as the Long Depression just the industrial revolution peaking, with little that the government could do to offset defaults on a huge quantity of bad investments? Or was it unusually long because Washington pursued a hard money policy in the midst of recession in its quest to reinstate the gold standard?"
Today's Fear & Greed Index: 24, Extreme Fear (previous close: 19) [CNN]. One week ago: 19 (Extreme Fear). (0 is Extreme Fear; 100 is Extreme Greed). Last updated Feb 12 at 5:48pm
Corruption
"A longtime senior official in the Air Force has been removed from his job by the service secretary after he disclosed that he had not reported his wife's ties to the defense contractor Northrop Grumman before he was selected to be one of the service's senior weapons buyers" [WaPo]. I don't think this was the guy who fainted; the F-35 isn't made by Northrop Grumman,
"Pope condemns drug trade, violence in Mexico" [USA Today].
Black Injustice Tipping Point
"Ferguson Turns Its Back on Justice" [New York Times]. Ferguson City Council unilaterally amended the Justice Department consent decree. That's not how it works.
Health Care
"Affordable Care Act: The data collection is essential" [Amsterdam News].
Police State Watch
"NYPD wants to make "resisting arrest" into a felony" [Boing Boing].
Water
"Over half the world's population suffers from 'severe' water scarcity, scientists say" [WaPo].
Imperial Collapse Watch
"Zimbabwean aviation authorities impounded a U.S.-registered cargo jet, a senior official said Monday, after a dead body later believed to be a stowaway and millions of South African rand were found on board" [AP]. Sounds legit.
"A Grandma Drone Resister's Letter from Prison" [Alternet]. "The "order of protection" has been issued on behalf of the commander of Hancock Air Base against drone protesters. Usually such orders are issued to protect people from physical violence and even death from their abusive domestic partners. Currently "protected" by the order is the commander in charge of Hancock Air Base and its 2,000 personnel and armed soldiers—making him the "victim" instead of the real victims, the many people killed by the base's MQ9 Reaper drones, firing Hellfire missiles."
Class Warfare
"Remembering the shuttle explosion 30 years on" [Real Economics]. "Perhaps the saddest outcome of the shuttle disaster was that the engineers who tried to warn NASA that it was FAR too cold to launch basically had their professional lives destroyed. There's a nasty price to pay for suppressing genius and boy, are we paying it."
"'Winning seems to have this strange effect on people,' said Amos Schurr, a professor of psychology at Ben-Gurion University of the Negev in Israel. 'When people succeed in competition against others, it seems to compromise their ethics. It makes them more likely to cheat afterwards'" [WaPo]. I'd like readers' views on the studies, though!
"Meet the 'Corbynomics' fans who say Labour must be more radical than Greece's socialists ever were" [Daily Telegraph]. First they laugh at you, then…
News of the Wired
"How a dot invaded dweinberger's privacy" [Joho The Blog]. "It turns out that Gmail ignores dots in your name. So, dwe.inbergergmail.com will reach me, as will dweinb.ergergmail.com. I'm sure there's a good reason for this." Well, what letter will they ignore next?
"Here's Albert Einstein's hand-written equations that first predicted an entirely new way to study the universe" [Business Insider].
"Researchers have discovered a much faster way to learn new skills" [Wapo]. "Rather than doing the same thing over and over, you might be able to learn things even faster — like, twice as fast — if you change up your routine. Practicing your baseball swing? Change the size and weight of your bat."
"Obese people live in altered reality where they can't judge distances accurately, scientists say" [The Telegraph].
"101 East – South Korea's Hangover" (video) [Al Jazeera].
"The Deadpool Moment" [Vulture]. "[Deadpool is] the only A-list superhero character who regularly breaks the fourth wall and acknowledges that he's in a superhero story." Sounds like Trump.
"Watch the first Game of Thrones season six trailer: Winter has arrived" [Ars Technica].
* * *
Readers, feel free to contact me with (a) links, and even better (b) sources I should curate regularly, and (c) to find out how to send me images of plants. Vegetables are fine! Fungi are deemed to be honorary plants! See the previous Water Cooler (with plant) here. And here's today's plant (Furzy Mouse):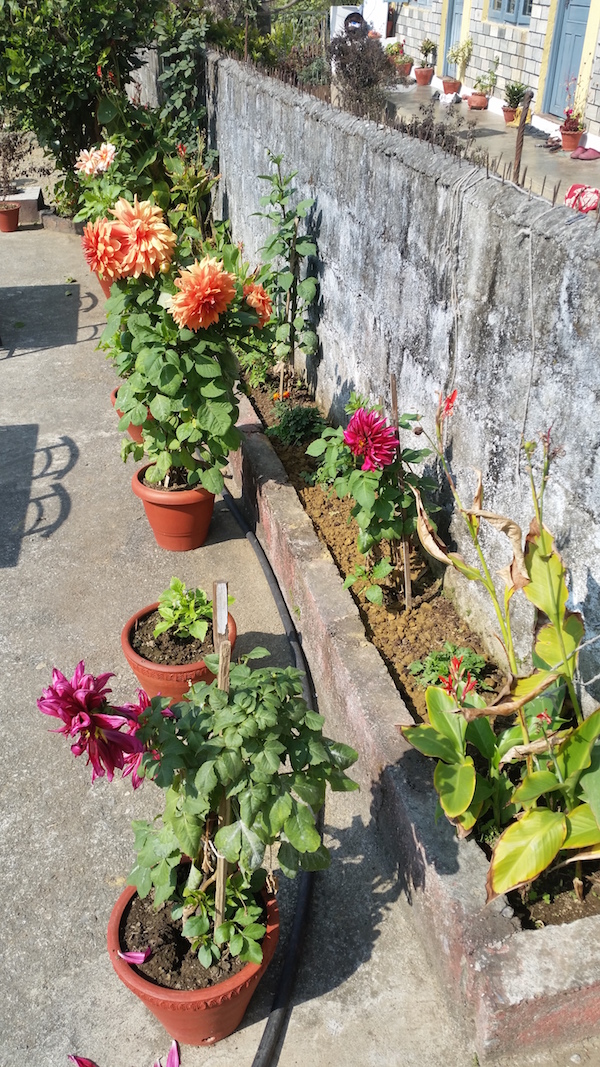 OK, it's not a snowy scene! But Furzy sent this in from Nepal!
* * *
If you enjoy Water Cooler, please consider tipping and click the hat. Winter has come, the winter is sucking up fuel, and I need to keep my server up, too. Water Cooler would not exist without your support.