By Lambert Strether of Corrente.
TTP/TTIP/TiSA
"In an attempt to get around the enormous opposition generated by ISDS, the European Commission chose a different label when, in autumn 2015, it released a revised proposal for all the EU's ongoing and future investment negotiations, including TTIP. Instead of the 'old' ISDS system, the Commission promised a 'new' and allegedly independent system, supposed to protect governments' right to regulate: the Investment Court System or ICS" [Corporate Europe]. "In a nutshell, the proposed 'new' ICS is ISDS back from the dead. It's the zombie ISDS" (full report).
"The Sierra Club has reported on how the TPP would disrupt wildlife and marine life, including sharks. A leading driver of the worldwide depletion of shark populations is the international trade in shark fins, which are used in soups and alternative medicines in some Asian nations, including TPP countries. By eliminating tariffs, or import taxes, on shark fins in TPP countries, the trade pact would actually encourage further shark finning and spur the increased killing of sharks" [Sierra Club].
2016
Policy
"Michael Hudson: The Federal Reserve supports the status quo. It would not want to create a crisis before the election. Today it is part of the Democratic Party's re-election campaign, and its job is to serve Hillary Clinton's campaign contributors on Wall Street. It is trying to spur recovery by resuming its Bubble Economy subsidy for Wall Street, not by supporting the industrial economy" [Counterpunch].

About that "Open Letter from Past CEA Chairs to Senator Sanders and Professor Gerald Friedman" that Operative K was so excited about… [FT Alphaville]. Plenty of analysis, but here's the bottom line:

One final note: we have no insight into the macroeconomic effects of Sanders's entire programme, which has lots of moving parts and would not just affect things like the quantity of infrastructure investment and the distribution of income, but also the incentives to work and take risks. Our point is a simple one: a prolonged period of rapid growth in the US is plausible, with the right policy mix. The burden of proof should be on those who say otherwise.

In other words, that "open letter" Operative K's running buddies dumped on the unsuspecting public is a steaming load. I'm shocked.

"Trump: I'll be 'neutral' on Israel and Palestine" [The Hill]. I've got sympathy for the headline writer; what Trump had to say was both more prolix and more interesting. A small sample: "Let me be sort of a neutral guy. I have friends of mine that are tremendous businesspeople, that are really great negotiators, [and] they say it's not doable. … That's probably the toughest deal in the world right now to make. It's possible it's not makeable because don't forget, it has to last."

"If you were a pro-Clinton progressive, would you want to defend her continuous vows to 'strengthen' U.S. support for the Netanyahu government and ensure that every year 'we must tie the bonds tighter'"? [The Intercept].
The Voters
"Clinton, Sanders and the Underrated Power of the Black Voter" [New York Times]. Anybody who's underrated the power of the black vote hasn't been paying attention.

"'Late-breaking sexism': why younger women aren't excited about electing a woman president" [Vox]. The URL, from the original title, summarizes the article well: "clinton-albright-steinem." Shorter: They aren't excited because they're stupid. The author qualifications tell the story: "Dr. Kate Cronin-Furman is a postdoctoral fellow at the Center for International Security and Cooperation at Stanford University; Dr. Mira Rapp-Hooper is a senior fellow in Asia-Pacific Security at the Center for a New American Security in Washington, DC." Acela riders, doing very well for themselves in national security.

"The question is if Bernie Sanders's message will resonate with low-income whites outside of New England and Iowa," Wasserman said. "If it does, that's where Sanders could start giving Hillary Clinton fits in the delegate chase" [Vox].
Money
"Since winning the New Hampshire Democratic primary on Feb. 9, Sanders has boosted his spending on television by about 70 percent" [Bloomberg].

"Clinton campaign says it has experienced its own small donor boom" [WaPo]. "During the last three months of 2015, Clinton raised just 18 percent of her campaign money from Web solicitations. In February, more than 50 percent was donated online for the first time, a trend campaign officials planned for and expect to continue during the primary season." Oh, "planned for"? Sez who? In fundraising terms, Clinton wants the equivalent of "secondary virginity" on corruption. Lemme know how that works out.

Sanders volunteer coders: "'The Hillary team is about a top-down approach that believes you hire and pay the best résumés,' said one Democratic source. 'That works as a business model, but when the ultimate standard of success is measured by people voting, that model is a clear second place to an organic people-powered approach'" [Politico]. Interesting, and of course a fertile source for Clinton oppo.
The Trail
"Trump Holds Big National Lead" [Politico Wire]. CBS: Trump 35; Cruz 18; Rubio 12; Kasich 11; Carson 6; Bush 4. USA Today/Suffolk: Trump 35; Cruz 20; Rubio 17. Reuters/Ipsos: Trump 40; Cruz x17; Rubio 11; Carson 10; Bush 8. So many this morning's poll was an outlier?

Quinnipiac: "American voters back Sen. Bernie Sanders of Vermont over Republican candidates by margins of 4 to 10 percentage points in head to head presidential matchups, according to a Quinnipiac University National poll released today. The closest Republican contender is Ohio Gov. John Kasich who trails Sanders 45 – 41 percent" [Quinnipiac]. Of course, the argument will be "Wait 'til the Republicans start roughing him up," but I think the Clinton campaign is doing a fine job of that already.

* * *

"In his email, Richard Trumka told members of the AFL-CIO executive council that the body won't be holding a vote on whether to endorse Democratic presidential candidates Hillary Clinton or Bernie Sanders at its annual winter meeting in San Diego" [HuffPo].

"Will Hillary Clinton Make History?" (Interview) [Vogue]. Hagiography, the sort of article where the presence of a minder appears three-quarters of the way through. With an odd photo; to me, it doesn't look like Clinton at all. But I can't figure out what's triggering the sensation.

Jane Sanders interview: "Bernie does not watch TV" [Bloomberg]. I'm sold! The reporter: "As with their draping, untight fabrics, the vibe is all ease."

"I'm Voting for Hillary Because of My Daughter" [The Cut]. Squee. But not, apparently, Sarah Palin?

Shepard Fairey, the "Obey Giant" artist who designed Obama's iconic "Hope" poster, comes out for Sanders [The Hill].

"Obama to meet with Black Lives Matter activists" [The Hill]. That's the headline, but it's really a Black History Month meeting with many civil rights leaders, past and present.

The party decides? "For much of this campaign, however, Republican Party elites weren't deciding. Most Republican governors and members of Congress haven't endorsed anyone, and the pace of endorsements has been slower than in past campaigns. But that's starting to change: More GOP elites are taking the plunge" [FiveThirtyEight].

"Mainstream G.O.P. Field of Three Faces Brutal Delegate Math" [New York Times]. "On Super Tuesday, March 1, 25 percent of the delegates to the Republican national convention will be awarded. If the mainstream field hasn't been narrowed by that point, it will become very hard to avoid serious damage to the candidate who ultimately emerges as the party's anointed favorite. The top mainstream candidate could easily fall more than 100 delegates short of what he might have earned in a winnowed field."

Bush holds a "town hall" at a country club and his mike doesn't work. And then this happens: "One guy urged [Bush] to talk more about his compassion. Another told him to take Trump's attacks on the chin and stay substantive. A third man urged him to work harder to spread the word nationally. Never before had Bush faced supporters so annoyed and worried about his fate. They quickly turned a campaign rally on a country club gazebo here into an open campaign strategy session — with dozens of reporters watching" [WaPo]. Elite Republican panic. Not a pretty sight.

"Donald Trump and the Central Park Five: the racially charged rise of a demagogue" [Guardian]. Here's the lead: "Yusef Salaam was 15 years old when Donald Trump demanded his execution for a crime he did not commit…."

"For Democrats, the two states on deck might be thought of as representing old-school diversity (South Carolina) and new-school diversity (Nevada)—or African Americans in South Carolina and Hispanics in Nevada" [Wall Street Journal, "Democratic Candidates Face Different Kinds of Diversity in Nevada and South Carolina"].
Nevada (this Saturday)
"Here's why political pros are scratching their heads over Nevada " [Los Angeles Times]. Very good on why Nevada is hard to poll — and organize. Whaddaya know, it's not just identity politics, but a transient population, odd working hours, growing use of cellphones. And, as we already know, the foreclosure crisis both increasing economic pain (good for Sanders) but causing address changes (bad for Sanders).

"Somehow, while everyone was focused on the showdown between her and Bernie Sanders scheduled to take place in South Carolina next week, the gap between the two Democratic rivals had quietly narrowed from 23 points in December to a gut-rendering one point in a CNN/ORC poll released on Wednesday, just three days before the caucus" [Vanity Fair]. "No matter how Nevada shakes out on Saturday, anything less than a Clinton blowout could be disastrous for her campaign, especially in a state that was once so obviously one-sided that no one had bothered to poll there since December 2015. Even if Clinton ekes out a narrow win, much like she did in Iowa, the fact that Sanders was even close will prove that his minority outreach is working, giving him added momentum going into the South Carolina Democratic primary one week later. Or, as one friend of the Clintons put it in more colorful, relatable terms to The Hill: 'The shit will hit the fan.'" Of course, Hillaryland could be talking like this to boost turnout. But if you read this commenr from alert reader George Hier* about a Clinton rally, you'll see the Clinton ground game isn't all it could be, starting the listing the wrong location on the campaign website. So perhaps they hear footsteps.

"'It is clear to me when mom is out working, dad is out working and the kids are out working, wages in America are too damn low,' Sanders told 1,700 supporters packed into a Las Vegas high school gymnasium on Sunday. 'It is not a radical socialist idea to say that when someone is working 40 hours a week that person should not be living in poverty'" [Real Clear Politics].

"Although many young Latinos are flocking to the Sanders campaign, many of their parents are backing Hillary Clinton" [WaPo].

"[A] Sanders loss could even be more impactful because it would set up Hillary Clinton to start running the table over the next two weeks in South Carolina and the southern March 1 states. And if that's the case, come March 2, she might have a delegate lead that's impossible to catch up to given the proportional nature of all of the Democratic races. So Sanders needs a win to keep the pressure on Clinton, and Clinton needs a win to finally start pulling away" [NBC].

"Watch exclusive interviews with Clinton and Sanders on "Ralston Live" on Tuesday" (videos) [Ralston Reports].

NOTE * Thank you, readers! Keep those on-the-ground reports coming!
South Carolina (Saturday, February 27)
Monmouth: "S.C. poll: Clinton seen as better for African-Americans, those struggling financially" [Politico]. Clinton 59, Sanders 30, up from 21 in November. Slow going.

"S.C. Gov. Nikki Haley said Wednesday she endorsed U.S. Sen. Marco Rubio, R-Fla., for president because he is best suited to restore GOP principles of limited government and cutting debt to Washington" [The State].

"How South Carolina Became Trump Country" [Mother Jones].
Stats Watch
Leading Indicators, January 2016: "The index of leading economic indicators fell 0.2 percent in January following a revised 0.3 percent decline in December. Four of this index's 10 components track the factory sector which offers some explanation for the weakness. But the stock market is also tracked and has also been a negative factor" [Econoday]. "A positive has been the rate spread which remains favorable due to the Fed's still low policy rate though the decrease underway in long rates will limit this component's strength for February."
Jobless Claims, week of February 13, 2016: "The outlook for the economy just got a big boost from a solid decrease in initial claims which fell 7,000 to 262,000 for the February 13 week — which is also the sample week for the February employment report" [Econoday]. And: "Claim levels are at 40 year lows (with the normal range around 350,000 weekly initial unemployment claims of levels seen historically during times of economic expansion" [Econintersect]. However: "My read based on the advance state-by-state data is that the snowstorm-related jump in the number of new filers two weeks ago was still unwinding, as some of the affected states (Pennsylvania, Tennessee, New Jersey, and New York) posted sizable declines for a second straight week. Based on that presumption, it would make sense to focus on the average over the past three weeks, which is 272K, i.e. very close to where I expect the underlying trend to emerge once the seasonal noise dissipates. Next week's release will cover the period including Presidents Day, so we are probably another 2 weeks from getting a clean read, but the turn-of-the-year window during which claims are noisy should be winding down" [Amherst Pierpont, Across the Curve].
Philadelphia Fed Business Outlook Survey, February 2016: "The Philly Fed report, much like Tuesday's Empire State report, is pointing to continuing trouble for the nation's factory sector" [Econoday]. "Employment is in the contraction column for a second straight month at minus 5.0 with the workweek also posting a second month of contraction at minus 12.9. Manufacturers in the region continue to draw down inventories, to indicate sagging expectations…. This report is a disappointment and belies yesterday's manufacturing strength in the industrial production report." And: "Key elements went deeper into contraction. Both manufacturing surveys released so far for this month are in contraction" [Econintersect]. But this index is "noisy and sentiment-based." And: "I believe that we are closer to the end than to the beginning of the inventory correction, but it is clearly still ongoing. This is dragging down new orders and shipments (among other things). Nonetheless, yesterday's IP release provides some hope and, as noted above, I do think that we are most of the way through the correction, so conditions in the factory sector, while they will probably not be good at any point this year, should improve somewhat as the year progresses" [Amherst Pierpont, Across the Curve].
Bloomberg Consumer Comfort Index, week of Feburary 14, 2016: "Global risks and stock market volatility have policy makers scrambling but have yet to scramble the consumer who, supported by strength in the labor market, remains upbeat" [Econoday]. "The consumer comfort index, like other readings on confidence, is very steady."
Shipping: "Week 6 of 2016 shows same week total rail traffic (from same week one year ago) only marginally declined according to the Association of American Railroads (AAR) traffic data" [Econintersect]. We have a commnenter whose spouse is a railroad engineer; I'd love some anecdotes! (These figures back out coal and train.)
The Fed: "The Fed is in risk management mode, which means they will leave rates on hold until they see clear evidence that markets are stabilizing, growth remains on track, and they are even leaning towards needing to see the white in the eyes of the inflation beast" [Tim Duy's Fed Watch]. "The recent unpleasantness in financial markets has likely prompted the FOMC to take the downside risks more seriously than they did in December. The fact of the matter is that they have very little left in their toolkit should the economy take a turn for the worse."
The Fed: "Neel Kashkari, the Federal Reserve Bank of Minneapolis's new president, said the U.S. economy looks softer than expected in recent weeks and policy makers are "laser focused" on reaching their goals of price stability and maximum employment" [Bloomberg]. Dude's getting press time right away.
Carbon: "Oil is now so cheap even pirates aren't stealing it any more" [Quartz].
Honey for the Bears: "Are Asset Managers Vulnerable to Fire Sales?" [Liberty Street]. "[O]ur macroprudential stress test reveals that mutual funds can, in fact, be subject to a 'run'." News you can use, eh?
"Uber losing $1 billion a year to compete in China" [Reuters]. Sounds like Travis has gotten himself involved in a land war in Asia.'
"As a whole, earnings in the Standard & Poor's 500 are on pace for the biggest quarterly decline since 2009. But strip out the energy-sensitive industries and most companies are reporting profit gains" [Bloomberg].
"Increasingly Convinced of the Secular Stagnation Hypothesis" [Larry Summers]. "Bond markets are now saying that neither inflation rates approaching 2 percent targets or real interest rates substantially above zero are on the horizon anytime in the foreseeable future. … If I am right in these judgements, monetary policy should now be focused on avoiding an economic slowdown and preparations should be starting with respect to the rapid application of fiscal policy."
Today's Fear & Greed Index: 46, Neutral (previous close: 43) [CNN]. One week ago: 19 (Extreme Fear). (0 is Extreme Fear; 100 is Extreme Greed). Last updated Feb 17 at 10:37am. Mr. Market hesitates, hand over the cookie jar…
Corruption
"SEC says analyst secretly told hedge funds 'sell' while officially saying 'buy' [Francine McKenna, Marketwatch]. "After learning during a roadshow by the company's executives on March 28, 2012 that the retailer's results would be less rosy than expected, Grom told several hedge funds to sell their shares in Big Lots, the SEC said. Four of them subsequently sold their entire positions in Big Lots stock. The next day, March 29, 2012, Grom's research report on Big Lots maintained a "buy" rating on the shares." More at Business Insider.
"The nature of [resort owner John] Poindexter's relationship with Scalia remained unclear Tuesday, one of several lingering questions about his visit. It was not known whether Scalia had paid for his own ticket to fly to the ranch or if someone else picked up the tab, just as it was not immediately clear if Scalia had visited before" [WaPo]. Poindexter picked up the tab for Scalia's visit, which occurred after the Court declined a hear a case involving one of his subsidiaries, an outcome favorable to him. Scalia was apparently a very frequent traveler.
Black Injustice Tipping Point
"Bayard Rustin: Who Is This Man?" (recorded broadcast, 50 minutes) [WNYC].
Health Care
"A Southern California hospital's computers have been restored after it paid a $17,000 ransom in bitcoins to hackers who infiltrated and disabled its network. The gambit isn't new, but it appears to be on the rise" [Modern Health Care].
Gaia
"The United States alone could be responsible for between 30-60% of the global growth in human-caused atmospheric methane emissions since 2002 because of a 30% spike in methane emissions across the country, the study says" [Guardian]. "the authors said there is too little data to identify specific sources. However, the increase occurred at the same time as America's shale oil and gas boom, which has been associated with large amounts of methane leaking from oil and gas wells and pipelines nationwide" (original study).
"What Sparked the Cambrian Explosion?" [Scientific American]. "Some scientists now think that a small, perhaps temporary, increase in oxygen suddenly crossed an ecological threshold, enabling the emergence of predators. The rise of carnivory would have set off an evolutionary arms race that led to the burst of complex body types and behaviours that fill the oceans today."
Class Warfare
"San Francisco tech worker: 'I don't want to see homeless riff-raff" [Guardian]. Justin Keller, an entrepreneur, developer and the founder of startup commando.io (which seems to be down at the moment):
the reality is, we live in a free market society. The wealthy working people have earned their right to live in the city. They went out, got an education, work hard, and earned it. I shouldn't have to worry about being accosted. I shouldn't have to see the pain, struggle, and despair of homeless people to and from my way to work every day
Sadly, not the Onion.
"XPrize And IBM Offer $5 Million For The Best Human-Artificial Intelligence Collaboration" [Fast Coexist]. The nice thing about AI is that it promises slavery without actual slaves. Of course, that takes all the fun out of it, but who said AI was suppposed to be fun?
News of the Wired
"Why Your Brain Actually Works Better in Winter" [New York Magazine]. An attack on the idea of Season Affective Depression. I dunno…
"Reality With Apple and The FBI" [Karl Denninger, Market-Ticker (SF)]. "[T]he government has no power to compel you to make that which you do not have. … There is simply no authority for the FBI or any other organ of the government to compel the company to make anything. They can compel the firm to hand over something the company possesses under due process of law but in this case the operating system version they wish to obtain does not exist. … A judicially-issued demand to Apple, or anyone else, that reads 'Write software to do X for us' is facially invalid. Such an 'order' is nothing less than a demand that Apple submit to slavery, which is prohibited under the US Constitution.'" Leaving aside the idea that corporations, to be enslaved, must be persons, I find myself, in concert with others, in agreement with Denninger, amazingly enough.
* * *
Readers, feel free to contact me with (a) links, and even better (b) sources I should curate regularly, and (c) to find out how to send me images of plants. Vegetables are fine! Fungi are deemed to be honorary plants! See the previous Water Cooler (with plant) here. And here's today's plant (Furzy Mouse):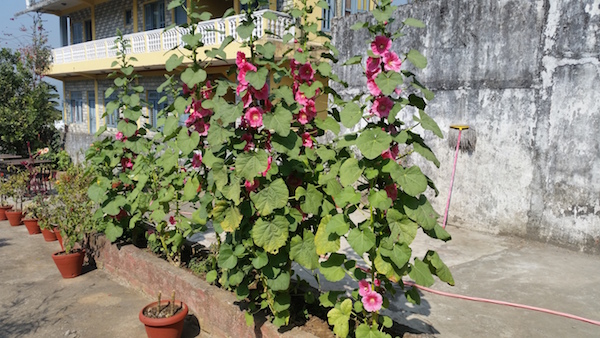 Hollyhocks in Nepal.
* * *
If you enjoy Water Cooler, please consider tipping and click the hat. Water Cooler would not exist without your support.