By Lambert Strether of Corrente.
TTP/TTIP/TiSA
"Quiet 'Legal Scrub' Of TPP Makes Massive Change To Penalties For Copyright Infringement Without Telling Anyone" [Tech Dirt]. Just a simple change of "subparagraph" to "paragraph"…
"Ding ding! TTIP: Round 12- what you need to know" [TTIP 2016]. "Despite two and half years of negotiations, many controversial issues were put on the long finger up to this point, which now leaves negotiators in a tight spot; can they seal a deal by the end of the Obama administration, when thorny issues like investor rights, agricultural market access, regulatory cooperation, remain unresolved?"
"Regardless of who wins the presidency in November, approval of TPP and T-TIP looks unlikely. Meanwhile, there is no push in either party for reviving the multilateral talks that once took center stage in trade discussions" [Wall Street Journal, "In Murky 2016 Contest, Clear Opposition to Trade Agreements"]. Interesting if true, but we've thought these zombies were dead before.
"'I do not believe that we're going to reach a T-TIP agreement before the president leaves office,' White House spokesman John Earnest said this week. 'But he's certainly interested in moving those negotiations forward and in a direction where we can be confident that the economy of the United States will be enhanced through the completion of an agreement, hopefully under the leadership of the next U.S. President'" [Forbes].
2016
Policy
"Krugman: too pessimistic about Sanders´ ideas about the economy?" [Real World Economics]. Flagging the Betteridge's Law Violation. For example: "[Operative K] also states that it is bonkers to assume, like Sanders does, that the USA participation rate can return to the 1999 level. But Sanders might in fact be not too optimistic but too pessimistic. Why should the participation rate not be higher than in 1999? The US of A were about the only country which, after 2008, experienced a large drop in the participation rate. In many other countries this rate is increasing."

And Real World Economics isn't the only source to ding Krugman on the labor force participation rate: "A leap of the sort that Friedman envisions seems unlikely. I took a look at the ratios in a few other countries, though, and it turns out it's not unprecedented" [Justin Fox, Bloomberg View]. For my own part, I hope to work 'til I drop. Shuffleboard is a death sentence.

"In fact, if you plot the real GDP growth rate against the projections of the Clinton/Obama CEA chairs, you'll find that they're consistently wrong by a fairly wide margin" [David Dayen, The New Republic].

Let's remember that the CEA has a full staff and the weight of all the data-gathering resources of the U.S. government behind it, compared to one economist in Massachusetts playing with hypothetical models. And yet the CEA still gets it wrong routinely. Which is fine—history tells us we should not expect such precision. But let's not allow one subset of Democratic economists to take the high road of "evidence-based" mathematics when they're all throwing darts at a board.

So when The Great and Terrible Operative K calls Sanders proposals "voodoo" — and I do question why a putative progressive would use "voodoo" as a term of disparagement — he really means that Sanders isn't performing the proper rituals.

Sanders interviewed by consummate insider Mark Halperin [Bloomberg].

Halperin followed up: "Just on the question, and we've discussed this with you before this, on the skepticism that you are telling people things that they want to hear."

Sanders' voice intensified. "Yeah, I am telling people what they want to hear! People want jobs. They want health care. They want educational opportunities for their kids. They want to deal with climate change. They want the wealthiest people to pay their fair share of taxes. Yeah, that's what I'm telling people. And on every one of those issues, that is exactly what the American people want."

Mic drop. People often forget that Sanders is a pretty good politician.

"Charles Koch: This is the one issue where Bernie Sanders is right" [WaPo]. "It is results, not intentions, that matter. History has proven that a bigger, more controlling, more complex and costlier federal government leaves the disadvantaged less likely to improve their lives." What a steaming load: Medicare. Social Security. The USDA Extension service. Land grant universities. And on and on and on.

"The highest levels of delinquency on student loans are in neighborhoods with higher concentrations of African-Americans or Latinos, a new analysis finds" [Christian Science Monitor].
The Voters
"Hillary Clinton's cynical race appeals: The revenge of neoliberal identity politics" [Salon].

The thing about Clinton's newfound identity politics crusade that has planted so many palms across left-wing faces is that Clinton is brazenly channeling the latest racial and gender justice discourse to block a racially diverse working-class assault on the oligarchy she has long defended—it's just too much. All of the important struggles that Clinton cites cease to be intersectional the moment they are abstracted from political economy. …. "I think it's very cynical," says Rutgers historian Donna Murch, the author of a recent New Republic article titled "The Clintons' War on Drugs: When Black Lives Didn't Matter." "Saying that political economy doesn't matter to black people, I think that that is terrible. Especially when you look at the impact of what happened with the subprime crisis."

"But [Clinton] is running on a fundamental and untenable racial contradiction. She claims she will fight 'systemic racism' at a time when the system and Bill's role in it is under a fresh microscope from a new generation represented by the Black Lives Matter movement. At some point, the firewall cannot hold back the flames the Clintons fanned" [Derrick Z. Jackson, Boston Globe].

"If Trump and Sanders are still surging after Saturday's GOP primary in South Carolina and Democratic caucus in Nevada, it will be in large part because the country's populist anger is so great that the normal laws of political science have been suspended. A lot of voters are convinced Trump and Sanders are electable, and as long as they think that, their candidacies will stay aloft" [National Review]. It's almost like "confidence" in the world of business, isn't it?
Corruption
""That's the going rate," explains a senior Wall Street executive who arranges such events [as Clinton's speech]. "It's a pretty efficient market, like anything else." He says people like George W. Bush, Ben Bernanke and Geithner get paid even more than the $225,000 that Clinton received. "So I certainly don't fault her," he said. "In hindsight for her, I do think that you could have seen that if you wanted to run for president, you know …" He left the comment hanging, but he clearly indicated that she should have known that taking so much money from Wall Street banks before the start of the next presidential election cycle was not the smartest decision" [Politico]. "Optics matter, sometimes a lot" [New York Magazine].
Money
The failure of money to buy the presidential nomination, in one chart https://t.co/bQ6PDMg886 pic.twitter.com/hwahM08lzE

— Bloomberg Politics (@bpolitics) February 19, 2016
The Trail
"Exchange of the Day" [Political Wire]. Must read.

"The power brokers who could decide the 2016 election" [The Hill]. This is fun. I don't think of Elizabeth Warren as a power broker, but I suppose she is. The last broker: "[Jim] Comey, who heads the FBI, is being briefed regularly on the agency's investigation of Clinton's email server controversy. He is known for his independence, having taken on former President George W. Bush when he was deputy attorney general."

"After the contests in Iowa and New Hampshire, Sanders has a small 36-32 lead among delegates won in primaries and caucuses. But when superdelegates are included, Clinton leads 481-55, according to the AP count. It's essentially a parallel election that underscores Clinton's lopsided support from the Democratic establishment" [AP].

"Former New York City Mayor Michael Bloomberg decried the country's "broken two-party system" at a book party in New York City Thursday night, testing out a message that could serve as the underpinning of a presidential run" [MSNBC]. "Candidates sense that … America has lost faith with its institutions, but instead of fixing it, they are trying to exploit it," Bloomberg said at a book party for columnist Peggy Noonan, according to a transcript provided by a source close to the former mayor. "The list of supposed villains we hear about is long – but the actual solutions that Americans seek have been in short supply."

"Aboard his campaign plane Thursday, Sanders told reporters that Killer Mike was quoting someone else — but that he agreed with the basic premise" [MSNBC]. "'What Mike said essentially is that … people should not be voting for candidates based on their gender, but based on what they believe. I think that makes sense.'" Subtext: Sanders didn't throw Killer Mike under the bus.
Nevada (this Saturday)
"Transcript: MSNBC and Telemundo's Clinton-Sanders Town Hall" [NBC News]. Clinton is a policy wonk on what's already in the legislative hopper, Sanders on what ought to be in it. Unfortunately, the format didn't put the same question to each candidate, or allow the candidates to interact. And NBC's recap is awful. In fact, most of the reporting is awful; this, from the Los Angeles Times, seems the most comprehensive.

A question asked of Clinton:

@HillaryClinton Question unanswered, deflected. Untrustworthy! #FeelTheBern #DemTownHall #Nevadacaucus #Bernie2016 pic.twitter.com/tTXk5b8oHB

— Joe Sacco (@MrJoeSacco) February 19, 2016

Clinton's answer:

CLINTON: Well, let me say this. I'm happy to release anything I have when everybody else does the same, because every other candidate in this race has given speeches to private groups, including Senator Sanders.

(APPLAUSE)

CLINTON: But let me get to the heart of your question. I was the candidate who went to Wall Street before the crash. I was the candidate who went to them and said you are wrecking our economy. What you are doing with mortgages is going to bring us down.

I called to end the carried interest loophole for hedge fund managers. I called to reign in CEO pay. I now have the most effective and comprehensive plan to deal with the threats that Wall Street poses, and I go further than Senator Sanders does because I want to go through after all the other bank bad actors.

The bad actors like hedge funds, the bad actors like AIG, the insurance company. Like Countrywide mortgage. I take a backseat to nobody in being very clear about what I will do to make sure Wall Street never crashes main street again. And, that you can count on.

Where to begin? With the first talking point, "including Senator Sanders." "Financial records show Sanders made $1,876 for two paid speeches and a television appearance last year. Sanders donated the speech fees to a local charity in Vermont that serves low-income families" [The Intercept].

"The buzz generated by Sanders' initial sermon on economic inequality [in 2014] led to a second invite last year — months before Sanders announced his presidential bid — when the Culinary Union hosted the senator for another economic town hall event. The first gathering was mainly attended by older, white progressive men, but the second event attracted a more diverse crowd" [Politico]. And many "Clinton operatives" "concede that, unlike the Barack Obama phenomenon in 2008, they still don't understand the Sanders appeal." Sounds like they've got a blind spot. I wonder what it could be?

"Bernie Sanders wins backing of African American group in Nevada's largest county" [WaPo]. "Yvette Williams, chairwoman of the caucus, said that Sanders's agenda most closely aligned with that of her nonpartisan group, saying the endorsement of Sanders 'wasn't a very difficult decision. His message really resonates when he talks about income inequality, racial justice and prison reform.'"

"Recording Suggests Hillary Clinton Backers Testing Attack Lines Ahead of Nevada Caucus" [ABC]. In other words, push polling.
South Carolina (Republicans, this weekend; Democrats, Saturday, February 27)
Marist poll: Trump 28, Cruz 23, Rubio 15, Jebbie 13, Kasich and Carson 9. Clinton 63, Sanders 29 [Wall Street Journal, "Donald Trump's Lead in South Carolina Narrows as Conservatives Turn to Ted Cruz, Poll Finds"]. And here's a good breakdown of the Marist results on Trump [WaPo].

"Bush machine running on fumes" [Politico]. The quotes are just sad. How much money did Bush light on fire? $250 million?

" U.S. Rep. Jim Clyburn to endorse Hillary Clinton for president" [The State]. Clyburn's endorsement, of Obama, in 2008, made a big difference. Clyburn: "Well, you know, I think of both candidates being a certain cachet to the system. Bernie is really energizing young voters, and we need them. Hillary Clinton has demonstrated that the older voters feel that she is very reliable, and we need reliability. Hopefully, when one is successful and the other is not, we can combine our forces and resources."

"Ted Cruz's firewall is the bloc of southern states that vote between February 20 and the so-called March 1 SEC primary. Chocked full of Republican voters who define themselves as very conservative and evangelical, these states look much more like Iowa (where Cruz won) than New Hampshire (where he didn't). The Cruz strategy is to use South Carolina, with an electorate that's traditionally been around 65 percent evangelical, as a springboard into evangelical-heavy SEC primary states like Alabama, Georgia, Oklahoma and Tennessee. Yet, the latest polling out of South Carolina shows that the evangelical firewall is not looking all that fireproof. Almost every poll shows Cruz trailing Trump by double digits" [Cook Political Report].

"A strong Trump win in South Carolina sets him up well for March 1st. But, I'm watching as closely for how he does among non-college-educated voters as how he does among evangelical voters. A dominant performance among blue-collar voters means he has serious staying power once we get out of the south and into blue-collar heavy Midwestern states like Michigan (March 8) and Ohio (March 15). I will also be looking closely at how well Trump does among Republican (non-independent) voters and those who define themselves as "somewhat conservative." As I've written earlier, the deeper into the primary calendar we get, the voters get more secular and the rules more prohibitive" [Cook Political Report].
Stats Watch
Consumer Price Index, January 2016: "Consumer prices are on the rise and the Fed's December rate hike doesn't look misplaced at all" [Econoday]. "Services are the center of the economy's strength and prices are rising, led by medical care which jumped 0.5 percent in the month for a year-on-year plus 3.0 percent. The subcomponent for prescription drugs also rose 0.5 percent. Shelter rose 0.3 percent in the month as did rent while owner's equivalent rent rose 0.2 percent. Away-from-home prices jumped 2.0 percent… These results may prove to be a game changer for the FOMC, pointing to pressure for next week's PCE price data and perhaps reviving chances for a March FOMC rate hike."
Architectural Billing: "The Architecture Billings Index has begun this year modestly dipping back into negative terrain. As a leading economic indicator of construction activity, the ABI reflects the approximate nine to twelve month lead time between architecture billings and construction spending. The American Institute of Architects (AIA) reported the January ABI score was 49.6, down slightly from the mark of 51.3 in the previous month. This score reflects a minor decrease in design services (any score above 50 indicates an increase in billings). The new projects inquiry index was 55.3, down from a reading of 60.5 the previous month" [American Institute of Architects].
Honey for the Bears: "Perhaps the most fundamental distinction between today's global economy and those of 1998 and 2008 are the many more sources of vulnerability today than in the previous crises. Sadly, unlike in both 1998 and 2008, when the global economic crisis emanated from a confined geographical area, today's crisis has the potential of being driven by events not only in China and the emerging market economies but also by events in the European economic periphery, the United Kingdom and Japan" [The Hill]. Author is from AEI.
Today's Fear & Greed Index: 48, Neutral (previous close: 48) [CNN]. One week ago: 21 (Extreme Fear). (0 is Extreme Fear; 100 is Extreme Greed). Last updated Feb 19 at 10:33am. Shift to greed after a visit to the Nineteenth Hole on Sunday?
Water
"Gov. Andrew Cuomo announced on Thursday the creation of a statewide water quality rapid response team to address contamination problems like those that have left residents in the Hoosick Falls area reeling" [Times Union]. "The announcement was made on Long Island, where the state will take area-specific steps to address water quality issues. That includes a $6 million islandwide study of salt water and chemical contamination of fresh groundwater and independent testing of a plume of contamination surrounding the once-bustling Northrop Grumman plant in Nassau County. … The issue of who would test what and when has come to the forefront in Hoosick Falls, where the state has gone as far as to begin blood testing residents who think they have been affected by the perfluorooctanoic acid-contaminated water."
Black Injustice Tipping Point
"The North Carolina Court of Appeals on Tuesday dismissed a request for compensation from the estates of three people who had been involuntarily sterilized by the state" [Courthouse News]. "To be eligible for a portion of the $10 million fund, victims must have been alive on June 30, 2013, but Hughes, Redmond and Smith all died between 1996 and 2010."
Our Famously Free Press
"So what was the result? First, the response rate was higher for FOI than just asking. To be exact an FOI was twice as likely to get a response as an informal approach. The bottleneck appeared to be over emails getting lost or going into junk at the earliest stage. Second, FOI triggered more compliance and our findings showed that FOI requests got stronger and not weaker the more was demanded" [London School of Economics].
Gaia
"Universal resilience patterns in complex networks" [Nature] (summary at Phys.org.) "The proposed analytical framework allows us systematically to separate the roles of the system's dynamics and topology, collapsing the behaviour of different networks onto a single universal resilience function. The analytical results unveil the network characteristics that can enhance or diminish resilience, offering ways to prevent the collapse of ecological, biological or economic systems, and guiding the design of technological systems resilient to both internal failures and environmental changes."
"Whether it's plant, planes or people, we may be a little closer to understanding the giant networks of our planet."https://t.co/YXctLbajUl

— Nature News&Comment (@NatureNews) February 19, 2016
Guillotine Watch
"Kenneth Griffin Joins Elite Rank of Hedge Fund Art Patrons With $500 Million Deal" [New York Times]. Big bucks from a synthetic beta male, eh Ken?
"The world's largest provider of kidney dialysis equipment and services has agreed to pay $250 million to settle thousands of lawsuits from dialysis patients and their relatives claiming that the company's products had caused heart problems and deaths" [New York Times]. Why aren't the executives in jail? Since people died because of their actions?
Class Warfare
"Under pressure from the hotel industry and a populace concerned with the surge of foreigners in their neighborhoods, Prime Minister Shinzo Abe's government has released guidelines for home-sharing — called minpaku in Japanese — that could make most Airbnb rentals in the country illegal" [Japan Times].
News of the Wired
"Secret Memo Details U.S.'s Broader Strategy to Crack Phones" [Bloomberg].
"Plano couple sued after giving one star to pet-sitting company on Yelp" [Dallas Morning News]. Apparently the contract had a non-disparagement clause.
"Remains at a Swedish fort tell a story of bloody Iron Age warfare" [Ars Technica] (from Archeology). "For once, superstition has actually helped the progress of science. Because people were afraid to loot or touch Sandby Borg, the town has remained frozen in time, with all its artifacts intact. It offers archaeologists a perfect snapshot of life in the mid-400s, at a time of dramatic transition for Europe." So the taboo lasted over a millenium? We'll probably have to do the same with fracking sites…
* * *
Readers, feel free to contact me with (a) links, and even better (b) sources I should curate regularly, and (c) to find out how to send me images of plants. Vegetables are fine! Fungi are deemed to be honorary plants! See the previous Water Cooler (with plant) here. And here's today's plant (Kurt Sperry):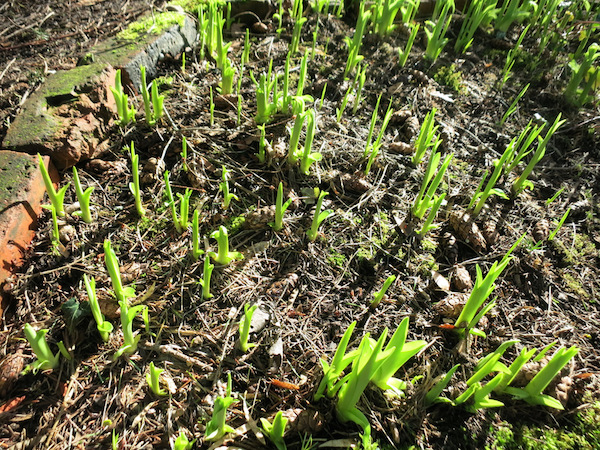 Day lilies. In February. The sheer injustice!
* * *
If you enjoy Water Cooler, please consider tipping and click the hat. Water Cooler would not exist without your support.