By Lambert Strether of Corrente.
TTP/TTIP/TiSA
"France seeks guarantees for national sovereignty in adoption of TTIP" [Euractiv]. "Paris has argued that the transatlantic trade deal should have to be approved by the EU's national parliaments before it can take effect, not just the European institutions."
"The European Union's trade commissioner told the multinational oil company ExxonMobil that a major free trade deal being negotiated with the US would help remove obstacles to fossil fuel development in Africa and South America, documents obtained by the Guardian reveal" [Guardian].
"[Sandor Levin, a] senior House Democrat who is among his party's top voices on trade came out against the 12-nation Trans-Pacific Partnership on Thursday, further darkening the congressional outlook for the landmark agreement" [New York Times].
"But as members of the Obama administration can attest, Clinton was one of the leading drivers of the TPP when Secretary of State. Here are 45 instances when she approvingly invoked the trade bill about which she is now expressing concerns" [Jake Tapper, CNN].
2016
Policy
Sanders: "I believe that in my whole life, that we are in this together. The truth is, at some level, when you hurt, when your children hurt, I hurt. And when my kids hurt, you hurt" [HuffPo].

Shameless:

Despite 30 million uninsured, @HillaryClinton's campaign last night declared that America has universal health care. pic.twitter.com/xT1SIX6ROO

— David Sirota (@davidsirota) February 19, 2016




"The Hillary-leaning economists featured in the NY Times article who roundly derided Sanders's Medicare for All plan as far too expensive might have pointed out these facts. Other developed countries provide universal healthcare at a national cost that is a 6 to 8 percentage-point lower share of GDP than what we spend. Furthermore, the quality of their care, as measured by health outcomes, is often higher" [Forbes]. "These economists could have also prefaced their remarks by saving, 'Gee, if we just run our healthcare system like the Swiss run theirs and call it Medicare for All, we could certainly pull off what Bernie is advocating.' They didn't do this and the NY Times reporter failed, it seems, to ask them about the Swiss or any other healthcare system that delivers excellent care at the far lower price that Sanders is referencing."
Money
"Hill Democrats are scrambling to figure out how they can capture some of Sanders' magic — and his ability to conjure up campaign cash, seemingly out of thin air, from an apparently endless stream of supporters" [Politico]. BWA-HA-HA-HA-HA!!!! Now the Ladies of Negotiable Affection want to sing in the choir!

"$202,892: What Ready PAC, the supposedly defunct super PAC formerly known as Ready for Hillary PAC, earned by selling or renting supporters' personal information to three other entities: the Democratic Congressional Campaign Committee, Democratic operative-led PAC End Citizens United and Infogroup, which promotes "using big data to drive your business" to its clients" [Center for Public Integrity].

"Meet the fossil-fuel loving hedge fund billionaire behind Hillary's surge" [Will Bunch, Philadelphia Daily News]. "At this point it should be fairly obvious that close relationships with hedge-funders and other powerful corporations is not a bug infecting the Clinton campaign. It's a feature. But just who exactly is Clinton donor and Wall Street investor Marc Lasry? … This same nexus — Marc Lasry, Goldman Sachs, and the Clinton family — surfaces again and again, whether in large donations to the Clinton Foundation or the $675,000 in paid Hillary Clinton speeches to Goldman Sachs that have become such an issue in the Democratic primaries this winter."

Here's the thing: The financial health of Hillary Clinton's most enthusiastic Wall Street backer depends on years of renewed high demand for fossil fuels — right at the time when the greenhouse gases produced by burning fossil fuels are threatening the fate of the Earth with catastrophic climate change.

"The [Republican] party's elite donor class has mostly closed its checkbooks to groups dedicated to stopping Trump, while the outfits that have built massive reserves are increasingly deciding to forgo anti-Trump campaigns, despite widespread fears that he is making a mockery of conservatism and could undermine Republicans up and down the ballot" [Politico]. "A mockery of conservatism."
Voters
The absence of anger as class privilege [Guardian].

Anger isn't something that Beltway pundits recognize, let alone understand because everyone employed in media or in politics in and around Washington DC is pretty well off. Even ink-stained wretches pull down five-figures – and, unlike everywhere else in America, since journalism is built on documenting nonsense, there's some real job security in documenting Washington. Television people fare even better, because TV money is stupid money. Thinktank malefactors reap great sums from the aggrieved heartland or from industries looking to build a canon of falsified data, and Congress and the attendant lobbying is a helluva racket.

Anger is pretty easy to miss when it's something pretty difficult to feel. When you sit at the center of the world and are unlikely to ever lack for the basic materials of self-sufficiency, the idea of blind, gnawing resentment – let alone of feeding that resentment even with irrational aims – is ineluctably beyond your ken.

It's harder still to understand that there are millions of people in America whose ambitions for a life of steadily improving conditions cratered sometime around nine years ago and have never recovered.

"Black thinkers like Bernie Sanders. They've studied the Clintons' true cost" [Guardian]. Yep. Black pols, no.

Bernie Sanders will take it all the way to the convention. Here's why. [Greg Sargent, WaPo]. I don't always agree with Sargent, but he seems to be serious.

"And young voters, according to one recent study, could matter a great deal in a number of key presidential swing states in the general election. If she does win the nomination, Clinton may not need quite the turnout among young voters in the general that Obama relied upon. But she'll likely want to activate them in a big way, anyway. Clinton knows this. In a recent interview with Rachel Maddow, Clinton made sure to indicate that she is 'focused on letting young people who support Senator Sanders know I get it.'"

"If Hil­lary Clin­ton wins the pres­id­ency, there's little doubt that she will have Don­ald Trump to thank. Un­der any oth­er cir­cum­stances, the tra­ject­ory of the Demo­crat­ic nom­in­a­tion fight would be wor­ri­some for the front-run­ner. Her mid­dling show­ing with key ele­ments of the Obama co­ali­tion—dis­mal sup­port from young voters, lag­ging en­thu­si­asm among His­pan­ics, and un­der­whelm­ing sup­port among wo­men—would nor­mally be a glar­ing warn­ing sign for Demo­crat­ic hopes in Novem­ber" [National Journal]. I dunno. If enough voters are simply looking to do damage — and I'm not sure the NC commentariat is representative in that regard — then the more fearmongering Clinton does, the better Trump will do.
The Trail
"Bernie Sanders is the Worst Presidential Candidate in History, and You and All Your Friends are Idiots" [Paste].

"NYT Used to Report Delegate Count as if It Was Voters Who Mattered" [FAIR]. But now all that matters is delegates, including superdelegates.

"West Virginia, a lightly-polled state that gave Hillary Clinton one of her biggest victories in the 2008 Democratic primary, is the latest to show evidence of white, working-class voters moving toward Sen. Bernie Sanders (I-Vt.). In a new West Virginia poll of 208 likely voters conducted for MetroNews, Sanders leads with 57 percent support; Clinton trails with 29 percent" [WaPo].

"Not only has Sanders gotten a lot more things done than Clinton did in her own short legislative career, he's actually one of the most effective members of Congress, passing bills, both big and small, that have reshaped American policy on key issues like poverty, the environment and health care" [Alternet].

Here is how Hillary's favorability rating compares to every nominee since 1992 pic.twitter.com/4pxRE0J1AV

— Adrian Gray (@adrian_gray) February 23, 2016

"Inside the Surreal, Sleepy World of a Ben Carson Rally as His Campaign Falls Apart" [Vice]. No matter how odd the royal, the peasants still like to see a royal.
Nevada Republican Caucus
"Trump again ran strong among evangelical voters, delivering another blow to a lagging Ted Cruz. He ran strong across issue areas and education levels, consolidating Republican support in ways his opponents have claimed only they would be able to do" [ABC].
South Carolina Democratic Primary (this Saturday)
Spike Lee spot for Sanders in SC: "'Wake up!' the spot begins, over a soul backing track. 'Wake up, South Carolina! This is your dude Spike Lee. And I know that you know the system is rigged. For too long we've given our votes to corporate puppets. Sold the Okie-doke.'" [Guardian].

"Ninety-nine percent of Americans were hurt by the great recession of 2008, and many are still recovering," Lee continues. "And that's why I am officially endorsing my brother Bernie Sanders. Bernie takes no money from corporations. Nada. Which means he is not on the take. And when Bernie gets into the White House, he will do the right thing. He adds: "How can we be sure? Bernie was at the March on Washington with Dr King. He was arrested in Chicago for a protest of segregation in public schools. He has fought for wealth and education equality throughout his career."

Gotta chop that up spot up into 140 character units and get it out on the Twitter. Some heads should explode.

"South Carolina's black vote leaning Hillary Clinton versus the novelty of Bernie Sanders" [Post and Courier]. "If the current trends continue, Clinton should do even better than that as the latest NBC News-Wall Street Journal-Marist poll from last week gave Clinton a secure 60 percent-32 percent lead in South Carolina."

Town Hall: "Probably the greatest revelation of the evening was that folks in South Carolina like to ask long, slow questions, often with an elaborate preface. One lawyer, asking about the Supreme Court, deserves some type of award for longest question ever asked in a presidential forum" [CNN]. "Missing from tonight's town hall was any discussion of immigration — surprising, since South Carolina has seen its Hispanic population grow by 154% from 2000 to 2011. Another missed opportunity was any mention of a new Gallup poll which found that the top reactions of the American public to Clinton and Sanders are "dishonest" and "socialist," respectively."

Town Hall: "[Sanders:] 'I am happy to release all of my paid speeches to Wall Street — here it is,' Sanders said, with a wave of his hands. 'There ain't none." [Fox]. Oddly, or not, there's no mention of this question from Sanders in CNN's coverage, above; only a paraphrase of Clinton's prolix evasions.

Town Hall: "The two candidates appeared separately in a CNN town hall forum" [Bloomberg]. Seperating the candidates is bogus, and allows the moderators to manipulate the outcome by selecting different questions for each candidate.

Town Hall: Clinton said that she was not worried about any issues arising from her decision to exclusively use personal email routed through a private server while she was secretary of state" [Charlotte Observer]. "'It is just not something that is going to have any lasting effect,' she said. 'I am not at all worried about it.'" "Lasting effect"? Boy howdy, is that lawerly parsing!

"Sanders was in Massachusetts Monday night and Virginia Tuesday morning. While he attended a televised town hall in South Carolina Tuesday night and followed with an early morning news conference, his itinerary Wednesday consisted of events in Kansas City, Missouri, and Tulsa, Oklahoma. After that, his schedule called for a trip to Ohio Thursday — with stops in other March-voting states likely to be added, an aide said" [Politico]. "A candidate's time is a campaign's most precious resource, so by spending so much of it somewhere other than South Carolina, the Sanders campaign is engaging in the cold calculus of primary politics — making the tough decision to send the senator to the states where he expects to be the most competitive."
Clinton Email Server Hairball
"U.S. District Judge Emmet Sullivan on Tuesday granted Judicial Watch's request to allow depositions and discovery into how and why the State Department permitted Mrs. Clinton to use a personal email server for government business while she was secretary of state" [Wall Street Journal, "Court Gives Conservative Group Right to Gather Evidence in Hillary Clinton Email Case"] "He also authorized questioning about why the server wasn't searched as part of requests for Mrs. Clinton's public records." Remember that everything we know today about the content of Clinton's email is from the half of it that she chose to release, redacted. (We already know she's corrupt, because she's converted public communications to private use.)

Transcripts of depositions of State Department witnesses or written responses by the State Department to Judicial Watch questions could be made public before the November election, according to University of Arizona law professor David Marcus, an expert on federal civil procedure.

Unless Clinton keeps up with the massive resistance of "drip, drip, drip." Which she will.

"[Judicial Watch, who iniated the suit,] said it would like to depose top State officials who had oversight of technical issues and some of Clinton's close aides, including Huma Abedin, Cheryl Mills, technology guru Bryan Pagliano and lawyers David Kendall and Heather Samuelson" [NPR]. And: "Two more groups of messages are scheduled for release on Friday and Monday, one day before the 'Super Tuesday' primaries." Yikes!

"For six months in 2012, Abedin was employed simultaneously by the State Department, the Clinton Foundation, Clinton's personal office and a private consulting firm connected to the Clintons" [WaPo]. As I wrote: "[The Clintons] have created a ginormous and ever-evolving hairball of tangled and conflicted personal and institutional relationships, a permanent campaign composed of the Clinton Foundation, the Clinton Campaign, and Clintonland, the personal networks that both Clintons have accreted over the years of, er, 'public service.'" I'd be surprised if Abedin were even Exhibit A.
Stats Watch
MBA Mortgage Applications, week of February 19, 2016: "Boosted by lower interest rates [***cough*** manipulation ***cough***], purchase applications for home mortgages have been very strong this year" [Econoday]. "Gains here point to underlying strength for home sales where trends have been only modestly favorable."
PMI Services Flash, February 2015: " In what could be a chilling indication of trouble ahead, the February flash for the service PMI slipped below breakeven 50 to 49.8 for the weakest reading since the government shutdown of October 2013″ [Econoday]. "New orders are still growing but at the slowest pace in nearly six years with contraction in backlog orders the most severe since early 2014…. The declines here do suggest that domestic demand could be on the downswing and falling in line with sinking demand overseas."
New Home Sales, January 2016: "A downturn out West helped pull new homes sales down a steep 9.2 percent in January to a lower-than-expected annualized rate of 494,000. The level, however, is still respectable given that there is no revision to December" [Econoday]. "The slope for the housing sector has been volatile but is trending upward. Price discounts will help boost sales but will also pull down home-price appreciation which has been a central area of strength for household wealth." But: "Challenging to put a good spin on this one, but they gave it their best shot, as the wheels are coming off at every turn" [Mosler Economics].
Bundesbank President Jens Weidmann: "[Central banks] can in a sense influence prices, we can influence economic activity in the short-term but we cannot create growth. And my feeling is that time and again, central banks are at the spot and at the core of the hopes of many and I think we have to see their limited role and also their limited capacity to influence variables of interest to the broader public [CNBC].
"The OECD set matters in motion. In their latest economic report (here; chief economist Catherine Mann's slides are good), they urged policymakers to take "collective fiscal action" in the wake of slowing global growth and financial fragilities. The case for such action is now "urgent".  "Experience to date suggests that reliance on monetary policy alone has been insufficient to deliver satisfactory growth". They reject contractionary fiscal policies, and argue instead that low interest rates offer the opportunity to borrow to invest" [Touchstone (TUC)]. "Moreover in making this case the OECD deploys the argument that government spending reduces the public debt."
Today's Fear & Greed Index: 42, Neutral (previous close: 51) [CNN]. One week ago: 43 (Fear). (0 is Extreme Fear; 100 is Extreme Greed). Last updated Feb 24 at 11:12am. Couldn't flip the needle to greed. Back to fear!
Corruption
"Judge: Red-light, speed-cam tickets 'void'; city violated due process" [Chicago Sun-Times]. "[Plaintiffs' attorney Jacie Zolna] said the city's decision to thumb its nose at its own due process laws is astounding, considering the fact that the nation's largest red-light camera program was built on a $2 million bribery scandal." Obama may not be personally corrupt, but his inner circle — Clinton, Rahm — certainly gives off a strong aroma.
"Goldman banker who advised on U.S. bond sale to Malaysia leaves" [Reuters].
"Signature Bank Sued Over Connection to Ponzi Scheme" [New York Times].
Class Warfare
"The dark side of automated financial regimes" [The Long and Short]. "'Cashless society' could be reframed as 'a society in which every transaction you make will have to be approved by a private intermediary who can watch your actions and exclude you.'" So what's not to like?
"[I]nequality is the enemy of freedom even in the narrowest right-libertarian sense of the word" [Stumbling and Mumbling].
News of the Wired
"On the growing, intentional uselessness of Google search results" [Neosmart]. Readers, this is a specific complaint, not a generalized rant. Have any of you seen similar, specific effects?
"Comparatively speaking, podcast ad spending is minuscule. The advertising spend for podcasts in the United States is projected to be $36.1 million this year" [Nieman Labs]. That's a shame. I love podcasts.
"Time Inc buys what is left of MySpace for its user data" [Guardian]. "Though MySpace is a shadow of its former self, Viant [which purchased MySpace for $35m in 2011] claims to have data from 1 billion registered users. Time and Viant say they plan to combine that data with its own subscriber information, providing it with a pool of data which it claims 'rivals industry leaders Facebook and Google.'"
"Man carrying gnome sparks police alert on M60 in Greater Manchester" [BBC].
* * *
Readers, feel free to contact me with (a) links, and even better (b) sources I should curate regularly, and (c) to find out how to send me images of plants. Vegetables are fine! Fungi are deemed to be honorary plants! See the previous Water Cooler (with plant) here. And here's today's plant (diptherio):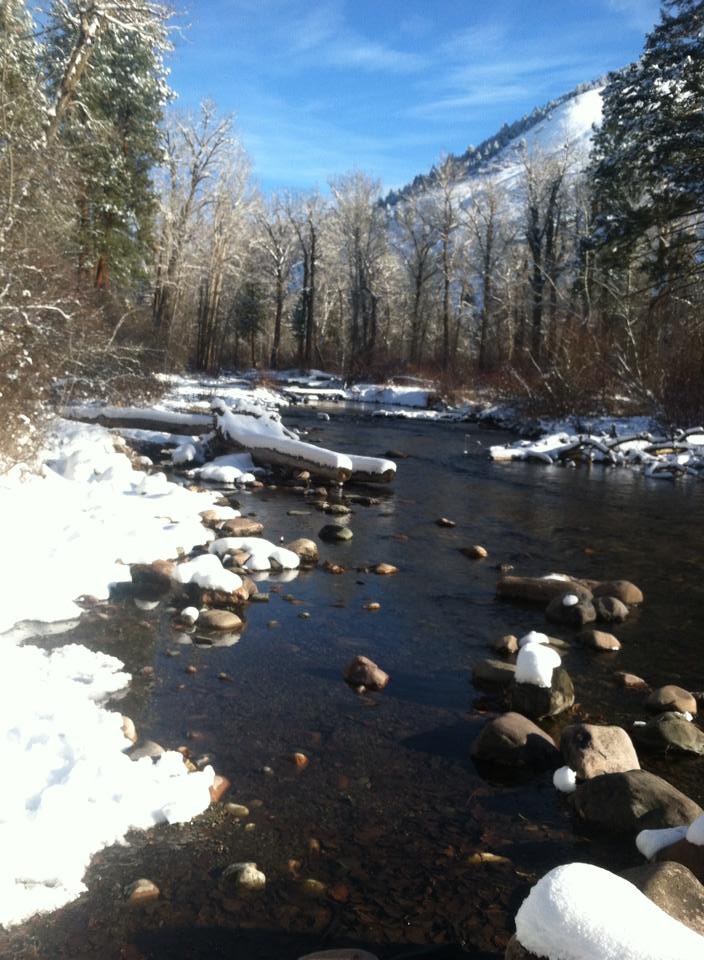 Rattlesnake Creek, Greenough Park, Missoula, MT.
* * *
If you enjoy Water Cooler, please consider tipping and click the hat. Water Cooler would not exist without your support.