By Lambert Strether of Corrente.
TTP/TTIP/TiSA
"TTIP deal poses 'real and serious risk' to NHS, says leading QC" [Guardian]. What the Tories haven't gutted, that is.
2016
Policy
"Rep. James Clyburn (D-S.C.) said Sunday that Democratic presidential hopeful Bernie Sanders's plan to make public colleges tuition-free would have a deleterious effect on private, historically black colleges and universities (HBCU)" [The Hill].
Money
"With Jeb Bush's exit from the Republican presidential race, the field of candidates competing for the wealth behind the more than $100 million raised by his super-PAC, Right to Rise USA, has narrowed. Candidates will now need to lock down sufficient resources to compete on Super Tuesday and beyond" [Bloomberg]. There are less entertaining spectacles than watching the grifters of the political class waltz away dragging great sacks of squillionaire money. Or setting it on fire!
The Trail
"Foes, Past and Present, Say Sanders Uses Same Tactics He Criticizes" [USNews]. Oppo. Film at 11: Sanders isn't a choirboy. Good. He'll need that to deal with Clinton's corruption.

"Why Bernie Can Win" [Jacobin]. "Her forthright opposition to the Sanders agenda has won Clinton praise from some liberal elites, unable to disguise their hostility toward even the most basic social-democratic reforms. Yet unfortunately for Clinton, most actual Americans do not inhabit the pundit class, and their professional credentials do not depend on gravely denying the existence of puppies, rainbows, and successful single-payer health programs."

"The Party Crashers" [The New Yorker]. "Revolutions in communication tend to pull the people away from the élites. (The printing press is the classic example; think of its role in the Reformation. But this happens, to varying degrees, every time the speed and scale of communication makes a leap.)"

"Four problems with the 'winnowing' theory of Trump's downfall" [Bloomberg]. "Taken together, the data suggest that defeating Trump will require weakening his support among Republicans, rather than simply turning the primary into a one-on-one contest with the front-runner."
Stats Watch
S&P Case-Shiller HPI, December 2015: "Home-price appreciation rose 0.8 percent in December as Case-Shiller's 20-city index extends its run of strong monthly gains." [Econoday]. "Household wealth is increasingly dependent, not on wage gains, but on home-price appreciation [*** cough *** manipulation *** cough ***]." No, but seriously, what could go wrong? However: "The way to understand the dynamics of home prices is to watch the direction of the rate of change. Here home price growth generally appears to be stabilizing (rate of growth not rising or falling)" [Econintersect].
Consumer Confidence, February 2016: "There is a tangible slowing in the consumer confidence index, to 92.2 in February vs January's downward revised 97.8," below consensus [Econoday]. "Other readings show slightly more erosion but nothing dramatic. Income expectations are still positive but slightly less so as are expectations for business conditions. Expectations for the jobs market have been on the pessimistic side in this report and slightly more so in today's report."
Existing Home Sales, January 2016: "Existing home sales, up 0.4 percent in January to a 5.47 million annualized rate, held on to the bulk of December's surge" [Econoday]. "[S]loping upward but not in bumpy away. Today's report is moderate but constructive." And: "Our analysis of the unadjusted data shows that home sales did improve, and the rolling averages improved" [Econintersect].
Richmond Fed Manufacturing Index, February 2016: "It has been a very weak month for manufacturing data with now the Richmond Fed, which has been showing more strength than other regions, reporting contraction in February" [Econoday]. "Both new orders and backlog orders moved into contraction this month which points to weakness across other readings in next month's report." And: "Of the three regional Federal Reserve surveys released to date, all are in contraction" [Econintersect]. And: "Another worse than expected and details deteriorating as well" [Mosler Economics].
State Street Investor Confidence Index, February 2016: "Investor confidence is still optimistic but less so this month" [Econoday]. "The drop is tied to Europe where the index has suddenly broken below breakeven. Confidence in Asia is solid, followed by North America."
Honey for the Bears: "The Chemical Activity Barometer (CAB) slipped 0.1 percent in February following flat performance in January and two months of revised gains in November and December 2015" [Econoday].
Honey for the Bears: "Two more signs a recession could be coming" [CNBC]. "In addition to several other trouble spots, two key indicators are flashing warning signs: income tax withholdings and corporate profits."
Honey for the Bears: " The U.S. States Where Recession Is Already a Reality" [Bloomberg].
Fodder for the Bulls: "US to push for greater fiscal spending at G20 -Treasury official" [Nikkei Asian Review].
"Home Depot wraps up big year with another big quarter" [AP]. Tangibles!
"Amazon has quietly launched its own clothing lines, as it tries to take over fashion retail" [Quartz]. So why isn't it valued like JC Penney?
The Fed: "Whether or not a recession actually occurs, one thing is certain. The Fed in its current form is not well equipped to handle another downturn" [FT Alphaville, "The Fed is not ready for the next recession"]. "All the Fed's tools—the setting of short-term interests, the buying and selling of government bonds, and the management of expectations—were handcuffed by its strict devotion to low inflation. They would never be allowed to generate the spending growth required to put the economy completely back to work."
The Fed: "The Federal Reserve's complicated relationship with race" [WaPo]. Blaming Yellen for high unemployment in among Blacks.
Today's Fear & Greed Index: 51, Neutral (previous close: 51) [CNN]. One week ago: 32 (Extreme Fear). (0 is Extreme Fear; 100 is Extreme Greed). Last updated Feb 23 at 12:53pm. Just can't quite flip the needle to open greed!
Our Famously Free Press
"Margaret Sullivan joins The Post as media columnist" [WaPo]. I thought Sullivan was the best ombudsman public editor in a long time. Now's left Rosenthalia for Bezosland.
Black Injustice Tipping Point
"Why DeRay Mckesson's Baltimore Campaign Looks Like It Comes Right Out of Teach for America's Playbook" [Alternet].
"An Open Letter to DeRay Mckesson" [Jacobin]. These are all important posts.
"DeRay Mckesson Talks to David Remnick About Protest and Politics" (podcast) [The New Yorker].
"At issue is how the court is going to remake the 81 municipal courts in St. Louis that for decades now have been a bastion of unethical conduct and have violated the civil rights of thousands of people in the St. Louis region, most of them poor, many of them African-American" [St Louis Today]. Among them, Ferguson.
Health Care
Kaiser Healthcare News has a form to submit health care haikus. Here's mine:
health care for profit
kills the helpless sick, for greed
single payer now.
Actually, this is not a very good haiku; there's no seasonal reference or "cutting word." Maybe submit your own?
HHS failed to heed many warnings that HealthCare.gov was in trouble [WaPo]. "The long trail of unheeded warnings is among the findings from an exhaustive two-year inquiry by HHS's Office of Inspector General into the failings of HealthCare.gov, which crashed within two hours of its launch on Oct. 1, 2013." I haven't had the chance to read the study, but I would be very surprised if the words "President" or "Obama" appear anywhere in it.
Hong Kong
Make Mong Kok riot bricks a tourist attraction, lawmaker says https://t.co/uFd4Lt25Yv @hongkongfp @wooonghk pic.twitter.com/fnYZX6FbEu

— Tom Grundy (@tomgrundy) February 22, 2016
Class Warfare
"The drinking water catastrophe in Flint is the result of a failed model of trying to run state government like a business, says a former adviser to Gov. Rick Snyder, who also predicted the governor won't survive a recall vote if the question makes the ballot" [Detroit Free Press]. Failed?!?! After forty years of trying?
"The scariest thing about the gig economy is how little we actually know about it" [Quartz]. "BLS history isn't sexy, but it's important to understand for two reasons. First, as Uber, Lyft, TaskRabbit, and other gig companies have grown into sizable platforms over the last five to 10 years, the government economists who usually keep the best data on this kind of stuff haven't been doing so. Second, to realize that the gig economy, so often termed a revolutionary disruption of our labor market, isn't actually that new. Quite the contrary, it's a small, tech-enabled facet of an outsourcing trend that's been underway since at least the 1990s, rebranded for the masses by Silicon Valley." An, "the masses."
"The Yelp employee who wasn't making enough money to eat" [WaPo].
"The White House says that if you earn less than $20 per hour, you'll probably be replaced by a robot" [Sky]. 'The Council of Economic Advisors (CEA) came to the conclusion in its economic report for 2016." Wait, haven't I been reading somewhere about the CEA?
"In W.Va., fortunes of black minority fall along with coal" [Al Jazeera]. "Wade, like others here, harbors particular resentment for the Obama administration. 'He hasn't done anything for us,' says the 88-year-old, leaning back on a couch in his living room overlooking the mountains. 'If he were running again, I just couldn't vote for him. And I've been a Democrat my whole life.'"
News of the Wired
"The Psychology of the Breathtakingly Stupid Mistake" [Scientific American].
"Signs economists haven't the foggiest" [Real World Economics Review].
"Nasa to release recordings of unexplained 'music' from the far side of the moon" [International Business Times].
* * *
Readers, feel free to contact me with (a) links, and even better (b) sources I should curate regularly, and (c) to find out how to send me images of plants. Vegetables are fine! Fungi are deemed to be honorary plants! See the previous Water Cooler (with plant) here. And here's today's plant (Nancy Ames):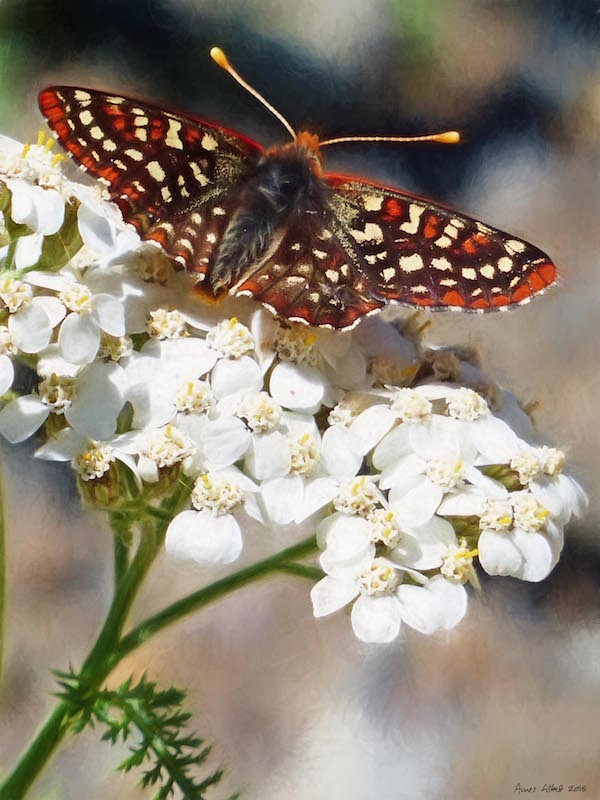 This is actually a painting, of a yarrow plant (which also includes a Variable Checkerspot butterly).
* * *
If you enjoy Water Cooler, please consider tipping and click the hat. Water Cooler would not exist without your support.