By Lambert Strether of Corrente.
TTP/TTIP/TiSA
"TTIP and the architecture of impunity" [Bilaterals.org]. "The legal context: the rights of transnational companies are protected by a global legal order based on trade and investment rules which have the following characteristics: they are mandatory, backed up by a sanction and enforceable (Hard Law). In contrast, their obligations are rooted in national legal orders that are subject to neoliberal logic, International Law of Human Rights that is patently fragile and Corporate Social Responsibility (CSR) – voluntary, unilateral and deprived of legal force (Soft law). The TTIP forms part of this legal-political framework of domination."
"TPP Is 'Fundamentally Flawed' and Should Be Resisted, Says U.N. Human Rights Expert" [Truthdig (RZ)].
ISDS: "Record Number of Investor-State Arbitrations Filed in 2015" [Investment Policy Hub]. "Alfred de Zayas, the U.N.'s independent expert on the promotion of democratic and equitable international order, said the TPP 'is fundamentally flawed and should not be signed or ratified unless provision is made to guarantee the regulatory space of [s]tates.'"
Malaysia: "[T]he mysterious US$681 million (RMB2.83 billion at current exchange rates) that showed up in the personal AmBank account of Malaysian Prime Minister Najib Razak in 2013 has been said to come from so many different sources and to be used for so many different purposes that the government can't keep track." [Asia Sentinel]. Filing this under the TPP since it seems odd that the one possibility never mentioned is a bribe to get Malaysia on board TPP from Najib's golfing partner, Obama. It would be irresponsible not to speculate….
UK: "A study by the London School of Economics into the potential effects of TTIP showed that we could expect to face as many ISDS cases as Canada under their similar NAFTA agreement with the US. Canada, by the way, is currently the most sued developed country in the world under ISDS, with cases such as oil company Lone Pine Resources suing the government for issuing a moratorium on fracking" [Independent]. "Canada has eight per cent of US foreign direct investment stock compared to the UK's 13 per cent according to the LSE study, so it is easy to see how we could face an equal if not greater number of ISDS cases against us."
New Zealand: "Trans-Pacific Partnership National Interest Analysis" (PDF) [New Zealand Foreign Affairs & Trade].
2016
The Voters
"Perhaps the most eye-popping statistic to come out of last week's Iowa caucuses was Bernie Sanders's overwhelming advantage among young voters" [CNN]. "[V]iews of socialism are highly correlated with a voter's age. According to a May 2015 YouGov poll, conducted just before Sanders launched his campaign, a plurality of voters aged 18 to 29 had a favorable view of socialism. But among voters 65 and older, just 15 percent viewed socialism favorably, to 70 percent unfavorably." So it's down to the Democratic establishment to destroy socialism as an ideal among youth. Sort of amazing that vulgar Marxism gives a perfectly reasonable account of this, but in a crisis, things correlate.

"[T]he woman who made Clinton cry is undecided in 2016" [Guardian]. With other interviews.

"Bernie Sanders is only presidential candidate who pays his interns" [Independent]. Note appeal this would have for young voters.

"Black Lives Matter movement refuses to endorse any 2016 presidential candidate" [Guardian].

The Big Dog on Monday: Sanders supporters are "vicious." The Big Dog on Tuesday: " I get how frustrating it is" [Mother Jones]. Not to mention Sanders supporters watch "cartoons," as if they were six-year-olds. Because message discipline.

"Sanders and Clinton represent two very different ideologies. Each of these ideologies wants control of the Democratic Party so that this party's resources can be used to advance a different conception of what a good society looks like. This is not a matter of taste and these are not flavors of popcorn" [Benjamin Studebaker]. So Bernie Sanders is not merely running to attempt to implement a set of idealistic policies that a republican-controlled congress is likely to block. He is running to take the Democratic Party back from an establishment that ignores the fundamental systemic economic problems that lead to wage stagnation and economic crisis. Those who say that the Democratic Party cannot be reclaimed by the FDR/LBJ types or that if it is reclaimed it will flounder in elections against the GOP are thinking too small."
Corruption
Clinton Goldman speech, attendee: "She sounded more like a Goldman Sachs managing director" [Politico]. I'm taking comfort in the idea that Clinton has a future after politics…

"Someday, and that day may never come, I will call upon you to do a service for me. But until that day, accept this gift." – Don Corleone – "The Godfather" (1972) [LA Progressive].
The Trail
"Bloomberg didn't elaborate on what scenario would prompt him to throw his hat in the ring. Previous reports suggested that Bloomberg would only run if the Republicans nominated Donald Trump or Ted Cruz and the Democrats went with Bernie Sanders" [New York Magazine]. I think the Short-Fingered Vulgarian would gut the Soda-Hating Mayor-for-Life, but what do I know?

Brock: "Senator Sanders is trying to live in the purity bubble, and it needs to be burst" [Politico]. The Lanni– Clintons always pay their debts. And David Brock's hair; why am I reminded of American Werewolf in London?

"Hillary Clinton's White House campaign is going negative against her left-wing rival Bernie Sanders — and a lot of unaligned Democrats think that's a bad idea" [The Hill]. "[E]ven some Clintonites have found his tone perplexing. "It doesn't feel strategic. It feels reactionary," another ally said. "Angry Bill is kind of fun but when he's looking older and older, not so much. I don't understand it. In the end, show me anyone who believes [Sanders] gets the nomination, so why not keep his supporters happy for the general?"

Clinton: "Senator Sanders took about $200,000 from Wall Street firms. Not directly, but through the Democratic Senatorial Campaign Committee. There was nothing wrong with that. It hasn't changed his view! Well, it didn't change my view or my vote either!" [Politico].

First, on "view or vote," Elizabeth Warren disagrees, as we have seen. Second, here's how the Framers defined corruption: "The self-serving use of public power for private ends." In Clinton's case, the public power is her past and prospective office; the private end is "$675" followed by three zeroes. That's just not the same as using DSCC money for a campaign, and it's unfortunate that the Clintons dumb down public understanding in that regard. Third, the DSCC money isn't this election. That's important, because Sanders proving that you can run a big campaign 70% based on small donations, without sucking up to big money at all is a political first. Democrats should be emulating Sanders, not smearing him. And Clinton's not dumb; she could have tried just the same strategy. Why didn't she? Fourth, "not directly" is the difference, right? It's true that the DSCC, like the Democratic establishment as a whole, is corrupt to the bone, but the DSCC serves as a money laundry exactly to protect candidates from stuff like, oh, cashing a personal check for $675,000 from an industry they hope to regulate. Fifth, speaking of money, Sanders raised a ton for Democrats, and when he caucused with Democrats in 2006 he helped give control of the Senate to them. So, yeah, I already know Sanders isn't pure, but I also see that expecting gratitude from the Democrat establishment for giving them control of the Senate is like asking for empathy from a snake or a weasel. So let's not talk about pure. Let's ask: Who's dirtier? #JustSaying.

Clinton on Albright saying young women who support Sanders are going to hell: "Honest to goodness, I mean, people can't say anything without offending somebody" [Yahoo]. Wait, I thought Republicans played the political correctness card? And does this mean people can say mean things on the Internet after all?

"WOW. Before the "Bernie Bro," Clinton supporters created the "Obama boy." No, seriously." [Daily Kos]. Well… I remember the 2008 campaign vividly, and the sexism directed at Clinton was brutal, from beginning to end. So "created" is wrong. But if that's the baseline… I haven't seen anything that meets that baseline, though it's true I don't track newer media, like Reddit. (One difference might be that the 2008 wars took place in comment sections; the attackers came to you. But in 2016, I wonder if the wars take place in siloes, like Reddit.)

"Hillary and Bill Clinton are so dissatisfied with their campaign's messaging and digital operations they are considering staffing and strategy changes after what's expected to be a loss in Tuesday's primary in New Hampshire, according to a half-dozen people with direct knowledge of the situation" [Politico].

Ouch:

When the exact same problems crop up in separate campaigns, with different staff, at what point do the principals say, "Hey, maybe it's US?"

— David Axelrod (@davidaxelrod) February 8, 2016

Funny, but I'll note that (a) this is before the NH results (though perhaps Axelrod is privy to internal campaign data) and (b) the "Clinton campaign in disarray" storyline is as old as the "Democrats in disarray" story.
"Both parties' frontrunners carry baggage. For my money, Bernie's is the lightest. As for the notion that voters can't see that paying $1,000 in taxes beats paying $5,000 in health insurance premiums, it is an insult to the American people" [Salon]. Fun article.
"The FBI formally confirmed that its investigation connected to Hillary Clinton's private email server remains ongoing in a letter released on Monday" [The Hill]. "Key details about the probe remain unclear, such as whether it is tied to a possible criminal case or whether it has expanded beyond an initial security review."
"Would Bernie Sanders get blown out in November? This political scientist doesn't think so" [Greg Sargent, WaPo]. Clickbait-y headline, but interesting discussion (and note that Betteridge's Law says the answer is "No.")
"I Miss Barack Obama" [David Brooks, New York Times]. 2008. Good times.
New Hampshire
Readers, as of press time I have no results, not even an entrance poll. I hope you'll add results in comments!

Poll of polls, 2/2-2/8: Sanders +13.3 [Real Clear Politics]. And Trump +17.2 [Real Clear Politics].

Poll of polls: Sanders +14%. And Trump +16% [CNN].

"The Granite State has a long tradition of thumbing its nose at the preferences of Iowa, its "Five Takeaways From Past New Hampshire Primaries" [NBC]. Late deciders: "In 2012, 21 percent of Republican voters said they made their final call about who to support on the day of the primary itself. In 2008, a similar share made their calls on primary day itself, both on the GOP and Democratic side. In all three cycles, the late deciders supported the primary winner." In other words, just as in Iowa, there could be late movement the polls don't show.

first-in-the-nation twin" [New York Magazine]. "Another HRC shocker in the Granite State seems most unlikely; Bernie Sanders has the national underdog mojo going for him this time around, along with local celebrity. But upsetting the apple cart of the GOP betting-favorite Rubio, if that happens, would be enough to keep the state's impish reputation for unpredictability alive. "

"Nashua city clerk expects 65 percent voter turnout for primary" [Union Leader].

"New Hampshire's New Voter-ID Law Could Lead to Longer Lines, Voter Intimidation" [The Nation]. Hmm. Oddly, or not, voter suppression would benefit the Democrat establishment as much as the Republican one.

"Younger voters and the Connecticut River Valley are essential to Bernie Sanders. Hillary Clinton needs Manchester to deliver for her one more time" [Politico]. New Hampshire isn't static, and has changed a lot since 2008.

"The key to winning New Hampshire lies in the southeast of the state" (maps and charts) [WaPo]. (Part of this article, a good wrap-up in the narrative mode.) Manchester is in the southeast, and Sanders has been speaking there. In the link that follows, I wish Bloomberg had written about canvassing in the southeast, instead of up state.

"Much of New Hampshire is considered difficult to canvass, given the sparse population in the northern half of the state and the mountainous terrain that mottles it throughout. A surfeit of Sanders volunteers is pushing into parts of the state past campaigns would have considered inefficient to walk—even recruiting so-called driving teams of up to four people to team up on rural roads and snowy driveways" [Bloomberg]. "The decision to turn away from phone banks comes after aggressively running a program that shocked Sanders staffers with its inefficiency. Over the week of Jan. 25, Sanders volunteers completed 11,000 phone conversations out of 250,000 calls placed—and 15,000 face-to-face conversations out of 60,000 attempted doorstep visits." So, one tactic I've been worried about, push polls, might not work except among people who have retained their land lines — like moi, readers — and that group skews old, and is therefore more likely to vote for Clinton. On the other hand, knocking on a lot of rural doors is a lot harder than knocking on doors in Manchester.

"Polling suggests that trust in Clinton, as well as her support among women and those earning less than $50,000 a year, has eroded since Granite State voters gave her that triumph in 2008. The New Hampshire electorate also has changed, with fewer blue-collar Democrats who served as a staple of Clinton's coalition in 2008 and her husband's in 1992 when he won the presidency" [Bloomberg]. Actually, as we've seen, Sanders does better than Clinton in under-$50K.

Trump: "I hope you're angry enough to go out and vote tomorrow, folks" [Los Angeles Times].

"Watch Donald Trump Take a Little Too Much Delight in (Sort of) Calling Ted Cruz 'a Pussy'" [Mediate]. Maddow: "Donald Trump, closing the deal with Republican New Hampshire voters."
Stats Watch
NFIB Small Business Optimism Index, January 2016: "Small business optimism index fell back sharply in January, to 93.9 from December's 95.2 and reflecting deepening pessimism over both the economic outlook and sales expectations" [Econoday]. "[T]wo important components remain exceptionally positive, jobs hard to fill and plans to increase capital outlays." NFIB chief economist Bill Dunkelberg states: "Neither the tumultuous stock market nor the Federal Reserve's rake hike had much of an influence on this month's drop in small business owner optimism. Most of the decline was accounted for by expected business conditions in the next six months and the expected real sales" [Econintersect]. In an election year…
JOLTS, December 2015: "Job openings surged in December, foretelling perhaps January's surge [?] in the labor participation rate" [Econoday]. "n an indication that workers are moving up to better jobs, the quits rate rose 1 tenth to 2.1 percent. The layoffs rate, portending the decline in the unemployment rate, fell 1 tenth in the month to 1.1 percent. This is a strong report and a reminder that the labor market continues to move to something called full employment, defined by convention as the flashpoint for wage inflation."
Wholesale Trade, December 2015: "Wholesale inventories fell an as-expected 0.1 percent in December with November revised 1 tenth lower to minus 0.4 percent. Wholesalers have been liquidating inventories as sales have been falling" [Econoday]. "And they've been successful, keeping down the stock-to-sales ratio at 1.32 the last two reports which is still however up noticeably from 1.24 in December 2015. The factory sector hasn't been as successful keeping down inventories, showing a 0.2 percent rise in December."
"Labor is gaining strength, but prices are going nowhere" [Bloomberg].
Honey for the Bears: "This obscure indicator is flashing red for the US economy" [Business Insider]. "Demand for oil, and particularly so-called distillates — which are refined oil products such as jet fuels and heating oils — is crashing. Barclays does cite some mitigating factors, such as unusually warm winter weather and the fact this is based on preliminary data that may get revised upward later on. But it doesn't look great." The clickbait-y headilne should read "This one obscure indicator." Can do better, Business Insider!
Honey for the Bears: "Jingle mail rears its ugly head in Alberta again" [CBC]. Canadian real estate law is different from US law, but you can still see that what happens in the oil patch doesn't stay in the oil patch.
Honey for the Bears: "Ever since the Federal Reserve began to withdraw monetary stimulus, liquidity has steadily been drying up" [Bloomberg]. "Flanagan and Ding [of Merrill Lynch] warned that widening spreads for a variety of securitized products would accompany an environment in which liquidity continues to be wanting. Risk assets would presumably also come under pressure
Shipping: "The disappointing pre-Christmas shipping rush and the Chinese New Year lull created a two-quarter short-term pain, while the deteriorating container shipping business in light of the prolonged global business downturn will keep the shipping companies on the edge for most of 2016" [Splash247].
The Fed: "Fed May Lack Legal Authority for Negative Rates: 2010 Memo" [Bloomberg]. "Speculation has increased that the Fed might consider negative rates in the next economic downturn as concerns of a U.S. slowdown have mounted." Hmm. "The next economic downturn." Maybe I should have filed this under "Honey for the Bears"?
The Fed: "The results presented here reinforce our earlier message that corporate bond market liquidity appears ample based on the bid-ask spread and price impact measures. " [Liberty Street]. But: "An important caveat is that our measures cannot be estimated for bonds that trade rarely (for example, once a day)." But isn't the corporate bond market highly, highly fragmented? That is, in "appears to be ample," the stress should be on "appears"?
Today's Fear & Greed Index: 21, Extreme Fear (previous close: 15) [CNN]. One week ago: 24 (Extreem Fear). (0 is Extreme Fear; 100 is Extreme Greed). Last updated Feb 9 at 10:24am
Hong Kong
"Dozens injured as police, protesters clash in Hong Kong" [Asian Correspondent]. "Activists angered over authorities' attempts to crack down on the food hawkers in a crowded Kowloon neighborhood held running battles with police into the early hours of Tuesday."
"Hong Kong's Mong Kok clashes: More than fishballs" [BBC]. "Localist" groups defending food stalls (and with umbrellas).
"Explained: who are Hong Kong Indigenous and what was their role in the Mong Kok protest and riot?" [South China Morning Post]. (The Post is now owned by Mainland squillionaire Jack Ma.)
Dear Old Blighty
After an exchange on British humor, our own Richard Smith sends me this [Financial Times, "How a statue of Satan reduced Lord Jeffrey Archer's tax bill"].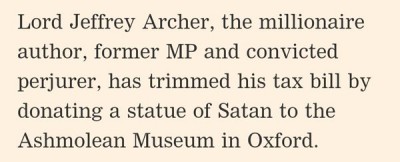 If this were a Monty Python sketch, a bobby would beating Archer around the head and shoulders with a huge bladder. Or a giant foot would descend from Heaven, stomping him.
"[T]he Corbyn movement has advanced beyond the Left of Benn. It has done so by synthesizing what remains of the traditional labor movement with the new movements of the last twenty years, channelling the mobilizing strengths, and many of the people, associated with twenty-first century "movement" politics through the embedded structures of the country's traditional left" [Jacobin]. In other words, Corbyn successfully executed a hostile takeover of the Labour Party, in an environment where unions are weak. So we know it can be done.
"Senior Conservatives appear to have flouted electoral law by failing to declare spending amounting to tens of thousands of pounds during three key by-election campaigns, it has been reported" [Independent]. "Channel 4 News said it had obtained hundreds of pages of receipts which suggested the party broke the rules in the 2014 contests in Newark, Clacton and Rochester & Strood. It said it had received legal advice that the evidence would provide reasonable grounds for a police investigation." Legitimacy crisis? "Some rooms were booked under the name 'Mr Conservatives.'" [Channel 4].
"Media groups lose right to report on why terror suspect was acquitted over 'Tony Blair assassination plot'" [Independent]. Why, what did the guy want to do? Drag Blair to the Hague and put him on trial?
Water
"How scientists failed the public in the Flint water crisis" [Los Angeles Times]. Strong column by Hiltzick. "Several threads have become braided together to sap researchers of their spirit of independent inquiry. Although public sources remain significant sources of science funding, their share of total resources has plateaued or declined. That forces researchers increasingly to seek backing from industry, which understandably pursues its own interests, not the public's. Scientists are discouraged from pursuing nonsexy projects such as double-checking published results, so the all-important process of investigating the reproducibility of previous findings falls by the wayside; the first published results take on an unwarranted aura of authority. Then there's the politicization of science research." Agnotology.
Gaia
"In a new paper published in ornithology journal The Condor, a group of US scientists describe how corvids' unique food-gathering strategies have transformed forests around the world. Now, environmental scientists are actively using the animals as part of their reforestation strategies" [Ars Technica].
"A new paper…. presents an integrative view into the process of mimetic speciation in yet another beautiful taxon, a poison dart frog appropriately named Ranitomeya imitator" [Molecular Ecologist]. With a beautiful chart!
"Man accused of tossing gator into Wendy's drive-thru window" [WPTV]. I think that's "Florida Man."
Imperial Collaps Watch
"Bin Laden Shooter To Release Sex Tape" [Duffel Blog].
News of the Wired
"An end to scaling: Intel's next-generation chips will sacrifice speed to reduce power" [Extreme Tech]. Hmm. So much for Moore's Law?
"The French data protection authority on Monday gave Facebook three months to stop tracking non-users' web activity without their consent and ordered the social network to stop some transfers of personal data to the United States" [Reuters].
"Archie Comic Reveals Jughead Is Asexual" [Vulture].
"Scientists locate the part of the brain where sighs are made " [Los Angeles Times]. This too, I should perhaps have filed under 2016…
* * *
Readers, feel free to contact me with (a) links, and even better (b) sources I should curate regularly, and (c) to find out how to send me images of plants. Vegetables are fine! Fungi are deemed to be honorary plants! See the previous Water Cooler (with plant) here. And here's today's plant (pq):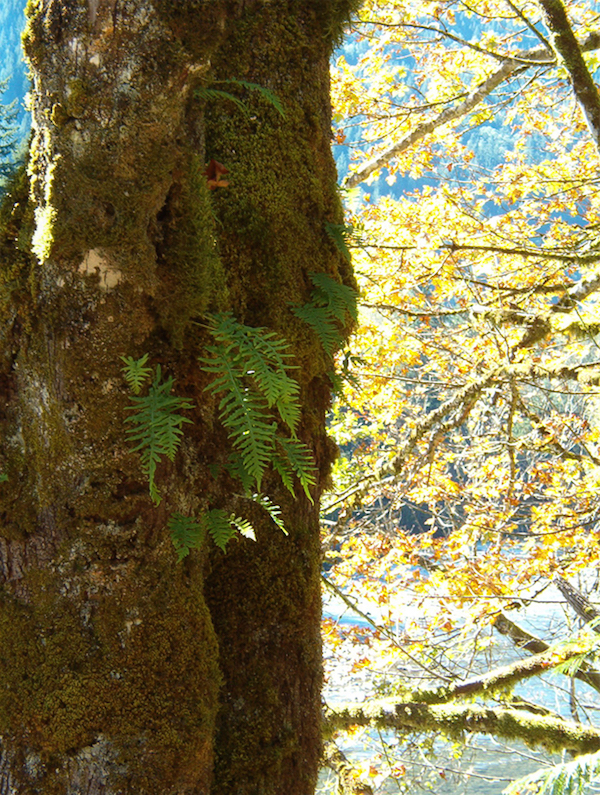 Wenatchee National Forest, October 2010. Luminous, or numinous?
Readers, I'm running out of photos! Wintry scenes would be especially nice! The contact form is above.
* * *
If you enjoy Water Cooler, please consider tipping and click the hat. Winter has come, I need to buy fuel, make a happy plumber happier, and keep my server up, too. Water Cooler could not exist without your support.