By Lambert Strether of Corrente.
TTP/TTIP/TiSA
"The predators behind the TPP" [Japan Times]. TPP is not about tariffs or trade:
[TPP] is political because it aims to change the power relations between transnational corporations and foreign governments. It is political because it will create patterns of colonial dependence through agricultural agreements. It is political because it seeks to place the governments of the participating countries under a kind of legal discipline that has nothing to do with the rights of citizens and everything to do with the ability of powerful corporations to become even stronger.
2016
Policy
Clinton on abortion: "I've been on record for many years about where I stand on abortion, how it should be safe and legal" [Politico]. But Clinton in 2008 said "safe, legal , and by rare I mean rare," and "safe, legal, and rare" was her mantra for years. More-than-justified policy change? Pandering? Slip of the tongue? One thing is certain: "I've been on record for many years" is simply not true.

"Clinton traveled to Flint, Michigan, on Sunday to address the city's water crisis, vowing to make a 'personal commitment' to help the city's residents deal with contaminated water. 'I will not for one minute forget about you or forget about your children,' she said" [ABC News].

Props to Hillary for visiting Flint today. Yes, she did it to get out the black vote in S. Carolina. So what. She came. No one else has. TYH

— Michael Moore (@MMFlint) February 7, 2016

Sanders should really get on this. The deindustrialization of America, which set Flint up for the fall, was a product of trade deals in Congress and private equity on Wall Street, and those issues are Sanders territory.
The Voters
Bill Clinton: Sanders voters watch cartoons, and I don't think he means the Simpsons [Yahoo Politics].

[BILL CLINTON:] "I understand why we've got a race on our hands, because a lot of people are disillusioned with the system and a lot of young people want to take it down. … I understand what it's like for people who haven't had a raise in eight years. There are a lot of reasons [to be angry]. But ."

Way to infantilize the people who aren't voting for you, there, Bill. Taking tips from Gloria? So when is Hillary going to stuff Bill back in his box? To be fair, blaming the voters is a constant theme with the Democratic establishment. As Brecht wrote:

After the uprising of the 17th of June
The Secretary of the Writers Union
Had leaflets distributed in the Stalinallee
Stating that the people
Had forfeited the confidence of the government
And could win it back only
By redoubled efforts.

Would it not be easier
In that case for the government
To dissolve the people
And elect another?

Non-apology apology from Steinem [MSNBC]. Steinem now: "In a case of talk-show Interruptus, I misspoke on the Bill Maher show recently, and apologize for what's been misinterpreted as implying young women aren't serious in their politics." Steinem then: "When you're young, you're thinking, 'Where are the boys?' The boys are with Bernie."" Heck, yeah. What's unserious about that?

Robinson Meyer, who coined the term Berniebro, regrets what has been done with his work [The Atlantic].

The Berniebro, as originally conceived, was a tragic figure; his loyalty and dudeish certainty made him a poor proxy for his favorite candidate. But what's tragic about some Hillary voters is not really gendered in the same way or at all. The tragic Hillary voter, the truly pitiable figure, is the Democrat who would love to line up behind Bernie's sunny ideals but knows that he just isn't electable. I speak, of course, of the Hillarealist.

Stop digging, Robinson. Single payer isn't a "sunny ideal." It's been implemented with great success in other countries.

"The rise of support for socialism among millennials is having an immediate impact on the Democratic Party. Many left-leaning Democrats rightfully detest the kind of modulated crony capitalism epitomized by Hillary Clinton" [Orange County Register]. "This could precipitate a civil war among major Democratic donors – notably in Silicon Valley."

"They don't like [Bernie] Sanders at all," notes San Francisco-based researcher Greg Ferenstein, who has been polling Internet company founders for an upcoming book. Sanders' emphasis on income redistribution and protecting union privileges and pensions violates the favorite notions of the tech elite. "He's an egalitarian liberal,: Ferenstein explains, "these people are tech liberals. Equality is a nonissue in Silicon Valley."

"I don't see Sanders investing major resources like time and money into getting the Latino vote, which will be crucial to whomever wins the presidency" [Roberto Lovato, Guardian]. From a symposium on the Sanders candidacy.

"If anything, the Democrats' defeat at the hands of Reagan reflected how isolated from their voters they were becoming. The culprit wasn't reactionary white workers electing Republicans. It was elites and officials, Democrats and Republicans alike" [Jacobin]. "Ultimately, the kind of grand strategic vision that animated realignment is a prerequisite for both those who wish to see, at long last, social democracy in the United States — and those who wish to go beyond it." Interesting article in a very good issue, "Up From Liberalism."
Corruption
Clinton on releasing transcripts of her Goldman speeches: "Let everybody who's ever given a speech to any private group under any circumstances release them. We'll all release them at the same time" [Raw Story]. First, "everybody" isn't running for President; Clinton is. Second, Clinton basically proves Sanders' point: The political class, with rare exceptions, is deeply corrupt; hence the omerta Clinton is implicitly invoking and depending on. If they won't release them, it's for the same reason Clinton won't. Contemporaneous paraphrase of Clinton's remarks: "We all got into this mess together, and we're all going to have to work together to get out of it." No, we didn't. And no, we haven't. Somebody should ask Clinton if she's seen The Big Short and, if so, whether she agrees with Sanders that the Wall Street business model is based on fraud (yes, he went there).
The Trail
"Advisors Hopeful Jeb Bush Finally Has Momentum To End Campaign" [The Onion].

Another surrogate eruption for the Clinton campaign, this time from Bill Clinton [HuffPo]. Following Chelsea, Madeleine Albright, and Gloria Steinem, the Big Dog, "unleashed," woofs:

"Hillary's opponent has a different view," Clinton said, declining to mention Sanders by name. "It's a hermetically sealed box. It's very effective. The system is rigged against you by the big banks, and both parties are in the thrall of the big banks. Anybody who takes money from Goldman Sachs couldn't possibly be president."

The Times calls this a "stinging attack." I'd call it a fair summary. However, on Goldman, the "Explainer-in-Chief" ignores the key point, beyond Clinton's corruption, which is: The Sanders campaign proves, beyond a shadow of a doubt, that you don't need big money contributions to run a national campaign. If Democrat Party wants it, those days are over. And both, or rather all, Clintons, and the rest of the establishment, are running from this lesson so hard you'd think they enjoy sucking up to Goldman. Or maybe there's something in it for them. Well, back to the Times: "The junior high school's small gym was not full, and only a handful of reporters showed up." So maybe Bill Clinton's sad decline doesn't matter very much.

"Sanders cites foreign policy advisers" [Politico]. Not impressive. Then again, the talent pool of sane establishment foreign policy advisors is even more limited than the pool of establishment economic advisors who are not neo-liberals. When you've seen the national security class lose two wars, a few trillion dollars, kill hundreds of thousands, set the entire Mediterranean basin on fire, and cause a refugee problem that's fracturing the EU, it's hard not to argue that an extremely thorough housecleaning is needed. So it's hard to see what "impressive" would look like. Readers?
New Hampshire
Voting begins just after midnight tonight in Dixville Notch [WaPo]. Sad story; or maybe not.

CNN Poll of Polls, Democrats: "Sanders' 54% to 40% advantage over Hillary Clinton is down slightly from a 55% to 37% lead in the previous Poll of Polls" [CNN]. Republicans: "Trump tops the GOP field with 31%, well ahead of Marco Rubio's 15%. Rubio has picked up four points since the previous New Hampshire Poll of Polls, the biggest change in the averages in the last week. Ted Cruz follows with 13%, John Kasich at 11% and Jeb Bush at 10%."

Democrats: "Bernie Sanders is now beating Hillary Clinton by 16 points- 56% to 40%, after he lost a point overnight, and she kept what she had" (local poll) [WHDH]. "Undecided is up to 4%, an increase of two points since yesterday." That's a big number on undecideds; robocalling? Republicans: "Donald Trump stays in the top spot, with 34%, after dropping two points overnight. Then, a tie for second–at 13%–after Marco Rubio lost a point, and there was no change in Ted Cruz's support. John Kasich and Jeb Bush also are now tied, at 10%."

"Time for the GOP Establishment to Panic" [Political Wire].

"Sanders's Wall Street Attacks Strike Home in New Hampshire Town" [Bloomberg]. "Weekend interviews with more than a dozen voters in Rochester, a working-class city of 30,000 near New Hampshire's border with Maine, showed that the impact of big money in politics is a prime concern for voters." Pretty different from the northern suburbs of Boston in southern New Hampshire (ouch!), though.

"McEachern was the Democratic nominee for governor in New Hampshire twice in the 1980s, and only a few months ago he was featured in the pages of the Portsmouth Herald newspaper accepting a social justice award from Bill Clinton" [Los Angeles Times]. 'When the campaign started out, I was figuring I would support Hillary," he said. 'When the Goldman money came out, I could not,' McEachern said." Clearly only one voter, but one wonders how widely his views are shared in the New Hampshire political class.

"A week in February 1992 revived Bill Clinton's presidential campaign and made the state hallowed ground for the Clintons" [New York Times]. When Clinton exceeded expectations, he labelled himself "The Comeback Kid." So watch for that, if Clinton loses by, say, only 10%.
Stats Watch
Labor Market Conditions Index, January 2016: "January's reading indicates the lowest level of labor market expansion since April last year and also reflects the climbing trends in jobless claims" [Econoday]. "One big positive for the labor market, however, is the falling unemployment rate, at a recovery low 4.9 percent in January."
Year of monkey, tiger, snake and pig beware: fortune tellers see conflict and chaos this coming lunar year" [South China Morning Post]. "But it's not at all pessimistic. Despite the painful struggle brought by stock market fluctuation, fall in property prices and political clashes, a new world order will be born after the wrongs are weeded out."
Commodities: "[T]oday, oil seems to be going the way of timber and steel, losing its strategic importance. Large amounts of energy will still be needed for the basics of modern life, including data processing and storage, but it will increasingly come from other sources" [Project Syndicate]. Hmm.
Honey for the Bears: "Signs of distress in financial markets are gathering force as concern over the state of the global economy deepens. A rout in commodity prices and a slowdown in emerging markets is hurting banks and sparking investor withdrawals and fund closures across the asset management industry" [Bloomberg]. "'There's been a sort of buyers' strike,' Christy Hajiloizou, an analyst at Barclays Plc in London. 'In this kind of market nothing feels overdone.'"
Honey for the Bears: "[T]he world economy in 2016 will continue to be characterized by a New Abnormal in terms of output, economic policies, inflation, and the behavior of key asset prices and financial markets" [Nouriel Roubini, Project Syndicate]. "[H]ow long can this state of affairs – in which markets not only ignore the real economy, but also discount political risk – be sustained?" Longer than you can stay solvent…
Honey for the Bears: "Facebook, Amazon, Netflix, and Google (i.e., Alphabet) [FANGs] were four of the best-performing tech stocks that helped keep the S&P 500 in positive territory last year" [Business Insider]. "But as global markets sold off on Monday morning, these stocks were down sharply in premarket trading, even with little company-specific news on any of them. This follows a sell-off across the tech sector on Friday, as LinkedIn plunged 44% after weak earnings and Tableau Software lost about half its value. The FANGs are red year-to-date, as is the broader stock market."
The Fed: "Over the next two weeks, we will publish ten blog posts that illuminate how market liquidity has evolved since the financial crisis" [Liberty Street].
"In the aftermath of the Subprime bubble, credit-money creation has come to a standstill across the OECD. In the period from 1955 till 1975, credit grew at 8.7% per year in the United States; from 1975 till 2008, it grew at 8% per year; since 2008, it has grown at an average of just 1.5% per year" [Steve Keen, Forbes].
"A villager from a far-flung rural community in China needs pesticides [sigh]. Or fertilizers [sigh]. Or maybe a tractor for his farm. Heck, maybe he just wants a 65-inch television" [Wired]. "So what does he do? In thousands of villages across rural China, he strolls down the road to the Alibaba kiosk, connected to the Internet for free on an Alibaba-provided computer, and places an order. And if he's never ordered anything online before, an Alibaba service center manager who hails from the same town is probably by his side."
Today's Fear & Greed Index: 19, Extreme Fear (previous close: 19) [CNN]. One week ago: 27 (Fear). (0 is Extreme Fear; 100 is Extreme Greed). Last updated Feb 8 at 10:24am
Police State Watch
"Florida Cops Shoot Up Family's Home After Responding to Wrong Address" [Photography Is Not a Crime].
"ME: High Court Finds Prosecutorial Misconduct, Lets Conviction Stand" [Prosecutorial Accountability].
Black Injustice Tipping Point
"The morning's [National School Choice Week forum at the University of Minnesota's Humphrey School of Public Affairs] panel began with a quick dismissal of the desegregation lawsuit filed in Minnesota last fall, which, if successful, could require the state's charter schools to develop and implement integration plans. The panelists seemed to agree that the resegregation happening across the country now is simply due to 'parental choice.' [WaPo]. "Reichgott Junge — the Democrat — declared herself 'not neutral' on this topic, and told the audience not to worry because 'this is not the civil rights era.'"
"The cash bail system should be eliminated rather than reformed" [Guardian].
Water
"[R]anking officials in Michigan Gov. Rick Snyder's administration were aware of a surge in Legionnaires' disease potentially linked to Flint's water long before the governor reported the increase to the public last month, internal emails show" [AP].
"Christie Signs Bill Privatizing New Jersey's Water Supply" [The Contributor].
"18 cities in Pennsylvania reported higher levels of lead exposure than Flint" [Vox].
"Drought is still 'very serious' in California, despite near record snow" [WaPo].
"Contaminated Water Requires a National Public Health Mobilization" [Truthout (OregonCharles)].
Gaia
"Why planting some trees could make global warming worse" [Christian Science Monitor (DL)]. Conifers.
"Lockheed Martin Signs Its First Major Renewables Deal for 30 MW of Solar" [RMI Outlet].
"Uruguay has shifted to getting 95% of its electricity from renewables in less than 10 years" [Science Alert].
Health Care
"Nationwide Children's doctors face 100-mile non-compete ban" [Columbus Dispatch]. "'I certainly never would have thought that in America your employer would have the power … to prevent you from being able to stay in your chosen career and move to another city,' the spouse of one Nationwide Children's physician told The Dispatch in an email."
Guillotine Watch
"Former U.S. Treasury Secretary Timothy Geithner is preparing to borrow from JPMorgan Chase & Co. to help fund his new career in private equity" [Bloomberg]. I'm not sure why Jippy Mo would want to add Geithner to their stable, but doubtless they have their reasons. Unfortunately, I couldn't include an image of a barf bag without seeming to endorse product placement…
"How Hollywood's Favorite Juice Bar Owner Eats Every Day" [Elle]. Classy move by Elle, no product placement in the headline.
Class Warfare
"Most Americans Say Government Doesn't Do Enough to Help Middle Class" [Pew Research Center]. Interesting reading, but notice how the key chart doesn't match the headline: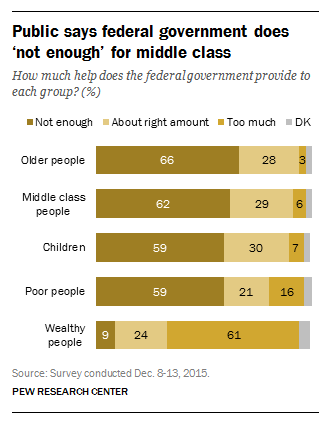 "A Story of a F*ck Off Fund" [Medium]. Widely shared, apparently.
"She knows how to make her politics acquiesce to pop's pleasure principles. Even when our angriest protest artists — Public Enemy, Rage Against the Machine, N.W.A. — sounded like they were gargling the blood of the GOP, they knew how to make it feel good. Beyoncé goes further, foregrounding the pleasure, pushing it from the celebratory toward the ecstatic" [WaPo].
"The strange death of British satire" [New Humanist]. "But where does this tone – with its strange mixture of the middle-aged and the adolescent – come from? The quick answer is class background. The tone of light but relentless ridicule, the pose of not being seen to take things too seriously, has its roots in the British boarding school."
"In Response: "6 Reasons We'll Always Need Fast Fashion" [The Fashion Law].
"Nick Farmer knows dozens of languages, so he invented one for The Expanse" [Ars Technica]. Called "Belter." Yes, this link shoud be here.
News of the Wired
"Why Richard Pryor Marks the Beginning of the Modern Comedy Era" [Vulture].
"Here's how Twitter's new algorithmic timeline is going to work" [The Verge]. Or not work.
"India has blocked Free Basics, Facebook's plan to provide free internet access in the developing world" [Business Insider]. "The service lets users access certain sites for free — but not the entire internet."
"The Simple Secret to Winning Any Argument, According to a Harvard Psychologist" [Mic]. That's not the secret!
"'Woohoo!' email stokes rumor that gravitational waves have been spotted" [Science]. "all of this remains speculation until the LIGO team announces its latest results—which according to [Clifford Burgess, a theoretical physicist]'s rumor could happen next week."
"Been anywhere nice this year? Brain surgery where patients are kept chatting" [Guardian]. I probably should have filed this under "2016"….
* * *
Readers, feel free to contact me with (a) links, and even better (b) sources I should curate regularly, and (c) to find out how to send me images of plants. Vegetables are fine! Fungi are deemed to be honorary plants! See the previous Water Cooler (with plant) here. And here's today's plant (pq):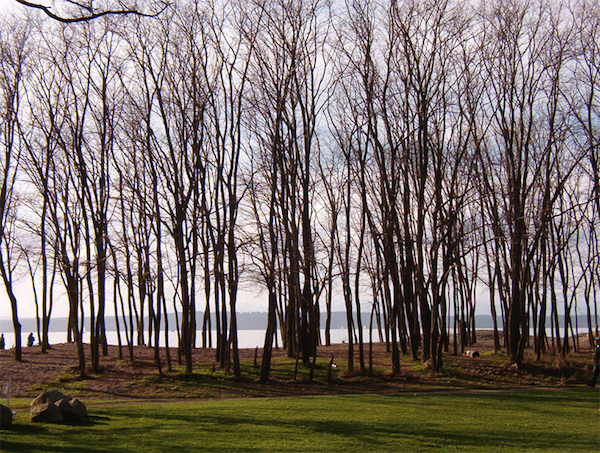 Golden Gardens park, in Seattle. There is something very appealing about seeing a river through trees….
* * *
If you enjoy Water Cooler, please consider tipping and click the hat. Winter has come, I need to buy fuel, make a happy plumber happier, and keep my server up, too. Water Cooler could not exist without your support.