You Can Taste the Need for Regulating Corporations When Parmesan Cheese Is Fake TruthOut (resilc) Only in America.
Global Warming Crushes Records. Again. Bloomberg (resilc)
The real value of taking your business offshore PhysOrg (Robert M)
Reporting of clinical trial results by top academic centers remains poor MedicalXpress (Robert M)
China?
China Rebalancing in Reverse: Nonperforming Loans Jump 51% from 2014 as Lending Hits Record High Michael Shedlock

China needs reform not another investment splurge Financial Times

Why the Chinese Yuan Will Lose 30% of its Value Charles Hugh Smith
Japan Shelves Plan to Let Pension Fund Directly Invest in Stocks Wall Street Journal
In search of a global-scale alignment of the progressive forces failed evolution
How to resolve a systemic sovereign debt crisis Vox EU. Makes a tame case for not relying much on bail-ins.
Draghi Faces New Dilemma With Pummeling of Eurozone Bank Stocks Wall Street Journal
Brexit?
EU summit: 'Crunch time' for Cameron's reform hopes BBC
EU Diplomats Warn of Disagreements on U.K. Demands Ahead of Summit Wall Street Journal
Irish Housing Madness Returns……… Ed Moloney
Russian Central Bank shutting down banks that staged fake cyberattacks to rip off depositors Boing Boing. We don't need such crude methods to take money from bank customers. In America. We have default interest rates of 29.99% and 34.99%.
Big Brother is Watching You Watch
Tim Cook: U.S. government wants 'something we consider too dangerous to create' Washington Post

Apple's Stance Highlights a More Confrontational Tech Industry New York Times. Only because it cost them business in China and Europe to be too cozy with the surveillance state.

Big Brother is Hiring: Employers Gain Access to Staff Health Info Through Big Data Companies Mediaite. Melody: "Where to file: Big Brother? Class Warfare? Maybe we need a new category for General Corporate Creepiness (it is a bottomless well, apparently.)"
Imperial Collapse Watch
The NSA's SKYNET program may be killing thousands of innocent people ars technical (guurst) It is bad karma that they are calling the program SkyNet, with a straight face, on top of the bad karma its actions are creating.

Start Preparing for the Collapse of the Saudi Kingdom Defense One (resilc). Useful but it appears to overstate its case. For instance, I had thought it was pretty well understood that the succession posed a big risk to the viability of Saudi Arabia, in that the old king was well liked, while the son was not and was widely seen as thuggish. And Yemen is not a proxy war.
Supreme Court Trench Warfare
Scalia's Hunting Trip Was a Gift From a "Friend" Who Had Business Before the Supreme Court Last Year Gawker. Just so you know, the overwhelming majority of cases (IIRC 98% or 99%) of cases appealed to the Supreme Court are not heard.

Why Wasn't Antonin Scalia Given an Autopsy? Atlantic. Says that Scalia was not found with a pillow over his face.

Scalia's Death and GOP's Strict Obstructionists New York Magazine (resilc)
2016
President Obama Sides with U.S. Corporate Tax Cheats Bill Black, New Economic Perspectives
Flint residents paid America's highest water rates Detroit Free Press
Going Negative
Negative interest rates are a 'gigantic fiscal failure' Ambrose Evans-Pritchard, Telegraph. A Tory and a monetarist calls for New Deal type spending.

Central banks: Negative thinking Financial Times. A very good overview. Google the headline.
New documents show rising caution at the Federal Reserve after global turmoil Washington Post
Negative interest rates are a 'gigantic fiscal failure' Telegraph (David L)
Fed must act on 'economic anger', says official Financial Times
Gasoline Is Trading as If U.S. Nearing Recession, Goldman Says Bloomberg (resilc)
The Decline Of The Coal Industry Is "Long-Term" And "Irreversible" OilPrice (resilc)
Class Warfare
Debt Slavery in Action – Texas Man Arrested for Not Paying Student Loan Debt Michael Krieger

Hedge Fund Billionaires Fund Super PAC Ad Against Bernie Sanders and Minimum Wage Hike Intercept

Notebook – Uber drivers' tempers flare Financial Times
Antidote du jour: From @SamWoodsTB via @birds_central, this is a Blakiston's Fish-Owls, the largest owl in the world. Wish the photo gave a better sense of scale: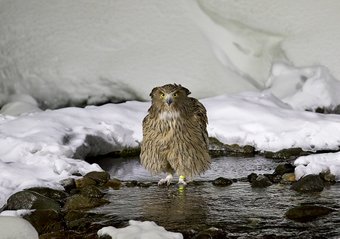 And a bonus video from Chuck L:
See yesterday's Links and Antidote du Jour here.