Obama Compiles Shortlist Of Gay, Transsexual Abortion Doctors To Replace Scalia Onion m(David L)
Scientists have discovered how to 'delete' unwanted memories Telegraph (Chuck L). A major plot device in Vernor Vinge's A Deepness in the Sky.
China?
Draghi has financial markets hoping bad news is really good news Guardian
The European circus continues Bill Mitchell
Criminals' 'currency of choice' for chop Financial Times. ECB using crooks as the excuse for eliminating the €500 note when terrorists and money launderers are hardly a new thing. This is PR for a negative rates measure.
European Steel Workers Protest Cheap Chinese Imports Reuters
Brexit?
Risk of EU breakup is real, Tusk warns ahead of crucial summit Guardian
Bank of England rebuffs Vickers criticism Financial Times
Grexit?
We Met the Angry Young Farmers Protesting Pension Reforms in Greece Vice
Refugee Crisis
European Countries Weigh New Barriers Along Migrant Path Wall Street Journal

Nouvel An à Cologne: 55 des 58 agresseurs n'étaient pas des réfugiés RTBF
Syraqistan
Syria crisis: Strikes on hospitals 'war crimes' BBC. By contrast, the US attack on the MSF hospital did not lead story coverage at the BBC nor did they quickly (ever?) call it a war crime. At least 42 died.
Imperial Collapse Watch
A Robotic 9/11 Global Guerrillas (resilc)

Russia hit 1,888 targets in Syria in a week; U.S. count? Just 16 McClatchy

The GOP Is Finally Debating Bush-Era Failures American Conservative (resilc)
Supreme Court Trench Warfare
Trade Traitors
The TPP would be the final death blow to American manufacturing – Salon (resilc)
2016
Ben Carson cites fake Stalin quote, the crowd goes wild Boing Boing

Donald Trump Wasn't Wrong When He Accused the RNC of Stacking the Debate Audience Gawker (resilc)

Bernie Sanders closing in on Hillary Clinton in Nevada Business Insider (resilc)

The Pragmatic Case for Bernie Sanders Atlantic

Photographer: That's Bernie Sanders in Those Civil Rights Images. The Media Is Lying. US UnCut (Kevin C)

In Nevada, a tightening race threatens Clinton's post-New Hampshire 'firewall' Washington Post. Lambert reports that the pro-Clinton twittersphere went nuts when this article went up. The reality is that Nevada is now deep in the fog of campaigning. There aren't reliable polls, particularly for a caucus. But Sanders does not have to win to dent Clinton in a big way. A relatively narrow loss (I'd hazard anything under 7 points given her previous 25 point margin) and say over 40% votes from Hispanics would smash her firewall, particularly since Sanders was late to campaign in Nevada.

Ralston Reports: Team Clinton growing nervous about Nevada Reno Gazette-Journal. But they expect the powerful Culinary Union to endorse Clinton late in the game.

Woodward and Bernstein Can't Stop Comparing Hillary Clinton to Richard Nixon Mother Jones (resilc)
Congress Finally Gives A Damn About Heroin Addiction Huffington Post. Only because is is now seen as a problem affecting white people.
Fed
There is worse to come as QE loses its impact Financial Times. Duh.
Oil
Saudi and Russian oil ministers to meet Financial Times
Goldman Channels FDR's `Nothing to Fear' With Sell Gold Call Bloomberg. Given that they've gotten 5 of their 6 beginning of year calls wrong so far, Goldman 's credibility isn't great. But in 2007, there was a bounce in subprime from March to May, and in 2008, the self-congratulatory "Mission Accomplished" post-Bear phase, which lasted till about July. So near-term moves are anyone's guess.
Victims of the Mexican Drug War Are Suing the Banks that Handled the Cartel's Money Mother Jones
Class Warfare
Why Pay Employees to Exercise When You Can Threaten Them? Bloomberg

Wenatchee man dies after refusing to leave foreclosed home Wenatchee World (Steve M)
Antidote du jour. Times of India, Monkey Adopts A Puppy And Takes Better Care Of It Than Most Humans Would, hat tip Maulik: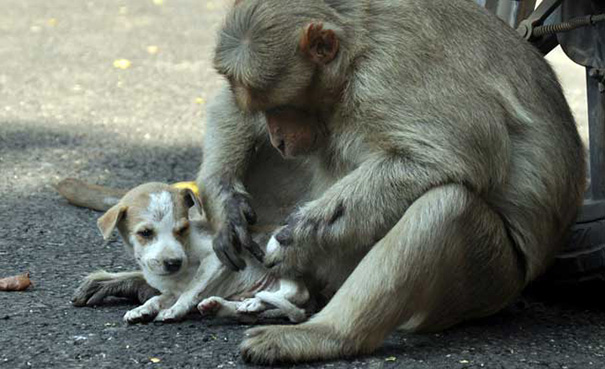 See yesterday's Links and Antidote du Jour here.