It's ugly out there.
The proximate cause of this week's market wobbles was a sharp selloff in bank stocks in Europe on Monday. That appeared to be triggered by the recognition that energy related dud loans could imposes losses of an additional $100 billion on already wobbly banks. And that's before you get to the fact that many banks already had corporate loans they had not written down sufficiently and those books can only be getting worse given low growth and borderline deflation in Europe. And on top of that, European banks lent to other commodities players, not just energy concerns, and many were active in lending in emerging markets (Deutsche Bank, the most undercapitalized of the megabanks, is almost certainly exposed to all these trades, and its stock has been swooning accordingly).
But as bad as this bad loan story is, and the foregoing is already pretty ugly, the underlying structural and regulatory picture is is vastly worse. Central banks have painted the financial system in such a tight corner that it's not clear how they get them out. And even if there were no big dud loan overhang, banks would bleed to death under current circumstances.
First, the current low interest rate environment has been squeezing banks' bread and butter source of earnings, like risk-free income on float and other sources of net interest margin ("NIM"), as Izabella Kaminska has reported at FT Alphaville. From a post last week:
Without NIM, there is no banking. Negative rates eat NIM. They also encourage all sorts of bad banking practices.

The Fed's rate hike was supposed to help the banks with the NIM problem. It was even said that the rate hike would destroy the NIM problem, not make it stronger. Indeed, it was supposed to bring balance to interest rates, not leave them in negativity, and flat.
Low interest rates have already been slowly strangling long-term investors like life insurers and pension funds, although the long-dated nature of their liabilities means they can lumber along in an unhealthy state for far longer than banks can when their usually pretty thin equity capital starts looking too thin.
And John Authers has a very important, and very alarmed article at the Financial Times this AM on how the flattening yield curves are also whacking banks. Key sections of his article:
Markets do not believe that the Federal Reserve will follow through with higher rates, and instead believe that the tightening that has already happened will intensify deflationary pressures. Hence inflation break-evens — the implicit forecast for inflation over the next decade, derived from the bond market — have fallen to their lowest since 2009.

Most critically, this means that long bond yields have fallen far more sharply than shorter-term interest rates (a "flattening yield curve" in the financial argot). Yields on 10-year treasuries now exceed yields on 2-year bonds by less than at any point during the crisis. The yield curve is at its flattest in almost nine years.

This is dreadful news for banks, which make their money by lending money at high interest rates over the longer term while borrowing it at lower rates in the short term. A steep yield curve was a recipe for boosting their profits and allowing them steadily to rebuild their capital. Now, their profit outlook has sharply worsened.
Second, certain major banking markets are looking precarious. There is already a slow-motion bank run underway in Italy as Target2 balances are rising: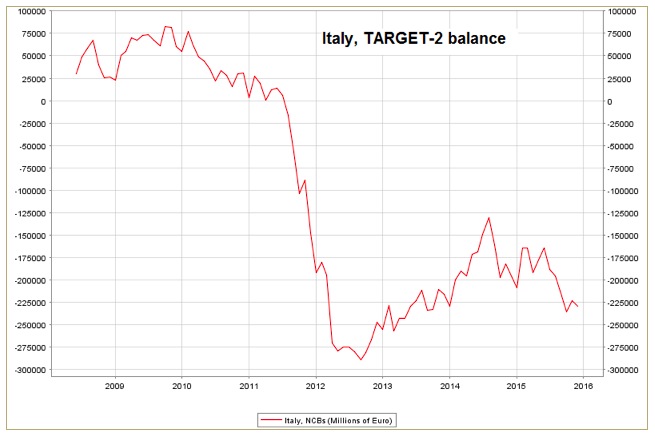 Readers may recall that Target2 loans are supposed to be short-term loans from the ECB to healthy banks just for short-term liquidity needs. But as we saw with Greece, they too often serve as a way for the ECB to prop up sick banks and banking systems. But the ECB still requires decent-looking collateral for these loans. Pater Tenebrarum describes how this collateral is being manufactured for Italian banks:
As an example here is how Italian banks and the Italian government are helping each other in pretending that they are more solvent than they really are: the banks buy government properties (everything from office buildings to military barracks) from the government, and pay for them with government bonds. The government then leases the buildings back from the banks, and the banks turn the properties into asset backed securities. The Italian government then slaps a "guarantee" on these securities, which makes them eligible for repo with the ECB. The banks then repo these ABS with the ECB and take the proceeds to buy more Italian government bonds – and back to step one. Simply put, this is a Ponzi scheme of gargantuan proportions.
Third, even though, as we saw with Greece, the ECB can keep this going for an impressively long time, there has been a change in the rules of the game since the extend and pretend show in Greece last year. The Eurozone has created the worst of all possible worlds, unified bank regulation with effectively no approach to rescue banks, and only nation-level deposit insurance, which in many countires is inadequate even on the nominally covered first €100,000 of deposits. And after that, depositors are subject to bail-ins. Mind you, there are some bank depositors who simply can't avoid keeping more than €100,000 in a particular bank, most important small and medium-sized businesses, which are the core of Italy's economy (there is far less economic activity concentrated in big companies than in the US). So any Italian businessman with an operating brain cell will be moving his business to a solvent-looking non-Italian bank.
Here are some of the ugly details of this Rube Goldberg version of a regulatory regime, from a fine article by Thomas Fazi:
On 1 January 2016 the EU's banking union – an EU-level banking supervision and resolution system – officially came into force….In its original intention, the banking union was supposed to 'break the vicious circle between banks and sovereigns' by mutualising the fiscal costs of bank resolution….

In the course of constructing the banking union, however, something remarkable happened: 'the centralization of supervision was carried out decisively; but in the meantime its actual premise (that is, the centralization of the fiscal backstop for bank resolution) was all but abandoned', Christos Hadjiemmanuil writes. Within a year, Germany and its allies had obtained:

the exclusion from the banking union of any common deposit insurance scheme;
the retention of an effective national veto over the use of common financial resources;
the likely exclusion of so-called 'legacy assets' – that is, debts incurred prior to the effective establishment of the banking union – from any recapitalisation scheme, on the basis that this would amount to an ex post facto mutualisation of the costs from past national supervisory failures (though the issue remains open);
critically, a very strict and inflexible burden-sharing hierarchy aimed at ensuring that (i) the use of public funds in bank resolution would be avoided under all but the most pressing circumstances, and even then kept to a minimum, through a strict bail-in approach; and that (ii) the primary fiscal responsibility for resolution would remain at the national level, with the mutualised fiscal backstop serving as an absolutely last resort.

Bailing In For Distressed Banks

In short, when a bank runs into trouble, existing stakeholders – shareholders, junior creditors and, depending on the circumstances, even senior creditors and depositors with deposits in excess of the guaranteed amount of €100,000 – are required to contribute to the absorption of losses and recapitalisation of the bank through a write-down of their equity and debt claims and/or the conversion of debt claims into equity.

Only then, if the contributions of private parties are not enough – and under very strict conditions – can the Single Resolution Mechanism's (SRM) Single Resolution Fund (SRF) be called into action. Notwithstanding the banking union's problematic burden-sharing cascade (see below), the SRF presents numerous problems in itself. The fund is based on, or augmented by, contributions from the financial sector itself, to be built up gradually over a period of eight years, starting from 1 January 2016. The target level for the SRF's pre-funded financial means has been set at no less than 1 per cent of the deposit-guarantee-covered deposits of all banks authorised in the banking union, amounting to around €55 billion. Unless all unsecured, non-preferred liabilities have been written down in full – an extreme measure that would in itself have serious spillover effects – the SRF's intervention will be capped at 5 per cent of total liabilities. This means that, in the event of a serious banking crisis, the SRF's resources are unlikely to be sufficient (especially during the fund's transitional period).
You can see I've stopped to spare you further pain, since this is sufficient to give you the drift of the gist.
And while I've mentioned one obvious group in the cross-hairs in the event of a bank bail-in, there's another that Tenebrarum points out: retail investors who were persuaded to buy subordinated bank debt as an alternative to deposits, telling customers (falsely) that they were safe and provided a higher yield:
Many of said creditors in Italy were small savers who were talked into buying subordinated bank bonds by their own house banks (the same thing has previously happened in Spain as well). Why have their banks talked them into taking such risks? The new bank regulations are in fact the main reason! European regulators have wittingly or unwittingly promoted the transfer of bank risk to widows and orphans – literally.
We are again in a situations where financial time moves faster than political time. The way out of the corner than central banks have painted themselves in is more fiscal spending in the US and Europe, which have plenty of slack resources and infrastructure needs, which provide the biggest GDP bang for each government dollar spent. But aside from the fact that it takes time to design and launch and infrastructure spending plan (even obvious stuff like fixing bridges and filling potholes takes time to sort out), we have a much bigger ideological problem, that that sort of thing is seen as an economic taboo by mainstream economists. And worse, too many of those same economists are treating financial-system-destroying negative interest rates as the fix for underperforming economies.
I don't see any happy ending to this movie.