By Lambert Strether of Corrente.
And we are here as on a darkling plain
Swept with confused alarms of struggle and flight,
Where ignorant armies clash by night. –Matthew Arnold, Dover Beach
Another Obama Open Enrollment period has closed, and of course you know that if the results were good, there'd be parades, dancing in the streets, happy enrollees brought to the White House, etc. None of that. What actually happened: Exchange enrollment remained more or less flat and the exchanges are still not actuarially sound. Medicaid, however, is a success story, at least by the side of the exchanges. On the bright side many reports were generated, by consultants, pollsters, marketers, IT people, strategists, and think tanks, so you can see that ObamaCare — by world standards, the F-35 of health care systems — is doing some people some good. In fact, a lot of good. Ya know, for years I've deployed the old saw that "You can't buff a turd." What ObamaCare proves is that you can; it's just very lucrative expensive to do so. And if you're looking for a picture of what Clintonian pragmatism would look and feel like in practice — "you change the way systems operate" — then slowly and expensively buffing a turd is as good an image as any.
So first I'll look at the Open Enrollment outcome on the exchanges and take a quick detour through the largest state exchange, Covered California. Then I'll look at Medicaid, and conclude.
The Exchanges' Slow Death Spiral
The first thing to realize is that the administration and the CBO together lowered the baseline for ObamaCare enrollment, not modestly, but drastically. The New York Times:
When the Affordable Care Act was drafted, the Congressional Budget Office expected people to sign up quickly for new health insurance.

Now, two years into the law, it's clear that progress is going to be slower. The Obama administration acknowledged as much in late 2014, and again in October, when it presented its own modest predictions. Monday, the budget office also agreed, .

The Obamacare marketplaces have helped millions of Americans get health insurance, but they have not caused the kind of immediate and drastic plunge in the ranks of the uninsured that analysts had hoped for before the law was passed. It has proved harder to spread the word about new health insurance, and harder yet to persuade people to shell out money for new health insurance they hadn't had in their household budgets.
(Oh, my. "Harder to shell out money." Class privilege at the Times? Could it be?) Anyhow, you'd think that slashing projections by 40% would be worth a bit more notice from our somnolent press, and even some murmurs about accountability and performance from those in charge of the program, but these are Democrats. There will no more be accountability for this debacle then there was for ObamaCare website launch debacle.
Anyhow, given slashed projections with some heavy-duty expectations management larded on top, the administration is now claiming success, nothing to worry about, gotta keep pluggin' away, gotta keep buffin' the turd…. Anyhow, I can't bear to quote them, so I'll just give you the numbers. USA Today:
In 2010, the non-partisan Rand Corporation estimated 27 million people would have exchange policies this year and the Congressional Budget Office at that time was estimating 21 million for 2016. CBO even said last June that 20 million people would have plans purchased on the exchanges this year. Just 12.7 million signed up for plans, however, by the end of open enrollment Jan. 31 and about 1 million people are expected to drop their plans — or be dropped when they don't pay their premiums.
Worse, enrollment growth seems to be levelling off. Gallup (ka-ching):
The sharp drop in the uninsured rate seen in the first year after the insurance exchanges opened has leveled off in the second year, with smaller declines seen in 2015 compared with 2014. This validates concerns that similarly large reductions may not be possible in the future because the remaining uninsured are harder to reach or less inclined to become insured more generally. Future reductions will likely require significant outreach and expanded programs targeting those who have not yet taken advantage of the health insurance marketplace.[1]
Even worse — and why I quoted Arnold on "ignorant armies" — we don't really know why enrollment is so bad[2]. From USA Today once more:
Reasons why supporters say enrollment is lower than the original projections include:

• The process hasn't completely recovered from the disastrous rollout of the federal Healthcare.gov website in the fall of 2013, says Matthew Buettgens, a senior research associate with the Urban Institute.
Let me break out my calculator…. 2016 – 2013… Three years on? Really? Can I get that research associate job?
• CBO expected a lot more employers to drop their plans and send workers to the exchanges for their coverage, notes Katherine Hempstead, director of the insurance coverage team at the Robert Wood Johnson Foundation. That hasn't happened, however.
So maybe employer-based health insurance, bad though it is, is still a competive advantage over "sending" workers to ObamaCare?
• CBO also thought more people who didn't get subsidies would still buy on the exchanges, but several million are believed to buy direct from insurers or brokers. While that affects the overall enrollment numbers for the exchanges, Hempstead says, it also means these people are still getting better plans with ACA's protections, including a prohibition against discriminating with preexisting conditions.
I'm glad these people have health insurance, but we're still in ignorant armies territory. "Are believed to"? We don't know?[3]
Of course, for many, ObamaCare is a bad deal, but that simple fact doesn't figure at all on the supporters' list of reasons. Odd.
So, who are the eligible potential enrollees who are not buying ObamaCare? As it turns out, those who get smaller subsidies, or none. From the Robert Wood Johnson Foundation (ka-ching):
We find that across all states using HealthCare.gov, plan selection rates among the tax credit eligible population declined with higher incomes, ranging from a median rate of 62 percent for incomes below 200 percent of the federal poverty line (FPL), 29 percent for those with incomes between 200 and 300 percent FPL, to only 13 percent for those with incomes between 300 and 400 percent FPL. The consistency across states in the estimated plan selection rates within these income groups indicates much lower willingness of eligible people to pay for health coverage with the ACA's tax credits among those with incomes above 200 percent and particularly above 300 percent of the FPL. .

This may pose challenges for efforts to increase marketplace enrollment in the future, though the rising penalties may make more uninsured willing to pay the going prices for marketplace coverage
(The mandate screws will tighten until morale improves.) The RWJF foundation cheerfully allows us to remain ignorant of why these less impoverished people behave as they do, but I'm guessing that a little margin makes it easier to gut it out and avoid being forced into a bad deal. That's if they can afford a plan at all. From Health Care Policy and Marketplace Review:
But if you are solidly in the working and middle-class in this country individual health insurance on the state and federal exchanges is anything but affordable.

That is why the Urban Institute found that more than 80% of those earning between 100% and 150% of the federal poverty level (FPL)–the poor–signed up for Obamacare coverage in 2015 but only about 30% of those earning between 200% and 300% of the FPL signed up. Even worse, only about 14% of those earning between 300% and 400% of the FPL signed up in 2015.

According to HealthCare.gov, a family of four living in Roanoke Virginia, with mom and dad age-40, and making $60,000 a year would have to pay $415 a month, or $4,980 a year for the second lowest cost Silver plan, a plan from Optima Health. That plan has a $5,000 deductible:

But, if this family bought the lowest cost Silver Plan available to them in Roanoke Virginia the premium would be $394 a year and they'd have a $4,400 deductible. The lowest cost Bronze plan would have a premium of only $186 a month for the family of four––but would have a deductible of $12,900 for both the individual and the family.

So, just where is a family making this kind of income supposed to find an extra $5,000 a year in income to buy a plan with a $5,000 deductible on top of that. Or, why would they even pay $186 a month for a plan with a $12,900 deductible?
Note finally that this failure — for whatever reason — to enroll the unsubsidized has very bad actuarial effects. From Health Care Policy and Marketplace Review again:
Way too much emphasis is put on this age 18-to-35 statistic. Yes, they are more often healthy but under Obamacare the youngest pay one-third the premium of the oldest. We really need the healthy to sign up in much bigger numbers, that have so far been holding out, more than we need the young.

This is the great untold-story. About half of the individual market doesn't qualify for a subsidy. We already know the take-up rate for subsidized population in the 300% of the federal poverty level to 400% of the federal poverty level is dismal. Those who get no subsidy are really taking these higher premiums and deductibles on the chin.
In other words, poverty is bad for you. The subsidy-eligible, then, are more likely, on the whole and on the average, to require insurance company payouts. If there were more people in the risk pool at three or four times the FPL, the insurance companies would be more likely to make a profit. But that's not happening. Ergo, actuarial death spiral (absent more subsidies, of course. Ka-ching.)
Jeffrey Young of HuffPo sums up the darkling plain of ignorance of policy-making elites quite well:
Year three of Obamacare enrollment promises to bring only incremental changes from year two, and little in the way of firm answers to lingering questions. The uninsured rate is about the same, the sign-up numbers are about the same, the polling numbers are about the same, and the worries about this new market are about the same.

In a sense, all of these numbers do little more than confirm the unsatisfying truth that the health insurance exchanges will be works in progress for years.

The fundamental questions are the same as they were in the fall of 2013 (except that the websites work now). Will the premiums be affordable? Will people sign up? Will enough of them be healthy to offset to costs of the sick and create a stable system? Will the uninsured learn that subsidies are available to make coverage more affordable and take advantage of them? Will health insurance companies make enough profit to keep them in the market?

When the current open enrollment period winds down, don't expect the final results to tell you much more than you already know. Sign-ups start again in the fall.
[Gag. Spew.] Then again, it's not like there are people suffering and dying for lack of heatlh care. Oh, wait…
The Covered California Exchange
I want to take this pleasant little side trip through Covered California, primarily to show this User Experience video, which shows that after three years of work and half a billion dollars, the Covered California website still s— is still farcically bad:
This video was part of a larger report (ka-ching) by the California Health Care Foundation. Here's their conclussion:
User experience research findings suggest that many consumers seeking to enroll or renew their coverage online with Covered California may have experienced similar problems. In general, study participants were experienced website users and did not have complex enrollment or renewal circumstances. The study outcomes were, in large part, the result of problems with the website and online application. Many of the difficulties that participants experienced have fairly straightforward and simple solutions. While consumers can enroll in Covered California offline, in person, by phone, or by mail, providing consumers with a user-friendly and efficient online experience should be a top priority. In fact, for millenials, one of Covered California's key target populations, it is crucial. However, after three years, consumer user testing continues to show that consumers are experiencing significant difficulty enrolling or renewing Covered California health insurance online. This report points to improvements Covered California should make so that consumers can have the first-rate online experience they expect and deserve when purchasing health insurance.
(Remember, it's the Democrats running the show here; they're supposed to be competent at governing.) Oh, and California enrollment numbers are plateauing too. San Jose Mercury News:
With Covered California's announcement Wednesday that 1.57 million Californians selected health plans during its third open enrollment period, at least one health care expert believes that the nation's bellwether state in implementing the Affordable Care Act is now essentially running in place.

Although the latest numbers don't say how many people have paid for their plan to complete their enrollment — the only figure that really counts and which will be available in a few months — some experts say that the net gain from last year's 1.3 million total could be minimal.

Roughly one of 10 people who sign up for an exchange plan don't complete their enrollment. So Covered California's projected total for the latest enrollment period could easily wind up around 1.4 million — about 100,000 more than last year.
Medicaid's Partial Success
From the failures of the ObamaCare exchanges, we turn to the relative success of ObamaCare's Medicaid expansion, both in terms of enrollment and in health insurance company profit. From Health Affairs:
CMS released its November 2015 Medicaid and CHIP enrollment report. Medicaid and CHIP enrollment as of the last day of the November 2015 reporting period stood at 70.8 million, including 29.3 million children. Medicaid enrollment has increased by 14.1 million since October 2013 for the 48 states reporting both 2013 and 2015 data. Enrollment has increased by 34 percent in states that had implemented Medicaid expansion as of that date, and by 10.1 percent in states that had not.
Recall that Medicaid suffers from a neoliberal infestation, and so Medicaid services are contracted out to private health insurance companies. They're happy too (ka-ching). From Forbes:
A snapshot of health insurers' Medicaid windfall under the ACA could be seen in the earnings reports of Wellcare Health Plans and Centene, which both beat Wall Street's fourth-quarter 2015 earnings expectations. These companies are an important measure of whether health insurers can find financial success providing Medicaid coverage to poor Americans under the health law President Obama signed six years ago even as the other key part of the legislation has growing paid.
However, not everybody eligible for Medicaid has enrolled. Kaiser:
Most of the 8.8 million uninsured and eligible (77%, or 6.8 million people) reside in states that are expanding their Medicaid programs for adults, as these states have higher income eligibility for adults than non-expansion states (Figure 2). The other quarter (23%, or 2.0 million people) are in states that have not expanded Medicaid, but are eligible for Medicaid or CHIP under pathways in place before the ACA.
Here's the same information in chart form: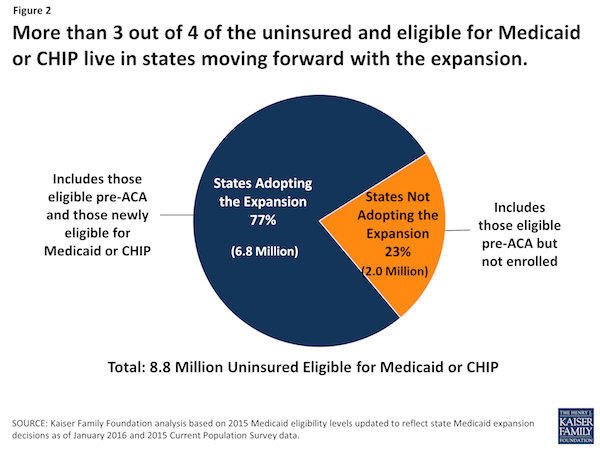 So interestingly, and despite the Democrat "Those mean Republican!" talking points, the failure concentrates in Medicaid expansion states. But why? Why doesn't everybody eligible for Medicaid sign up? It's "free stuff"! Well, we're in darkling plain territory again. We are ignorant. Nobody knows. The Wall Street Journal:
Among the 30 million people still without health insurance despite gains made under the 2010 health law, there is one surprising and poorly understood group: as many as six million people, like Ms. Collier, who are eligible to get near-free care through Medicaid but don't sign up.

The biggest hurdle for those who want to sign up the Medicaid holdouts might be that not a lot is known about their motivations for staying out of the system.
So, ObamaCare was passed in 2009. Let me break out my calculator again… 2016 – 2009… That's seven years into the program, and the people running the program, who think of citizens as "consumers," and have built an entire "marketplace" to hawk their product, and are thorough-going neo-liberal "Because markets!" believers in every way, don't know their market at all. They are ignorant. Let's do a study! Ka-ching.
Conclusion
I envision the top echelon of health wonks in the political class being very much like the liberal upper crotte so wonderfully described by Thomas Frank in his recent essay in Harpers:
Everyone strode with polished informality about the stage, reading their lines from an invisible tele­prompter. And back and forth, the presenters called out to one another in tones of supportiveness and sweet flattery. …. This is modern liberalism in action: an unregulated virtue exchange in which representatives of one class of humanity ritually forgive the sins[4] of another class, all of it convened and facilitated by a vast army of well-credentialed American technocrats, while the objects of their high and noble compassion sink slowly back into a preindustrial state.
Such ignorance. No need for any of these people to struggle with Covered California's miserable P.O.S. website. They have people for that. I bet their teeth are all in good shape, too.
NOTES
[1] More from Gallup:
The uninsured rate among Hispanics was 30.9% in the fourth quarter of 2015, down 7.8 points from the fourth quarter of 2013. Similarly, the uninsured rate has declined 7.4 points among blacks over this same period. The sharper declines among these groups in part reflect that they had much higher uninsured rates to begin with. Even with the declines over the past two years, blacks and Hispanics still have relatively higher uninsured rates than the rest of the population.
The Democrats can't even successfully target their own putative constituencies for basic, bottom-of-Maslow's heirarchy services!
[2] So sign some crony up for that contract!
[3] Recall that insurance companies can still game ObamaCare to deny coverage to pre-existing conditions, for example with narrow networks, narrow formularies, leaving speciality hospitals out of their networks, etc.
[4] Not having "skin in the game."