Lambert: Interesting the political connections the exporters have.
By Julie Dermansky, a multimedia reporter and artist based in New Orleans. She is an affiliate scholar at Rutgers University's Center for the Study of Genocide and Human Rights. Originally published at DeSmogBlog.
The Sabine Pass LNG terminal owned by Cheniere Energy in southwest Louisiana offers a glimpse of the challenges facing the growing natural gas industry in the United States.
The first cargo of liquefied natural gas (LNG) was scheduled for export from Cheniere Energy's new export terminal in Cameron Parish, in January, but the company reportedly delayed its plans by up to two months due to faulty wiring.
Following the announcement of the export delay, Cheniere Energy sought $2.6 billion to refinance its adjacent LNG import terminal in Cameron Parish which was impacted by extreme fluctuations in the price of oil and gas. The company built the import facility before the U.S. fracking boom took hold, and was therefore saddled with unnecessary import infrastructure in the new age of abundance of domestic gas availability and the prospect of U.S. exports.
Cheniere's $20 billion, multiphase terminal is one of four LNG terminals in the lower 48 states that got the green light from the Federal Energy Regulatory Commission. And the existing Kenai LNG plant in Alaska, an export terminal operated by ConocoPhillips, was recently permitted to restart operations after closing down in 2013, when operations ceased due to a shortage of gas.
"The Chenier Energy project, as well as the over 40 proposed or approved LNG export facilities around the United States, are a serious threat to our climate," Gulf Restoration Network organizer Johanna deGraffenreid told DeSmog. She criticized the massive export infrastructure investment craze for "promoting the use of fossil fuels on an international scale."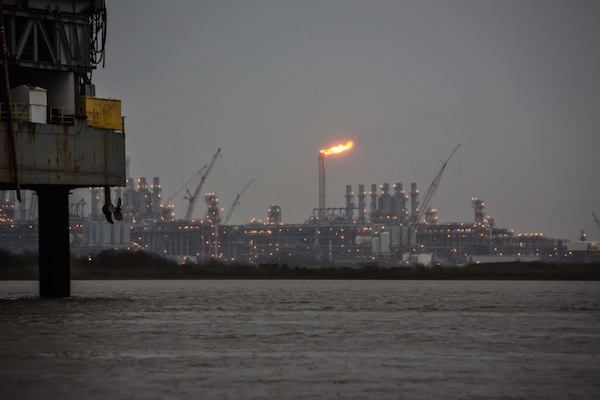 A flare at Cheniere Energy Sabine Pass LNG facility. ©2016 Julie Dermansky
But rather than acknowledging the climate risk posed by further expansion of LNG export infrastructure, the U.S. Congress and the Obama administration are moving in the opposite direction.
The natural gas export industry may grow even more rapidly if the first new bipartisan energy legislation drafted since 2007 passes. The Energy Policy Modernization Act of 2015, known as S. 2012, would expedite permitting for LNG export terminals.
The bill's passage was considered imminent until it derailed with the introduction of an amendment that would provide emergency aid towards solving the lead-contaminated water crisis in Flint, Michigan. Now the passage of the bill hinges on whether the Senate will come to terms on aid to Flint.
Lobbying for the bill has been heavy. As DeSmog's Steve Horn reported: "The list of lobbyists for S.2012 is a who's who of major fossil fuel corporations and their trade associations: BP, ExxonMobil, America's Natural Gas Alliance, American Petroleum Institute, Peabody Energy, Arch Coal, Southern Company, Duke Energy and many other prominent LNG export companies."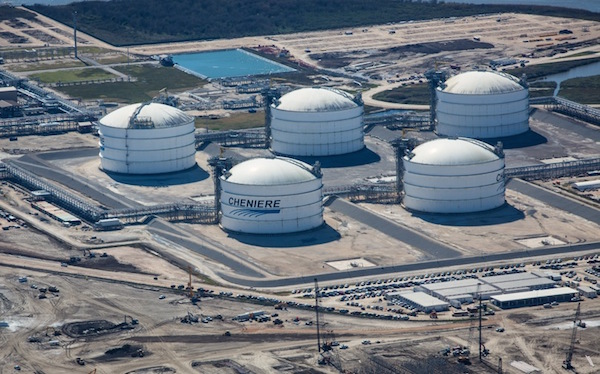 Cheniere Energy Inc. Sabine Pass LNG facility. ©2016 Julie Dermansky – Flight made possible by SouthWings
Horn also described the revolving door between the federal government and Cheniere Energy:
"Cheniere Energy, the first company in the fracking era to receive an export permit from the Obama Administration back in 2012, also has a politically connected Board of Directors. Among its members is Obama's former climate czar, Heather Zichal."
Horn continued: "Ankit Desai, a campaign finance bundler for Hillary Clinton's 2016 run for president and former top-level aide to Vice President and then-U.S. Senator Joe Biden, is also on Cheniere's lobbying payroll. Desai also formerly served as a top-level staffer for current U.S. Secretary of State and then-U.S. Senator John Kerry (D-MA)."
Also tied to lobbyists with political connections is Energy Transfer Partners (ETP). It bought The Williams Companies, owner of the Gulf Trace pipeline, which is set to feed into Cheniere Energy's Sabine Pass LNG export terminal.

As Horn reported: "ETP — whose assets include both hotly contested proposed Dakota Access LLC pipeline and the Trans-Pecos Pipeline — is run by CEO Kelcy Warren, who served as an advisory committee member and donor to former Republican Party presidential candidate Rick Perry. Perry sits on ETP's Board of Directors."
According to lobbying disclosure forms, Adam Ingols, a lobbyist for Daryl Owen Associates, is the former chief of staff for the U.S. Department of Energy for President George W. Bush, and special assistant for the Bush White House Office of Legislative Affairs. He now lobbies for ETP at the federal level.
Bechtel Oil, Gas & Chemicals, Inc., the lead contractor for Cheniere's LNG plant, also knows how to grease the wheels of the federal government. Bechtel Inc's political action committee (PAC) has contributed $105,000 to federal candidates so far in the current election cycle, and poured $639,500 into the 2012 election cycle, according to the Center for Responsive Politics. Among the recipients of Bechtel's PAC contributions in the 2014 cycle were Louisiana Senator Mary Landrieu ($5,000) and Rep. Charles Boustany ($5,000).
Natural Gas A Bridge To Nowhere Except Climate Disruption
Though natural gas is still touted by many as a clean, safe energy source, there is mounting proof to the contrary.
The in-depth report "Natural Gas Exports: Washington's Revolving Door Fuels Climate Threat," by DeSmog's Steve Horn and Republic Report's Lee Fang, shows how LNG interests have manipulated public opinion:
"Far from being a 'bridge fuel' towards a sustainable energy future, multiple reports reveal that methane leakage throughout the shale gas production lifecycle has produced dangerous levels of emissions, surpassing even coal in its climate disruption-causing potential. Despite this fact, and evidence that shale gas drilling has contaminated groundwater with cancer-causing agents, the federal government is on track to propel the gas industry to new heights by approving multiple liquefied natural gas (LNG) export terminals."
Yet ongoing lobbying and advertising campaigns have kept alive the message that natural gas is a form of "clean" energy. The massive gas leak at Porter Ranch in Los Angeles is one of the latest examples of the risks the natural gas industry poses to communities.
And the U.S. Environmental Protection Agency draft report on the impact of hydraulic fracturing on water resources, including groundwater, made clear the fracking industry has contaminated water sources.
Yet the Obama Administration has played a major role in the fracking industry's development at home and abroad. During Hillary Clinton's tenure as Secretary of State, she promoted fracking throughout the world via the State Department's Global Shale Gas Initiative.
In President Obama's State of the Union speech after his 2012 re-election, he referred to natural gas as a bridge fuel, despite data showing that fracked gas can emit more harmful greenhouse gases than burning coal.
As a presidential candidate, Clinton still embraces natural gas. Her campaign released a fact sheet on 'responsible natural gas production' that states she is "committed to making America the world's clean energy superpower and meeting the climate change challenge." The fact sheet states:
"Domestically produced natural gas can play an important role in the transition to a clean energy economy, creating good paying jobs and careers, lowering energy costs for American families and businesses, and reducing air pollution that disproportionately impacts low income communities and communities of color. By putting in place new safeguards and raising labor standards, Clinton will ensure safe and responsible natural gas production as we move towards a clean energy future."
Sharon Wilson, an anti-fracking activist and Gulf Coast representative for Earthworks, told DeSmog: "I've been hearing about 'safe and responsible natural gas production' for about a decade now, but I've been to shale plays (geological formations where oil and gas are trapped in rock) all across the country, and I haven't seen safe or responsible anywhere. It's polluting land, air, and water, making neighbors sick, causing earthquakes, and devaluing private property."
Wilson thinks Clinton's natural gas fact sheet reads like oil and gas lobbyists wrote it.
Clinton's rival for the Democratic presidential nomination, Bernie Sanders, is the only candidate who came out against the fracking industry. His plan to combat climate change includes banning fossil fuel lobbyists from working in the White House.
None of the Republican presidential candidates have embraced any new regulatory measures to govern the oil and gas industry or released a plan to deal with climate change.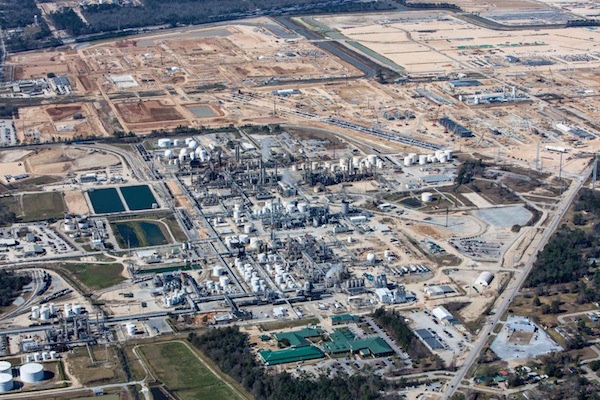 Lake Charles Sasol Chemical Complex. ©2016 Julie Dermansky – Flight made possible by SouthWings
Despite the government's natural gas industry-friendly plans, plummeting natural gas prices are showing signs of slowing the industry's growth.
Sasol, a South African energy and chemicals company, has put the brakes on a multi-billion dollar gas-to-liquids plant it plans to build around Mossville, Louisiana, about 60 miles from the Sabine Pass.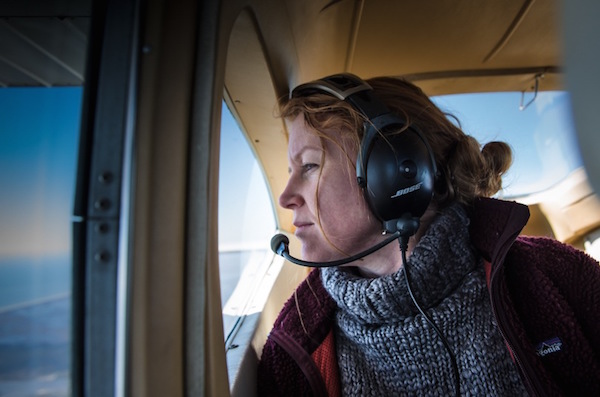 Gulf Restoration Network organizer Johanna deGraffenreid on flight provided by Southwings to survey new oil and gas developments. ©2016 Julie Dermansky
Gulf Restoration Network's deGraffenreid pointed out: "Not only are these fracked-gas projects unnecessary for public energy need or demand, they dramatically undermine the free market potential for renewable energy."
By developing export terminals and permitting more pipelines to enable fracked gas exports, the U.S is poised to play a larger role in the global gas market, despite the federal government's pledge to combat climate change.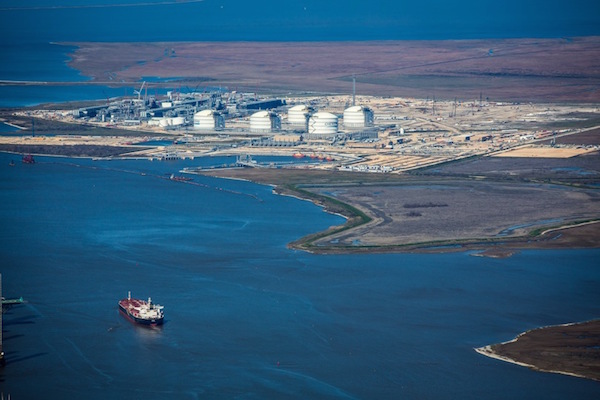 Cheniere Energy Inc. Sabine Pass LNG facilities in Cameron, Louisiana. ©2016 Julie Dermansky – Flight made possible by SouthWings

Blog image: Cheniere Energy Inc. Sabine Pass LNG facility. ©2016 Julie Dermansky – Flight made possible by SouthWings