By Lambert Strether of Corrente.
TPP/TTiP/TISA
"Following Announcement of TransCanada's Investor-State Case against the United States, Environmental Organizations Urge Opposition to Trans-Pacific Partnership" (PDF) [Sierra Club]. The organizations:
350.org * Bold Nebraska * Center for Biological Diversity * Center for Food Safety *Center for International Environmental Law * Clean Water Action * Climatetruth.org * Community In-power & Development Association Inc. * CREDO * Dakota Rural Action *Delaware Riverkeeper Network * Earthjustice * Earthworks * Energy Action Coalition * FLOW (For Love of Water) * Food & Water Watch * Forest Ethics * Friends of the Earth * Grassroots Global Justice Alliance * Green America * Greenpeace * Hip Hop Caucus * Honor the Earth * Indigenous Environmental Network * Institute for Agriculture and Trade Policy* Institute for Policy Studies, Climate Policy Program * Minnesota Public Interest Research Group (MPIRG) * MoveOn * Oil Change International * PeaceWorks * Physicians for Social Responsibility * Public Citizen Climate & Energy Program * Rainforest Action Network * Rising Tide North America * Science & Environmental Health Network * Sierra Club * SustainUS * U.S. Climate Plan * Wica Agli * Women's Earth and Climate Action Network (WECAN)
But groups, or groupuscules? (And see NC on the TransCanada lawsuit today.)
2016
Policy
"If one lesson of history is the danger of globalization running amok, another is the malleability of capitalism. It was the New Deal, the welfare state, and controlled globalization (under the Bretton Woods regime) that eventually gave market-oriented societies a new lease on life and produced the post-war boom. It was not tinkering and minor modification of existing policies that produced these achievements, but radical institutional engineering" [Dani Rodrik, Project Syndicate]. Rodrik's trilemma: "It says that democracy, national sovereignty and global economic integration are mutually incompatible: we can combine any two of the three, but never have all three simultaneously and in full." Election 2016 seems to be about which horn of the trilemma to triage: Both Sanders and Trump would answer global economic integration, although for different reasons.

"[Marshall Steinbaum, a research economist at the Center for Equitable Growth] explained that, according to the internal workings of the models, "trading a lot more doesn't actually increase people's utility all that much," which is economics-speak for "lots of trade doesn't make people better off." This is kind of freaking economists out, because the models are otherwise so good at predicting real world outcomes. "People see that as a puzzle, because a lot of economists just have it in their bones that trade is supposed to be super beneficial," Steinbaum continued. "Yet the model that's empirically successful says that it isn't." [The Week].

"the focus of the campaign on both sides, at least for the next month, and in places like Ohio and Pennsylvania and (to a lesser extent) Missouri, is going to sharpen on the issues of globalization, trade and their assorted consequences. All of the candidates are going to have to sharpen their positions accordingly. (If Kasich continues to rise, his support for right-to-work laws in Ohio is bound to come up.) The auto workers in Michigan have run out of patience with platitudes and easy answers. At least on one side of it, this is becoming an election for people who see past the politics all the way into their own lives. That's what I learned in Flint, anyway" [Charles Pierce, Esquire].

"Let's pretend for the sake of argument that the horror expressed by Clinton and her supporters over Sanders' 1980s positions on Latin America was all driven by some sort of authentic outrage over praising tyrants and human rights abusers rather than a cynical, craven tactic to undermine Sanders using long-standing right-wing, red-baiting smears. Is Hillary Clinton a credible voice for condemning support for despots and human rights abusers?" [The Intercept]. Let me guess….
Trump Panic
Trump: "At the right time, I will be so presidential that you'll call me and you'll say, 'Donald, you have to stop that'" [Politico]. This is Trump's version of a pivot to the general.
Michigan
"Mrs. Clinton's candidacy speaks eloquently of embracing the people, values and thinking that make this nation a leader in the world. But her campaign tactics, particularly in Michigan, did not live up to this vision" [Editorial Board, New York Times]. "Even with a double-digit lead before the primary, she failed to avoid the type of negative tactics that could damage her in the long haul." Every time a Clinton supporter uses "Berniebro," a kitten dies she loses a Sanders vote in the general. (If she wants it, which I doubt she does, preferring moderate Republicans.)
Florida Debate
"AP fact check: Eye-popping claims about Sanders" [AP]. Clinton becoming more florid.

In the debates, "Clinton attacked Sanders in a series of ways that are, well, pretty disingenuous." ("Disingenuous" means she lied like a rug, for those following along at home) [Aaron Blake, WaPo]. Blake then proceeds to award the debate to Clinton, because Sanders didn't produce a gamechanger.

"This Hillary Clinton attack on Bernie Sanders makes no sense" [Chris Cilizza, WaPo].(That is, Clinton "casting Sanders as in the pockets of Charles and David Koch," well-known closet socialists.) When you've lost Chris Cilizza… It's as if Clinton has a list of demon figures, and she's randomly trying to tie Sanders with them.

An unforced error:

Sanders aide Jeff Weaver told me photo circulating of @HillaryClinton w/staff during debate break violates DNC rules pic.twitter.com/CYeowyNI7y

— Ed Henry (@edhenry) March 10, 2016

And:

Candidates are not supposed to confer w staff during commercial breaks — Clinton aide Jen Palmieri told me she wasn't aware of pic

— Ed Henry (@edhenry) March 10, 2016

I'm not sure what kind of answer that is. It's important for the Sanders campaign to force Clinton onto the trail as much as they can. It stresses her, and it forces staff to prep her; she doesn't function well unless prepped. As she admits, she's "not a natural campaigner." So force her to do a lot of what she's not good at.

"Clinton Misses Chance to Erase Michigan Loss in Immigration-Heavy Debate" [Bloomberg].
Florida Primary (Tuesday, March 15)
"Looking back, Rubio's supporters see these fateful days [when Rubio tried to out-Trump Trump] as central to his unraveling. A strategy designed to get under Trump's skin and force him on the defensive instead backfired on Rubio, diminishing the 44-year-old senator who had spent years trying to demonstrate presidential gravitas. At rally after rally, Rubio was unintentionally personifying the caricature that Trump was perpetually drawing of him: 'Little Marco'" [WaPo].
The Trail
"But here's just one way Bernie Sanders could win enough delegates to surpass Hillary Clinton" [Medium]. I don't have the skills to assess whether this "path to victory" is any more credible than Nate Silver's. Readers? But I like this: "If Michigan should teach us anything, it's that this year's primary campaign — like all modern politics — is dynamic, not static; fluid, not fixed. 'Everlasting uncertainty and agitation,' a guy once said, 'distinguish the bourgeois epoch from all earlier ones.'"

Shorter Nate Silver Michigan post mortem: "Basically, all the reasons the pollsters screwed up in Michigan boil down to…politics: that is, the contingent, unanticipated, thoroughly novel and surprising transformations that ambitious political actors — from candidates for high office of state through on-the-ground local activists and organizers — help make happen. Pollsters and pundits assume that past is future. Political beings act on the assumption that it's not" [Corey Robin, Facebook (sorry)].

The irresistible farce and the immutable reject:

What happens when a party nominates a guaranteed loser to run against a candidate who can't possibly win? pic.twitter.com/78AMO2qRod

— Michael Graham (@IAMMGraham) March 9, 2016

That's a good question!
Stats Watch
Jobless Claims, week of March 5, 2016: "Payroll growth in last week's employment report for February proved very strong.Continuing claims round out the good news" [Econoday]. "There are no special factors in today's report, one that underscores the solid strength of the nation's labor market." Just throwing this out there, but isn't it also possible low jobless claims are a sign of hysteresis? A "If you hate your crap job, you've got to keep it"-style-of-thing.
Bloomberg Consumer Comfort Index, week of March 6, 2016: Edged higher [Econoday].
Quarterly Services Survey, Q4 2015: "Information revenue rose 1.8 percent in the fourth quarter compared to the third quarter" [Econoday]. "Year-on-year, information revenue rose 4.7 percent in the fourth quarter vs an upward revised 3.9 percent in the second quarter."
Rail: "Relatively speaking, this week was worse than last week, and the improvement seen last week is fading" [Econintersect].
Shipping: "Too Many Boats for Too Little Cargo Leaves Shippers High and Dry" (lots of charts) [Bloomberg].
Neoliberalism with Chinese characteristics: "China's finance minister has come under fire after he proposed changing a labour law he said was overprotective of employees and inflexible to business" [FT, "China public outcry over finance minister comments"] "Ultimately, he said, making it easier to fire workers would benefit the workers themselves. "Who eventually bears the costs? The working class who the law was intended to protect," [Lou Jiwei] said." And then there's this: "Mr Lou compounded the perception that he was out of touch with the working classes when he answered a question about government debt, saying that as long as it was invested wisely in productive assets it was OK. It was like a family going into debt to fund its mortgage, he added." So China's finance minister believes that government is like a household. "'The government doesn't care whether we live or die!' one Weibo user said. "Our salaries are not enough to pay a mortgage." If China's ruling class is this embubbled and captured, China really is in trouble. And Chinese workers and peasants, once they get rolling, don't crap around.
Fodder for the Bulls: (But see the responses.)
look at railcar loadings via @RenMacLLC pic.twitter.com/jje6qLIhRk

— Sam Ro (@bySamRo) March 8, 2016
Honey for the Bears: "In the aftermath of 2008, Stiglitz was indeed one of those warning that I and economists like me were wrong. Without extraordinary, sustained and aggressive policies to rebalance the economy, he said, we would never get back to what before 2008 we had thought was normal. [Brad DeLong, HuffPo]. "I was wrong. He was right." Those words show why DeLong is a mensch, and a scholar, and Krugman is a hack, and a hack. Read the whole thing.
Honey for the Bears: "New signs of weakness are surfacing in the commercial-property market, ending a half-decade run of improvement with steadily climbing values. Amid global shifts like the sluggish Chinese economy and a new era of low oil prices, defaults on loans are popping up in areas that were considered overheated, occurring in small numbers for now, but stoking fears that more could be on the way" [Wall Street Journal, "Now Coming to the Commercial-Property Market: Defaults"]. "This comes as there is a growing view that the best days are in the past for this property cycle, which benefited strongly from low interest rates [***cough*** manipulation ***cough***] and demand by global investors from regions like China and oil-dependent economies in the Middle East."
"The real economy and markets are so far apart they look like 'two parallel realities'" [Business Insider].
Today's Fear & Greed Index: 73, Greed (previous close: 71, Greed) [CNN]. One week ago: 69 (Greed). (0 is Extreme Fear; 100 is Extreme Greed). Last updated Mar 10 at 10:44am. Still puttering along in the mid-70s. It's like Gramps put the Index on Cruise Control.
Gaia
"Australian researchers say a global tracker monitoring energy use per person points to 2C warming by 2030" [Guardian]. "It is the first model to include energy use per person – which has more than doubled since 1950 – alongside economic and population growth as a way of predicting carbon emissions and corresponding temperature increases."
"Researchers who have analyzed America's eating habits say they can sum up what's wrong with our diet in just two words: ultra-processed foods" [Los Angeles Times]. "These foods — a group that includes frozen pizzas, breakfast cereals and soda — make up 58% of all calories Americans consume in a typical day. Not only that, they delivered 90% of the added sugars that Americans ate and drank, according to a study published Wednesday in the medical journal BMJ Open."
Guillotine Watch
"Chelsea and Ivanka serve as board members and high-ranking officials at the Clinton Foundation and the Trump Organization, respectively. Both non-Jewish women, they married Jewish men from prominent families in real estate and politics — both chose Vera Wang gowns for the high-profile nuptials. Both have written advice books for young women, and despite cultivating a large public persona, both have become perhaps equally calculating and guarded about their public images" [Politico]. Ruling Class Barbie?
"The overall [Wall Street] bonus pool of $25 billion is enough for 2.6 million restaurant and bar servers who typically earn about $10 to $11 an hour to get a raise to $15 — with $10 billion to spare, according to the Institute for Policy Studies" [Editorial Board, New York Times]. And restaurant and bar servers don't crash the economy, either.
Class Warfare
"Fukushima 'decontamination troops' often exploited, shunned" [AP]
News of the Wired
"George R.R. Martin clarifies: George Martin of Beatles fame is the guy who died, 'Not me' " [Los Angeles Times].
"How The World's Most Beautiful Typeface Was Nearly Lost Forever" [Buzzfeed]. "In the final months of 1916, Cobden-Sanderson threw the punches and the matrices — the templates needed to cast type — into the water beneath Hammersmith Bridge, and followed them with every piece of Doves Type that existed."
* * *
Readers, feel free to contact me with (a) links, and even better (b) sources I should curate regularly, and (c) to find out how to send me images of plants. Vegetables are fine! Fungi are deemed to be honorary plants! See the previous Water Cooler (with plant) here. And here's today's plant (from a loyal reader on the New Hampshire seacoast):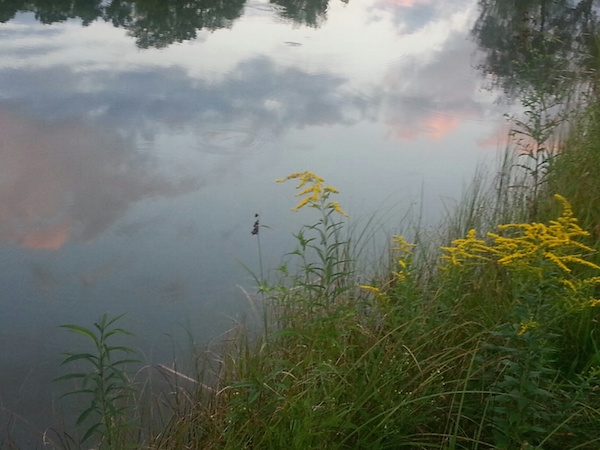 "Dusk seen in Woodstock, VT pond."
* * *
If you enjoy Water Cooler, please consider tipping and click the hat. Water Cooler would not exist without your support.