By Lambert Strether of Corrente.
TPP/TTiP/TISA
"[T]he National Farmers Union (NFU), which represents over 200,000 family farms and ranches, believes the USDA's promises are the same kind made with previous trade pacts that did not come to fruition" [Crop Protection News]. "'In its current form, the TPP stands to hurt our rural economies by pitting American jobs against foreign labor that is paid mere pennies per hour,' [NFU President Roger Johnson] said. 'Beyond the farm gate, any consumer that cares about where their food comes from should be concerned with the TPP. This is an issue that affects all Americans alike. I continue to urge Congress to give thoughtful consideration to opposing the TPP.'" If Sanders is indeed a "prairie populist," those 200,000 family farms and ranches will help him.
"Paris would like to "copy-paste" key passages from the EU-Canada free trade agreement, concluded last week, particularly those relating to the arbitration court that is such a controversial issue in Europe" into the TTIP [Euractive].
"Trans-Pacific Partnership Provisions in Intellectual Property, Transparency, and Investment Chapters Threaten Access to Medicines in the US and Elsewhere" [PLOS]. "The recently negotiated Trans Pacific Partnership Agreement (TPP) contains provisions that would dramatically and negatively impact access to affordable medicines in the United States and elsewhere if it is ratified."
2016
Policy
"[T]he real reason people are disinclined to believe that Obama made financial regulation stronger is that they never saw a banker in handcuffs headed to jail. I know law enforcement and regulation aren't precisely equivalent, but letting fraud go unpunished created a rot at the heart of our democracy, and made any claim about deterrents to another meltdown suspicious" [David Dayen, The New Republic]. Dayen is absolutely correct, and this disinclination applies across the political spectrum, left to right. When Sanders finally criticizes Obama, this is the point he should make. It's the unspoken truth everybody knows, exactly like Trump on Iraq in South Carolina.

"In interviews with International Business Times, two former Democratic senators took issue with the notion promoted by the former secretary of state that their vote to block Wall Street bailout money somehow put them at odds with the auto industry. Another Democratic senator's office told IBT that the vote was about reining in the financial industry — not about opposing help for autoworkers" [International Business Times]. Yes, Clinton struck a "false note" there.

"Election 2016: Voters' Concerns About U.S. Trade Policy Fueled Michigan Primary Election Results" [International Business Times]. "According to exit polls, 58 percent of those who voted in Michigan's Democratic presidential primary said that trade with other countries takes away American jobs — and of those, 58 percent voted for Sanders. In addition to Michigan, some of the states that have been hardest hit by trade-related job losses include Ohio, Illinois, Indiana and Wisconsin. Those delegate-rich states are scheduled to soon hold primaries that could tip both parties' presidential nominating contests."
Money
"That Silicon Valley elites would support Clinton has been a foregone conclusion throughout the 2016 race so far. Eric Schmidt, chairman of Google parent company Alphabet, has funded two companies—The Groundwork and Civis Analytics—that are both working with the Clinton campaign. Laurene Powell Jobs, widow to Steve Jobs, has donated to Clinton's campaign and plowed $25,000 into the Ready for Hillary Super PAC back in 2014. Also in Clinton's corner are Facebook's Sheryl Sandberg, venture capitalist John Doerr, Qualcomm founder Irwin Jacobs, Box CEO Aaron Levie, Tesla founder Elon Musk, and others" [Wired].
The Voters
"Educate, Agitate, Organize" [Corey Robin, Jacobin]. Using the Tweeted version, just because it's smaller on the page:

A message to Sanders voters: focus on the delegate count, yes, but remember what it is we're really doing here. pic.twitter.com/MVjfBRyw7m

— corey robin (@CoreyRobin) March 9, 2016
Trump Panic
"Much to the dismay of some Republicans, the party's primary process is working just as intended. Designed to choose a nominee quickly, this year's rules have advanced that air of inevitability forming around Donald Trump, who has won 15 of the first 24 contests" [WaPo].

"Poll: Trump dominating Rubio in Florida, Kasich in Ohio" [Politico]. Surreal. Their home states!

Trump on unity: "I can get along with people. Look, the bottom line is, we have something going that's so good, we should grab each other and we should unify the party, and nobody's going to beat us, okay?" [WaPo].

"In every state to vote on the Republican side so far, Trump wins in states where the African American population is above 8 percent and the unemployment rate is above the national average (5 percent in December, the latest state numbers available). He's seven for seven in those states – Alabama, Georgia, Kentucky, Louisiana, Nevada, South Carolina and Tennessee" [NBC].

"'When's Donald coming out? When he's good and ready,' said Ken Beer, a West Palm Beach dermatologist, reassuring friends and defending his candidate. Beer, along with most of the others in attendance, is a dues-paying member at one of a trio of lavish clubs Trump owns in Palm Beach County. As has become Trump's habit in South Florida, he invited club members to the news conference, and seated them in the first few rows. For all the huge rallies and talk of angry outsiders, this small, expensively dressed group is Trump's real base. There are CEOs, insurance brokers, health-care executives, former debutantes, trophy wives, and a woman in a short, sparkling silver dress (and thick bracelet to match) with an animal fur wrapped around her like a sash" [Bloomberg].

This is awesome an awesome trope:

Q: What is better than Trump winning?
A: These people losing pic.twitter.com/imdNxh0rzA

— Coach Finstock (@Q1776) March 9, 2016

I could take the same idea and apply it to Democrats….
Michigan and Mississippi Primaries
CNN Michigan exit polls for Republicans and Democrats. Not really very granular.

"Watching the March 8 Primary Results" [American Communities Project]. Useful county-level maps.

"Presidential election in Michigan, 2016" [Ballotpedia].

"Bernie Sanders's Win in Michigan Changes Race but Not Probabilities" [Nate Cohn, New York Times]. But in the body of the article, this: "But these things don't explain his victory. All elements considered, Mr. Sanders looked like a 12-percentage-point underdog, based on an unpublished demographic model of the results so far. He beat expectations everywhere….. It's tempting to look for another explanation, but none add up." Odd. Pundits are supposed to add things up.

"With his unexpected win in Michigan's primary on Tuesday, Mr. Sanders proved his voting base still has power, just as the nominating calendar is about to turn to similar Midwestern states, including Ohio, Illinois and Wisconsin" [Wall Street Journal, "Sanders Coalition Shows Strength in Michigan"].

Mr. Sanders carried a commanding 8 in 10 voters under age 30, according to preliminary results of surveys of voters after they cast ballots. He won more than two-thirds of voters under age 45. And while Mrs. Clinton won a lopsided share of African-American voters [Sanders won 30%], Mr. Sanders won nearly 6 in 10 white voters, according to exit polls reported by CNN and other media. … Its white, non-Hispanic population, at 77% of all residents, looks similar to the 80% share of white residents in Ohio, 78% Pennsylvania and 82% Wisconsin. The percentage of people who are 25 or older with a bachelor's degree, at 26%, is in line with those three states. The median household income in Michigan, at $49,000, is also close to those in the three nearby states, which all sit between $49,000 and $53,000. And each of the states has deep roots and history in blue-collar manufacturing.

"Sanders campaigned hard against housing foreclosures in the black community… 'The African-American community lost more than half of its wealth in the housing crisis,' political commentator Van Jones, who worked for a time in Obama administration, noted on CNN – suggesting that Sanders might have found a better pitch to working-class blacks, on foreclosures, than he did with his frequent blasts against greed on Wall Street" [Will Bunch, Philadelphia Daily News]. "Clinton, for her part, focused much of her campaign in Michigan on spotlighting the lead contamination of public tap water in the hard-hit city of Flint and on vote-rich neighborhoods in Detroit – but ignored much of the rest of a large and diverse Midwestern state." Weird. Was her campaign schedule that tough?

"Hillary Clinton spoke twice yesterday about how Bernie Sanders is an ally and how she hoped to enlist his supporters in her fight for the White House" [ABC]. Clinton's still picking out the drapes for the Oval Office, I see. Sanders responds: "We're running for president we think we have a path toward the White House and if we win it, we look forward very much to have Secretary Clinton's support." Sanders is really doing only what Clinton herself did in 2008; she has no standing in this matter.

"But none of the major cable news networks carried [Clinton's concession speech], which came as Mr. Trump was speaking" [New York Times]. So, Trump's hour-long speech — hawking his products?! — was genius; it sucked all the oxygen out of the room.

"Trump Sweeps Republican Primaries in Mississippi, Michigan" [Bloomberg]. "[Trump] also responded to critics who have bemoaned what they have called unpresidential behavior and comments, saying, 'I can be more presidential than anybody, if I want to be.'"
Florida Primary (Tuesday, March 15)
"How to watch the Washington Post-Univision Democratic presidential debate" (tonight) [WaPo]. Should be a barn burner. Whatever else Clinton's debate performance in Flint might have done, it didn't help her.

A new CNN/ORC poll in Florida, finds Donald Trump leads the GOP presidential field with 40%, followed by Marco Rubio at 24%, Ted Cruz at 19% and John Kasich at 5%. On the Democratic side, Hillary Clinton leads Bernie Sanders, 61% to 34% [CNN].
The Trail
"Clinton Tosses Unpledged Superdelegate In Trunk Of Car" [The Onion].
Stats Watch
MBA Mortgage Applications, week of March 4, 2016: "Purchase applications for home mortgages have been strong this year but have yet to give much lift to underlying home sales which have been no better than flat" [Econoday].
Wholesale Trade, January 2016: "Inventories rose 0.3 percent in the month which isn't alarming in itself but relative to sales, which fell 1.3 percent, inventories look heavy" [Econoday]. "Industries where inventories rose relative to sales include furniture, farm products, computers, and autos. Very few industries at the wholesale level show leaner levels in the month."
Hysteresis: "The most dangerous man in the industry" [Splash247]. An excellent, must-read parable. I wonder how much of our "productivity slowdown" is caused by intangible factors like this?
Hysteresis: "Why is U.S. labor market fluidity drying up?" [Washington Center for Equitable Growth]. "The U.S. labor market is a far less dynamic place than it was 30 years ago. Workers today are less likely to get a job while unemployed, move into unemployment, switch jobs, or move across state lines. You'd think just the opposite would be true given some of the discussion about our rapidly changing digital economy, but the data show what the data show. Even still, the reason—or reasons—for the decline in fluidity aren't known." My guess is that it's so bad out there that people don't want to take the risk of a change.
Hysteresis: "Reviving the Working Class Without Building Walls" [New York Times]. "The political system is in shock over the insurrection of the white working class, which has flocked to Mr. Trump's candidacy." Heaven forfend that the "working class" should be not white, or that "white working class voters" — this is code for racist white working class voters because, you know how those people are — might also consider Sanders, and indeed other candidates. Like that not especially useful idiot at Vox I linked to the other day, this reporter doesn't mention the Case-Deaton study either. You know, the study that shows "'Stunning' Rise in Death Rate, Pain Levels for Middle-Aged, Less Educated Whites," a consequence of the deintrialization of America sponsored by private equity and facilitated by both parties, but especially Clinton's faction of Democrats through trade deals. Again, you don't create organic damage like that without a political reaction. Now it's happening. Anyhow, read the whole sloppy mess. "Skills mismatch" is in there, too, of course.
Brexit: "A huge section of British industry is against a Brexit" [Business Insider]. Putting this here because it's so pig ignorant. What is this "industry"? "Buyout groups — companies owned by private equity or venture capital firms — overwhelmingly support Britain staying in the European Union." Private equity is, as Veblen would have it, a business, not an "industry."
Today's Fear & Greed Index: 70, Greed (previous close: 70, Greed) [CNN]. One week ago: 66 (Greed). (0 is Extreme Fear; 100 is Extreme Greed). Last updated Mar 9 at 10:21am. We seem not to be making a run for "Extreme Greed." What the heck's wrong?
Big Brother Is Watching You Watch
"Health apps, like prescription drugs, come with side effects, it turns out. A new study has found that an astoundingly large number of health apps may be sharing users' medical information. Many can also switch on smartphone cameras and make changes to the software on your phone" [Stat]. "The apps are not bound by HIPAA — the federal privacy law that governs doctors and insurance plans. "They are free to trade, sell, and use the information in any way that they want," said Mark Rothstein, an expert on health privacy at the University of Louisville."
Gaia
"Hotter planet spells harder rains to come – study" [Guardian].
"Crippled Fukushima Reactors Are Still a Danger, 5 Years after the Accident" [Scientific American].
A pigeon speaks: "We're not 'rats with wings.' We're dinosaurs with wings. You're rats with messenger bags" [Medium].
Class Warfare
"[M]ore than half of Americans experience poverty at some point during their prime working years, the authors discovered. (Wonkblog did a deeper dive into the data last summer.) The risk can be as high as 76 percent for some Americans and as low as 5 percent for others. Education and marriage can change a person's odds significantly. But a common theme that emerged in the author's research was that the risk of becoming poor is often higher than Americans of any demographic group realize" [WaPo].
"There's a horrendous lie being told by the brokerage industry and its army of lobbying groups. It goes something like this…." [Fortune]. "Middle-class Americans are not worth serving if we can't charge them egregious fees and sell them products that they do not need." Exhibit A: ObamaCare, which violates the Hippocratic Oath as surely as the author's examples violate fiduciary responsibility (which, to be fair, doesn't apply to brokers, the topic of the article).
"Rent seeking always has a cost in terms of resources that could otherwise be applied to the creation of new wealth. Not only is it a legalized form of economic theft, but it also diverts resources from the real economy. And of course, the only people able to engage 'successfully' in rent-seeking activities are people who are already so well off that they don't need to find work in the real economy" [Medium].
"The group of Latin Americans still vulnerable to fall back into poverty has moved tantalizingly close to middle class status in the past decade" [The World Bank].
"Thousands of French high school students and workers protested against labour reforms Wednesday" [AFP]. ""Young? Yes, Stupid? Maybe. Slaves? Never" read one poster in Rennes where local government officials said some 4,500 protested. In Toulouse police estimated a crowd of 10,000." But Hollande says the "reforms" are for their own good…
News of the Wired
"Why Women Are Choosing Virtual Boyfriends Over Real Ones" [Vogue]. "Virtual companionship, once a niche Japanese subculture, has mushroomed into a lucrative global industry. The first wildly popular virtual romance game created specifically with women in mind, called Angelique, was released in 1994 by a team of female developers at the Japanese gaming company Koei. Since then, others have been quick to capitalize. Voltage, the leading company in the Japanese market, currently offers 84 different romance apps."
"Facebook is eating the world" [CJR]. "First, news publishers have lost control over distribution… Second, the inevitable outcome of this is the increase in power of social media companies."
There are huge benefits to having a new class of technically able, socially aware, financially successful, and highly energetic people like Mark Zuckerberg taking over functions and economic power from some of the staid, politically entrenched, and occasionally corrupt gatekeepers we have had in the past. But we ought to be aware, too, that this cultural, economic, and political shift is profound.

We are handing the controls of important parts of our public and private lives to a very small number of people, who are unelected and unaccountable.
"Fixing Twitter" [Fortune]. This is interesting and appears to be not entirely stenography/hagiography.
"The current generation of young physicists was not even born when particle accelerators produced their last genuinely surprising results" [Nature]. But there might be a new particle! "[T]he possibility of an electrically neutral particle that is four times heavier than the top quark — the current heaviest — and that could decay into pairs of photons has apparently never crossed anybody's mind."
"A breakdown of everything in the 'Game of Thrones' season 6 trailer" [Business Insider]
And just in time for spring training!
This graphic of all the information passed during a baseball game by Megan Jaegerman (via @EdwardTufte) is amazing. pic.twitter.com/WWdskzxjal

— Gray Kimbrough (@graykimbrough) March 8, 2016
* * *
Readers, feel free to contact me with (a) links, and even better (b) sources I should curate regularly, and (c) to find out how to send me images of plants. Vegetables are fine! Fungi are deemed to be honorary plants! See the previous Water Cooler (with plant) here. And here's today's plant (Jason Gordon):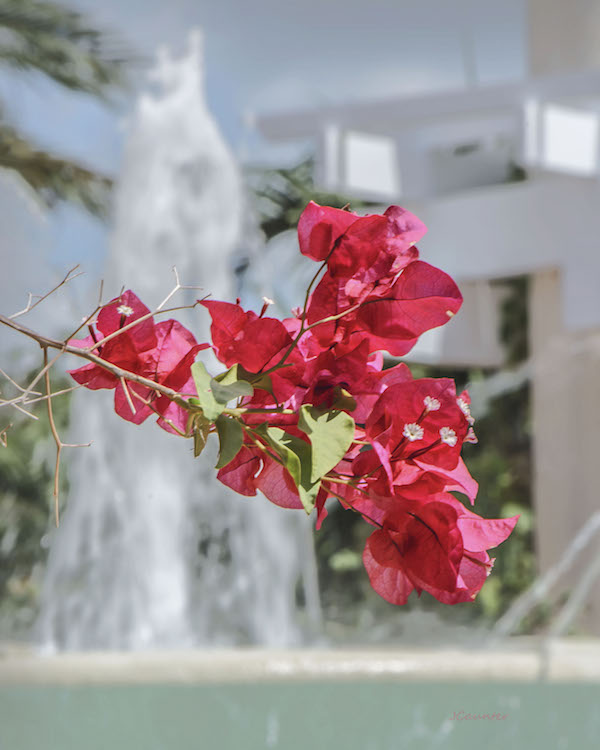 From Florida, not Maine. At least not yet!
* * *
If you enjoy Water Cooler, please consider tipping and click the hat. Water Cooler would not exist without your support.