By Lambert Strether of Corrente.
TPP/TTiP/TISA
"TTIP Proposal for Chapter: Good Regulatory Practices" [Lobby Control]. A leaked proposal:
For planned major regulatory acts undergoing impact assessment each party shall make publicly available, as early as possible, information on planning and timing leading to their adoption, including on planned stakeholder consultations and potential for significant impacts on trade, investment and on small and medium-sized enterprises (SMEs).
Note that "regulatory acts" are defined as "draft bills introduced in Congress."
"Meeting today in Washington, Richard Trumka, President of the American Federation of Labor and Congress of Industrial Organizations (AFL-CIO) and Luca Visentini, General Secretary of the European Trade Union Confederation (ETUC), together stressed that, from available information, the current negotiations on the Trans-Atlantic Trade and Investment Partnership (TTIP) are on the wrong course. If this course isn't corrected, TTIP will fail to create the people and planet-centered agreement needed to benefit the working peoples of the European Union and the United States" [ETUC]. That's not a bug. It's a feature.
CETA: Who pulled the plug on the right to regulate? [Foundation for a Free Information Infrastructure].
Clinton may have "evolved" on TPP, but her surrogates haven't, and she hasn't slapped them down. So we're entitled to question the sincerity of her new convictions. First example: "Tampa Mayor Bob Buckhorn touted Hillary Clinton as the "best prepared" candidate to be president, but went past Clinton's positions in his defense of free trade agreements. [Tampa Bay Times]. "Buckhorn has even acknowledged that promoting free trade won't help him with traditional Democratic constituencies like unions if he runs for governor in 2018, but could help build political good will in Washington that could pay off when his city applies for federal grants in the future. As he put it in January, 'relationships are mutually beneficial.'" Ka-ching. Second example: "[F]ormer Missouri Gov. Bob Holden, who backs Clinton, contends that her victories Tuesday in the other four primary states bolster another [trade] narrative [than Sanders]. 'It sends a very strong message that she has the ability to unite their nation and lead us into the 21st century global economy.'" [St Louis Public Radio]. Oooh! "21st century global economy"! Sounds focus-grouped!
2016
Policy
"Myth Busting Sanders's Single-Payer Plan" [Health Care Now].

"Bernie Sanders' Wife, Jane, Tours Tent City, Challenges Sheriff Joe Arpaio on Racial Profiling" [Phoenix New Times]. Good read, and also good tactics that she's out there before next Tuesday's primary.
The Scorps
"How the 'New York Times' Sandbagged Bernie Sanders" [Matt Taibbi, Rolling Stone]. "I came to the same conclusions that Steinhauer did initially: that Sanders was skilled at the amendment process and also had a unique ability to reach across the aisle to make deals." And then the editors got hold of it… Read the whole thing.

And then there's CNN:

CNN during Bernie Sanders' speech … pic.twitter.com/BlOHWWHVRP

— David V. Johnson (@contrarianp) March 16, 2016
The Voters
Public college towns go for Sanders (chart) [The New Republic]. Private college towns do not.

North Carolina voter ID law may have discouraged student voters [Think Progress]. So the Republicans drive to limit voter access helped Clinton. All things work together for good!

"Whatever you want to call this, it isn't democracy. America has more Democrats than Republicans, and Sanders's support among Democrats is greater than Trump's among Republicans: he has a larger slice of a bigger pie. But somehow we seem set to propel Trump to the Republican nomination, making him the standard-bearer for the American right, while relegating Sanders to the status of a historical footnote" [Felix Salmon, Fusion].

"Why I Reject Lesser-of-Two-Evils-ism" [34Justice]. From December 2015, but ever-green. "It's hard for me to see how we will ever fix our political process and reclaim our democracy by refusing to draw some lines in the sand."
Trump Panic
"But it is Trump's claim that he can carry New York that most clearly undermines his promises of victory" [Stuart Rothenberg, Roll Call]. "New York State performs at least 10 points more Democratic than the country does, which means Trump would need to win the popular vote nationally by close to 60 percent to have a chance of carrying New York. And that, of course, will never happen."
The Trail
Revealing:

In virtually every general voter preference survey this year, one candidate jumps out. No, it's not Hillary Clinton. pic.twitter.com/p5irKgApWJ

— Matt Karp (@karpmj) March 15, 2016

"How to Steal a Nomination From Donald Trump" [Bloomberg]. "If the primary season thus far can be understood as a triumph for the candidate who defies the norms of politics, the shadow campaign now underway will reflect the primacy of rules, including some that can be wantonly rewritten to serve the interests of those in charge"
Stats Watch
Industrial Production, February 2016: "Industrial production fell 0.5 percent in February but includes a respectable and higher-than-expected 0.2 percent gain for manufacturing production which pulls this report to the positive column for the economic outlook" [Econoday]. Lots of tap-dancing, followed by "this report, together with positive indications in yesterday's Empire State report, do suggest, or at least offer the hint, that the worst may over."
Consumer Price Index, February 2016: "The CPI core is showing pressure for a second month, up a higher-than-expected 0.3 percent in February with the year-on-year rate up 1 tenth to plus 2.3 percent and further above the Federal Reserve's 2 percent line" [Econoday]. "Gains are once again led by health care."
MBA Mortgage Applications, week of March 11, 2016: "While rising only 0.3 percent in the March 11 week, purchase applications for home mortgages remain very robust, up 33 percent year-on-year" [Econoday].
Housing Starts, February 2016: "Housing starts & permits are mixed with starts way up but permits, which are the more important of the two, way down" [Econoday]. "Starts rose 5.2 percent to a 1.178 million annualized rate while permits, which were expected to show no change, dropped 3.1 percent to 1.167 million." And: "rolling averages are the best way to view this series – and the data remains in the range we have seen over the last 3 years. There are no warning signs except the rate of growth of building permits is decelerating" [Econintersect].
Honey for the Bears:
Chart: Big decline in average weekly earnings in the US. Workers losing overtime? pic.twitter.com/eTuCtUw37F

— SoberLook.com (@SoberLook) March 15, 2016
The Fed: "From traders: In conversations with customers this week, we heard a lot of skepticism about the Fed raising rates at all this year. Many sophisticated traders think the FOMC is making the same mistake the BOE did in 2014: Sure, they say they're going to raise rates, but how can they?" [FTN Financial, Across the Curve].
"Deutsche Bank AG shares dropped as much as 6.2 percent after co-Chief Executive Officer John Cryan said he doesn't expect the German lender to report a profit this year" [Bloomberg].
"Someone using official codes stole $100 million from Bangladesh's account at the New York Fed over a recent weekend. Authorities in four countries are still piecing together what happened" [Wall Street Journal, "Crime Scene: Who Stole $100 Million From Bangladesh's Account at the New York Fed?"]
Today's Fear & Greed Index: 72, Greed (previous close: 73, Greed) [CNN]. One week ago: 71 (Greed). (0 is Extreme Fear; 100 is Extreme Greed). Last updated Mar 16 at 12:31pm. The leisure suit. Was it a 70s thing?
Health Care
"Obamacare: Little-known provision allows Californians stuck in bad plans to switch" [San Jose Mercury News (MS)]. "Exchange officials say it's possible to change plans even after the mid-April open-enrollment deadline because of a little-known provision under the 'qualifying life events' section for special enrollment.
But the qualifying events also include "misconduct or misinformation" that may have occurred during the enrollment period; "incorrect plan data" that may have been presented when selecting a plan and health insurers violating their contracts.
This is Covered California; I'm not clear whether this applies to all of ObamaCare but at the least it's good news for Californians.
"More than 1 million patients suffer harm each year in U.S. health care facilities. Often, their harm isn't acknowledged even as they live with the consequences. ProPublica set out to capture their stories. Here is what we learned" [ProPublica].
Police State Watch
" Almost half of the people who die at the hands of police have some kind of disability, according to a new report, as officers are often drawn into emergencies where urgent care may be more appropriate than lethal force" [NBC]. Eesh. The 26-year-old with Down syndrome who went to go see Zero Dark Thirty only to get whacked by a cop…
Corruption
"Egypt's dirty wheat problem" [Reuters]. At a glance, the architecture of the scam looks just like election fraud with an electronic voting machine.
"JPMorgan Chase appoints a former Obama advisor to lead its burgeoning fintech strategy" [Quartz]. How cozy.
Guillotine Watch
Louis XVI. Loser!
"You can always tell when the king is here," said Trump's longtime butler at Mar-a-Lago https://t.co/b5b65ufXFp pic.twitter.com/U01NqFTHAK

— NYT Politics (@nytpolitics) March 15, 2016
Class Warfare
"Shared office space giant WeWork Cos., recently [***cough***] valued at $16 billion, and a handful of smaller startups are experimenting with 'coliving,' a concept that involves tiny apartments, shared kitchens and lounges, and a communal atmosphere" [Wall Street Journal, "Venture Capital's Answer to High-Priced Housing: Dorms for Grown Ups"]. I think I'd prefer a shipping container.
"People-powered":
Take life in emerging markets. Add a shiny front-end mobile app. Behold the on-demand economy.http://t.co/7aLlxYDB62 pic.twitter.com/0rXr4JMTla

— Subrahmanyam KVJ (@SuB8u) May 6, 2015
News of the Wired
"Paramount Says Star Trek Fan Flick Violates Copyright On Klingon And 'Uniform With Gold Stars'" [TechDirt]. But not a very nearly gold chain?
* * *
Readers, feel free to contact me with (a) links, and even better (b) sources I should curate regularly, and (c) to find out how to send me images of plants. Vegetables are fine! Fungi are deemed to be honorary plants! See the previous Water Cooler (with plant) here. And here's today's plant: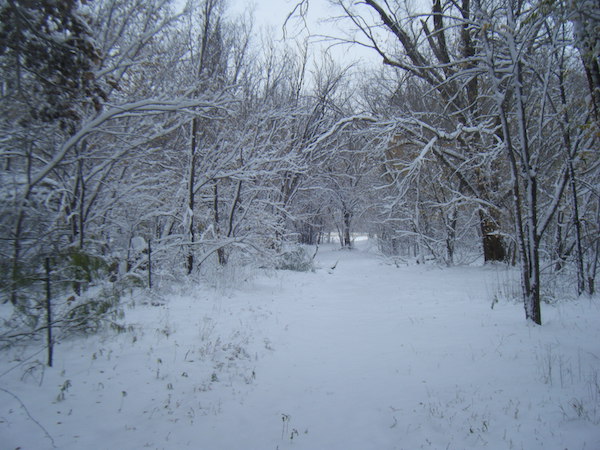 Trees will be creaking with the weight of the ice…
* * *
If you enjoy Water Cooler, please consider tipping and click the hat. Water Cooler would not exist without your support.