By Lambert Strether of Corrente.
TPP/TTiP/TISA
"The Trouble With the TPP, Day 50: The Case Against Ratifying the Trans Pacific Partnership" [Michael Geist]. The last of 50 posts (!) on the TPP. The perspective is Canadian, but TPP should be opposed everywhere.
"Bernie Sanders & the death of TPP: Why his stunning Michigan upset could be the final nail in the free-trade coffin" [David Dayen, Salon]. Under pressure from Sanders, Clinton, in Youngstown, OH, comes out against TPP's "rules of origin" on automobiles. "Seeking this change from the other 11 TPP member nations would probably doom the entire deal," and it's a precise change that Clinton would find it hard to walk backMR SUBLIMINAL But surely not impossible! And in Illinois, Clinton spins in the other direction: "[Sanders'] position [on trade] is so anti, he's against things before they're finished, before they're read," she said." [MSNBC]. So TPP isn't finished enough for Sanders to be against it, but is finished enough to say "rules of origin" are bad policy? Confusing!
2016
Policy
"Hillary Clinton: 'We didn't lose a single person' in Libya" [Yahoo News]. As Olivier Knox comments: Hoo boy.
The Voters
"Voter anger explained—in one chart" [Brookings Institute]. "the Rust Belt geography of the nation's anger suggests another, perhaps deeper, explanation for the populist rage that has driven Donald Trump and Bernie Sanders victories in primaries from New Hampshire to Michigan."

According to these data, globalization, offshoring, and automation have since 1980 liquidated nearly 7 million manufacturing jobs in U.S. communities—more than one-third of U.S. manufacturing positions—as manufacturing employment plunged from 18.9 million jobs to 12.2 million. Moreover, as the chart depicts, while the trend is longstanding, it actually accelerated in the 2000s.

As to the labor-market, wage, and social impacts of these developments, they have been brutal—as is well-known. Notwithstanding the heralded consumer benefits of trade and deindustrialization, these trends have also created substantial adjustment costs and distributional consequences in the labor market, with much of the pain visited on blue-collar workers in manufacturing-oriented metro areas. Exacerbating all of this, meanwhile, was the onset of what the economists David Autor, David Dorn, and Gordon Hanson call the "China shock"— the period beginning in 1991 when local factories found their outputs competing directly with Chinese imports. Those wondering about the deepest sources of populist anger in 2016 will find no better guide than the same authors' painstaking new analysis of the regional and worker impacts of the China shock. Autor, Dorn, and Hanson show that the arrival of cheap Chinese imports demolished manufacturing in scores of communities, produced widespread unemployment, disrupted workers' careers, and depressed wages for years. Most poignantly, the scholars show that deindustrialization's losers have experienced difficulty in exiting threatened jobs, a hard time finding and keeping new employment, an inability to relocate, and diminished lifetime earnings.

No wonder they are frustrated. Only recently stabilized, the decline of U.S. manufacturing remains the primal scene of economic dissatisfaction, and the impacts are still being felt.

"Poignantly." This process has been going on for many years. So where the hell were you, Brookings?

And then there's the National Review:

The core of his view, and presumably that of many at the right wing, now anti-Trump National Review is this pic.twitter.com/6oa0feizQW

— Chris Arnade (@Chris_arnade) March 15, 2016

Funny, I always thought the Republicans feared their base, and the Democrats hated theirs. Guess things aren't that simple!

"Mostly missing from the competing explanations for Trump's emergence have been insights from prospect theory, an influential model of the choices people make under conditions of uncertainty" [WaPo]. "[I]n the real world, people's attitudes about risk depend on what is at stake. When confronting possible gains they tend to play it safe, and when confronting possible losses, they prefer to take chances and hopefully minimize the damage. Or as academics put it, in a 'gain frame' people are risk averse, and in a 'loss frame,' they accept risk…. According to surveys and demographic trends, Trump's voters believe they are in a socioeconomic equivalent of a loss frame. White middle- and working-class voters have suffered stagnant wages for decades, and the 2008 financial crisis erased much of the wealth they had accrued through home equity."
Trump Panic
"Veteran Says He Regrets Shoving Female Protester at Trump Rally" [Military.com]. Alvin Bamberger, a member of the Korean War Veterans Association:

At first, he wrote, "everything seemed to be under control and mostly orderly. All that changed when Trump got to the stage. Protestors in the crowd became vocal and began pushing and shoving their way toward the stage. At one point I was physically knocked down and fell to the ground, losing my jacket (which was eventually returned to me). The protestors were holding up signs, chanting 'black lives matter' and pushing and shoving Trump supporters.

"Trump kept saying 'get them out, get them out' and people in the crowd began pushing and shoving the protestors," Bamberger said. "Unfortunately a lot of this behavior was happening right next to where I was standing and having been pushed to the floor myself, . I physically pushed a young woman down the aisle toward the exit, an action I sincerely regret."

Bamberger said he learned only afterwards that some of the Trump supporters "standing right next to me" were members of a white supremacist group.

"Unfortunately my state of mind after being knocked down and hurt myself, and being caught between a group of white supremacists and Black Lives Matter protestors contributed to my behavior however, there is no excuse for my actions," he wrote [in a letter to the Korean War Veterans Association].

Good for Bamberger. One thing we often don't factor in to thinking about Trump's appearances is the atmosphere his rallies create — impossible to be unplanned, given Trump's mastery of kayfabe.

"Mr. Trump earned $400 million worth of free media last month, about what John McCain spent on his entire 2008 presidential campaign. Paul Senatori, mediaQuant's chief analytics officer, says that Mr. Trump "has no weakness in any of the media segments" — in other words, he is strong in every type of earned media, from television to Twitter. Over the course of the campaign, he has earned close to $2 billion worth of media attention, about twice the all-in price of the most expensive presidential campaigns in history" [New York Times]. "Earned."

"Top liberal leaders call for 'massive' anti-Trump campaign" [Politico]. So this is how the sheepdogging will work? If Trump didn't exist, the Democratic establishment would have to invent him.

"Was It a Good Strategy to Shut Down Trump's Rally in Chicago?" [Chicago Magazine]. We don't know!
Florida, Illinois, Missouri, North Carolina, Ohio
"What We're Watching as 5 States Hold Crucial Primaries" [New York Times]. "If Mr. Trump loses Ohio (possible) or Florida (less likely) and wins less-than-commanding victories in Illinois, Missouri and North Carolina, he would face the strong possibility of falling short of a delegate majority and entering a contested Republican convention this summer…. [Sanders] has a real chance of winning in Ohio, Missouri and Illinois, where the polls show a much tighter race than they did before Michigan. Like Michigan, the three states might be particularly receptive to his message on trade, and they are less diverse than the nation. But the challenge for Mr. Sanders is not simply to win in the region, it is to win big. Hillary Clinton could win Florida and North Carolina by more than 20 percentage points, making her likely to add to her big pledged delegate lead. Narrow victories by Mr. Sanders will not do much to cut into Mrs. Clinton's growing edge."

"[B]oth polls and demographics imply that Clinton is likely to win by blowout margins in North Carolina and Florida. If Sanders were to win or come close in one of those states, it would be an even bigger upset than Michigan and would suggest that something fundamental had changed in the Democratic race" [Nate Silver, FiveThirtyEight].

"Live updates: Five questions to consider for Tuesday's Florida and Ohio primaries" [Los Angeles Times]. Re Illinois: "The city has been riven by protests over police violence, especially the shooting death of 17-year-old Laquan McDonald, and much of the anger has been directed at Mayor Rahm Emanuel. In his appeals to activists, including black residents angry at the mayor, Sanders has called on Emanuel to resign. Clinton, whose ties to Emanuel date to his work in her husband's presidential administration, has been more circumspect in her comments."
The Trail
A lot of pieces on the inner workings of the Sanders campaign recently.

"It's not over til it's over: inside the Sanders campaign's do-or-die moment" [Guardian]. This post is a bit triumphalist, and very much from Sanders angle, but it's important nonetheless:

RoseAnn DeMore of National Nurses United, who are mobilizing for Sanders, is part of that movement: "We had an uprising in Wisconsin, where the governor was going after the unions. We had Occupy Wall Street, which took the temperature of the country and showed enormous discontent. It had incredible social acceptance for a time. People got the fact that they were part of the 99%."…

Winnie Wong and Charles Lenchner would agree. They are Occupy activists who set up People for Bernie in early 2015, following unsuccessful efforts to draft progressive Senator Elizabeth Warren for president. They came up with the #FeelTheBern rallying-call. Now their Facebook network has far greater engagement than the official campaign's page, growing 80% in the last week.

"," Charles says. ". They're willing to more or less follow the directives of staff, but they also have a tremendous amount of autonomy. And the way they got there was by using social networking."

He continues, "A lot of the people who got attracted to the campaign had experience with movements like Occupy or #FightFor15. All these movements have been fuelled by digital tactics. And now that people know what the routine is, they're like, oh, I'm going to start a page for my neighbourhood, city or constituency. The Sanders team didn't build it – the Sanders team can't dismantle it."

Since the crash, there's been a tremendous accumulation of, er, social capital by the left, and the highlighted examples are a smallish sample. Remember that Wisconsin (way back in 2011) was not the only state capital occupation; and though it followed Tahrir Square and the indignados, it preceded Occupy Wall Street. One must also throw fracking and climate change resistance into the mix. And of course last year we had BlackLivesMatter. In other words, there are a lot of organizers out there, and perhaps just as important, people who know how to be organized. Any politician with the right message could have gotten all these little magnetic filings lined up in a field of force; Elizabeth Warren, maybe Sherrod Brown. But only Sanders did. Power was lying in the street; he picked it up.

Zack Exley, senior advisers to the Sanders campaign: "If you ask me, the most innovative thing to talk about here is the way we're setting volunteers up to make commitments to each other instead of to paid staff, in ways that ensure follow-through on hard, scary things like hosting phone banks and leading canvasses—and all the tools and techniques that allow for all this to scale massively. Decoupling paid staff from the organizing process allows virtually unlimited scaling in a movement like this because of the vast ocean of volunteers to draw from" [The Nation]. And if you want to know where that ocean of volunteers came from, see above.

And [Politico]. "They're already prepping the fallback plan: 10 areas, including killing Obama's trade deals and changing the super-delegate process that they're going to organize around and try forcing into the Democratic platform."

"In an exclusive survey of American military personnel, Donald Trump and Bernie Sanders emerged as active-duty service members' top choices to become the next commander in chief." [Military Times].

"RIGGED: Debbie Wasserman Schultz Strikes Again" [New York Observer]. "Ms. Wasserman Schultz is blocking any challenger to a Democratic incumbent from accessing the [VAN] voter file database—a vital campaign tool for any election." Remind me why they call their party "Democratic"?
Stats Watch
Empire State Mfg Survey, March 2016: "After seven straight months of contraction, the general conditions index of the Empire State report is back in the plus column, though just barely at 0.62 in a reading that signals fractional strength for factory activity during March. New orders are the report's most convincing headline, at plus 9.57 to end nine straight months of contraction" [Econoday]. "Flat is really the theme of this report which, compared to the deep contraction of prior reports, is relatively good news for a factory sector that has been getting hit by weakness in exports and energy equipment." And: "As this index is very noisy, it is hard to understand what these massive moves up or down mean – however this regional manufacturing survey is normally one of the more pessimistic" [Econintersect].
Business Inventories, January 2016: "It's been a weak morning for U.S. economic data and business inventories are no exception. Inventories rose an unwanted 0.1 percent in December against a 0.4 percent decline for sales in a mismatch that drives the stock-to-sales ratio from 1.39 to 1.40 for the fattest reading of the whole cycle, since May 2009" [Econoday]. "Heavy inventories are a negative for future production and future employment and today's report points to slowing for both during the first quarter."
Housing Market Index, March 2016: "Demand for new homes is solid but lack of available lots and shortages in construction labor are holding back growth" [Econoday]. "The gain in traffic hints at the drawing power of low mortgage rates [***cough*** manipulation ***cough***] and speaks to the strength of the labor market. But there hasn't been much acceleration in housing nor is any expected in tomorrow's permits data. The housing sector, which was billed as a strength for 2016, has yet to build any momentum this year." If only there were some mechanism, like an invisible hand, the match the demand for construction labor to the supply!
PPI-FD, February 2016: "Producer prices came in soft across the board in February, down 0.2 percent overall and unchanged for the ex-food & energy reading and up 0.1 percent for ex-food/energy/services," in consensus [Econoday]. "[T]his report, despite the improvement in the year-on-year rates, doesn't point to any accelerating [price] pressures."
Retail Sales, February 2016: "Consumer spending did not get off to a good start after all in 2016 as big downward revisions to January retail sales badly upstage respectable strength in February" [Econoday]. "[C]onsumer spending, despite high employment [ha ha ha], is struggling to break out of a flat run that included a very soft holiday season." But: "Retail sales declined according to US Census headline data. Our view is that this month's data was strong. There was a significant increase in the rolling averages" [Econintersect]. And: "with labor market activity remaining buoyant and household's mood relatively upbeat, we expect spending momentum to rebound in the coming months as US household spending continue to underpin the economic recovery" [TD Securities, Across the Curve].
"In 2015, Bitly reached profitability for the first time ever — what I believe will become an increasingly critical benchmark, especially in today's environment" [Medium]. I love "profitabilty" as a "benchmark." Valuation issues, anyone? (Anyhow, this horrible company has made squillions of "shortened" URLs dependent for their functioning on the continued operation of its software. Well played.) "With the billions of clicks that Bitly processes each month, we can offer unprecedented insight into the journey that each individual takes in content consumption — from what they consume to the device they consume it on" [cough. spew].
This is epic [Financial Times, "Productivity and innovation stagnation, past and future: an epic compendium of recent views"]. "Economists lack a coherent theory for what generates or stifles total-factor productivity growth." 33 "takes" in the post. And more in comments.
"Instacart Inc. is cutting the fees it pays couriers who shuttle groceries in several cities, the latest Silicon Valley on-demand startup trying to contain costs in a tightened funding environment" [Wall Street Journal, "Grocery-Delivery Startup Instacart Cuts Pay for Couriers"]. Ha ha. No more free money sloshing about, so naturally the first priority is to screw the workers. "In its emails to drivers, Instacart said drivers could still earn '$18 or even $20 or more per hour' based on its expectations for tips." Right, right. That's why pizza delivery is a career: The tips. Making the announcement by email is super-classy, too. And we wonder why there are productivity problems….
Today's Fear & Greed Index: 72, Greed (previous close: 73, Greed) [CNN]. One week ago: 70 (Greed). (0 is Extreme Fear; 100 is Extreme Greed). Last updated Mar 15 at 11:01am. Stuck in the mid-70s…
Black Injustice Tipping Point
"Now, not even nine months after the massacre at Charleston's Emanuel African Methodist Episcopal Church, the momentum to force Confederate symbols from official display has often been slowed or stopped. In some states this year, including Alabama, lawmakers have been considering new ways to protect demonstrations of Confederate pride" [New York Times]. Again, I would love to know how the "national conversation" turned to symbols. Suddenly that was all "everybody" was talking about. How did that happen?
Health Care
Gaia
"[O]ne is tempted to suggest that co-evolution between viruses and hosts might have helped generate physical complexity on Earth. In this way, viruses might very well present a double-edged sword: potentially devastating to individuals, but beneficial to the evolution of diversity and complexity, if you like that sort of thing, as I do" [Scientific American].
"The pioneering law makes Oregon the first state in the nation to legislate a ban on coal for the electric supply, while also mandating that utilities provide half of their electricity from new renewable sources by 2040" [Ecowatch (PT)]. In a humane country, we'd consider the systemic effects on coal mining communities.
Guillotine Watch
Note the source:
"The future belongs to those who believe in the beauty of their dreams."

Eleanor Roosevelt pic.twitter.com/cQ0YYx7DBv

— Billionaire Magazine (@BillionMagazine) March 12, 2016
Big Brother Is Watching You Watch
"As U.S. Passports For Domestic Flights Loom, IRS Can Now Revoke Passports" [Forbes]. If you owe over $50K. Of course, if you owe $500K, or $500M, you've already purchased a second passport from some other country. So that's alright, then.
Class Warfare
"Why Not Say What Happened?" [N+1]. Excellent book review of Days of Rage: America's Radical Underground, the FBI, and the Forgotten Age of Revolutionary Violence. "It is difficult to imagine a return to a time before metal detectors. But Days of Rage offers one example of resistance that remains within reach. On May Day 1970, the audience at a Bronx theater indignantly refused to evacuate after a bomb exploded—they wanted to see the rest of the movie. The heroic equanimity of these minor characters reminds us that, then as now, we have better things to worry about."
"Varieties of Krugmanesque experience" [Doug Henwood]. Fun stuff. Good thing to know that Operative K is not a "purist"!
News of the Wired
"The Origin of QWERTY" [Hackaday]. "The QWERTY keyboard was not designed to keep a typewriter from jamming. The primary users of the first typewriters were Morse operators who could send and receive at least thirty words per minute. When used by stenographers, the typewriter would be used to record more than one hundred words per minute."
"The web's original sin" [Quirks Mode]. "Free content entitlement, that's what."
"At a luxury hideaway in Morocco, two years of talks on Icann's running of the internet finished with a deal to put multiple global stakeholders in charge" [Guardian].
"Pi is inescapable because cycles are the temporal cousins of circles; they are to time as circles are to space. Pi is at the heart of both" [The New Yorker].
"People who read from an iPad for 30 minutes before going to sleep felt less sleepy and had different electrical activity in the brain during sleep than those who read from a physical book, a recent study found" [Business Insider]. That's funny. I engulf Twitter krill on my iPad before sleeping, but I always pick up a physical book last of all. Readers?
"Indonesian man chokes to death on fried chicken during speed eating contest" [Asian Correspondent]. KFC, naturally. When I think of KFC competing with Asian street food and winning, I just want to pound my head on my desk.
"What is to stop someone, who has access to a 3D printer, from making their own orthodontic aligners?" [Amos Dudley]. America is still a great country. Truly!
* * *
Readers, feel free to contact me with (a) links, and even better (b) sources I should curate regularly, and (c) to find out how to send me images of plants. Vegetables are fine! Fungi are deemed to be honorary plants! See the previous Water Cooler (with plant) here. And here's today's plant (Frosty Zoom):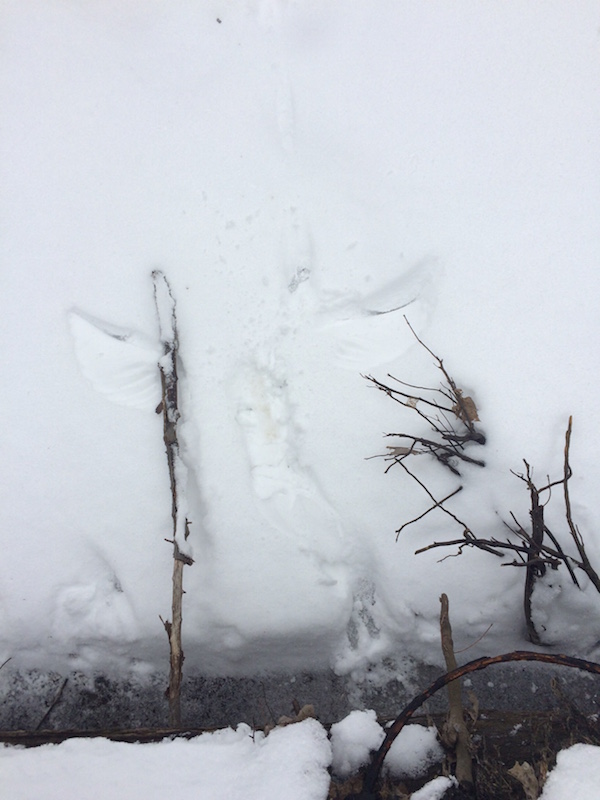 A snow angel!
* * *
If you enjoy Water Cooler, please consider tipping and click the hat. Water Cooler would not exist without your support.