By Lambert Strether of Corrente.
Readers, this may be a little light because yesterday, too, was a travel day for me, and I got in late.
TPP/TTiP/TISA
"The Potential Impact of the Transatlantic Trade and Investment Partnership (TTIP) on public health" (PDF) [Epidemiologia & Prevenzione]. Italian academic paper, in English:
The TTIP's Investor to State Dispute Settlement (ISDS) arbitration system, a mechanism that allows transnational companies (TNCs) to sue governments when a policy or law reduces the value of their investment, is likely to generate a negative impact on regulations aimed at increasing access to healthcare, and reducing tobacco, alco – hol consumption, and diet-related diseases. The Sanitary and Phytosanitary Standards (SPS) of the TTIP is ex – pected to weaken regulations in the food and agricultural sectors especially in the EU, with potentially negative effects on food safety and foodborne diseases. Finally, the ISDS is likely to infringe the ability of governments to tackle environmental problems such as climate change deemed to be the most important global health threat of the century.
"On Trade, Angry Voters Have a Point" [Eduardo Porter, New York Times]. Classic headline. And here's the lead: "Were the experts wrong about the benefits of trade for the American economy?"
What seems most striking is that the angry working class — dismissed so often as myopic, unable to understand the economic trade-offs presented by trade — appears to have understood what the experts are only belatedly finding to be true: The benefits from trade to the American economy may not always justify its costs.
So I guess credentials aren't all that important, then? Or perhaps important for reasons other than the people who trust the experts might expect?
2016
Policy
""Throwing money at the problem" may actually work in education" [Washington Center for Equitable Growth]. "While we still need to make progress as far as disparities between individual students, this research makes a compelling and evidence-based case for school finance reform on a federal level. Rather than 'throwing money at the problem,' no-strings-attached funds may actually make a difference for the country's most disadvantaged school districts"

From the Clinton email trove:

In which Clinton sycophant/careerist @neeratanden of @amprog believes in invading & pillaging from war-torn nations pic.twitter.com/IrAWcFOMpO

— Vox Populi Risk (@bruculino) March 17, 2016

Crazed, ignorant, bloodthirsty elites. Remember that Tanden is one of those extreme liberals that populate HillaryLand.
Money
"US election 2016: Who's funding Trump, Sanders and the rest?" [BBC]. "Nearly three-quarters of Senator Sanders' donations have been under $200. His campaign said the average donation in 2015 was $27.16. Only 17% of donations to rival Hillary Clinton are under $200." Not a word from Dem establishment on Sanders funding model. They prefer their own.
The Voters
The youth movement the Dem establishment wants either to strangle or sheepdog (or both):

74-year-old Bernie Sanders's remarkable dominance among young voters, in 1 chart https://t.co/RB38eb2C84 pic.twitter.com/1rMqyDSh63

— Chris Cillizza (@TheFix) March 17, 2016
Trump Panic
Sheepdogging: "I'm with Hillary in November: Listen up, fellow Bernie supporters — you must get behind Clinton to stop Donald Trump" [Salon]. Show of hands: Who thinks opposing Trump — and Trumpism — would be more effective within Clinton campaign, as opposed to an organization independent of the Clinton campaign?"

"Senate Minority Leader Harry Reid accused House and Senate GOP leaders of 'moral cowardice' Thursday for not disavowing GOP front-runner Donald Trump" [Roll Call]. Well, so much for Merrick Garland.

"The question is whether he will escalate his rhetoric and what actions his suggestions may incite" [Wall Street Journal, "Behind Donald Trump's Warning of 'Riots' at the GOP Convention"]. Turning the coin over, though: What's the appropriate response to a convention stolen by elites? Party unity?
The Trail
"Stamina – Trump's Lingistic Kill Shot for Clinton (Master Persuader Series)" [Scott Adams]. I don't like Adams' politics much, so but and he's really good on Trump's rhetoric.

" "We anticipate, in the weeks and months to come, that we will steadily, consistently and successfully erode [Clinton's] current advantage in pledged delegates when we get through June 7," Weaver said, referring to the day that the final six states, including California, vote" [Seven Days].

Just in case Sanders people think Clinton wants their votes:

Interesting when candidate admits to using a political party he hasn't been part of to achieve his ambition.And I'm not talking about Trump

— Neera Tanden (@neeratanden) March 15, 2016

In realpolitik terms, if more Republicans defect over Trump than Sanders voters defect over Clinton, it makes perfect sense for Clinton to heave Sanders and his voters over the side. Which she appears to be doing.
Clinton Email Hairball
"Given the NSA's refusal to give Clinton what she wanted, the secretary apparently decided to continue to use her personal e-mail server for State Department business, while her staff was fully aware of the security risks associated with using her BlackBerry." [Ars Technica]. I'm actually just a little sympathetic to Clinton, here, since the alternative to the BlackBerry that the NSA offered Clinton was a device running Windows CE. Interesting read.
Stats Watch
Philadelphia Fed Business Outlook Survey, March 2016: "The Philly Fed's general conditions index has emerged from a long negative run with a much stronger-than-expected March reading" [Econoday]. "Importantly, strength is confirmed by new orders which literally surged to plus 15.7 from minus 5.3 in February. Contraction in unfilled orders is now only marginal at minus 1.9 which is another good sign. This report confirms similar strength in Tuesday's Empire State report" (which is noisy, let us remember). But: "This is a very noisy index which readers should be reminded is sentiment based. The Philly Fed historically is one of the more negative of all the Fed manufacturing surveys but has been more positive then the others recently" [Econintersect]. And but: "I am generally not a big fan of these regional factory indicators, as there are so darn many of them and their correlations with the national ISM measure are spotty" [Amherst Pierpont Securities, Across the Curve]. "Nonetheless, the Fed's factory output data, released yesterday, showed back-to-back gains, the ISM composite crept higher in February (still below 50), and durable goods orders in January rebounded after weak November and December results. So, the evidence is piling up that the manufacturing sector's worst days are probably behind it, and the regional gauges this week are downright hopeful. I doubt that we will see much growth in the factory sector in 2016, but it may very well cease to be an outright drag, as the most intense period of dollar appreciation is now more than 18 months in the past, so that the headwinds from the strong dollar are probably beginning to fade."
Leading Indicators, February 2016: "The index of leading economic indicators inched 0.1 percent higher in February following declines of 0.2 and 0.3 percent in the prior two months" [Econoday]. "The yield spread, reflecting [***cough*** manipulation ***cough***] accommodative monetary policy, remains a central strength as do unemployment claims, which have been trending at historic lows. Factory readings, which were strong in January, fell back in February. This report has been soft and is pointing to no more than moderate economic growth over the next six months." However: "[K]nowing the current values is no assurance that a recession is or is not imminent as there is no track record of real time performance" [Econintersect].
Jobless Claims, week of March 12, 2016: "The labor market is steady and solid based on jobless claims data where initial claims came in at 265,000, up 7,000 in the March 12th week but still near record lows" [Econoday]. "There are no special factors in today's report, one that underscores the Federal Reserve's confidence in the strength of the labor market." And: "Claim levels are at 40 year lows (with the normal range around 350,000 weekly initial unemployment claims of levels seen historically during times of economic expansion" [Econintersect].
JOLTS, January 2016: "In a mixed report, job openings surged in January to 5.541 million from, however, a sharply downward revised 5.281 million in December (5.607 million initially reported)" [Econoday]. "The quits rate, which jumped in December, fell back a sharp 2 tenths to 2.0 percent and points to less confidence among workers to shift jobs." But: "The BLS Job Openings and Labor Turnover Survey (JOLTS) can be used as a predictor of future jobs growth, and the predictive elements show that the year-over-year growth rate of unadjusted private non-farm job openings improved from last month. The growth rate trends marginally improved in the 3 month averages, but the 2015 year-to-date averages continue to decline" [Econintersect].
Bloomberg Consumer Comfort Index, week of March 13, 2016: "The consumer comfort index rose a solid 5 tenth to 44.3 in the March 13 week, back up above the 44 reading where it has hovered for most of the year" [Econoday]. "[T]he report reaffirms that consumer confidence is stable, continuing to benefit from the strength of the labor market, and underscores the Federal Reserve's view that consumer confidence remains intact."
Commodities: "There is mystery at the heart of the oversupplied global oil market: missing barrels of crude. Last year, there were 800,000 barrels of oil a day unaccounted for…." [Wall Street Journal: "Crude Mystery: Where Did 800,000 Barrels of Oil Go?"]. "Some analysts say the barrels may be in China. Others believe the barrels were created by flawed accounting and they don't actually exist. If they don't exist, then the oversupply that has driven crude prices to decade lows could be much smaller than estimated and prices could rebound faster."
The Fed: "Why the Fed should allow wages to rise" [CBS]. I like that headline. It states, quite openly, that the purpose of the Fed is class warfare.
Today's Fear & Greed Index: 77, Greed (previous close: 75, Greed) [CNN]. One week ago: 71 (Greed). (0 is Extreme Fear; 100 is Extreme Greed). Last updated Mar 17 at 12:21pm. So, off the time and heading toward the 80s. Sentiment improves…
Gaia
"New research shows that overuse of antibiotics by children is to blame for bugs becoming drug-resistant for up to six months at a time in cases of urinary tract infections (UTI) caused by E coli" [Guardian].
Black Injustice Tipping Point
"Black Americans were disproportionately targeted in the 'war on drugs.' Now state laws and steep regulatory costs have left them far more likely to be shut out of America's profitable marijuana boom" [Buzzfeed]. "For most jobs, experience will help you get ahead. In the marijuana industry, it's not that simple. Yes, investors and state governments are eager to hire and license people with expertise in how to cultivate, cure, trim, and process cannabis. But it can't be someone who got caught. Which for the most part means it can't be someone who is black."
"The Times-Picayune review of hundreds of pages of court documents has discovered that the roughly 2,000 eligible victims of lead poisoning in the city's public housing developments received, on average, no more than $17,000. Meanwhile, three lawyers appointed by the court to help administer the settlement fund were paid, in total, almost $2 million, with one of them making almost half a million dollars for four months of work" [Times-Picayune]. "Kinard's children didn't receive a dime. Their medical records had been lost during Hurricane Katrina." And: "U.S. Investigating Elevated Blood Lead Levels in New York's Public Housing" [New York Times]. Great.
Imperial Collapse Watch
"More than 12 punished for mistaken Afghan hospital attack" [AP]. As we've seen, our military lacks operational competence.
Class Warfare
"Automating the Professions: Utopian Pipe Dream or Dystopian Nightmare?" [Los Angeles Review of Books]. A useful survey of the literature.
"Jobs Involving Routine Tasks Aren't Growing" [St Louis Fed].
U.S. labor markets are undergoing important long-run changes. These include:

The decline of middle-skill occupations, such as manufacturing and production occupations
The growth in both high- and low-skill occupations, such as managers and professional occupations on one end, and assisting or caring for others on the other.

Economists have coined the term "job polarization" for this process.1 As has been argued in the economic literature, the most likely drivers of job polarization are automation and offshoring, as both these forces lower the demand for middle-skill occupations relative to the rest.
Note lack of agency. And I love the distinction, further down in the paper, between "cognitive" (Acela-riding) and "manual" (fixing your plumbing).
"Lee Sedol used about 20 Watts of power to operate. By contrast, AlphaGo runs on a whopping 1920 CPUs and another 280 GPUs for an estimated power consumption of approximately 1 MW (200 W per CPU and 200 W per GPU). That's 50,000 times as much power as the amount of power that Lee Sedol's brain uses" [Jacques Mattheij]. "So now the interesting question (to me at least) is: How long before a computer will beat the human Go world champion using no more power than the human."
"How Google's AI Auto-Magically Answers Your Emails" [Wired]. "Potential responses are meant to get better over time by learning from the replies users select" In other words, humans will train their replacements for free.
"Although the top 0.1% is a small group—it includes about 160,000 families with net assets above $20 million in 2012—carefully measuring its wealth is important for several reasons. First, questions of morality aside, economies tend to function at less than optimal levels when an increasing share of national wealth goes to an increasingly small amount of the population (especially when that group has the highest propensity to save). Second, the increasing fraying of the social contract has led to a profound political polarization, manifesting itself through the rise of nationalist/neo-fascist parties and political figures" [Emmanuel Saez, Social Europe]. There are not very many of the Shing….
News of the Wired
"Crowdfunding for the Public Good Is Evil" [Wired]. "Once we start privatizing what was once squarely public, governments will all too eagerly push those expenses off their ledgers. The effect snowballs, and crowdfunding becomes an excuse to leave more and more basic services up to the crowd. Roads, health care, education: These are not the kinds of things that go viral and raise $2 million in less than a week."
"How a Ragtag Gang of Retirees Pulled Off the Biggest Jewel Heist in British History" [Vanity Fair].
"French Cafés Are Charging Extra for Rude Behavior" [Grub Street].
* * *
Readers, feel free to contact me with (a) links, and even better (b) sources I should curate regularly, and (c) to find out how to send me images of plants. Vegetables are fine! Fungi are deemed to be honorary plants! See the previous Water Cooler (with plant) here. And here's today's plant (pq):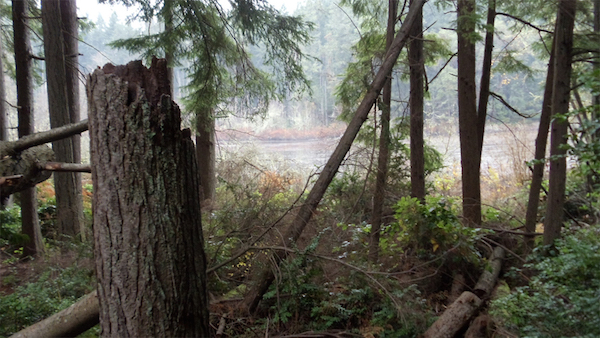 "Late December, Fisher Pond."
Readers, I'm starting to run a little short on plants. In Maine, of course, it's mud season, with everything concealed by the snow now out in the open. As ugly as a bad psychoanalysis… So either the last snows or the budding trees or the first garden would be nice…. Or anything, from you guys in the tropics…
* * *
If you enjoy Water Cooler, please consider tipping and click the hat. Water Cooler would not exist without your support.