By Lambert Strether of Corrente.
TPP/TTiP/TISA
"TPP: The New Gold Standard for Intellectual Property Protection in Trade Agreements?" [HuffPo]. Author is a Director, Economic Policy and Debt, The World Bank. Useful compendium of terms you have flagged, like "innnovation." Here's the intro:
The Trans-Pacific Partnership, or TPP, with its emphasis on dismantling and on fostering , is often referred to as the new "gold standard" for preferential trade agreements.
"Behind-the-border trade restrictions." You know. Like laws.
2016
The Voters
"Sanders's is not a campaign that history will judge by the number of votes he won. Like only a handful of predecessor campaigns, like no presidential campaign since Barry Goldwater's, his will be judged by whether it sparked a movement that transformed America. That's the metric by which Sanders himself measures his success" [Harold Meyerson, The American Prospect]. "Problem is, electoral campaigns don't create enduring organizations, much less social movements. Though Barack Obama's 2008 presidential campaign likely mobilized more volunteers and donors than any that came before, the organization through which it sought to keep its activists active once Obama became president—Obama for America—lacked all autonomy or organizational life; it failed even to exert any pressure on Democratic members of Congress who were cool to Obama's agenda." Because Obama killed it!

"Is Retaking the House a Democratic Pipe Dream?" [David Dayen, The New Republic]. "But it takes years to recruit and train candidates who can raise enough money to win a congressional election; you can't throw it together in a few months. You can see how unprepared Democrats are for this scenario by looking at how many districts won't have a Democratic candidate at all."

"85 of the 100 fastest growing counties voted for Mitt Romney in 2012" [WaPo]. With handy map.
Money
"Fundraising in the presidential contest has zoomed past the $1 billion mark, fueled by the dozens of super-wealthy Americans bankrolling super PACs that have acted as shadow campaigns for White House contenders" [USA Today].
The Trail
Even though this is a family blog….

(Readers will note the name "Roger Stone.") Yes, the Enquirer, who also got Gary Hart, Bill Clinton, and IIRC Tiger Woods right. So….)

"The actual story—which is not online, but which Gawker has obtained a copy of—does not name any of the women with whom Cruz purportedly was involved. Descriptions are given for each, however, and at least one should sound very familiar to folks who have been following this election" [Gawker].

"Inside Trump's plot to thwart a contested convention and seize control of the GOP" [WaPo]. There's an awful lot of 11-dimensional chess going on here, and I have the feeling none of the players are much good.

"Donald Trump beat Sen. Ted Cruz earlier this month in Louisiana's Republican presidential primary by 3.6 percentage points, but the Texan may wind up with as many as 10 more delegates from the state than the businessman" [Wall Street Journal, "Ted Cruz Gains in Louisiana After Loss There to Donald Trump"].

Gene Smith's "Lysistratic Non-Action" tactic proposed against Trump [New York Magazine].

"The John R. Kasich of 2016 is a much mellower politician than the hard-charging congressman of the 1990s, who could be so difficult that House Speaker Newt Gingrich, never known for his diplomacy, offered Mr. Kasich firm advice about his tendency to bulldoze colleagues" [New York Times]. Gingrich mellows out Kasich. What a year this has been…

"Both Clinton and Sanders are starting to beat Trump by a lot" (with many charts) [Philip Bump, WaPo].

Warren on Sanders: "'He's out there. He fights from the heart. This is who Bernie is. He has put the right issues on the table both for the Democratic Party and for the country in general so I'm still cheering Bernie on" [Politico].

"An Open Letter to Dolores Huerta" [HuffPo]. "[W]hy your article on Bernie Sanders came as such a surprise to me — that the same woman who has made it her life's mission to speak the truth and shed light on corruption, lies, and false narratives created by the corporate elite and special interest groups, would now suddenly create a narrative that distorts facts and misguides American voters."

"Common Arguments from Prominent Hillary Clinton Supporters Debunked" [HuffPo]. More analytical than the headline.

WaPo's delegate tracker [WaPo].
Stats Watch
Markets are closed today.
Corporate Profits, Q4 2015: "Held down by declines in the petroleum and chemical industries, corporate profits in the fourth quarter came in at $1.640 trillion, down a year-on-year 3.6 percent" [Econoday].
GDP, Q4 2015: "Real GDP came in stronger than expected in the fourth quarter, at an annualized plus 1.4 percent for the third estimate vs expectations for 1.0 percent. The second estimate was also 1.0 percent with the first estimate at plus 0.7 percent" [Econoday]. "The third estimate got a boost from an upward revision for personal consumption expenditures."
"[W]hile upper income households did a lot better than the lower income households, in absolute terms those upper income households haven't done all that well" [Mosler Economics]. Taking income as a proxy for wealth, the power curve is fractal. I bet if that 95% percentile were broken down, the top would be doing extremely well. And the top of the top even better. And so on.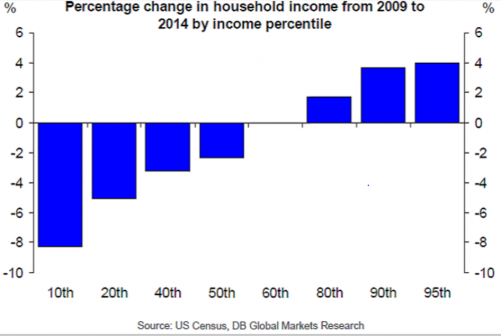 Shipping: " Rail Week Ending 19 March 2016: Rail's Slide Into The Abyss Worsens" [Econintersect].
Honey for the Bears: "Party chiefs face a difficult task. Over the next five years, they need to shut down millions of tons of industrial capacity that's making China's economy inefficient. This means downsizing scores of steel, coal and other large industries that currently employ hundreds of thousands of workers. They have promised to do this without large-scale layoffs. Those displaced, Mr. Li said, would be given new jobs or government assistance." [Wall Street Journal, "China Warns Officials: No Unrest, Or Lose Your Job"].
"Wall Street executives complain about the dearth of liquidity so often that Bloomberg's Matt Levine has a section in his daily email dedicated to detailing their gripes" [Bloomberg]. "It has been interesting to note, then, that some official sector research has suggested that it isn't all that much of a problem."
"Hedge-fund shutdowns outnumbered startups last year for the first time since 2009" [Bloomberg].
"[W]e should regard policymakers who knowingly ignore evidence with great suspicion, and those that try to deliberately keep evidence out of the public domain should be condemned" [Mainly Macro]. So, to the tumbrils with the entire political class, then? Given that, except for a few outliers, they believe that government is like a household?
Today's Fear & Greed Index: 66, Greed (previous close: 70, Greed) [CNN]. One week ago: 78 (Extreme Greed). (0 is Extreme Fear; 100 is Extreme Greed). Last updated Mar 24 at 5:30pm.
Black Injustice Tipping Point
"The Black Lives Matter Founders Are Among the World's Greatest Leaders" [Fortune].
"While TFA claims to have increased the diversity of those within its ranks, it also causes a decrease in the number of teachers of color by displacing them" [Diane Ravitch].
"In Baltimore, public investment — and disinvestment — in transportation have figured greatly in the persistence of racial and economic inequality" [Place Journal]. Excellent long read on "white flight" in Baltimore, which started not with the post-war suburbs, but with pre-war streetcars. "These lovely neighborhoods exemplified the charms of the early streetcar suburbs (Roland Park was designed by Frederick Law Olmsted, Jr.). But they exemplified as well the prejudice that at least in part explained why these new planned communities were such a sure investment for real estate developers. Not only did the Roland Park Company build some of the earliest garden suburbs in America; it was also among the first to deploy restrictive racial covenants on deeds of purchase."
Health Care
"[Minnesota's] Gov. Mark Dayton is pitching a $500,000 study of moving Minnesota to a single-payer health care system" [AP].
Corruption
"According to a new report from Syracuse University researchers, federal corruption prosecutions have hit a two-decade low. In all, such prosecutions have dropped by more than 38 percent since 1995. Much of that decline has happened under President Barack Obama: In just the last five years, the number of federal corruption prosecutions have dropped by more than 30 percent" [David Sirota, International Business Times].
"Erik Prince, founder of the now-defunct mercenary firm Blackwater and current chairman of Frontier Services Group, is under investigation by the U.S. Department of Justice and other federal agencies for attempting to broker military services to foreign governments and possible money laundering" [The Intercept].
"In White Castle, Louisiana, a reporter for the local ABC affiliate WBRZ was arrested yesterday after he visited City Hall to follow up on a public records request he'd sent earlier in the week. Chris Nakamoto, the reporter, was investigating a pay raise that had recently been given to the mayor, and not all of the documents he'd requested had been provided to him" [Gawker].
Gaia
"Sex Is a Coping Mechanism" [Nautilus]. Not that way! "The mitochondrial genome tends to mutate quickly and is prone to fall out of sync with regulatory genes in the nucleus, with potentially negative consequences for the organism. Dowling thinks sex evolved as a way for the nucleus to keep pace with the protean realm it supervises."
"Modern Peanut's Wild Cousin, Thought Extinct, Found in Andes" [Scientific American]. "We now know that the first inhabitants of South America in their long voyages carried A. ipaensis to the land of A. duranensis 10,000 years ago. Once in the same area, bees pollinized the peanut plant flowers, allowing the birth of the hybrid that our South American ancestors ate and that eventually led to the modern peanut, Arachia hypogaea." Globalization…
Class Warfare
"If Congress continues to serve the interests of the donor class rather than the working class, fails to provide the economy with the infrastructure it needs and the jobs that come with it, and forces further reductions in social services through tax cuts and demagoguery over the national debt, the discouragement so many people feel will only get worse." [Mark Thoma (!), CBS Money Watch]. "Unfortunately, the anger and discouragement so many people feel is only being exploited by politicians seeking the presidential nomination. Will the voices of people struggling to make ends meet every month be truly heard once the election is over? And will those needs translate into policies that serve the vast majority of Americans rather than those at the top? That remains to be seen."
"Disparity in the life spans of the rich and poor is growing" (audio) [PBS]. "Class warfare" not metaphorical?
"How Airbnb Short-Term Rentals Exacerbate Los Angeles's Affordable Housing Crisis: Analysis and Policy Recommendations" (PDF) [Harvard Law and Policy Review].
"Public transit's moment arrives just as public spending disappears" [Boing Boing].
News of the Wired
"Even as Facebook and other competitors have vied for video content, YouTube's audience remains widespread: More 18-to-49-year-olds watch its videos on their phone than tune into any cable network in America, Nielsen data show" [WaPo]. "Google says its surveys have found that more than half of baby boomers and seniors are watching online videos, too."
"So why aren't jihadis taking advantage of running dark web sites? Rid and Moore [of the of the Department of War Studies at King's College] don't know for sure, but they guess that it's for the same reason so few other people publish information on the dark web: It's just too fiddly" [Quartz].
"Authorities say a man covered in gold spray paint was arrested on suspicion of drunken driving in the San Francisco Bay Area" [AP].
"Out Here, No One Can Hear You Scream" [HuffPo]. "The dangerous culture of male entitlement and sexual hostility hiding within America's national parks and forests."
For fans of the beautiful game:
* * *
Readers, I still need to fix my fershuggeneh contact form! Hopefully noting that fact publicly will serve a lash and a spur to my endeavors. (Meanwhile, thanks to readers, who already have my email address, who sent in images of plants!)
See the previous Water Cooler (with plant) here. And here's today's plant (Isolato):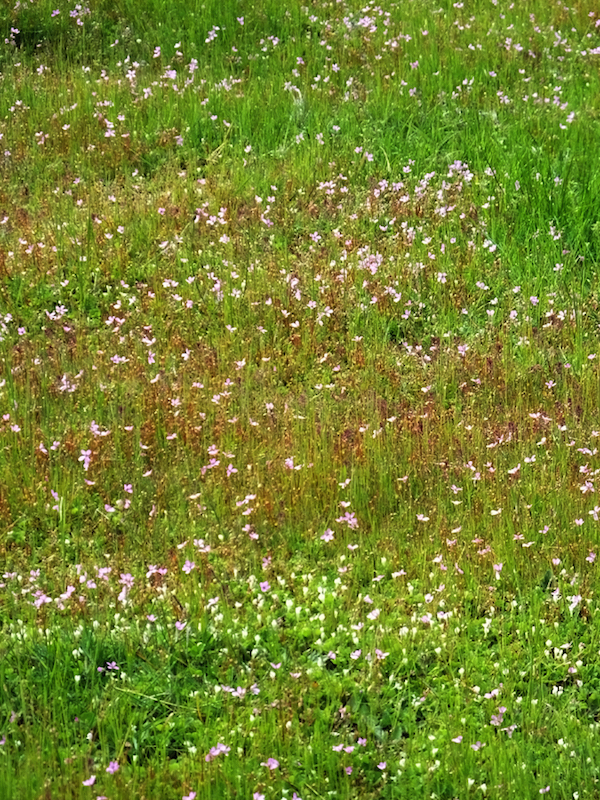 Looking forward!
* * *
If you enjoy Water Cooler, please consider tipping and click the hat. Water Cooler would not exist without your support.