By Lambert Strether of Corrente.
TPP/TTiP/TISA
"[T]he nation's mayors—most of them Democrats, especially in the larger cities— remain overwhelmingly committed to free trade in general and the Trans-Pacific Partnership in particular" [Rob Brownstein, The Atlantic]. These Mayors are Clinton's local surrogates. You can bet that if Clinton had changed her position on TPP in reality, that they'd be changing their tune.
"Regulations of Toxic Chemicals under TTIP" [ChemistryViews]. "'The latest TTIP proposals would allow 'regulatory cooperation' to affect the implementation of EU chemical laws,' says Baskut Tuncak, Senior Attorney, [Center for International Environmental Law]. 'This is a serious threat to EU chemical laws and policies as the US continues to lobby against more protective EU standards.'"
"The U.S. government has made no secret of its interest in limiting the EU's reliance on the Precautionary Principle in setting food, environmental and chemical safety standards" [Institute of Agriculture and Trade Policy]. "Under that Principle, which is part of the EU's foundational Treaty of Lisbon, when there is a possibility that a policy or action could harm human or environmental health but the science is uncertain, that action is avoided until there is more definitive scientific information."
2016
Arizona Debacle
Democratic insider reacts:

I'm trying but please stop whining. Let's all get out to vote and stay in line. https://t.co/gULvj1JUq4

— Donna Brazile (@donnabrazile) March 23, 2016

"How The March 22 Primary Elections Went Down" [Nate Silver, FiveThirtyEight]. This is a live blog. If you want to see how deep in the tank for Clinton Silver is, count the mentions of problems at the polls in Arizona. Spoiler alert: Zero.

"The Election in Arizona Was a Mess" [Mother Jones]. "Whoever's to blame, the net result was the same: thousands of people stood in line for hours, some of whom gave up and ended up not voting." And we know who lower turnout benefits.

"Another 'Disgraceful' Day for Democracy, Heroic Day for Voters: 'BradCast' [BradBlog]. How I wish BradBlog had transcripts…

"Was There Election Fraud in Arizona? 5 Fast Facts You Need to Know" [Heavy].

"Arizona is a massive fraud" [Reddit].

"AZ lawmakers to hold special hearing on elections fiasco" [KPNX]. Monday!

"What Does Early Vote Say About Who Will Do Well in Arizona?" [NBC]. It says that when you combine early voting with election fraud you bias the election toward establishment figures.
The Voters
"I was struck by the percentage of Republican primary voters that said they wouldn't support Trump if he became the nominee: 17%" [The American Conservative]. That 17% is the voters Clinton and the Democratic Establishment both want. Not Sanders voters, the smelly proles and stupid Millenial #BernieBros.

"[W]ith massive increases in voter turnout that online voting yields, and bringing in hordes of people that did not vote previously in primaries like young people and minorities, it's hard to imagine that incumbents could hold onto the lock that they have now" [WaPo]. And Internet voting can be made transparent how?
The Trail
"[A] Bloomberg Politics national poll found that Sanders is the first choice of 49 percent of those who have voted or plan to vote in this year's Democratic contests, while the former secretary of state is preferred by 48 percent" [Bloomberg]. Clinton is a terrible candidate.

"This Tuesday, I changed my party registration from independent to Democratic so I can vote in Pennsylvania's April 26 closed-party primary" [Will Bunch, Philadelphia Daily News]. Readers, check your own states if you have closed primaries, because deadlines are approaching! "Don't let party elites and jaded insiders tell you that this race is already over or that your vote doesn't count. But please vote — vote like there's no tomorrow. The stakes in this 2016 election are just too damn high." And a great reference to the Edwin Edwards slogan when he was running against David Duke: "Vote for the crook — It's important!" Something to be said for that. Terrific column.

Pennsylvania: Clinton leads Sanders, 55 to 28 percent [Penn Live]. The primary is April 26.

"A survey released Wednesday by the Public Policy Institute of California showed Clinton leading Sanders, 48% to 41%. She held a 23-percentage-point lead among Latinos, who could make up about a third of the Democratic electorate in June. Among women, who are more than half the Democratic vote, Clinton led by 19 percentage points" [Los Angeles Times]. "To expand his reach in California, Sanders will need to energize independent voters, who have proven more embracing of his message in other states. Those voters can cast ballots; the question for Sanders is whether they will, on a broad enough scale to offset Clinton's strength among Democratic Party loyalists." California's primary is June 7.

"Indeed, Latinos, who outnumber whites in the state, dominate California's Democratic primary. And like with women and black voters, a generational divide exits, with many young minorities more willing to support Sanders" [Los Angeles Times]. Gee, there's more nuance than "Sanders only appeals to whites." Who knew? C

"While campaigning, Mrs. Clinton has directly addressed young voters, telling them that even if they don't support her, she will support them" [Wall Street Journal, "Sanders Supporters at Colleges 'Not Yet Interested' in Joining Clinton Camp"]. Tranlation: Quislings will be richly rewarded (given that the Clintons are famous for never forgetting a slight).

"The Best Takeaways From Bernie Sanders' Live Interview With The Young Turks" [Elite Daily].

"Donald Trump's Tough But Plausible Path to Winning the White House" [Bloomberg]. "Trump's unexpected success in the primary has revealed his uncanny ability to appeal to the fears of working-class Americans, which some Democratic and Republican operatives say could scramble the electoral map by putting in play Midwestern states that have voted Democrat in recent elections."

"[M]aybe GOP voters simply don't believe that there's any way Clinton could beat Trump — let alone that she might defeat him decisively — since their leaders and media sources have told them for months that Clinton is a hopelessly flawed, widely despised candidate who is eternally on the verge of getting buried by a new revelation about Benghazi or her email arrangement" [WaPo].

The problem with #NeverTrump: You can't beat something with nothing [Matt Bai, Yahoo News]. Bai needs to learn his clichés!
Merrick Garland
"Judge Garland is just the kind of candidate we would have advised President Bush to nominate if he had been in this situation" [New York Times]. And: "AS the chief ethics lawyer in the White House Counsel Office, I helped President George W. Bush with the nomination and confirmation of Chief Justice John G. Roberts Jr. and Justice Samuel A. Alito Jr. to the Supreme Court." Like I said: Garland is about appealing to "moderate" Republicans.

"As Supreme Court nominee Merrick Garland continued to make the rounds with Democratic senators this week, activists fanned out across the country to picket GOP lawmakers refusing to consider President Barack Obama's choice" [Roll Call]. "Activists from Americans United for Change are planning to hold rallies outside events in Osceola and Lyon Counties next week as part of the #DoYourJob campaign." Really has that organic feel, doesn't it?
Stats Watch
Durable Goods Orders, February 2016: "The manufacturing component of the industrial production report pointed to February strength but the durable goods report certainty isn't. Orders fell 2.8 percent with the ex-transportation reading, which excludes the up-and-down swings of aircraft orders, down a very sizable 1.0 percent" [Econoday]. "And capital goods readings, which offer indications on business investment, are once again in the minus column." Well, we have apps. Who needs durable goods when you can have selfies? And: "In January, it appeared orders were bottoming. In February, in part thanks to revisions, the rebound is gone. Manufacturing, it seems, will continue to struggle for a time" [FTN Financial, Across the Curve]. And: "And the downward spiral continues with sales falling faster than inventories" [Mosler Economics]. However: "The headlines say the durable goods new orders declined. The unadjusted three month rolling average improved this month and now is in expansion. Our view of this data is that there was an improvement this month" [Econintersect].
Kansas City Fed Manufacturing Index, March 2016: "Other regional reports have been picking up a sudden turn of strength this month, all except Kansas City where the index came in at minus 6 in March which is however an improvement from minus 12 in February" [Econoday]. "The weakness in the energy sector is still taking a heavy toll in the Kansas City region."
PMI Services Flash, March 2016: "There's not very many early indications on the service sector and the sample from Markit Economics is reporting only the most modest strength" [Econoday]. "The trend remains very soft with new orders at their weakest pace in data going back to 2009 and backlogs at an 8-month low."
Jobless Claims, week of March 19, 2016: "Indications from the jobless claims report are all lining up for another month of solid strength in the employment report" [Econoday]. "Of special note! The latest reading for initial claims is the 55th straight under 300,000, the longest streak since 1973."
Jobless Claims: A typically lucid post of Mosler. Important! [Mosler Economics]. "So if unemployment benefits are a lot harder to get than last time around, what does this mean for the macro economy?"
Bloomberg Consumer Comfort Index, week of March 20, 2016: "The Bloomberg consumer comfort index fell back 7 tenths" [Econoday].And: "The divergence between the consumer and business sectors that I have been highlighting for a while is patently obvious in this report. Consumer-facing categories, most notably autos, strengthened, while business investment categories were dismal" [Amherst Pierpont Securities, Across the Curve].
Commodities: "A commodity trader suing NewLead Holdings for breach of contract has made extraordinary allegations of stock manipulation, bank fraud and money laundering in a proposed amended complaint filed with the New York Supreme Court" [Splash247]. Not used to seeing a story like this on a shipping site…
Gentlemen Prefer Bonds: "Nearly $8 trillion of bonds globally have negative yields now, which has spurred fund managers from around the world to buy corporate debt in the U.S., where interest rates are positive." [Bloomberg].
Bitcoin: "[W}e show that while bitcoin transfers themselves are relatively frictionless for the user, there are significant frictions when bitcoins trade in exchange markets resulting in meaningful and persistent price differences across bitcoin exchanges. These exchange-related frictions reduce the incentive of market participants to use bitcoin as a payments alternative" [Liberty Street]. "Bitcoins are strictly homogenous: a bitcoin bought on one exchange is identical to a bitcoin bought on any other exchange. Therefore, any price differences across major bitcoin exchanges should be promptly eliminated by arbitrageurs buying bitcoin where it is less expensive and selling it where it is more expensive, thus enforcing the law of one price. However, the charts below show large differences between the prices of bitcoin-U.S. dollar transactions on three major exchanges."
The Fed: "[T]he dot plot offers a great representation of how much officials disagree. It says nothing about which of their views will prevail when the policy-making Federal Open Markets Committee forges a consensus" [Narya Kocherlakota, Bloomberg].
Today's Fear & Greed Index: 62, Greed (previous close: 70, Extreme Greed) [CNN]. One week ago: 78 (Extreme Greed). (0 is Extreme Fear; 100 is Extreme Greed). Last updated Mar 24 at 11:32am. Back to mere greed?!
Police State Watch
More law enforcement for profit?
99% of the growth in jails over the last 15 years was in the detention of people who are legally innocent pic.twitter.com/oJGVq1z0eq

— Devah Pager (@devah_pager) March 20, 2016
(Source here.)
Health Care
"How to Stop the Bouncing Between Insurance Plans Under Obamacare" [New York Times]. Single payer! Oh, wait…
Because of fluctuations in income, millions of Americans move back and forth between Medicaid and the Affordable Care Act's insurance marketplace, leading to significant health and financial costs for individuals, states and insurance companies.

This cycling across different forms of insurance is called "churning." Churning is not a new phenomenon. In the past, people who rolled off Medicaid simply became uninsured. But now many who become ineligible for Medicaid become eligible for marketplace subsidies, and vice versa.
First, this is a function of ObamaCare's system design; as soon as you send people to one of two systems based on an eligibility test based on income, this will happen, since — follow me closely here, Acela riders — working class income often fluctuates. Second, I remember very well, when ObamaCare was being launched, that the question of how "navigators" should advise people who were "on the bubble," and the advice given was that they should just give whatever income figure worked out best for them (i.e., to lie, so the system has always been corrupt at its core). Third, why aren't we just calling this "smart shopping," instead of "churn"? And finally, all this was predictable and predicted (by me, among others), but only when numbers show up in budgetary figures does our 20% class deign to notice, years later; the lived experience of people trapped in this insane system simply isn't a motivator.
"Currently, Medicare Part B pays providers based on a drug's average sales price plus an additional 6%. The proposal will change this add-on payment to 2.5% plus a flat fee of $16.80. CMS also plans to implement value-based purchasing—or paying for drugs based on how well they work—for a limited number of prescription drugs" [AARP]. Interesting, but there's a copy editing error: The negative sign in front of 2.5% is missing. And I think that decimal point might be in the wrong place, too.
Gaia
"Ash dieback and beetle attack likely to 'wipe out' ash trees in UK and Europe" [Guardian]. "The loss of the ash, one of the most abundant tree species in the UK, would mean losing even more trees than the 15 million elms killed by Dutch elm disease in the 1970s. Ash is the most common hedgerow tree, with 60,000 miles of tree lines. It is the second most common tree in woodland, after the oak, and there are many ash trees in towns and cities."
"Florida (where air conditioning drives the second highest energy consumption nationally) is quickly becoming the poster child for how utilities are using ethically incontinent lawmakers and a gullible populace to prevent solar power technology from reaching critical mass" [TechDirt]. Do we have any Florida readers who can expand on this?
"A new study that looks at recent outbreaks of measles and pertussis (otherwise known was whooping cough) suggests what many people have suspected all along: Many of them occur in areas where large numbers of people are unvaccinated on purpose" [The Atlantic]. "The new study, published in The Journal of the American Medical Association, examined 1,416 cases of measles and 32 pertussis outbreaks in the United States. Of the measles cases, 56.8 percent of the people who contracted the disease were unvaccinated, and of those, 70.6 percent were not vaccinated for non-medical reasons. Of the 12 pertussis outbreaks, 8 out of 12 had very high numbers — between 59 and 93 percent — of intentionally unvaccinated victims."
Class Warfare
"Mocked and forgotten: who will speak for the American white working class?" [Chris Arnade, Guardian]. Good article with photographs that sadly remind me of when I worked in the mills, when there were mills. But please, please, please, could we just once have an article that focuses on "working class", without the "white"? After all, the Corvette plant closing had a lot to do with making Ferguson what it is today.
"Everything you need to know about whether money makes you happy" [80,000 Hours]. "Recent surveys of hundreds of thousands of people in over 150 countries show that richer people report being more satisfied with their lives overall, but that the richer you become, the more money you need to increase your satisfaction further. This is because people spend money on the most important things first."
"How quickly developers traded away the wide-open-spaces of the web for a walled castle with a monarch enforcing a 30% tax" [Joreteg]. That would be iOS and the Apple Store.
News of the Wired
"How one developer just broke Node, Babel and thousands of projects in 11 lines of JavaScript" [The Register]. True, but now seems to be fixed. "And that's how JavaScript app development works in 2016." But I'm glad none of those projects were running airplanes, or anesthesia machines, or nuclear power plants.
"Twitter taught Microsoft's AI chatbot to be a racist *sshole in less than a day" [The Verge]. Be careful out there, people!
"I am so excited for this severe threat looming on the horizon." [The Atlantic]. "Don't mind me, I'm just trying out a cognitive trick that's supposed to help with anxiety. It's called 'anxiety reappraisal,' and it boils down to telling yourself that you feel excited whenever you feel nervous. It sounds stupidly simple, but it's proven effective in a variety of studies and settings." Well, we all certainly have a chance to try out this tecchnique in 2016!
* * *
Readers, I still need to fix my fershuggeneh contact form! Hopefully noting that fact publicly will serve a lash and a spur to my endeavors. (Meanwhile, thanks to readers, who already have my email address, who sent in images of plants!)
See the previous Water Cooler (with plant) here. And here's today's plant (James H):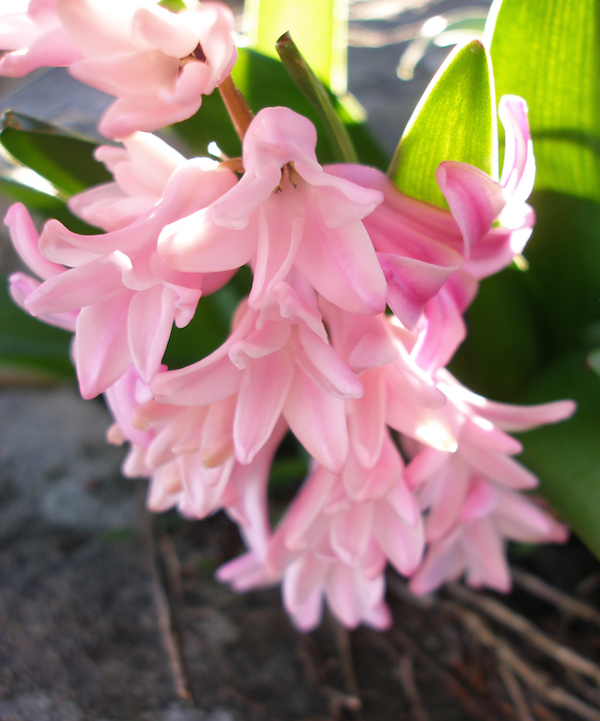 James writes: "One hyacinth, our last actually…" Time for spring flowers?! It's still mud season!
* * *
If you enjoy Water Cooler, please consider tipping and click the hat. Water Cooler would not exist without your support.