By Lambert Strether of Corrente.
TTP/TTiP/TISA
"Politics is grappling with what the economist Dani Rodrik has called an "inescapable trilemma": the ability to have any two of democracy, global integration and the nation state, but not all three simultaneously" [Guardian].
2016
Policy
"Mr. Sanders's lesser-known team hails (again unsurprisingly) from academia and social activism, like Benjamin Jealous, former president and chief executive of the N.A.A.C.P., and Steffie Woolhandler, co-founder of Physicians for a National Health Program. Stephanie Kelton, Mr. Sanders's chief economist on the Senate Budget Committee, espouses the redistributive ideals that have defined his campaign" [New York Times].

"Time to Transform Bernies's Campaign Into a Permanent Organization" [Miles Mogulescu, HuffPo]. "We're at an historical turning point: It may be years until there is again a mass mobilization of millions of potential supporters, tens of thousands of volunteers, hundreds of staff, millions of dollars in resources, and a YUGE email list." As I've been saying….
The Voters
On how the Republican elite lost the base: ""These voters would have loved someone to stand up and say, 'We should put someone in jail,'" said Matthew Dowd, former chief strategist to President Bush." [New York Times]. Good thing Obama stood between the bankers and the pitchforks, eh?

"Paul Krugman: a Prizefighter for Hillary Clinton" [Paul Street, Counterpunch].

Krugman's second mistake is to miss the basic fact that Donald Trump is the Democratic Party's Frankenstein no less than the Republicans' creation. How has the right-wing Republican Party gotten away with tapping and misdirecting so much legitimate white middle- and working-class anger and resentment away from its most appropriate target, the nation's unelected dictatorship of capital? It has been able to do so largely for the same reason that the authoritarian Trump has been able to claim the mantle of working class populism in the current U.S. presidential sweepstakes: because the neoliberal, post-New Deal Democratic Party abandoned the U.S. working class in pursuit of a deepened partnership with corporate America and high finance.

Exactly.
"The 89% Pay Cut That Brought Trump-Mania to America's Heartland" [Bloomberg].
The Trail
"For the Record: How do we sweep while our birds are Berning?" [USA Today]. (OK, I'll bite: Midnight Oil; lyrics.) "Many thought his campaign was dead, but over this weekend Bernie Sanders resurrected his chances like — shoot, I had an analogy for this. That other guy … you know, Jewish ex-carpenter … he went up against the establishment … eh, it'll come to me."

"D.I.N.O.S: Why Bernie Winning Caucus States is Why Bernie is More Electable Than Hillary" [Medium]. "There have never been as few Democrats as there are right now. And there have never been as many Independents as there are right now. And of those Independent voters, the vast majority are choosing Bernie Sanders. We're seeing this bear out in Caucus and open primaries."

"All five of Sanders's wins this week came in caucuses. The problem for the Sanders campaign is that there are only two caucuses left on the Democratic primary calendar" [FiveThirtyEight].

"In the [California] primary race, Clinton holds a modest lead over Sanders, 45% to 37%, among all Democrats and independent voters eligible to vote. Her lead is slightly larger, 47% to 36%, among those most likely to vote. Either way, that's a significant problem for Sanders" [Los Angeles Times]. Oddly, or not, the headline and the focus of the story is not that Sanders, a strong closer, is within striking distance, but that Clinton and Sanders voters will unite after Clinton's inevitable victory.

"On April 5, a less-predictable blend of voters in the maverick-friendly state of Wisconsin gets to have its say, and while Nate Silver may give Clinton an 84 percent chance at winning the primary, Sanders is every bit as likely to defy the polls in the Badger State as he was in Michigan, experts tell Newsweek" [Newsweek].

"Sanders sharpens attacks for N.Y. showdown that may dash Clinton's unity hopes" [WaPo]. "To capitalize on his fresh momentum, Sanders plans an aggressive push in New York, modeled after his come-from-behind victory a few weeks ago in Michigan. He intends to barnstorm the state as if he were running for governor. His advisers, spoiling for a brawl, have commissioned polls to show which contrasts with Clinton — from Wall Street to fracking — could do the most damage to her at home." If Teachout can get 30% of the vote against Cuomo… Say, has Clinton endorsed Teachout yet? Because there's a special place in hell…

"Covering Bernie Sanders, as He Keeps His Spirited Campaign Alive" [New York Times]. "The Sanders campaign is unlike any other this election cycle. The packed rallies of liberals, young people and union workers; the anger at Wall Street; the indie rock anthems; and the kiwi slices consumed aboard his campaign plane characterize a movement that feels both unexpected and yet perfectly aligned with this cultural moment."

This is truly pathetic (and contrast it to the reporting above) [Politico].

It didn't go unnoticed. "I think there is a much meaner culture in the Sanders campaign than people realize," said Clinton donor Eleni Kounalakis, a former ambassador to Hungary, who said her family was bullied by Sanders supporters while volunteering for Clinton in Nevada.

"The Berners are very aggressive, and that kind of culture has to be validated to some degree from the top," she said. "My feeling is he doesn't address these people at the end of the night because if he sends a message of graciousness to his people, that's going to take the fire out of the aggressive approach."

Let me translate: Kounalakis, who gave money to Clinton in exchange for an ambassadorship, hasn't met with the deference she feels her corrupt bargain deserves. Call the whaaaambulance!

"The Countless Failings of the DNC" [Observer]. Quite a compendium.
Clinton Email Hairball
"How Hillary Clinton's email scandal took root" [Los Angeles Times]. While I still have some sympathy for Clinton wanting to use her Blackberry, the article paints a picture of a lawless Clinton surrounded by sycophants who can't say "No" to her. (And I'm not the first to say this, but Texts from Hillary looks more than a little ironic, especially in light of what was then already happening behind the scenes).
Stats Watch
Personal Income and Outlays, February 2016: "The outlook for the consumer has buckled, at least a bit following a surprisingly weak personal income and spending report for February" [Econoday]. Oopsie. And: "The overall tone of this report was quite disappointing, reflecting a fairly subdued inflationary backdrop and weak personal consumption activity" [TDSecurities, Across the Curve]. However: "The data this month showed good income growth with spending growth weak (significant downward revision in last month's expenditure data). Still year-over-year consumption is growing faster than income" [Econintersect].
International Trade in Goods, January 2016: "Trade in goods popped up February, with exports up 2.0 percent and imports up 1.6 percent" [Econoday]. "Imports were led by a 6.9 percent jump in consumer goods, one that hints at rising business expectations here at home. Imports of capital goods were also up and together with the gain for exports of capital goods are positives for global business investment."
Pending Home Sales Index, February 2016: "A surge in the Midwest fed a very promising and stronger-than-expected 3.5 percent rise in pending home sales for February" [Econoday]. "Today's report points to a badly needed bounce ahead for final sales of existing homes which, in previously released data for February, plunged 7.1 percent." And: "The National Association of Realtors (NAR) seasonally adjusted pending home sales index improved – to the highest index reading since last July. Our analysis of pending home sales agrees, and we are forecasting relatively good March home sales" [Econintersect].
Dallas Fed Mfg Survey, March 2016: "Weakness eased in the Dallas Fed's manufacturing sector this month, in what is the latest positive signal for March," although still deeply in the negative [Econoday]. "The Empire State, Philly Fed, and Richmond Fed reports are all showing strength this month, joined now by the hard-hit Dallas Fed, indications that point to a bounce-back from what was a very soft month of February for the factory sector."
Q4 GDP, for those who were out Friday: "Real GDP growth was revised higher on Friday to 1.4% annualized, a pleasant surprise. The bulk of the upward adjustment came in consumption, as services outlays were boosted. Overall, consumer spending managed a 2.4% annualized advance in Q4, a solid performance, especially considering the drag that warmer weather caused (mainly due to less utility usage but also by dampening demand for winter merchandise)" [Amherst Pierpont Securities, Across the Curve]. "The other data point from this release that garnered some attention was the corporate profits estimate for Q4. The figure sank by 7.8% on the quarter, which sounds really bad. It's clearly not a good result, but $125 billion out of the overall $160 billion drop came from the petroleum industry, and well over $80 billion of that reflected the booking of a legal settlement between BP and the government."
Car Sales: "Ward's Auto's estimate is for a continuation of the flattening of the seasonally adjusted annualized rate of sales from prior higher levels" [Mosler Economics].
Fodder for the Bulls: "Just when it all seemed very bleak, the global economy has shown some tentative signs of a rebound in recent weeks. The improved data significantly reduce recession risks in the near term" [Gavyn Davies, Financial Times, "Global economy snapping back into gear?"]. "This month, however, the data have failed to co-operate with the pessimists. Global activity growth has bounced back to 2.6 per cent, compared to a low point of 2.2 per cent a few weeks back. Much of this recovery has occurred in the advanced economies, with our nowcast for the United States showing a particularly marked rebound after more than 12 months of progressive slowdown."
Honey for the Bears: "The GDPNow model forecast for real GDP growth (seasonally adjusted annual rate) in the first quarter of 2016 is 0.6 percent on March 28, down from 1.4 percent on March 24" [Federal Reserve Bank of Atlanta].
Honey for the Bears: "[E]ven worse, the long-term outlook for earnings growth seems to be deteriorating. This is all bad news considering earnings are the most important drivers of stock prices." (charts) [Yahoo Finance].
Honey for the Bears: "The survey also found that most economists have lowered their outlooks for economic growth in 2016, and now expect that the U.S. will grow 2.2 percent this year, on average. That's down from a December prediction of 2.6 percent growth. The survey also found that 79 percent of economists lowered their growth outlook for 2017." [AP].
Honey for the Bears: "Since the financial crisis, the Federal Reserve and other central banks have been holding out an unlimited punch bowl, hoping that enough stimulus will get the economy, finally, moving again. It hasn't happened yet. The problem is, the central banks are in serious danger of running out of punch, and there's no good replacement in sight" [Wall Street Journal, "The One Economic Question Nobody Is Answering"]. "Where that replacement is going to come from is the one question nobody seems able to answer."
Today's Fear & Greed Index: 64, Greed (previous close: 66, Greed) [CNN]. One week ago: 78 (Extreme Greed). (0 is Extreme Fear; 100 is Extreme Greed). Last updated Mar 28 at 12:19pm.
Black Injustice Tipping Point
"Bridget Catlin, the co-director of the County Health Rankings, said segregation wreaks havoc on the body primarily by stressing it out. In addition to experiencing more violent crime, people in racially segregated pockets might be stranded further from good jobs or the transportation necessary to reach them" [The Atlantic].
Dear Old Blighty
First point of the executive summary: "(a) privatised rail as a serial shambles creating artificial profits for the franchise holders and hidden costs for the public" (PDF) ["THE GREAT TRAIN ROBBERY:Rail Privatisation and After," CRESC]. Thanks, Maggie!
"The governments Infrastructure Act removes control for decisions to sell or develop publicly owned land from the public sector. In short, before long, a private company will have the power to sell publicly owned land for Fracking, new nuclear, or whatever else it likes – and the public say in the development of its own land will be a thing of the past" [The Canary]. "After a tussle when more people became aware and opposed to the plans, the government announced it's intentions to proceed this week, at 5pm on the day before the Easter holidays began. David Cameron dropped this bombshell privatization announcement while the country is closed for Bank Holidays and then flew off to sun himself in Lanzarote."
"NHS crisis: GP figures spark SAFETY FEARS as Government 'FAILS' in recruitment drive" [Express].
Easter Wrap-up
Definitely a mixed bag…
On the Easter Rising: "The Heroes Hidden in the Archives" [Irish Independent]. Important!
"Colm Tóibín, Anne Enright, Roddy Doyle … the Easter Rising 100 years on" [Guardian].
"Between the Risings" [Jacobin (preview of new issue)].
"In 1999, while taking a break from my PhD to try to get rich in the fine jewellery business, I nearly became the world's largest counterfeiter of Fabergé eggs" [London Review of Books]. One of the better leads I've read lately.
"The Story of the Fabergé Egg (pictures) [The Fashion Law]. "From 1887 Fabergé was given complete freedom in the design and execution [of the eggs], with the only prerequisite being that there had to be surprise within each creation." And the Romanovs did indeed get their surprise, didn't they?
On the other hand….
The Nostromo's annual easter egg hunt once again proved to be a fucking disaster pic.twitter.com/MGewguqKhk

— Tomas GW Shore (@M0by_Duck) March 25, 2016
And then there's this…
Guillotine Watch
"The Declining Taste of the Global Super-Rich" [Current Affairs].
Class Warfare
"The neighborhood in which you grow up is a major determinant of your economic success as an adult. That's been known for a while, but new research suggests that the effects may be much larger than social scientists previously understood" [WaPo]. People need to chose better parents, say I.
"Cities begin to challenge a bedrock of justice: They're paying criminals not to kill" [WaPo]. "Cities across the country, beginning with the District of Columbia, are moving to copy Richmond's controversial approach because early indications show it has helped reduce homicide rates." Hmm.
News of the Wired
"Ultimately the banks are going to discover—the hard way—that getting into bed with Apple was a bad idea, about the same way that getting into bed with Amazon over ebooks was a bad idea for the Big Five publishers. Apple is de facto an investment bank, right now: all it needs is a banking license and the right back end and regulatory oversight and risk management and it will be able to go toe-to-toe with the likes of Chase or Barclays or HSBC as a consumer bank, too" [Charlies Diary]. "And Apple has a verygood idea of how risky their customers' behavior is because unlike the banks and the credit card settlement network they're not running on incrementally upgraded legacy infrastructure designed in the 1950s." Paging Clive…
VR and Pr0n: "Instead of being able to lose myself in the action, I found myself thinking about literally anything else besides sex (the ceilings, chiefly). Oh wow, I can look at the ceiling in this porno, I kept thinking" [Esquire].
"Polari [was] a secret language used by gay men in Britain at a time when homosexuality was illegal. Following a rapid decline in the 1970s, Polari has all but disappeared. But recently it's been popping up again" [Atlas Obscura]. "Let us put our best lallie forward and with our eeks shining with hope, troll together towards the fantabulosa futurette!"
"F*ck Nuance*" (PDF) [Sociological Theory]. "Abstract: Seriously, f*ck it."
* * *
Readers, I still need to fix my fershuggeneh contact form! Hopefully noting that fact publicly will serve a lash and a spur to my endeavors. (Meanwhile, thanks to readers, who already have my email address, who sent in images of plants!)
See the previous Water Cooler (with plant) here. And here's today's plant (James H):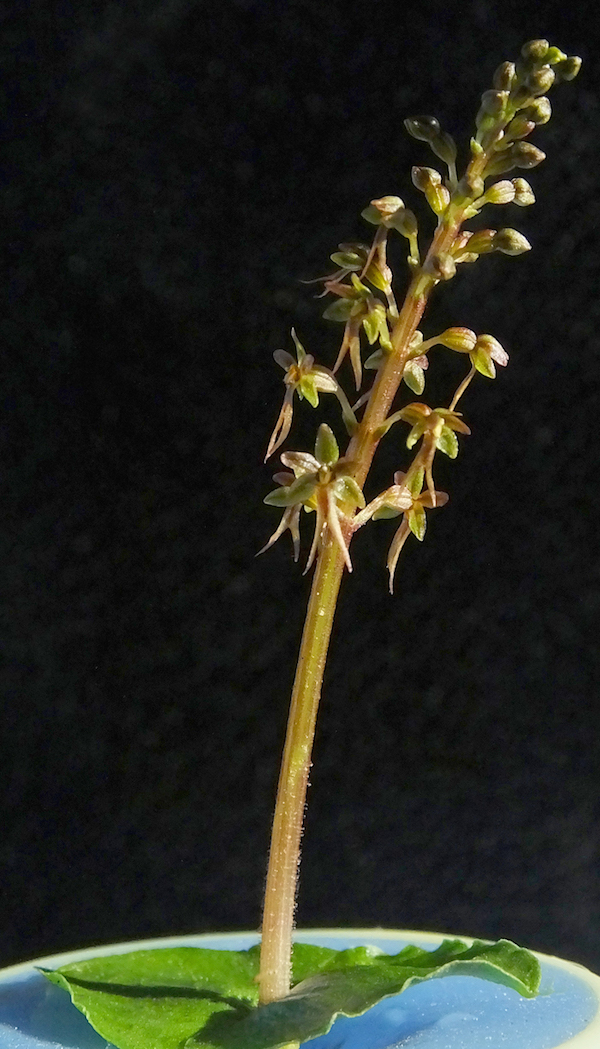 "A Heart-Leaved Twayblade."
* * *
Readers, a gentle reminder: Water Cooler is self-supporting; NC fundraising does not cover it. Your tips ultimately determine my level of effort (which, with the 2016 election, is considerable). So please consider tipping regularly. Thank you!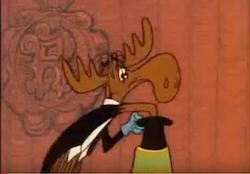 If you enjoy Water Cooler, please consider tipping and click the hat. Water Cooler would not exist without your support.