By Lambert Strether of Corrente.
TPP/TTIP/TISA
"The Obama administration is fighting back against an anti-free trade mood on the 2016 campaign trail, arguing that the United States' credibility and prestige in Asia is at stake in the debate over a Pacific Rim trade deal that the president has made a top priority in his final year" [WaPo]. Wait, I thought TPP was a trade deal?
2016
Policy
"U.S. Sen. Elizabeth Warren on Thursday requested a formal Securities and Exchange Commission investigation into four financial firms, asking the agency to evaluate whether they violated securities laws in an effort to thwart a federal initiative aimed at protecting investors" [Business Insider].

In her letter to SEC Chairwoman Mary Jo White, Warren notes that as part of their pushback against the proposed rule, financial firms have filed official comment letters with the Department of Labor registering their opposition to the proposal, and asserting that it would harm their business. But the Massachusetts Democrat argues that the statements of opposition in some firms' letters conflict with other statements in which they downplay the effect of the rule on their enterprises. She notes that securities laws generally prohibit corporate officials from making false or misleading statements about their business prospects.

The four firms are Jackson National Life Insurance Company, Lincoln National, Prudential Financial, and Transamerica Corporation.

"This is the story of the billionaire real estate magnate's light-on-policy, largely unprincipled campaign. This is the story that accounts of his abortion punishment flip-flop should tell" [WaPo]. Dunno that light-on-policy is unappealing to many voters; quite possibly the reverse, given what the policy wonks have done to us over the last 40 years or so.

And then there's this:

Clinton knocks Sanders: Americans can't "hold out for the perfect"https://t.co/4L1HsLGVEp pic.twitter.com/TmlRdXgxtw

— Talking Points Memo (@TPM) March 30, 2016

Managing expectations down…
The Voters
"Five demographic arguments for Bernie Sanders" [Carl Beijer]. Must-read post, gives the lie to the "Sanders supporters are all white men" talking point ("#BernieBros"). Based on Reuters polling:

The story here is clear: one can only call Clinton an advocate of the powerless by ignoring women, Hispanics and other non-black voters of color, ~30% of black Americans, gays, lesbians, bisexuals and other non-straights, the young, and the poor. The narrative being aggressively advanced by writers like Tomasky and Goldberg – that Sanders is the candidate of privilege – can only be made by a stunning degree of demographic gerrymandering that ignores the dramatic sea changes in preference that have taken place since the beginning of the campaign.

In other words, Sanders is running an excellent campaign.

"Looking to close out the contest against rival Bernie Sanders, Democratic presidential front-runner Hillary Clinton is stepping up her outreach to the voters who vaulted her to a dominant position in the race for delegates: African-Americans" [Wall Street Journal, "Hillary Clinton Boosts Outreach to African-Americans in Bid to Nail Down Nomination"]. Dance with the the one that brung ya, but see above.
Money
An unofficial but pro-Clinton site, "displays Hillary Clinton's events, but anyone representing Hillary for America, including Bill Clinton, Chelsea Clinton, and other politicians and celebrities appearing on her behalf" [Hillary Speeches]. Oddly, or not, all the events are fundraisers.

Priorities! (And it's fundraisers all the way down; this was the best screen capture I could do.)
The Trail
Quinnipiac national: Trump 56%, followed by Ted Cruz at 20% and John Kasich at 19%. Clinton 54%, Sanders 42% [Quinnipiac].

Wisconsin: "[Clinton's] horrible track record on transparency raises serious concerns for open government under a Clinton administration — so serious we believe they may disqualify her from public office. We hope Wisconsin voters give this issue the consideration it deserves when they go to the polls on Tuesday" [Journal Sentinel]. Inspired, it seems, by the WaPo summary on Clinton's email hairball we looked at here.

Wisconsin: "Bernie Sanders leads Hillary Clinton by about four points, up three points from February. Since the Democrats allocate their delegates proportionally, Wisconsin is one of a whole lot of states where Sanders needs a giant win to eat into Hillary Clinton's lead, but apparently won't get it" [WaPo].

"Hillary Clinton's entourage — four big black cars plus her top aide Huma Abedin — was spotted outside Bergdorf Goodman on Wednesday morning waiting as the presidential hopeful got her $600 haircut" [New York Post]. Clinton tops the list for expensive trims by politicians — Bill Clinton, John Edwards, Charles Crist — although to be fair, it's more expensive for a woman to get a haircut than a man. Four big black cars?

"What's Really Going On Inside Trump's Political Operation?" [GQ]. Interview with a very plausible-sounding Roger Stone.

"What this is about is clear to all — an unstable Republican coalition, the disruptive candidacy of Donald Trump and an alarmed GOP "establishment" that has proved (not surprisingly) to be powerless or helpless in the face of unfolding events. Where it ends is anybody's guess. The party that champions free markets is now hostage to the volatile political markets of 2016 and to the disparate consumers who in one way or another identify with the GOP brand" [Dan Balz, WaPo]. "Words and pledges are cheap right now, tossed about by candidates and party officials with little conviction or lasting meaning. Events are in control, and everyone knows it. Cleveland is still months away, as the campaign grows ever more strange."

"Readers React Enough Donald Trump already. Why doesn't Bernie Sanders get more coverage?" [Los Angeles Times].
Stats Watch
Chicago PMI, March 2016: "Expansion is March's score for the often volatile Chicago PMI which surged 6 full points to a higher-than-expected 53.6" [Econoday]. "Most anecdotal indications on the month of March have been positive including this report which tracks both the manufacturing and non-manufacturing sectors of the Chicago economy."
Jobless Claims, week of March 26, 2016: "Jobless claims did rise in the latest week but remain at or near all-time lows" [Econoday]. "There are no special factors in today's report, one that confirms ongoing strength in the labor market heading into tomorrow's monthly employment report."
Challenger Job-Cut Report, March 2016: "[R]oughly in the middle of trend and isn't offering any unusual signals for tomorrow's employment report" [Econoday]. And: "Of the 184,920 job cuts announced in the first quarter, 50,053, or 27 percent, were directly attributed to falling oil prices. … However, the retail sector has also tallied significant gains in job cuts." [Econintersect].
Gallup Good Jobs Rate, March 2016: "The Gallup Good Jobs (GGJ) rate was 44.4 percent in March. This was down slightly from the February rate (44.6 percent) but higher than the rate in any March since Gallup began measuring it in 2010" [Econoday]. Love the baseline….
Bloomberg Consumer Comfort Index, March 27: "Most consumer confidence measures have been holding at respectable levels but the consumer comfort index did move noticeably lower" [Econoday]. "Watch whether the dip is confirmed or not in tomorrow's consumer sentiment report."
Shipping: "The deceleration in the rail rolling averages began one year ago, and now rail movements are being compared against weaker 2015 data. There were port labor issues one year ago which affected intermodal movements – which skew the results both positively and negatively (this week again negatively as it is being compared to the shipping surge at the end of the strike)" [Econintersect].
Honey for the Bears: "The crisis engulfing the global steel industry is so severe that one of China's top producers has warned a new Ice Age has set in as mills confront overcapacity and rising competition that threaten their survival" [Bloomberg].
Fodder for the Bulls: "Gold's been on such a tear, even the bulls got left behind." [Bloomberg].
Today's Fear & Greed Index: 74, Greed (previous close: 70, Greed) [CNN]. One week ago: 66 (Greed). (0 is Extreme Fear; 100 is Extreme Greed). Last updated Mar 31 at 11:23am.
Health Care
"In 2010, CBO estimated Obamacare exchanges would enroll 21 million people in 2016, increasing to 24 million in 2019. This month, CBO estimates Obamacare's exchanges will enroll only 13 million people this year, and 20 million in 2019" [Forbes]. Whoops.
"Numbers too good to be true? Or: Thanks, Obama!?" (with charts) [Statistical Modeling, Causal Inference, and Social Science]. Hospital readmission rates down.
Black Injustice Tipping Point
"So many Southern food traditions are shared by both races. Most Southerners, black and white, revere fried chicken, pursue pork barbecue and exalt their grandmothers' garden vegetables. So why is there such a fundamental difference between two styles of one basic bread?" Cornbread: Sweet, or not? [Charlotte News Observer].
Our Famously Free Press
"ELLE on Earth" [Observer]. "How a leading women's magazine ruined a once-in-a-lifetime interview with fashion legend Rei Kawakubo." A fun example of Manhattan fashionista bile.
Water
"In this study, we integrate a large ensemble of scenarios—internally consistent across economics, emissions, climate, and population—to develop a risk portfolio of water stress over a large portion of Asia that includes China, India, and Mainland Southeast Asia in a future with unconstrained emissions" [PLOS One]. "There is strong evidence to suggest that, in the absence of autonomous adaptation or societal response, a much larger portion of the region's population will live in water-stressed regions in the near future."
"Sierra snowpack shows improvement, but not enough to declare California's drought over" [Los Angeles Times].
"NOAA announced in October 2015 that the third global bleaching event had begun, with reefs from the Florida Keys to Fiji suffering widespread damage over the past year. In February, NOAA scientists announced that the bleaching event was the longest on record. The event is a result of widespread ocean warming related to long-term climate change as well as regional warmings triggered by El Niño, which began in early 2015" [Weather Underground].
Gaia
"Can a Living Creature Be as Big as a Galaxy?" [Nautilus]. No, and why.
"Antarctica has the potential to contribute more than a metre of sea-level rise by 2100 and more than 15 metres by 2500, if emissions continue unabated" [Nature]. And: "New York City is nearly 400 years old; in the worst-case scenario conjured by the research, its chances of surviving another 400 years in anything like its present form would appear to be remote. Miami, New Orleans, London, Venice, Shanghai, Hong Kong and Sydney, Australia, are all just as vulnerable as New York, or more so" [New York Times]. I'm guessing this isn't priced in, anywhere.
Guillotine Watch
"Said Gutseriev, 28, and his bride, Khadija Uzhakhova, 20, wed on Saturday at Safisa Restaurant in Moscow. Stunning photos and videos show the wedding band (aka Jennifer Lopez, Enrique Iglesias and Sting), the flower-filled hall and the bride's opulent beaded gown — which, altogether, is speculated to cost over a billion dollars" [ABC]. Photos of wretched excess.
Class Warfare
"The Chicago Teachers Union is going on strike tomorrow" [Jacobin]. "this time they have joined other unions and community groups in calling for a citywide "general strike" on April 1, demanding not just a strong contract but new, "progressive" sources of revenue — taxing the city's financial district, for example, and ending the state's flat income tax — to fund public goods and services throughout Chicago and Illinois."
"America's infrastructure is so bad the self-driving cars can't even find the lanes on the road" [Reuters]. Wow, the rest of America isn't like Sunnyvale Mountain View! Which is where Google, whose main "campus" is located in Sunnyvale, has been testing its car:
Shoddy infrastructure has become a roadblock to the development of self-driving cars, vexing engineers and adding time and cost. Poor markings and uneven signage on the 3 million miles of paved roads in the United States are forcing automakers to develop more sophisticated sensors and maps to compensate, industry executives say.

Tesla CEO Elon Musk recently called the mundane issue of faded lane markings "crazy," complaining they confused his semi-autonomous cars.

An estimated 65 percent of U.S. roads are in poor condition, according to the U.S. Department of Transportation, with the transportation infrastructure system rated 12th in the World Economic Forum's 2014-2015 global competitiveness report.

Tesla, Volvo, Mercedes, Audi and others are fielding vehicles that can drive on highways, change lanes and park without human help. But they are easily flummoxed by faded lane markers, damaged or noncompliant signs or lights, and the many quirks of a roadway infrastructure managed by thousands of state and local bureaucracies.
Clue stick, Silicon Valley squillionaire bubble dwellers: Out here in America, "faded lane markers, damaged or noncompliant signs or lights" are normal, and part of the reason for that is the systemic defunding of public goods, such defunding being very much supported, on ideological grounds, by you.
"What Happened When Venture Capitalists Took Over the Golden State Warriors" [New York Times]. Mostly hagiography, except for this one sentence: "As with Jordan and the Bulls, a strong case can be made that Curry, not the ownership group, provides the point of difference." So…
Good round-up of Silicon Valley subcontracting [WaPo]. "[The subcontracting] trend isn't unique to Silicon Valley, Benner says. But tech companies pioneered and modeled the systems needed to monitor and coordinate external service providers, allowing them to focus on their core competencies — and scale up or down quickly with a minimum of HR hassle, which is inherent to running a start-up." So when you hear that word, "start-up," don't think good jobs, except for a very few. Think crapified jobs for the precariat. Think the same when you hear "innovation."
"What the chart shows, among other things, is that since the early 1990s corporations have, with occasional cyclical interruptions, been gobbling up an ever-larger slice of the economic pie. Since the late 1990s people have (at least I have) been wondering how long this can go on" [Bloomberg]. Stein's Law…
News of the Wired
Rap Genius and annotations [New York Magazine].
"Social networks and promotions should be valued by their entire downstream cascade" [Buzzfeed]. Important!
"Before I started playing Guess the Correlation, I didn't expect to spend an hour of my Easter weekend obsessing over an 8-bit video game" [The Atlantic]. "Players see a stream of scatter plots—common graphs that visualize the relationship between two things, whether temperature and ice-cream sales, or body weight and heart disease risk, or number of time spent on this infernal game and number of friends you have. Your job is to eyeball the plots and estimate a number called R, which measures how correlated the two things are." Sounds like fun! Readers?
* * *
Readers, I still need to fix my fershuggeneh contact form! Hopefully noting that fact publicly will serve a lash and a spur to my endeavors. (Meanwhile, thanks to readers, who already have my email address, who sent in images of plants!)
See the previous Water Cooler (with plant) here. And here's today's plant (pq):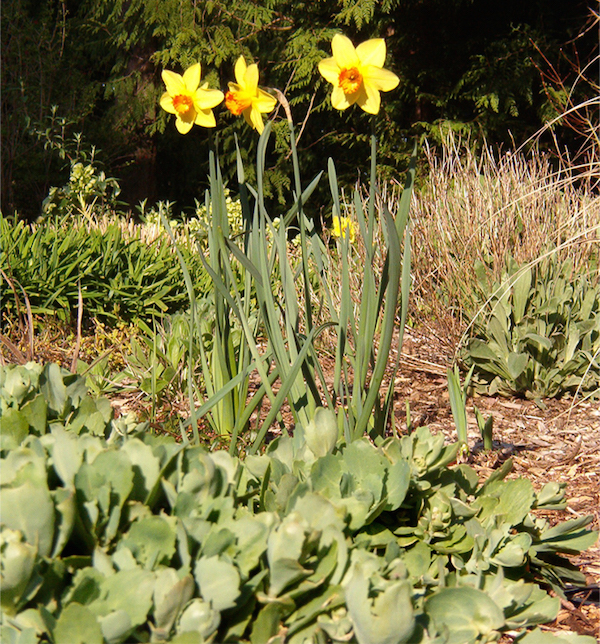 Narcissus. Hopeful signs everywhere!
* * *
Readers, thanks, and Thursdays's continued reminder: Water Cooler is self-supporting; NC fundraising does not cover it. Your tips ultimately determine my level of effort (which, with the 2016 election, is considerable). So please consider tipping regularly. Thank you!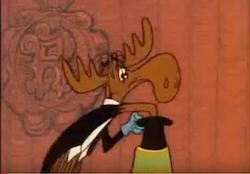 If you enjoy Water Cooler, please consider tipping and click the hat. Water Cooler would not exist without your support.