By Lambert Strether of Corrente.
Apparently, Clinton is doing the Nae Nae just in time for the primaries in more ways than one; she's now appropriating the concept of "intersectionality," defined (as we have seen) by Kimberlé Crenshaw here (PDF):
If, as this analysis asserts, history and context determine the utility of identity politics, how, then, do we understand identity politics today, especially in light of our recognition of multiple dimensions of identity? More specifically, what does it mean to argue that gendered identities have been obscured in antiracist discourses, just as race identities have been obscured in feminist discourses? Does that mean we cannot talk about identity? Or instead, that any discourse about identity has to acknowledge ? A beginning response to these questions requires that we first recognize that the organized identity groups in which we find ourselves are in fact coalitions, or at least potential coalitions waiting to be formed.
(Note that Crenshaw's concept of coalition is fascinatingly different — or not! — from Madison's, discussed here.) Crenshaw's definition of intersectionality is intuitive: My identity, for example, has dimensions of [gender], [race], [class], [ownership], [workerhood], various skills that are very important to me, family history, and so on. Yours (supposing you to agree with Crenshaw's views) will have multiple dimensions too, some overlapping with mine, others not. The key point is that all these intersections happen to a person, an actual physical being located in a body at a point in time.
Now let's compare Crenshaw's view of intersectionality with Clinton's appropriation of them, expressed just today via the Twitter. I'll just leave this here:
Figure 1: Yet Another Clinton Hairball
We face a complex, intersectional set of challenges. We need solutions and real plans for all of them. #DemDebate pic.twitter.com/WfObFAmsHl

— Hillary Clinton (@HillaryClinton) March 7, 2016
I'll return (in Figure 2) to the upper of these two diagrams, and explain why it is the hairball it is, hopefully not in mind-numbing detail. Before I do that, however, I'd like to give some contemporary usage examples of "intersectionality" from the current campaign, to contextualize Clinton's peculiar usage. Then, after discussing Clinton's usage in Figure 2, and what I've labeled vulgar intersectionality, I'll conclude with some personal reflections. A caveat: In discussing concepts like this, I often feel like an untrained clown juggling flaming power tools. There's a whole discourse of first, second, and third wave feminism, for example, that I'm simply not equipped to parse out, though I do my best at a high level. So, readers, if you have clarifications or corrections to add, and especially sources to recommend, please comment! For example, a reader just turned me on to this by bell hooks.
Contemporary Usages of "Intersectionality"
First, by "intersectionality" we don't mean examples like this from FOX:
EXCLUSIVE: The FBI investigation into Hillary Clinton's use of private email as secretary of state has expanded to look at whether the possible "intersection" of Clinton Foundation work and State Department business may have violated public corruption laws, three intelligence sources not authorized to speak on the record told Fox News.
This usage is simply generic; it isn't about identity (unless we want to figure out an intersectional take on corruption, which admittedly sounds intriguing, but is a topic for another day). Here is a better example, from An Open Letter To Gloria Steinem On Intersectional Feminism:
But, Gloria, the movement you made, as amazing as it was, had some serious flaws when it comes to . I know you know that, because you've talked about how #BlackLivesMatter has affected your thinking.

Your "joke" [young women are with Sanders because "that's where the boys are"] came as young women are constantly being told we have to support Clinton because she's a woman, as though having women in leadership equals an automatic feminist paradise. (You know, like Thatcher's Britain!) "There's a special place in hell for women who don't help each other," Madeleine Albright said—yes, the same Madeleine Albright who, as Secretary of State, famously claimed that the deaths of half a million Iraqi children were "worth it." When critics suggested someone should tell Albright there are women in Iraq, Clinton all but rolled her eyes: "Good grief, we're getting offended by everything these days!" she said. "People can't say anything without offending somebody."
(Fascinating that Clinton adopts a right-wing trope — political correctness — in response to an intersectional critique.) At this point, I should note that the Albright/Steinem flap could not have helped Clinton in New Hampshire: Sanders took all age categories of women, but especially young women. Note also that intersectionality is a property of persons; corporate entities, for example, are not oppressed (unless, perhaps, you're the late Antonin Scalia).
Here's a second example from the Los Angeles Times, from an interview with a voter:
Erica Brandt, 27, dismissed Clinton's feminism as "almost first-wave" and tediously similar to Sheryl Sandberg's privileged "Lean In" manifesto.

"It's fine for middle-class white people, but it completely ignores ," Brandt, who grew up in Boston and works in education policy, told The Daily Beast. She worked on Obama's 2008 campaign, and considers herself a left-leaning Democrat.

"Feminism that doesn't include rights for the poor, for minorities, the non-cis is just not feminism to me," she added. "Rich white women don't get to make the rules for everyone, or at least they shouldn't."
(Cf. Matthew 19:24.) And here's a third example, wrap-up from the Atlantic that summarizes the history of the term and its utilty as a method today:
In 1989, a term emerged for a feminist philosophy that would include women of color and other marginalized groups: To the uninitiated, the word might sound like unwieldy academic jargon. But without my bringing it up, many of the women I spoke to said intersectionality was the foundation of their feminism—and of their skepticism about Clinton. First coined by legal scholar and professor Kimberlé Crenshaw, the word refers to the connections (the "intersections") between different systems of oppression—not just sexism, but also racism, homophobia, transphobia, and classism. It's a recognition that a black woman, for instance, is not affected independently by racism and sexism—those forms of discrimination are inextricably linked, which makes her experience sexism differently from a white woman and racism differently from a black man.

As young women's notions of feminism evolved and broadened, so did their idea of what constitutes "women's issues" in the political arena. "If you're taking as the foundation of this kind of feminism, you wouldn't just be concerned with how any particular policy issue is affecting women," says Gwendolyn Beetham, director of the Global Village at Douglass Residential College, the women's residential college affiliated with Rutgers University. "But you would be asking, 'Which women, and how?' And you would be asking this whether or not you are a member of one of those groups."
To foreshadow the conclusion: Which women (or identity), and how is the formal part; and You would be asking… is the empathy part. And if you want to build coaltions on Crenshaw's model, them I would urge both are essential.
The bottom line, then, is that intersectionality is a powerful and useful conceptual tool, especially among the younger women voters to whom Clinton must appeal. To quote a Clinton organizer from North Carolina:
UNC sophomore Emily Hagstrom, who helped organize the group's venture to Raleigh, said one of the most important aspects of Clinton's campaign is her commitment to a diverse group of people. "Hillary is an intersectional feminist, and we are supporting her because of that," she said.
So a Clinton organizer says Clinton is an "intersectional feminist," eh? Saying it doesn't make it so. Let's turn to Clinton's appropriation of intersectionality, as expressed in her Twitter posts.[1]
Clinton's Usage of "Intersectionality"
I've helpfully annotated the top diagram of Clinton's intersectionality presented in Figure 1. (The bottom diagram has all the same problems, but I didn't want to overwhelm the reader with artwork.) Here it is:
Figure 2: Clinton's Hairball Intersectionality Deconstructed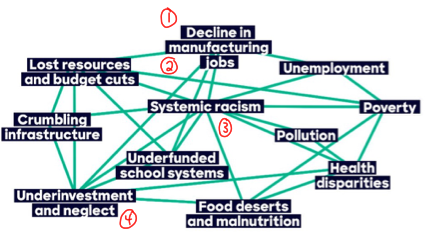 This diagram shows Clinton's concept of intersectionality vividly. Let's go through it in detail, looking at each of the numbered points.
(1) Dehumanizing. As we have seen, intersectionality is a property of persons. Here, however, Clinton presents intersectionality as a property of… Well, nothing more precise than boxes on a diagram; see point 4 below. I mean, does "Crumbling Infrastructure" sound like a person to you?[2]
(2) Not Relational. You see a line between "Decline in Manufacturing Jobs" and "Unemployment." But the nature of the relation is never defined. Cause and effect? Class and instance? Mutually reinforcing trends? No narrative of power relations can be created, not only because there are no persons to exercise power, but because the relations themselves are vague.
(3) Complex and Poorly Drafted. Clearly, the diagram is complex; no doubt as complex as whatever diagram Ira Magaziner scrawled on his whiteboard during the Clinton administration's health care debacle. Is it too cynical to suggest that the complexity is designed to promote the idea that only a policy wonk with a self-proclaimed mastery of detail can express an opinion? Moreover, the diagram is poorly drafted. If you look closely, you'll see that many of the lines that one might expect to be connected to "Systemic Racism" in fact run under it. So maybe somebody though that "Systemic Racism" simply ought to occupy a central position — and deservedly so — didn't think through what else it should be connected to, and simply dumped the label there.
(4) Full of Category Errors. Finally, the diagram is fully of category errors. For example, "Systemic racism" is connected to "Unemployment." Informally, that's fine, but "Systemic racism" is just that: Systemic. Unemployment is a number the BLS puts out. Two categories that are different in kind! So how exactly does that connection work? Since the diagram isn't relational, we can't figure out. Who does it affect? Since there are no persons, we can't know.
This diagram resembles nothing so much as a Gish Gallop of policy-making converted to diagram form. Wouldn't it have been simpler to list the problems and stick a Post-it Note on them saying "It's complicated?
And, say: Private equity was responsible for deindustrializing the Rust Belt and selling it for parts. So how come there's a box for "Decline in Manufacturing Jobs," but no box for "Private Equity," maybe with a big screw connecting the latter to the former, instead of a line, to make clear the kind of job that was done?
Vulgar Intersectionality
Let me take a quick detour into "vulgar intersectionality," which Clinton (as far as I know) does not knowingly espouse, but which many supporters and commentators do. The, er, venerable Mark Penn provides a fine example in an internal strategy memo for the 2008 Clinton campaign:
1) Start with a base of women.a. For these women, you represent a breaking of barriers.b. The winnowing out of the most competent and qualified in an unfair, male-dominated world.c. The infusion of a woman and a mother's sensibilities into a world of war and neglect.

2) Add on a base of lower- and middle-class voters.a. You see them; you care about them.b. You were one of them, it is your history.c. You are all about their concerns (health care, education, energy, child care, college, etc.).
Penn's intersectionality is vulgar because it's either/or. Crenshaw's intersectionality is both/and. (One cannot but wonder whether the tendency of Democratic apparatchiks to vulgar intersectionality is a result of their institutional structure: There is one desk that speaks "for women," another desk "for blacks," another desk "for youth," but no desk for "black young women.)
And here's an example of vulgar intersectionality from the discourse on Flint:
It's not a question of pitting race against class. It's a matter of asking what political work gets accomplished by framing the crisis in Flint, Michigan, a city that is both racially diverse and almost universally poor, as mostly a problem of racism. Political scientist Adolph Reed writes about New Orleans, where Mayor Ray Nagin leveraged the status of black homeowners after Katrina so as to embrace a "chocolate" city that excluded poor renters (not too mention public housing residents). Housing and school segregation patterns and incarceration rates demonstrate that class cannot, without race, explain inequality. But .
Finally, two examples of vulgar intersectionality from Clinton herself, in her campaign practice. The first:
There have been at least a couple of moments where Clinton's presumably been making an effort to show she's relatable, that end up coming off as disingenuous. "I don't want someone who is , I don't care if you can dance," says Poe, referring to Clinton's appearance on The Ellen Degeneres Show. "Don't try to fit in. We just want to know who you are and what you're about but we see so clearly that you're trying to be with it."
And the second:
Her campaign portraying her as "" also left many with a bad taste. "That moment of 'Hispandering,' when paired with her pretty intense support of stronger border patrol and physical barriers against Mexico, is a seriously transparent instance of playing politician instead of offering genuine support," says Michelle Funk, 25, a doctoral candidate at the University of Missouri's Department of Communication.
These examples are vulgar intersectionalism because they, too, are either/or. First, Clinton's your abuela. Then, Clinton's doing the nae nae. But identity — which, again, is what intersectionality is all about — isn't sequential. It's simultaneous. An intersectional appeal can't be made with a series of costume changes.
Conclusion
I'm just going to quote the story of the good Samaritan from Luke 10:
29 But [the lawyer], desiring to justify himself, said to Jesus, "And who is my neighbor?" 30 Jesus replied, "A man was going down from Jerusalem to Jericho, and he fell among robbers, who stripped him and beat him and departed, leaving him half dead. 31 Now by chance a priest was going down that road, and when he saw him he passed by on the other side. 32 So likewise a Levite, when he came to the place and saw him, passed by on the other side. 33 But a Samaritan, as he journeyed, came to where he was, and when he saw him, he had compassion. 34 He went to him and bound up his wounds, pouring on oil and wine. Then he set him on his own animal and brought him to an inn and took care of him. 35 And the next day he took out two denariic and gave them to the innkeeper, saying, 'Take care of him, and whatever more you spend, I will repay you when I come back.' 36Which of these three, do you think, proved to be a neighbor to the man who fell among the robbers?" 37He said, "The one who showed him mercy." And Jesus said to him, "You go, and do likewise."
Elsewhere, the Pharisees are said to have prayed: "I thank God that I am not like other men!" (and in particular, the Samaritans). That's either/or thinking. I believe that intersectionality promotes compassion; the Good Samaritan teaches us both/and thinking: The Samaritan saw the man who fell among robbers as having, among his multiple dimensions, the important dimension of common humanity. Unfortunately, Clinton's dehumanized version doesn't teach us that.
NOTES
[1] My sources for Clinton's views on intersectionality are her Twitter account, a speech, Google searches, and her campaign website: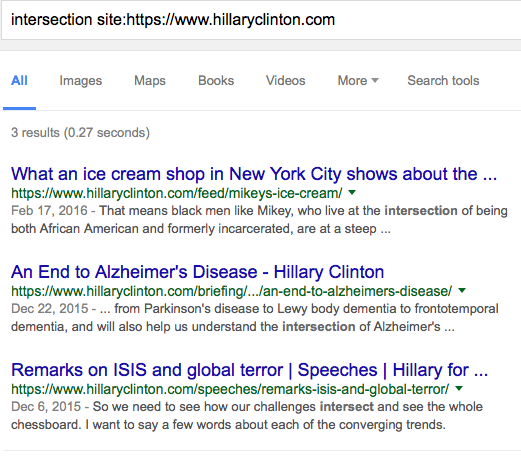 The first hit is the only relevant one:
black men like Mikey, who live at the intersection of being both African American and formerly incarcerated, are at a steep disadvantage when seeking employment.
This example is from February 17, superseded by the tweets given in the post. As you can see, if Clinton is indeed an intersectional feminist, she has adopted the term itself quite recently.
[2] Clinton also dehumanized intersectionality in her speech at the Schomburg Center for Research in Black Culture in Harlem on February 16, for which we have the transcript (and a YouTube):
https://www.hillaryclinton.com/speeches/remarks-breaking-down-barriers-african-americans/
But Flint reminds us there's a lot more going on in our country that we should be concerned about. The truth is we aren't a single-issue country. We face a complex set of economic, social, and political challenges.

They are intersectional, they are reinforcing, and we have got to take them all on.
So now it's challenges that intersection. But, again, intersectionality is a property of persons.
Appendix I: The Sanders Campaign
As we've seen, cumbersome though the word "intersectionality" is, it comes up spontaneously from voters. Here, from a voter question during the Las Vegas debate:
UNIDENTIFIED FEMALE: Good evening.

Thank you, Senator Bernie Sanders.

My question is, do you consider yourself a feminist?

If so, how do you, as a white male, understand the intersectional identities that people of color face, especially when entering high positions of power within business or government?

SANDERS: I consider myself a strong feminist. And, in fact, Gloria Steinem — everybody knows Gloria is one of the leading feminists in America — made me an honorary woman many, many years ago.

(LAUGHTER)

SANDERS: I don't know exactly what that meant, but I accepted it when she came to campaign for me.

Look, right now in this country, women are making 79 cents on the dollar compared to men. Minority women, women of color, are making substantially less. African-American women are making 54 cents on the dollar.

This is absurd. This has nothing to do with economics and it's everything to do with sexism. I will fight as hard as I can. And I've worked with Harry Reid. We have tried desperately to pass pay equity for women. I will continue that fight.
It's clear Sanders didn't focus on "intersectionality"; he seems to have filed it mentally under "women's issues," which is exactly what it isn't. The irony here is that the Sanders Racial Justice page is highly intersectional (I'd love to diagram it).