New Zealand 'cat burglar' caught stealing men's underwear BBC (Richard Smith). She looks so proud of her cache!
India's red tape causes trouble for exporting cats Financial Times. Try bringing a pet to Australia. The Aussies can out-do any other Commonwealth bureaucrats on those rare occasions when they put their minds to it. Ditto when I tried bringing my garden variety dietary supplements in when the Olympics were on.
Andy Grove, Valley Veteran Who Founded Intel, Dies at 79 Bloomberg
Warmer Winter Brings Forest-Threatening Beetles North New York Times (David L)
The exhausting uber-violence of Netflix's superhero shows Washington Post (furzy)
Brussels
Many dead in Brussels terror attacks BBC

Brussels airport explosions – live blog Politico

Terrorist Attacks in Brussels Kill at Least 27 Wall Street Journal
Paris terrorists used disposable burner phones to hide plans. No evidence of encryption. Boing Boing
These 25 Companies Are More Powerful Than Many Countries Foreign Policy (resilc). Amazon is ranked higher than Google, now Alphabet? Ditto Nestle? I think readers will have a party with this list…
Brexit?
Is Britain better off outside the EU? Financial Times
Grexit?
The 'SYRIZA experience': lessons and adaptations Open Democracy

One million and counting: EU migrant deal has little effect on Greece euronews

Deal Appears to Curb Migrant Flow, but Greece Still Faces 'Uphill Effort' New York Times
Last Chance, Amigo? You Can Never Be Too Late in Havana Der Spiegel. Glenn F: "This article by a former East German is very interesting and provides a perspective on Cuba not available through the MSM."
By rejecting $1bn for a pipeline, a First Nation has put Trudeau's climate plan on trial Guaridan (Glenn F)
Syraquistan
Saudi Arabia Continues Hiring Spree of Lobbyists, Retains Former Washington Post Reporter Intercept (resilc)

Obama has risked US credibility in Middle East Financial Times. Very hawkish subtext. Is this becoming the new conventional wisdom?
Big Brother is Watching You Watch
It's highly likely the NSA already has a bypass mechanism. This kind of tech filters down into the underworld because government spies like to outsource work to criminal freelancers. Helps to enable plausible deniability.
Imperial Collapse Watch
Is Putin Weaponising Stupidity? BlogMire (John Helmer)

ISIS and Endlessly Expanding War National Interest (resilc)

Non-Interventionists Don't Want an "Aggressive U.S. Posture in the World" American Conservative (resilc)
2016
The Republican Party is old and getting older. That's a huge problem for the GOP. Slate (resilc)
It's Hard to Find America Inside of Pulitzer Bait Gawker
Illinois College Students Say They Were Threatened With Arrest And Turned Away From The Polls ThinkProgress (martha r)
Lufthansa reports near miss with drone over Los Angeles Reuters (EM)
Kaleidoscope Eyes Michael Shedlock. Dissing Fed rate hike talk.
US Home Sales Slump in February; Supply Shortage Hits Market ABC (furzy)
Saudis to freeze oil output without Iran Financial Times
The Current Oil Price Rally Is Reaching Its Limits OilPrice
Class Warfare
Exclusive: Lyft drivers, if employees, owed millions more – court documents Reuters (EM)

Americans think they work harder than everyone else — and they don't Quartz (resilc). Ahem. 1. Americans do work longer hours than people in just about any advanced economy due to sucky vacations (and that's before you get into "always on duty" demands of a lot of employers). 2. Whether all that work is useful is a the responsibility of management. The fact that a lot of work is a waste of time (meetings!!!!) does not make work any less hard. 3. Having said that, American love to brag how hard they work and then believe their PR.

How the Legal System in New Orleans Is Screwing the Poor Vice (resilc)

Nixon started the War on Drugs because he couldn't declare war on black people and hippies Boing Boing
New Rules for the Monetary Game Reghuram Rajan, Project Syndicate. Today's must read. Rajan was the economist who earned the ire of just about everyone at Greenspan's last Jackson Hole by delivering his paper, "Has Financial Development Made the World Riskier?" which concluded "Yes". This article is (as required of someone at his level) coded, but it's not hard to discern that he is leveling serious criticisms.
Antidote du jour (furzy). @MsWZ: "Caught a family portrait":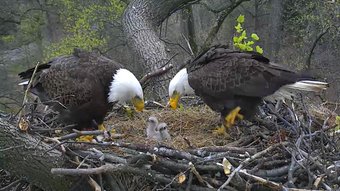 Video and related story via Reuters. Look how the eagles, who are awkward moving around in the nest, are so careful around their chicks.
See yesterday's Links and Antidote du Jour here.